Morning!
Another day, another collection of movies for you to enjoy. I hope there is something you will enjoy.
Stay safe, look after yourself and Happy Tuesday!
AMAZON PRIME
BAD BOYS (18)
Starring: Martin Lawrence, Will Smith, Tea Leoni
Action, comedy, crime
Two hip detectives protect a witness to a murder while investigating a case of stolen heroin from the evidence storage room from their police precinct. Flashy but fun cop thriller. Violence, strong language and sex references.
BLIND FURY (18)
Starring: Rutger Hauer, Terrance O'Quinn, Lisa Blount
Action, Comedy, Crime
A blind Vietnam vet, trained as a swordfighter, comes to America and helps to rescue the son of a fellow soldier. Bonkers yet fun action- comedy carried by Rutger Hauer. Strong violence and language.
NETFLIX
BURN AFTER READING (15)
Starring: George Clooney, Frances McDormand, Brad Pitt, John Malkovich, Tilda Swinton
Comedy, Drama, Crime
A disk containing mysterious information from a CIA agent ends up in the hands of two unscrupulous and daft gym employees who attempt to sell it. Crazy comedy from the Coen Brothers. Strong language, sex references and brief bloody violence.
GLADIATOR (15)
Starring: Russell Crowe, Joaquin Phoenix, Connie Nielsen, Oliver Reed
Action, Adventure, Drama
A former Roman General sets out to exact vengeance against the corrupt emperor who murdered his family and sent him into slavery. Ridley Scott's epic Oscar-winner. Strong violence.
NOW TV/SKY CINEMA
BLADE RUNNER (15)
Starring: Harrison Ford, Rutger Hauer, Sean Young
Sci-Fi, Action, Thriller
A blade runner must pursue and terminate four replicants who stole a ship in space, and have returned to Earth to find their creator. Superb sci-fi with incredible visuals. Strong violence.
TOP GUN (12)
Starring: Tom Cruise, Kelly McGillis, Val Kilmer, Anthony Edwards, Tom Skerritt, Michael Ironside, Meg Ryan
Romance, Drama, Action
As students at the United States Navy's elite fighter weapons school compete to be best in the class, one daring young pilot learns a few things from a civilian instructor that are not taught in the classroom. Tony Scott's ropey drama with amazing flying scenes. One use of strong language and moderate sex and sex references.
DISNEY+
CHEAPER BY THE DOZEN (PG)
Starring: Steve Martin, Bonnie Hunt, Tom Welling, Piper Perabo, Hilary Duff
Comedy
With his wife doing a book tour, a father of twelve must handle a new job and his unstable brood. Family comedy with Steve Martin. Mild language and sex references.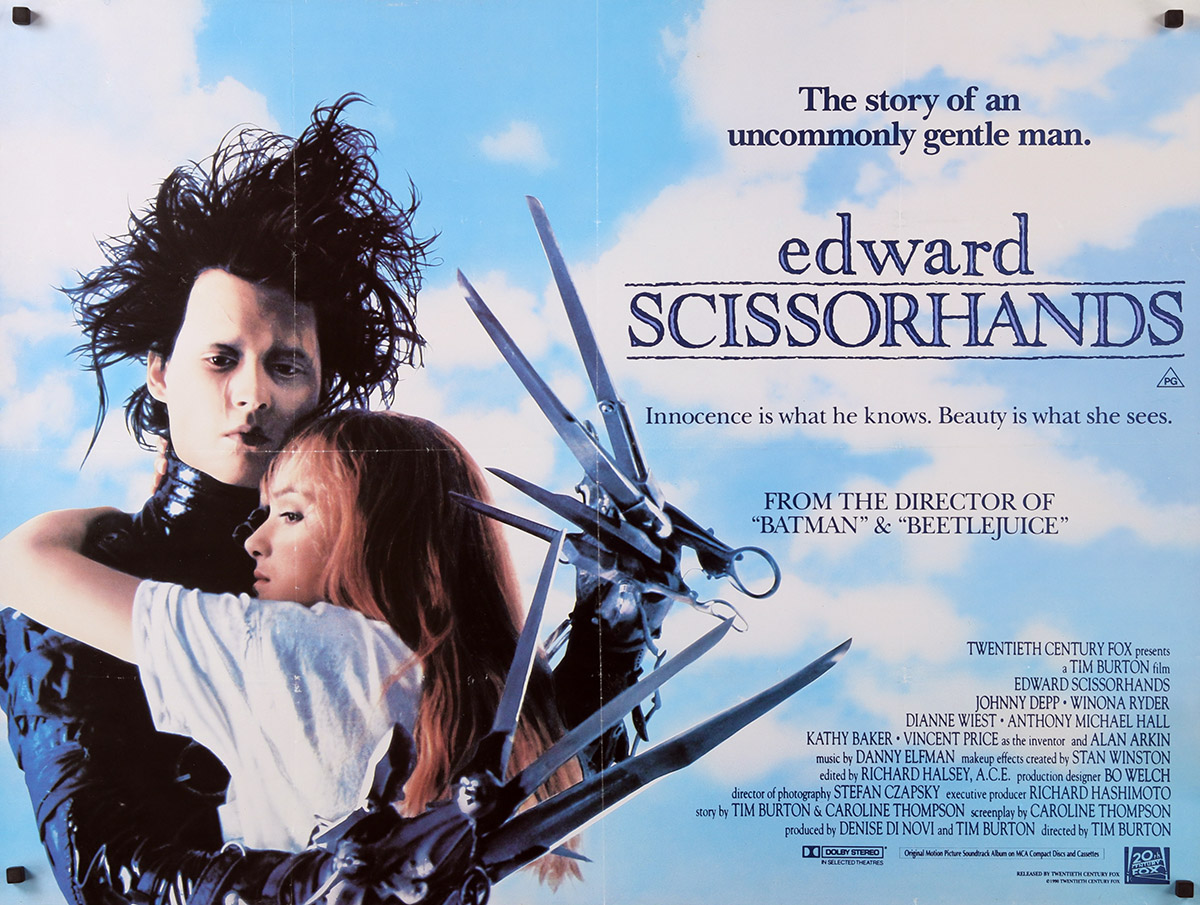 EDWARD SCISSORHANDS (PG)
Starring: Johnny Depp, Winona Ryder
Fantasy, drama, romance
An artificial man, who was incompletely constructed and has scissors for hands, leads a solitary life. Then one day, a suburban lady meets him and introduces him to her world. Tim Burton's magical love story. Moderate violence.
MOVIES ON TERRESTRIAL TV
THE WRONG BOX (U)
10.45am Sony Movies Classic
Starring: John Mills, Ralph Richardson, Michael Caine
Comedy, crime
In Victorian England, a fortune now depends on which of two brothers outlives the other or can be made to have seemed to do so. Zany all-star cast comedy. Mild language and threat.
WHISTLE DOWN THE WIND (PG)
11.10am Talking Pictures TV
Starring: Hayley Mills, Alan Bates, Bernard Lee
Crime, Drama
When an injured wife murderer takes refuge on a remote Lancashire farm, the owners three children mistakenly believe him to be the Second Coming of Christ. Brilliant British drama. One use of mild language. Black and white.
WATERLOO (U)
6.20pm Sony Movies Classic
Starring: Rod Steiger, Christopher Plummer, Orson Welles
Action, biopic, war, drama
Facing the decline of everything he has worked to obtain, conqueror Napoleon Bonaparte and his army confront the British at the Battle of Waterloo. Impressive epic war drama. Mild violence.
TORA! TORA! TORA! (U)
1.10pm Film4
Starring: Martin Balsam, Joseph Cotten, Soh Yamamura
War, Action, History
In 1941, following months of economic embargo, Japan prepares to open its war against the United States with a preventive attack on the US naval base at Pearl Harbour. Epic retelling of the famous attack in World War II. Mild violence.
THE WAR LOVER (PG)
3.05pm Sony Movies Action
Starring: Steve McQueen, Robert Wagner, Shirley Anne Field
War, Adventure, Romance
In 1943, while stationed in Britain, arrogant Captain Buzz Rickson is in command of a Boeing B-17 Flying Fortress bomber, but his recklessness is endangering everyone around him. Solid war drama with a young Steve McQueen. Mild violence. Black and white.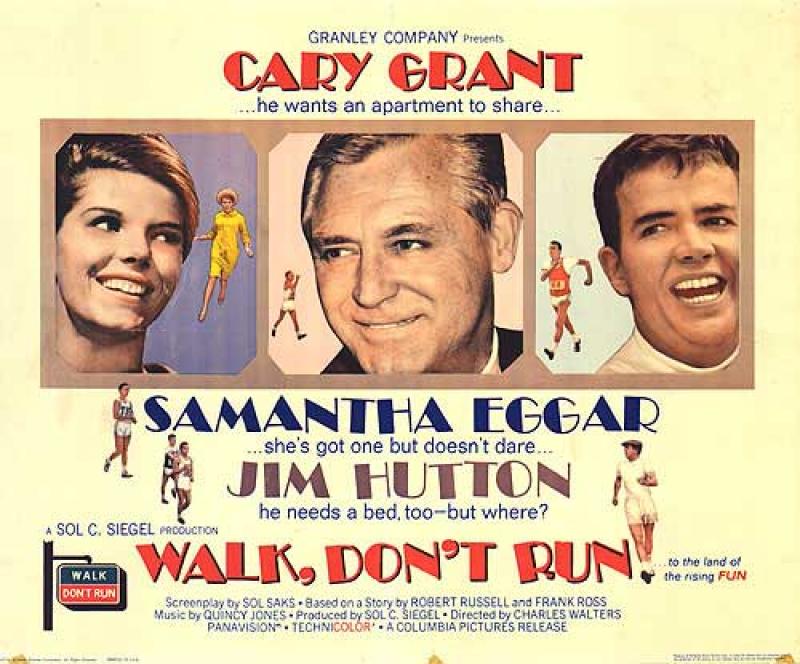 WALK, DON'T RUN (U)
3.35pm Sony Movies Classic
Starring: Cary Grant, Samantha Eggar, Jim Hutton
Comedy, romance
During the housing shortage of the Summer Olympic Games in 1964, two men and a woman share a small apartment in Tokyo, and the older man soon starts playing Cupid to the younger pair. 60s romantic comedy. One very mild sex reference.
MCLINTOCK! (U)
4pm Film4
Starring: John Wayne, Maureen O'Hara
Western, Comedy, Romance
Wealthy rancher G.W. McLintock uses his power and influence in the territory to keep the peace between farmers, ranchers, land-grabbers, Indians and corrupt government officials. Light-weight comedy western. Very mild violence.
RICKI AND THE FLASH (12)
4.35pm Sony Movies
Starring: Meryl Streep, Mamie Gummer, Sebastian Stan
Drama, Comedy, Music
A musician who gave up everything for her dream of rock-and-roll stardom returns home, looking to make things right with her family. Another strong performance from Meryl Streep. Moderate bad language, sex references, drug references.
A FAREWELL TO ARMS (PG)
5.55pm Sony Movies Classic
Starring: Jennifer Jones, Rock Hudson
War, Drama, Romance
An English nurse and an American soldier on the Italian front during World War I fall in love, but the horrors surrounding them test their romance to the limit. Epic version of Ernest Hemmingway's classic novel. Mild sex references, violence and birth trauma scenes.
SNOW WHITE AND THE HUNTSMAN (12)
6.35pm Film4
Starring: Chris Hemsworth, Kristen Stewart, Charlize Theron
Action, Adventure, Fantasy
In a twist to the fairy tale, the Huntsman ordered to take Snow White into the woods to be killed winds up becoming her protector and mentor in a quest to vanquish the Evil Queen. Effects-filled adventure. Moderate violence and threat.
AWAKENINGS (15)
9pm Sony Movies Classic
Starring: Robert De Niro, Robin Williams
Biopic, Drama
The victims of an encephalitis epidemic many years ago have been catatonic ever since, but now a new drug offers the prospect of reviving them. Incredibly moving drama with two outstanding performances. Language and upsetting scenes.
PASSENGERS (12)
9pm Film4
Starring: Jennifer Lawrence, Chris Pratt, Michael Sheen, Laurence Fishburne
Sci-Fi, Drama, Romance
A spacecraft travelling to a distant colony planet and transporting thousands of people has a malfunction in its sleep chambers. As a result, two passengers are awakened 90 years early. Dubious concept saved by the charismatic leads. Moderate threat, brief injury detail, sexual activity.
HANNIBAL RISING (18)
9pm Horror Channel
Starring: Gaspard Ulliel, Gong Li, Helena Lia Tachovska
Horror, Crime, Drama
After the death of his parents during World War II, young Hannibal Lecter moves in with his beautiful aunt and begins plotting revenge on the barbarians responsible for his sister's death. Gory prequel of the Lector story. Strong bloody violence.
HACKSAW RIDGE (15)
10pm Channel 4
Starring: Andrew Garfield, Vince Vaughn, Sam Worthington
War, Drama, Biopic
World War II American Army Medic, who served during the Battle of Okinawa, refuses to kill people and becomes the first man in American history to receive the Medal of Honor without firing a shot. Gritty war drama directed by Mel Gibson. Strong bloody violence, gory injury detail, language.
MAD MAX 2 (15)
10pm ITV4
Starring: Mel Gibson, Bruce Spence, Vernon Wells
Sci-Fi, Action, Adventure
In the post-apocalyptic Australian wasteland, a cynical drifter agrees to help a small, gasoline-rich community escape a horde of bandits. Spectacular action-packed sequel to the 1980 original. Strong violence, scene of sexual violence.
EX MACHINA (15)
11.15pm Film4
Starring: Domhnall Gleeson, Oscar Isaac, Alicia Vikander
Science Fiction, Drama
A young programmer is selected to participate in a ground-breaking experiment in synthetic intelligence by evaluating the human qualities of a highly advanced humanoid A.I. Intelligent sci-fi. Strong language, bloody violence, sex references.
CANNONBALL RUN II (PG)
11.45pm ITV4
Starring: Burt Reynolds, Dom DeLuise, Dean Martin, Sammy Davis Jr., Jamie Farr, Telly Savalas, Marilu Henner, Shirley MacLaine
Comedy, Action
The original characters from The Cannonball Run (1981) race across the country once more in various cars and trucks. Even the all-star cast couldn't save this messy sequel. Mild violence, language and sexual references.
DAPHNE (15)
1.25am Film4
Starring: Emily Beecham, Geraldine James
Comedy, Drama
'Daphne' is the vibrant character portrait of a young woman on the threshold of a much-needed change. Overlooked British comedy-drama. Very strong language, drug misuse.