Morning!
It's the middle of the week and the middle of the month. August is just around the corner and you have to wonder where the year is going. Have no fear, I will still be here delivering your daily dose of movie recommendations. Here are today's.
Stay safe, look after yourself and Happy Wednesday!
AMAZON PRIME
THE MASK OF ZORRO (PG)
Starring: Antonio Banderas, Anthony Hopkins, Catherine Zeta-Jones
Action, Adventure, Comedy
A young thief, seeking revenge for the death of his brother, is trained by the once great, but aged Zorro, who also pursues vengeance of his own. Swashbuckling adventure from the director of Goldeneye. Mild violence and sexual references.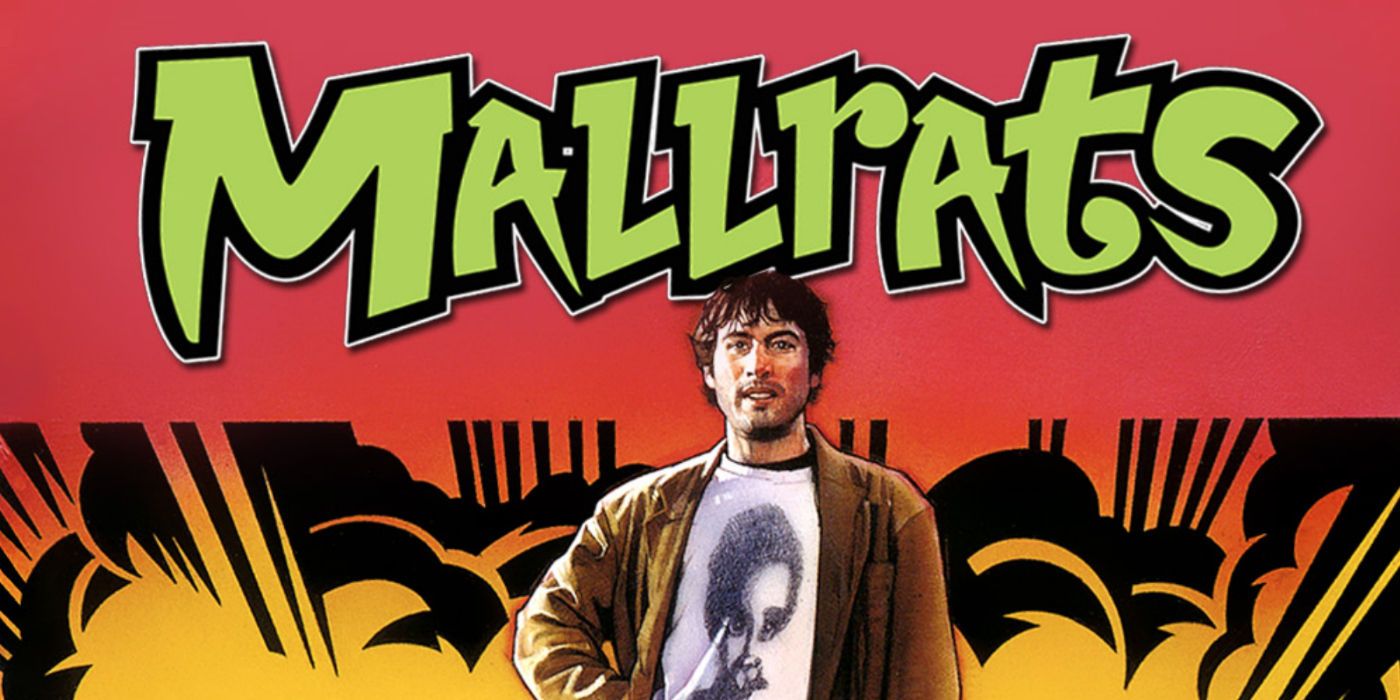 MALLRATS (15)
Starring: Shannon Doherty, Jason Lee
Comedy
Both dumped by their girlfriends, two best friends seek refuge in the local mall. Kevin Smith's Clerks follow-up. Strong language and sex references.
NETFLIX
WEINER (15)
Starring: Anthony Weiner, Huma Abedin, Amit Bagga
Documentary
An examination of disgraced New York Congressman Anthony Weiner's mayoral campaign and today's political landscape. Fascinating documentary about the downfall of a politician. Strong language, sex references.
COFFY (18)
Starring: Pam Grier, Booker Bradshaw, Robert DoQui
Action, Thriller
A sexy black nurse takes vigilante justice against inner-city drug dealers after her sister becomes their latest victim. Low-budget blaxploitation thriller from the 70s. Strong brutal violence, strong sexuality/nudity, language and drug content.
NOW TV/SKY CINEMA
MINORITY REPORT (12)
Starring: Tom Cruise, Colin Farrell, Samantha Morton, Max von Sydow
Sci-Fi, Action, Thriller
In a future where a special police unit is able to arrest murderers before they commit their crimes, an officer from that unit is himself accused of a future murder. Cracking sci-fi thriller from Steven Spielberg. Moderate violence and one use of strong language.
SOMETIMES ALWAYS NEVER (12)
Starring: Bill Nighy, Alice Lowe, Jenny Agutter, Sam Riley
Comedy, Drama
A detective fantasy / family drama where a love of words helps a father reconnect with a missing son. Bill Nighy shines in this interesting comedy-drama. Moderate sex references, language.
MOVIES ON TERRESTRIAL TV
NIGHT PASSAGE (U)
11am Film4
Starring: James Stewart, Audie Murphy
Western, Action, Adventure
A fired railroad man is re-hired and trusted to carry a ten thousand dollar payroll in secret, even though he is suspected of being connected to outlaws. Two big western stars together in one exciting movie. Mild violence.
THE ANDERSON TAPES (15)
11.10am Sony Movies Action
Starring: Sean Connery, Dyan Cannon, Martin Balsam
Action, crime, thriller
After Duke Anderson is released from prison after ten years for taking the rap for a scion of a Mafia family, he cashes in a debt of honour with the mob to bankroll a caper. Clever if slightly dated crime caper.  Violence and language. May be edited for content.
JAZZ BOAT (U)
11.45am Talking Pictures TV
Starring: Anthony Newley, Anne Aubrey, Bernie Winters
Musical, Comedy
An electrician is summoned to assist a gang in a big robbery. 60s British crime caper with a jazzy feel. Black and white.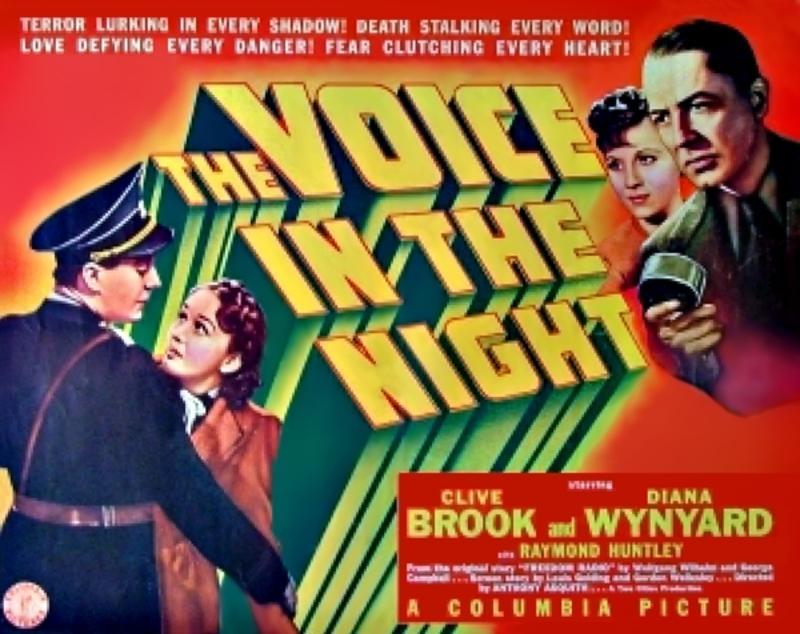 FREEDOM RADIO (PG)
12.50pm Film4
Starring: Clive Brook, Diana Wynyard
War, drama
Hitler's doctor is gradually realising that the Nazi regime isn't as good as it pretends to be when his friends start to "disappear" into the camps. Good old-fashioned propaganda war drama. Mild violence. Black and white.
ROAD TO RIO (U)
2.40pm Sony Movies Classic
Starring: Bob Hope, Bing Crosby, Dorothy Lamour
Comedy, musical, adventure
Two inept vaudevillians stow away on a Brazilian-bound ocean liner and foil a plot by a sinister hypnotist to marry off her niece to a greedy fortune hunter. More laughs from the Road team. Comic violence. Black and white.
GUN FURY (U)
2.40pm Film4
Starring: Rock Hudson, Donna Reed
Western, Action
In Arizona, Frank Slayton's gang robs a stagecoach and kidnaps Ben Warren's fiancée, prompting Warren to pursue Slayton. Action-packed western. Violence.
THE BODY STEALERS (PG)
4pm Horror Channel
Starring: George Sanders, Maurice Evans, Patrick Allen
Sci-Fi, Horror
In Britain, bodies of NATO paratroopers are being snatched during routine jumps by a mysterious red-beam of alien origin. Clunky British sci-fi horror. Mild sex references and violence.
GALLIPOLI (PG)
4.20pm Film4
Starring: Mel Gibson, Mark Lee, Bill Kerr
Adventure, drama
Two Australian sprinters face the brutal realities of war when they are sent to fight in the Gallipoli campaign in Turkey during World War I. Powerful and heartbreaking war drama. Mild language, violence and sexual references.
MURDERERS' ROW (PG)
4.45pm Sony Movies Classic
Starring: Dean Martin, Ann-Margret, Karl Malden
Action, adventure, comedy
Handsome top-secret American agent Matt Helm must recover a laser-weapons inventor who has been kidnapped by arch-villain Julian Wall. more spy-spoof adventures of Matt Helm. Mild violence and sexual references.
THE COCKLESHELL HEROES (U)
4.50pm Sony Movies Action
Starring: Jose Ferrer, Trevor Howard, Anthony Newley
War, Action, Drama
During World War II, German ships are "safely" docked upriver at Bordeaux, but the British send a team of kayakers to attack them. Exciting war drama directed by Jose Ferrer. Violence.
THE GRASS IS GREENER (PG)
5pm Talking Pictures TV
Starring: Cary Grant, Deborah Kerr, Robert Mitchum, Jean Simmons
Comedy, Drama, Romance
Victor and Hillary are down on their luck to the point that they allow tourists to take guided tours of their castle. But Charles Delacro, a millionaire oil tycoon, visits, and takes a liking to more than the house. 60s sex comedy with a strong cast. Sexual references.
STAR TREK (12)
6.35pm Film4
Starring: Chris Pine, Jennifer Morrison, Simon Pegg, Eric Bana, Winona Ryder, Zachary Quinto, Zoe Saldana, Karl Urban
Science Fiction, Adventure, Action
The brash James T. Kirk tries to live up to his father's legacy with Mr. Spock keeping him in check as a vengeful Romulan from the future creates black holes to destroy the Federation one planet at a time. Well made reboot of the popular TV show. Moderate violence and threat.
ESCAPE FROM ZAHRAIN (U)
7.10pm Talking Pictures TV
Starring: Yul Brenner, Sal Mineo, Jack Warden
Action, Adventure, Drama
A hunted revolutionary leads a rag tag group of individuals through the desert in an attempt to elude the security forces and escape the fictitious Arab country of Zahrain. Exciting boy's own adventure. Violence.
WAR FOR THE PLANET OF THE APES (12)
9pm Film4
Starring: Andy Serkis, Judy Greer, Woody Harrelson
Action, Science Fiction
Action sci-fi sequel in which the leader of the ape rebellion attempts to rescue his son from a labour camp. Superb conclusion to the rebooted trilogy. Moderate violence, injury detail.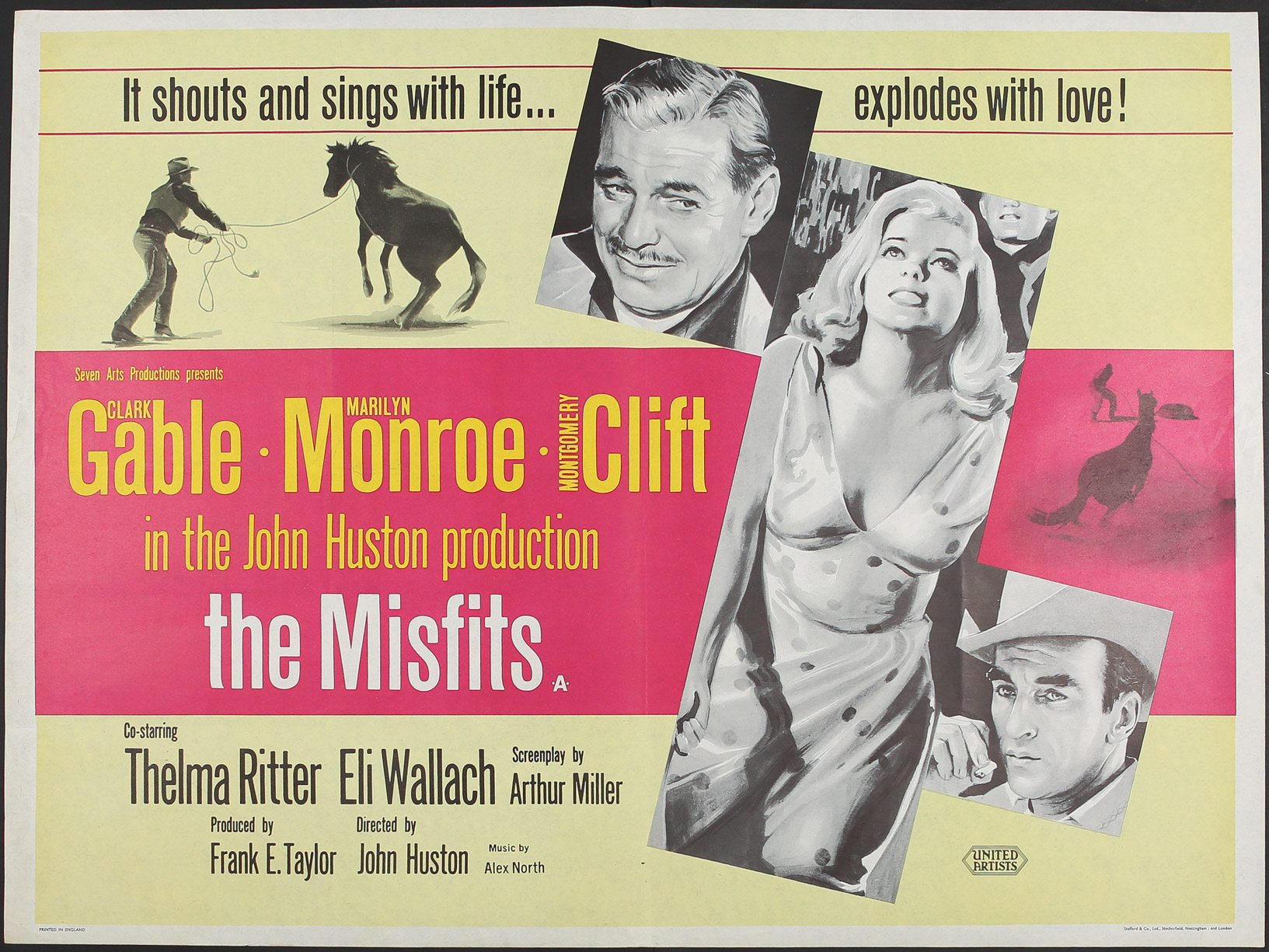 THE MISFITS (PG)
9pm Sony Movies Classic
Starring: Clark Gable, Marilyn Monroe, Montgomery Clift
Drama, Romance, Western
A divorcée falls for an over-the-hill cowboy who is struggling to maintain his romantically independent lifestyle. Classic drama that turned out to be last films for Gable and Monroe. Mild language and violence. Black and white.
CRIMSON TIDE (15)
9pm ITV4
Starring: Denzel Washington, Gene Hackman
Action, Drama, Thriller
On a U.S. nuclear missile sub, a young First Officer stages a mutiny to prevent his trigger happy Captain from launching his missiles before confirming his orders to do so. Gripping submarine drama with two excellent leads. Strong language, sex references and violence.
DIRTY DANCING (12)
9pm 5*
Starring: Patrick Swayze, Jennifer Grey
Drama, romance, music
Spending the summer at a Catskills resort with her family, Frances "Baby" Houseman falls in love with the camp's dance instructor, Johnny Castle. Hugely popular romance. Moderate sex references.
THE FESTIVAL (15)
9pm 4Seven
Starring: Joe Thomas, Hugh Coles, Jemaine Clement
Comedy
After Nick's girlfriend dumps him, his best mate Shane has the perfect antidote to his break-up blues: three days at an epic music festival. Inbetweeners style comedy. Strong sex references, crude humour, sex, drug misuse, very strong language.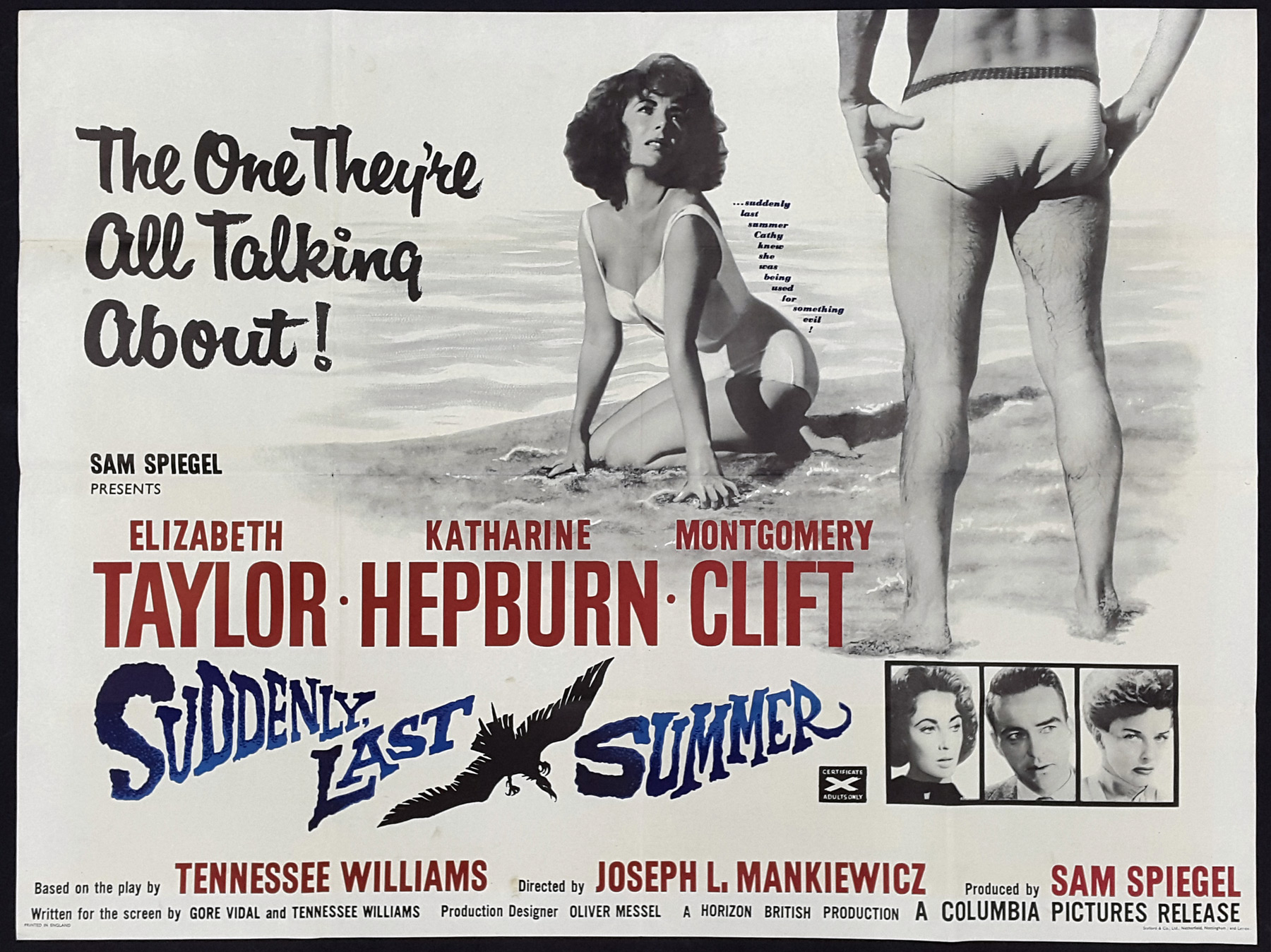 SUDDENLY, LAST SUMMER (15)
11.25pm Sony Movies Classic
Starring: Elizabeth Taylor, Katharine Hepburn, Montgomery Clift
Drama, thriller
The only son of wealthy widow Violet Venable dies while on vacation with his cousin Catherine. What the girl saw was so horrible that she went insane; now Mrs. Venable wants Catherine lobotomized to cover up the truth. Classic Tennessee William's adaptation. Sexual reference, language and mild peril.
ENEMY AT THE GATES (15)
12.50am Sony Movies
Starring: Joseph Fiennes, Jude Law, Rachel Weisz, Bob Hoskins, Ed Harris
War, Drama
A Russian and a German sniper play a game of cat-and-mouse during the Battle of Stalingrad. An interesting twist on the traditional war movie. Strong war violence and horror, and moderate sex.
THE DAY OF THE TRIFFIDS (15)
1.50am Talking Pictures TV
Starring: Howard Keel, Nicole Maurey
Sci-fi, drama, horror
After an unusual meteor shower leaves most of the human population blind, a merchant navy officer must find a way to conquer tall, aggressive plants which are feeding on people and animals. Classic sci-fi based on the best-selling book. Violence and threat.
NICO, 1988 (15)
2am Film4
Starring: Trine Dyrholm, John Gordon Sinclair, Anamaria Marinca
Music, Drama, Biopic
The last year of singer Nico's life, as she tours and grapples with addiction and personal demons. Powerful biopic with a stunning turn by Trine Dyrholm, Strong language, drug misuse, brief bloody images.