Morning!
It's looking like the government will be after "normality" by November. Does that mean I have to keep going with this till then? We will see how we get on. In the meantime, here are today's extended Saturday list.
Stay safe, look after yourself and Happy Saturday!
AMAZON PRIME
THE CABLE GUY (12)
Starring: Jim Carrey, Matthew Broderick
Comedy, drama
A lonely and mentally disturbed cable guy raised on television just wants a new friend, but his target, a designer, rejects him, with bad consequences. Dark comedy directed by Ben Stiller. Moderate sex references, violence and language.
LEGENDS OF THE FALL (15)
Starring: Brad Pitt, Anthony Hopkins, Aidan Quinn, Julia Ormond
War, Drama, Romance
In the early 1900s, three brothers and their father living in the remote wilderness of Montana are affected by betrayal, history, love, nature, and war. Epic drama with a strong cast. Violence, and for some sexuality and language.
NETFLIX
BLACKFISH (15)
Starring: Samantha Berg, Dave Duffus, Dean Gomersall
Documentary
A documentary following the controversial captivity of killer whales, and its dangers for both humans and whales. Shocking and heartbreaking documentary. Not for the faint-hearted. Scenes of sustained real animal attacks and sight of injuries.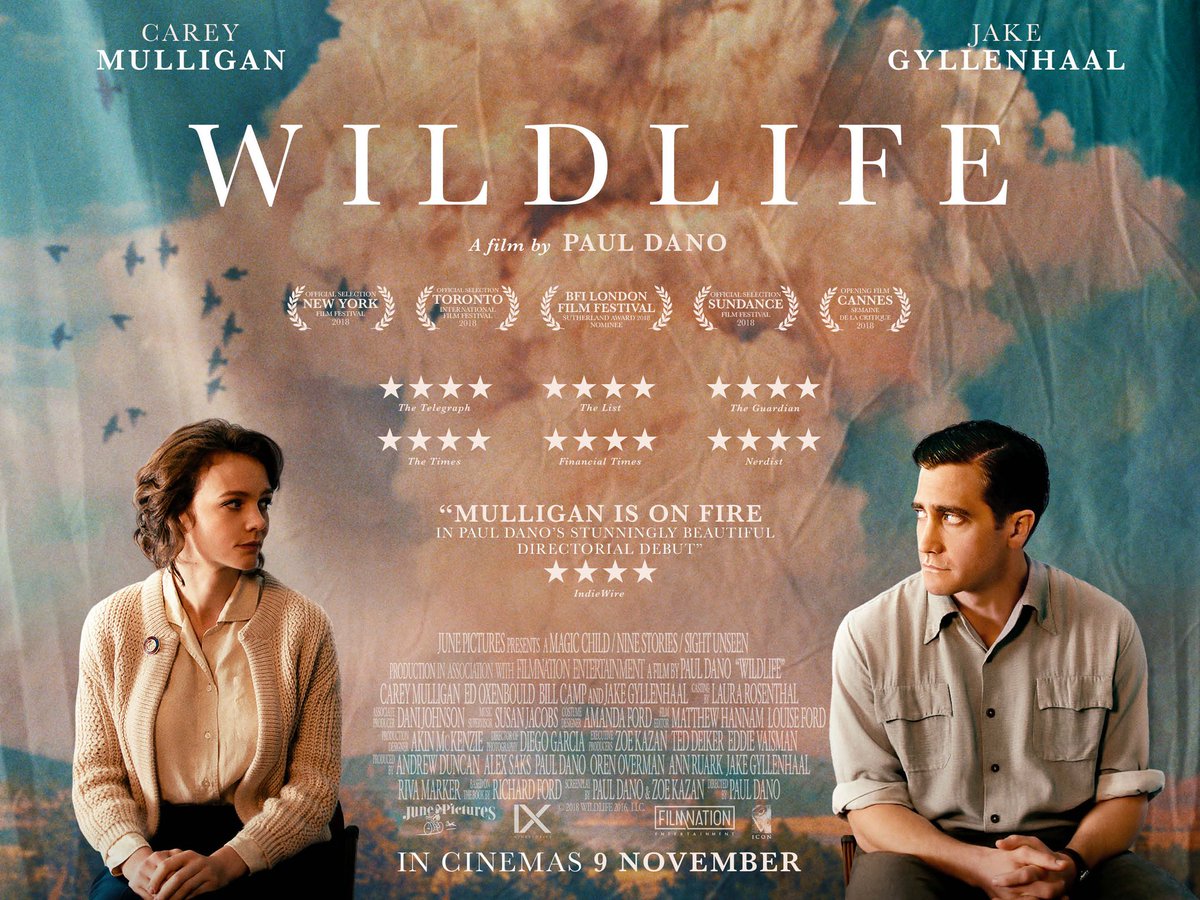 WILDLIFE (12)
Starring: Jake Gyllenhaal, Carey Mulligan
Drama
A teenage boy must deal with his mother's complicated response after his father temporarily abandons them to take a menial and dangerous job. Small-scale, understated drama directed by actor Paul Dano. Moderate sex references, infrequent strong language.
NOW TV/SKY CINEMA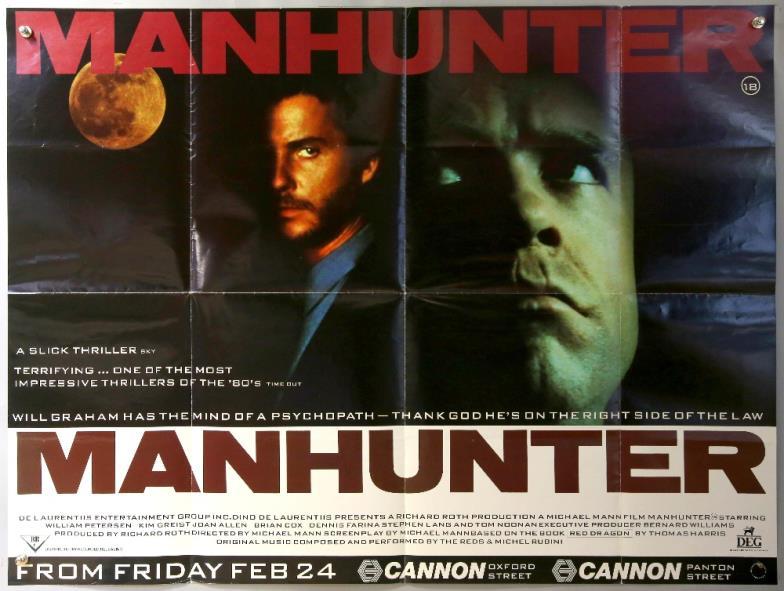 MANHUNTER (18)
Starring: William Petersen, Kim Greist, Joan Allen, Brian Cox
Thriller, Horror, Crime
Former F.B.I. profiler Will Graham returns to service to pursue a deranged serial killer named "the Tooth Fairy" by the media. The first appearance from Hannibal Lector in Michael Mann's stylish thriller. Strong violence and language.
STAR TREK V: THE FINAL FRONTIER (PG)
Starring: William Shatner, Leonard Nimoy, Deforest Kelley
Science Fiction, Adventure
Captain Kirk and his crew must deal with Mr. Spock's long-lost half-brother who hijacks the Enterprise for an obsessive search for God at the centre of the galaxy. William Shatner directs this fifth outing for the Enterprise crew. Mild violence and language.
MOVIES ON TERRESTRIAL TV
THE SPONGEBOB MOVIE: SPONGE OUT OF WATER (U)
11am Film4
Starring: Tom Kenny, Bill Fagerbakke, Antonio Banderas
Animation, Comedy
After SpongeBob's beloved pet snail Gary is snail-napped, he and Patrick embark on an epic adventure to The Lost City of Atlantic City to bring Gary home. Crazy mix of CGI animation and live-action. A bonkers hoot. Mild slapstick violence, toilet humour.
CLEOPATRA (PG)
11.25am Sony Movies Classic
Starring: Elizabeth Taylor, Richard Burton, Rex Harrison
Biopic, Drama
Queen Cleopatra VII of Egypt experiences both triumph and tragedy as she attempts to resist the imperial ambitions of Rome. Epic historical drama that has the reputation of an expensive flop. Mild violence, language, sex references and grisly scenes.
POLICE ACADEMY 3: BACK IN TRAINING (PG)
11.35am ITV4
Starring: Steve Guttenberg, Bubba Smith, David Graf
Comedy
The alumni of Commandant Lassard's Police Acadmey return to the school to train new recruits and prevent its closure. The third outing for the comedy series and the one where the series started to drop in quality. Mild comic violence, mild language and innuendo.
RIO 2 (U)
12.45pm Film4
Starring:  Anne Hathaway, Jesse Eisenberg, Bruno Mars
Animation, Adventure, Comedy
It's a jungle out there for Blu, Jewel and their three kids after they're hurtled from Rio de Janeiro to the wilds of the Amazon. As Blu tries to fit in, he goes beak-to-beak with the vengeful Nigel, and meets his father-in-law. Bright and breezy sequel. Mild comic threat, slapstick.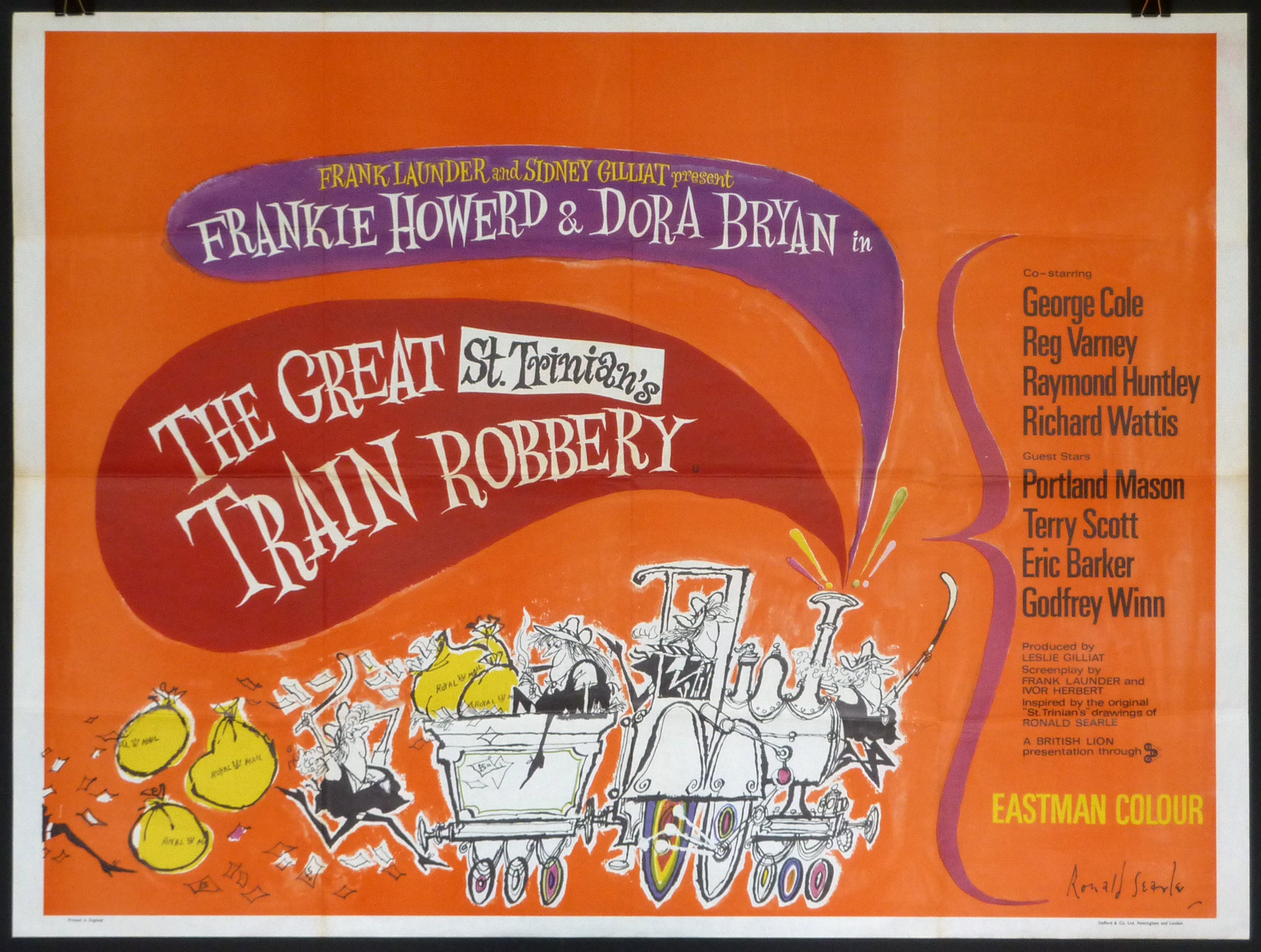 THE GREAT ST TRINIAN'S TRAIN ROBBERY (U)
1.10pm ITV3
Starring: Frankie Howerd, Dora Bryan, George Cole
Comedy
The all-girl school foil an attempt by train robbers to recover two and a half million pounds hidden in their school. Better than average entry to the comedy franchise. Mild language and sex references.
SMALL SOLDIERS (PG)
1.50pm ITV1
Starring: Kirsten Dunst, Gregory Smith, Denis Leary, Tommy Lee Jones
Action, Adventure, Comedy
When missile technology is used to enhance toy action figures, the toys soon begin to take their battle programming too seriously. Enjoyable mayhem from the director of Gremlins. Mild bad language and horror.
SPARROWS CAN'T SING (PG)
1.55pm Talking Pictures TV
Starring: James Booth, Barbara Windsor, Roy Kinnear
Comedy, Drama
Charlie returns to the East End after two years at sea to find his house demolished and wife Maggie gone. Everyone else knows she is now shacked up with married bus driver Bert and a toddler, and they all watch with more than a little interest at the trail of mayhem Charlie leaves as he goes about sorting things out. A realistic depiction of East End life in the 60s. Mild language and adult themes. Black and white.
THE THOMAS CROWN AFFAIR (PG)
2.05pm BBC2
Starring: Steve McQueen, Faye Dunaway
Drama, Thriller
A debonair, adventuresome bank executive believes he has pulled off the perfect multi-million dollar heist, only to match wits with a sexy insurance investigator who will do anything to get her man. Stylish and cool caper thriller. Mild violence.
THE CHOIR (PG)
2.45pm Film4
Starring: Dustin Hoffman, Kathy Bates, Eddie Izzard
Drama, music
After his single mother dies, a young boy with an excellent voice is sent to a prestigious choir school, and has trouble adapting to the culture of the school. Poignant and beautiful drama. Mild violence, mild bad language.
HOT SHOTS! (12)
3.20pm Sony Movies
Starring: Charlie Sheen, Valeria Golina, Cary Elwes, Lloyd Bridges
Comedy
A parody of Top Gun in which a talented but unstable fighter pilot must overcome the ghosts of his father and save a mission sabotaged by greedy weapons manufacturers. Spoof comedy from the makers of Airplane! Infrequent strong language and moderate sex references. May be edited for content.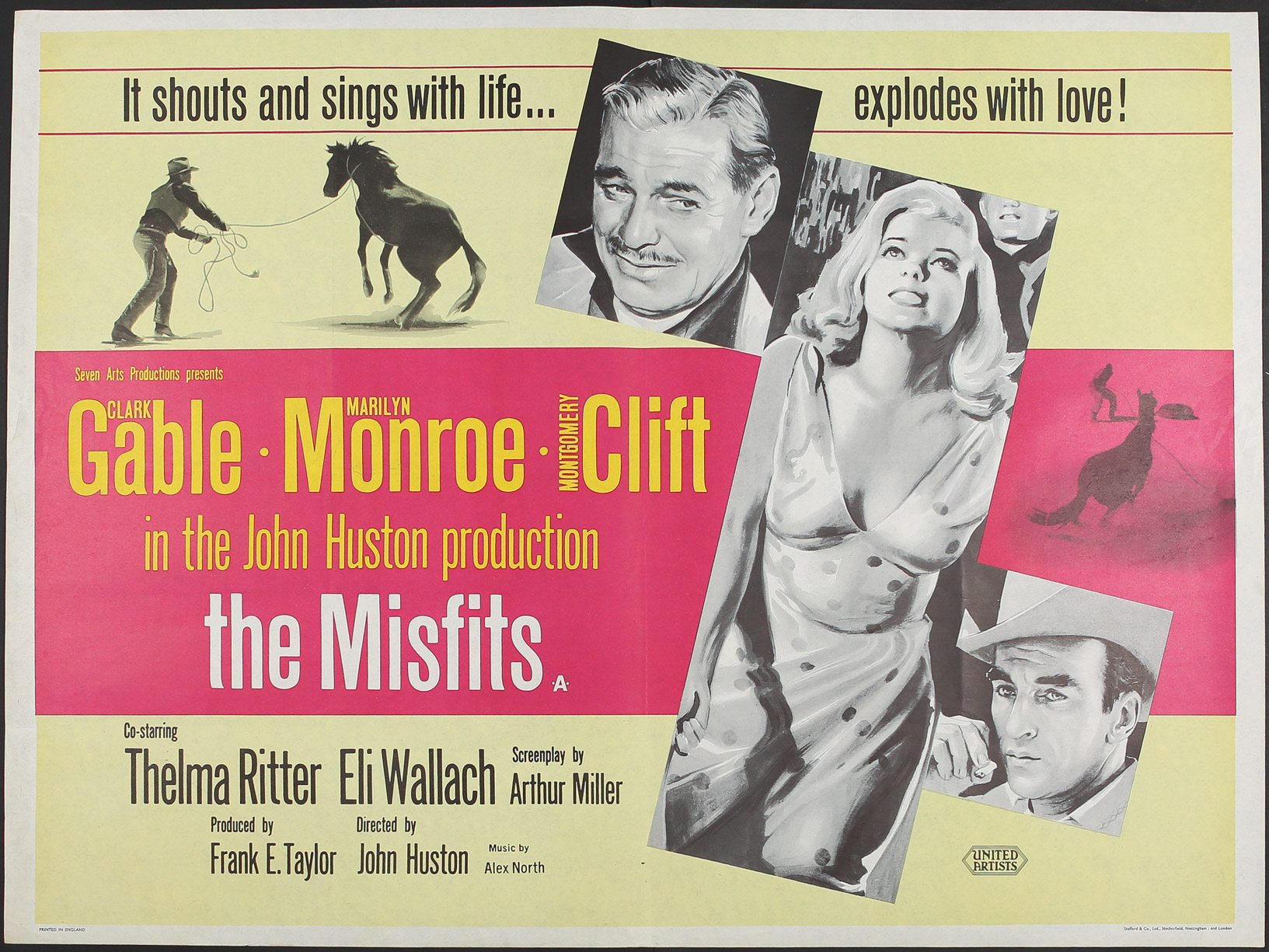 THE MISFITS (PG)
4.20pm Sony Movies Classic
Starring: Clark Gable, Marilyn Monroe, Montgomery Clift
Drama, Romance, Western
A divorcée falls for an over-the-hill cowboy who is struggling to maintain his romantically independent lifestyle. Classic drama that turned out to be last films for Gable and Monroe. Mild language and violence. Black and white.
BREWSTER'S MILLIONS (PG)
4.30pm ITV4
Starring: Richard Pryor, John Candy
Comedy
A minor league baseball player has to spend $30 million in thirty days, in order to inherit $300 million. However, he's not allowed to own any assets, destroy the money, gift it, give it to charity or tell anyone about the deal. Enjoyable comedy with the great Richard Pryor. Mild language.
THE ADDAMS FAMILY (PG)
4.45pm 5*
Starring: Anjelica Huston, Raul Julia, Christopher Lloyd, Christina Ricci
Horror, Fantasy, Comedy
Con artists plan to fleece an eccentric family using an accomplice who claims to be their long-lost uncle. Perfectly cast family comedy horror. Mild comic violence and horror.
NUTTY PROFESSOR II: THE KLUMPS (12)
4.45pm Channel 4
Starring: Eddie Murphy, Janet Jackson
Comedy
Scientist Sherman Klump's inventions, his upcoming marriage to his pretty colleague Denise Gaines and his reputation are threatened by his evil clone Buddy Love. Sequel to the Eddie Murphy comedy. Moderate sex references, language and rude humour. May be edited for content.
THE COCKLESHELL HEROES (U)
5pm Sony Movies Action
Starring: Jose Ferrer, Trevor Howard, Anthony Newley
War, Action, Drama
During World War II, German ships are "safely" docked upriver at Bordeaux, but the British send a team of kayakers to attack them. Exciting war drama directed by Jose Ferrer. Violence.
HOT SHOTS! PART DEUX (12)
5.05pm Sony Movies
Starring: Charlie Sheen, Valeria Golino, Lloyd Bridges, Richard Crenna
Comedy
"Rambo" parody in which Topper Harley leads a rescue team into Iraq to save Iraqi war prisoners and all of their previous rescue teams. More spoof comedy in this silly sequel. Moderate sex, sex references and one use of strong language. May be edited for content.
MALEFICENT (PG)
5.15pm BBC1
Starring: Angelina Jolie, Elle Fanning
Fantasy, Drama, Adventure
A vengeful fairy is driven to curse an infant princess, only to discover that the child may be the one person who can restore peace to their troubled land. Interesting reimagination of Sleeping Beauty. Mild violence, threat, scary scenes.
A TOUCH OF LARCENY (U)
6pm Talking Pictures TV
Starring: James Mason, Vera Miles, George Sanders
Comedy
British Commander Max Easton fakes his defection to the Soviets in order to sue the slandering newspapers for the money he needs to woo a fancy American woman. Fun comedy with plenty of twists and turns. Black and white.
THE HUNGER GAMES: MOCKINGJAY PART 1 (12)
6.40pm E4
Starring: Jennifer Lawrence, Josh Hutcherson, Liam Hemsworth, Woody Harrelson
Drama, Action, Sci-Fi
Katniss Everdeen is in District 13 after she shatters the games forever. Under the leadership of President Coin and the advice of her trusted friends, Katniss spreads her wings as she fights to save Peeta and a nation moved by her courage. Third part in the Hunger Games series. Moderate violence, threat.
SAHARA (12)
6.40pm Film4
Starring: Matthew McConaughey, Penelope Cruz, Steve Zahn
Action, Adventure, Comedy
Master explorer Dirk Pitt goes on the adventure of a lifetime of seeking out a lost Civil War battleship known as the "Ship of Death" in the deserts of West Africa while helping a WHO doctor being hounded by a ruthless dictator. Indiana Jones style adventure. Moderate action violence.
BACK TO THE FUTURE PART II (PG)
6.45pm ITV2
Starring: Michael J. Fox, Crispin Glover, Christopher Lloyd, Lea Thompson
Science Fiction, Adventure, Comedy
After visiting 2015, Marty McFly must repeat his visit to 1955 to prevent disastrous changes to 1985…without interfering with his first trip. Second feature is better than most regard. Mild language, violence.
GAMBIT (U)
6.45pm Sony Movies Classic
Starring: Shirley Maclaine, Michael Caine, Herbert Lom
Comedy, Crime, Thriller
An English cat burglar needs a Eurasian dancer's help to pull off the perfect heist, but even the most foolproof schemes have a way of backfiring. Classy 60s crime caper. Mild violence and language.
THE FIRST WIVES CLUB (PG)
6.50pm 5*
Starring: Goldie Hawn, Bette Midler, Diane Keaton, Maggie Smith
Comedy
Reunited by the death of a college friend, three divorced women seek revenge on the husbands who left them for younger women. Three screen legends save this otherwise routine comedy. Mild sex references, violence and language.
VOLCANO (12)
6.55pm Sony Movies
Starring: Tommy Lee Jones, Anne Heche
Action, drama
A volcano erupts in downtown Los Angeles, threatening to destroy the city. Bonkers disaster movie saved by the presence of Tommy Lee Jones. Moderate threat, injury detail, infrequent strong language.
MAMMA MIA! (PG)
8pm ITVBe
Starring: Meryl Streep, Pierce Brosnan, Colin Firth, Stellan Skarsgard, Julie Walters, Dominic Cooper, Amanda Seyfried, Christine Baranski
Musical, Comedy, Romance
The story of a bride-to-be trying to find her real father told using hit songs by the popular 1970s group ABBA. Feel-good musical smash. Mild bad language, sex references.
TWINS (PG)
8pm ITV4
Starring: Arnold Schwarzenegger, Danny De Vito, Kelly Preston
Comedy
A physically perfect but innocent man goes in search of his long-lost twin brother, who is short, a womaniser, and small-time crook. One-joke comedy with two likeable leads. Language, violence and sexual content.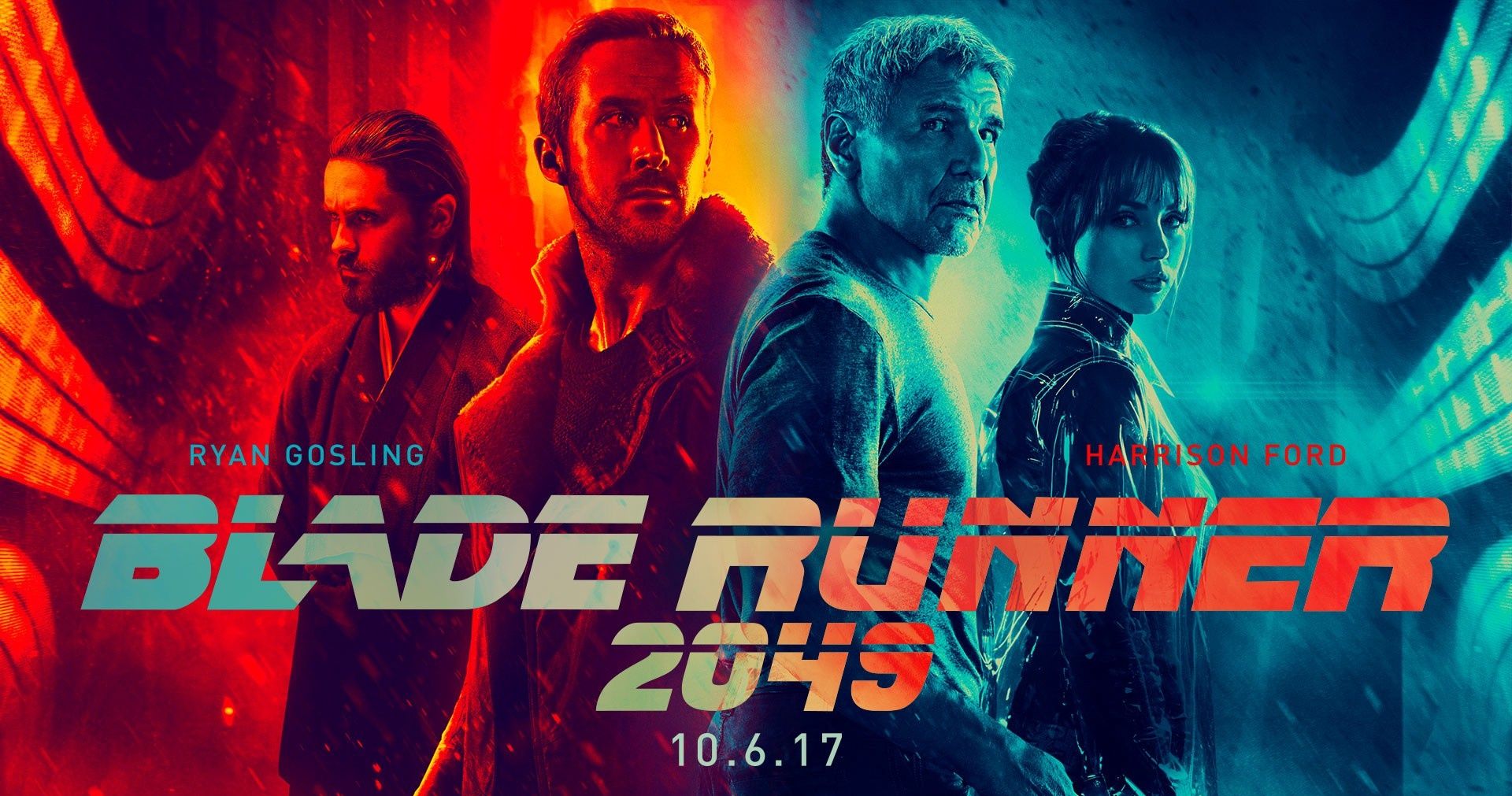 BLADE RUNNER 2049 (15)
9pm ITV2
Starring: Ryan Gosling, Harrison Ford
Sci-Fi, Adventure, Thriller
Young Blade Runner K's discovery of a long-buried secret leads him to track down former Blade Runner Rick Deckard, who's been missing for thirty years. Impressive sequel to the 1982 classic. Violence, strong language, sexual content.
DEEPWATER HORIZON (12)
9pm Film4
Starring: Mark Wahlberg, Dylan O'Brien, Kate Hudson, Kurt Russell
Action, Drama
A dramatisation of the disaster in April 2010, when the offshore drilling rig called the Deepwater Horizon exploded, resulting in the worst oil spill in American history. Heroic retelling of a disaster. Moderate threat, occasional gory moments, infrequent strong language.
THUNDERBALL (PG)
7.20pm ITV4
Starring: Sean Connery, Claudine Auger, Adolfo Cel
Action, adventure, thriller
James Bond heads to the Bahamas to recover two nuclear warheads stolen by S.P.E.C.T.R.E. Agent Emilio Largo in an international extortion scheme. Terrific underwater set pieces for Bond's fourth outing. Violence and innuendo.
DIRTY DANCING (12)
9pm 5*
Starring: Patrick Swayze, Jennifer Grey
Drama, romance, music
Spending the summer at a Catskills resort with her family, Frances "Baby" Houseman falls in love with the camp's dance instructor, Johnny Castle. Hugely popular romance. Moderate sex references.
SUMMER OF SAM (18)
9pm Sony Movies
Starring: John Leguizamo, Adrien Brody, Mira Sorvino, Jennifer Esposito
Crime, Drama
Spike Lee's take on the "Son of Sam" murders in New York City during the summer of 1977 centring on the residents of an Italian-American Northeast Bronx neighbourhood who live in fear and distrust of one another. Spike Lee's dark tale of a city under siege. Drugs use, sex, language and violence.
RESIDENT EVIL (15)
9pm Horror Channel
Starring: Milla Jovovich, Michelle Rodriguez
Sci-fi, Horror, Action
A special military unit fights a powerful, out-of-control supercomputer and hundreds of scientists who have mutated into flesh-eating creatures after a laboratory accident. The first in the gory zombie franchise. Strong sci-fi/horror violence, language and sexuality/nudity.
BOY ON A DOLPHIN (PG)
9pm Sony Movies Classic
Starring: Sophia Loren, Alan Ladd, Clifton Webb
Adventure, Drama, Romance
A woman finds a treasure and is torn between two men: one who wants to sell it and one who wants to gift it to Greece. Lavish romantic drama.
THREE BILLBOARDS OUTSIDE EBBING, MISSOURI (15)
9.15pm Channel 4
Starring: Frances McDormand, Woody Harrelson, Sam Rockwell
Drama, Crime
A mother personally challenges the local authorities to solve her daughter's murder when they fail to catch the culprit. Outstanding Oscar-winning drama. Very strong language, strong violence, sex references.
THE DUCHESS (12)
9.15pm BBC2
Starring: Keira Knightley, Ralph Fiennes, Dominic Cooper, Charlotte Rampling
Biopic, Drama
A chronicle of the life of 18th-century aristocrat Georgiana, Duchess of Devonshire, who was reviled for her extravagant political and personal life. Beautiful-looking costume drama. Sexual violence, moderate sex.
THE CARPETBAGGERS (12)
10pm Talking Pictures TV
Starring: George Peppard, Alan Ladd
Drama
Jonas Cord is a disagreeable young tycoon who's building planes, directing films and catting around on the corporate make in 1930's Hollywood. Trashy yet fun 60s drama. Violence and sexual references.
THE BLUES BROTHERS (15)
10.10pm ITV4
Starring: John Belushi, Dan Aykroyd
Comedy, adventure, musical
Jake Blues, just released from prison, puts together his old band to save the Catholic home where he and his brother Elwood were raised. Cult classic comedy with a cracking soundtrack. Strong language, violence and sexual references.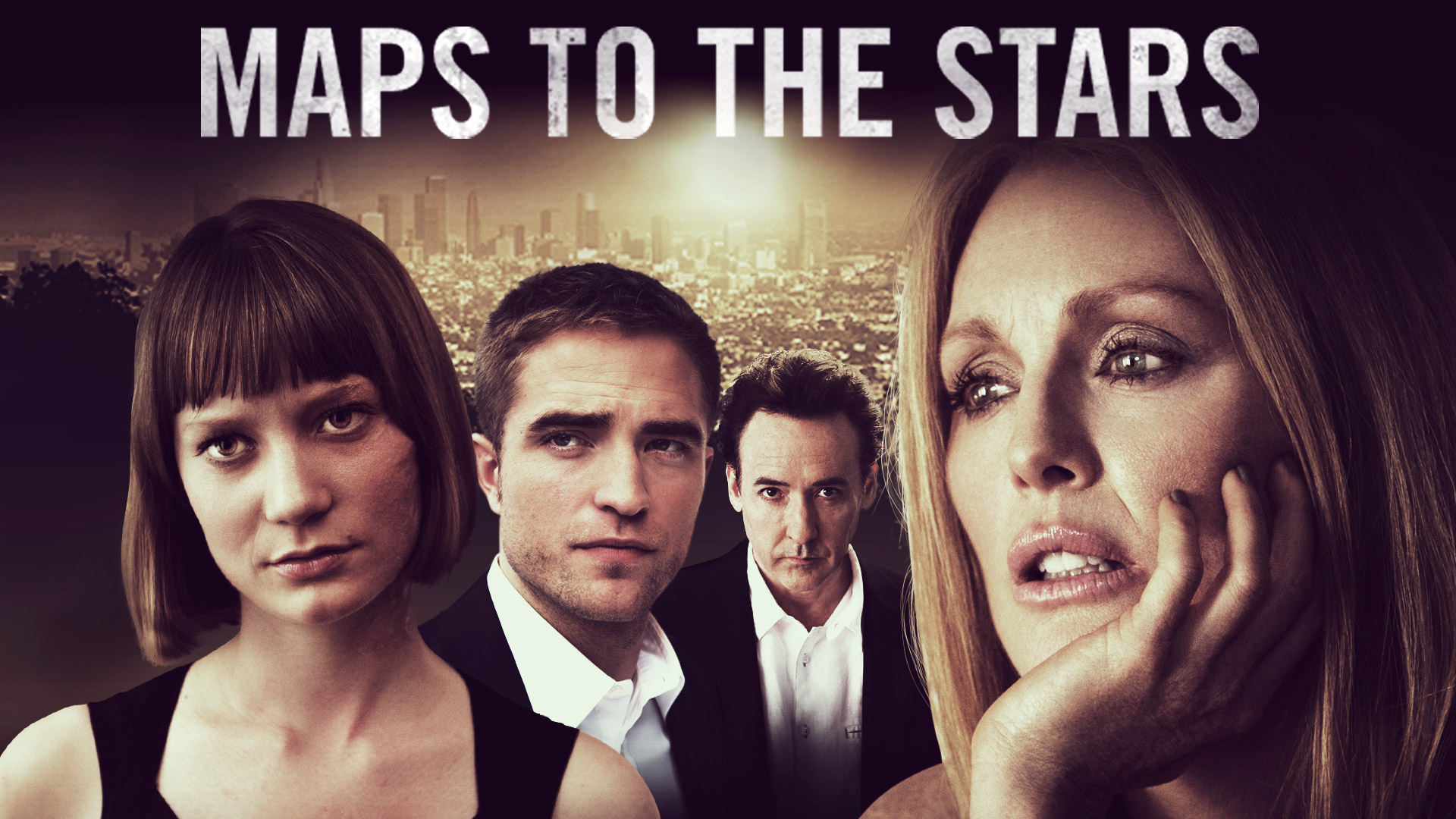 MAPS TO THE STARS (18)
10.55pm BBC2
Starring: John Cusack, Mia Wasikowska, Julianne Moore, Robert Pattinson, Carrie Fisher
Drama
A tour into the heart of a Hollywood family chasing celebrity, one another and the relentless ghosts of their pasts. David Cronenberg's disturbing slice of satire. Strong sex, sexual abuse references, violence, very strong language.
DON'T BREATHE (15)
11.10pm Film4
Starring: Stephen Lang, Jane Levy, Dylan Minnette
Thriller, Horror
Hoping to walk away with a massive fortune, a trio of thieves break into the house of a blind man who isn't as helpless as he seems. Gripping horror somewhat spoilt by the ending. Strong violence, sexual threat, strong language.
PHILADELPHIA (12)
11.15pm Sony Movies Classic
Starring: Tom Hanks, Denzel Washington, Jason Robards, Antonio Banderas
Drama
When a man with HIV is fired by his law firm because of his condition, he hires a homophobic small time lawyer as the only willing advocate for a wrongful dismissal suit. Powerful drama with an Oscar-winning performance from Tom Hanks. Moderate sex references and language.
JACKIE (15)
11.30pm Channel 4
Starring: Natalie Portman, Peter Sarsgaard, Billy Crudup, John Hurt, Greta Gerwig
Biopic, Drama
Following the assassination of President John F. Kennedy, First Lady Jacqueline Kennedy fights through grief and trauma to regain her faith, console her children, and define her husband's historic legacy. Superb performance from Natalie Portman. Brief strong violence.
THE NIGHT LISTENER (15)
11.50pm Sony Movies
Starring: Robin Williams, Toni Collette, Sandra Oh
Drama, Horror
In the midst of his crumbling relationship, a radio show host begins speaking to his biggest fan, a young boy, via the telephone. But when questions about the boy's identity come up, the host's life is thrown into chaos. Dark and disturbing horror. Strong language and child sexual abuse references.
SHORT TERM 12 (15)
11.55pm BBC1
Starring: Brie Larson, John Gallagher Jr.
Drama
A 20-something supervising staff member of a residential treatment facility navigates the troubled waters of that world alongside her co-worker and longtime boyfriend. Terrific drama with a strong lead for a young Brie Larson. Strong language and references to child abuse and self-harm.
GINGER SNAPS (18)
12.35am Horror Channel
Starring: Katherine Isabele, Emily Perkins
Horror, fantasy, drama
Two death-obsessed sisters, outcasts in their suburban neighbourhood, must deal with the tragic consequences when one of them is bitten by a deadly werewolf. Terrific cult horror.Strong violence and horror, coarse language and drug use.
BONE TOMAHAWK (18)
12.55am Film4
Starring: Kurt Russell, Richard Jenkins, Patrick Wilson, Sean Young
Western, Horror
In the dying days of the old west, an elderly sheriff and his posse set out to rescue their town's doctor from cannibalistic cave dwellers. Shockingly brutal yet well-made western horror. Strong violence, graphic gore and horror, language.