Morning!
So we are stepping from the frying pan into the fire. After Covid-19, we are now picking a fight with China. Maybe we should sort out our own problems before looking for something else to worry us. Anyway, best thing is to hide and watch a movie from one of today's recommendations.
Stay safe, look after yourself and Happy Tuesday!
AMAZON PRIME
BLADE (18)
Starring: Wesley Snipes, Stephen Dorff, Kris Kristofferson
Horror, Action, Sci-Fi
A half-vampire, half-mortal man becomes a protector of the mortal race, while slaying evil vampires. Based on the Marvel comics, the first outing for Wesley Snipes' vampire hunter. Strong bloody violence, language and sexual content.
THE QUICK AND THE DEAD (15)
Starring: Sharon Stone, Gene Hackman, Russell Crowe, Leonardo DiCaprio
Western, Adventure
A female gunfighter returns to a frontier town where a duelling tournament is being held, which she enters in an effort to avenge her father's death. |Forgotten western from the director of Spider-Man. Violence, language, sexual content and brief nudity.
NETFLIX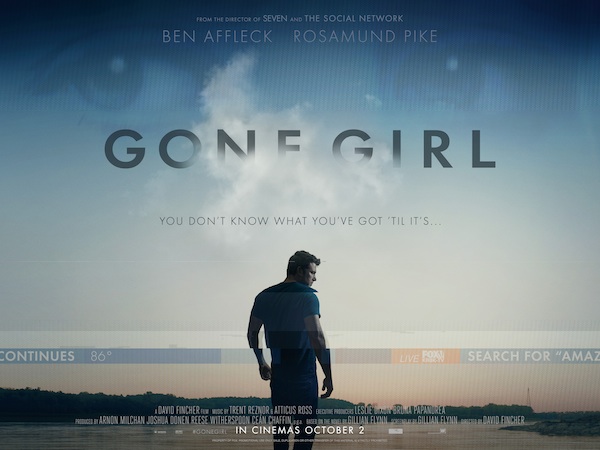 GONE GIRL (18)
Starring: Ben Affleck, Rosamund Pike, Neil Patrick Harris, Tyler Perry
Thriller, Drama
With his wife's disappearance having become the focus of an intense media circus, a man sees the spotlight turned on him when it's suspected that he may not be innocent. Outstanding thriller from the director of Seven. Bloody violence, some strong sexual content/nudity, and language.
THE MISEDUCATION OF CAMERON POST (15)
Starring: Chloë Grace Moretz, Jennifer Ehle, Marin Ireland
Drama
In 1993, a teenage girl is forced into a gay conversion therapy centre by her conservative guardians. Terrific independent drama that was sadly overlooked on its release. Strong language, sex, drug misuse.
NOW TV/SKY CINEMA
RED EYE (12)
Starring: Rachel McAdams, Cillian Murphy, Brian Cox
Thriller
A woman is kidnapped by a stranger on a routine flight. Threatened by the potential murder of her father, she is pulled into a plot to assist her captor in offing a politician. Tense thriller from the director of Scream. Intense sequences of violence, and language.
AN OFFICER AND A GENTLEMAN (15)
Starring: Richard Gere, Debra Winger, Louis Gossett Jr.
Drama, Romance
A young man must complete his work at a Navy Officer Candidate School to become an aviator, with the help of a tough Gunnery Sergeant and his new girlfriend. Oscar-winning romance which made Richard Gere a star.  Strong violence, very strong language, some strong sexuality and graphic nudity.
MOVIES ON TERRESTRIAL TV
THE GREAT SIOUX MASSACRE (U)
11am Film4
Starring: Joseph Cotten, Darren McGavin
Western, Action, Drama
A somewhat different take on Custer's motivation that changed him from a defender of Native-American rights into a politically-driven , headlines-seeker chastiser of the Sioux during the 1870s. Epic western based loosely on real events. Violence.
ON THE BEAT (U)
11.10am Talking Pictures TV
Starring: Norman Wisdom, Jennifer Jayne, Raymond Huntley
Comedy
Norman wants to be a policeman like his father was, but he fails the height test (amongst others). One day he gets out his father's old uniform and "walks the beat". This leads to a level of chaos that only Norman could cause. More madcap comedy from Norman Wisdom. Black and white.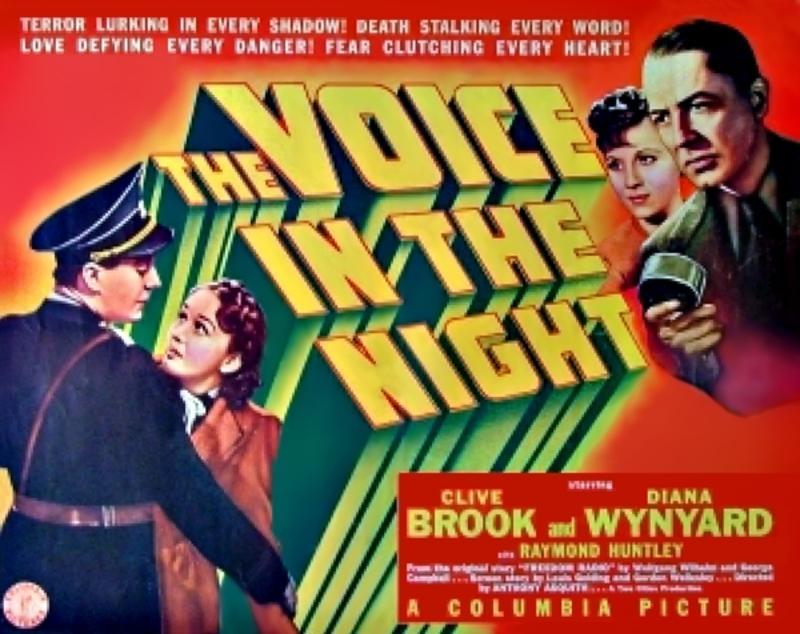 FREEDOM RADIO (PG)
1.05pm Film4
Starring: Clive Brook, Diana Wynyard
War, drama
Hitler's doctor is gradually realising that the Nazi regime isn't as good as it pretends to be when his friends start to "disappear" into the camps. Good old-fashioned propaganda war drama. Mild violence. Black and white.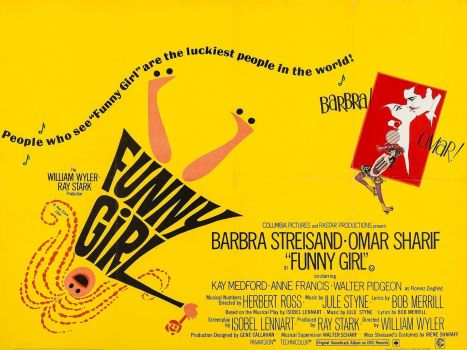 FUNNY GIRL (U)
1.35pm Sony Movies Classic
Starring: Barbra Streisand, Omar Sharif
Biopic, drama, comedy, musical
The life of Fanny Brice, famed comedienne and entertainer of the early 1900s. We see her rise to fame as a Ziegfeld girl, subsequent career, and her personal life, particularly her relationship with Nick Arnstein. Oscar-winning musical drama. Very mild language and innuendo.
THE AFRICAN QUEEN (U)
3pm Sony Movie Classic
Starring: Humphrey Bogart, Katharine Hepburn
Adventure, drama
In WWI Africa, a gin-swilling riverboat captain is persuaded by a strait-laced missionary to use his boat to attack an enemy warship.. Bogart won an Oscar for his role in this classic adventure. Violence and mild peril.
BITTER VICTORY (PG)
3pm Film4
Starring: Richard Burton, Curd Jürgens
War, Drama
A Commander receives a citation for an attack on General Erwin Rommel's headquarters, which is actually undeserved, as the Commander is unfit for his job. On top of that, unbeknown to him, his wife is having an affair with one of his officers. War movie with added human drama. Mild violence. Black and white.
ODD MAN OUT (PG)
4.35pm Talking Pictures TV
Starring: James Mason, Robert Newton
Crime, Drama, Film-Noir
A wounded Irish nationalist leader attempts to evade police following a failed robbery in Belfast. Terrific British thriller from Carol Reed. Violence. Black and white.
THE MAN FROM THE ALAMO (U)
5.05pm Film4
Starring: Glenn Ford, Julie Adams
Western, Drama
During the Alamo siege, John Stroud is sent to Ox Bow to protect the townsfolk but, following a massacre, he infiltrates Jess Wade's gang of turncoat renegades supporting the Mexicans. Routine western adventure. Mild violence.
THE ANDERSON TAPES (15)
5.10pm Sony Movies Action
Starring: Sean Connery, Dyan Cannon, Martin Balsam
Action, crime, thriller
After Duke Anderson is released from prison after ten years for taking the rap for a scion of a Mafia family, he cashes in a debt of honour with the mob to bankroll a caper. Clever if slightly dated crime caper.  Violence and language. May be edited for content.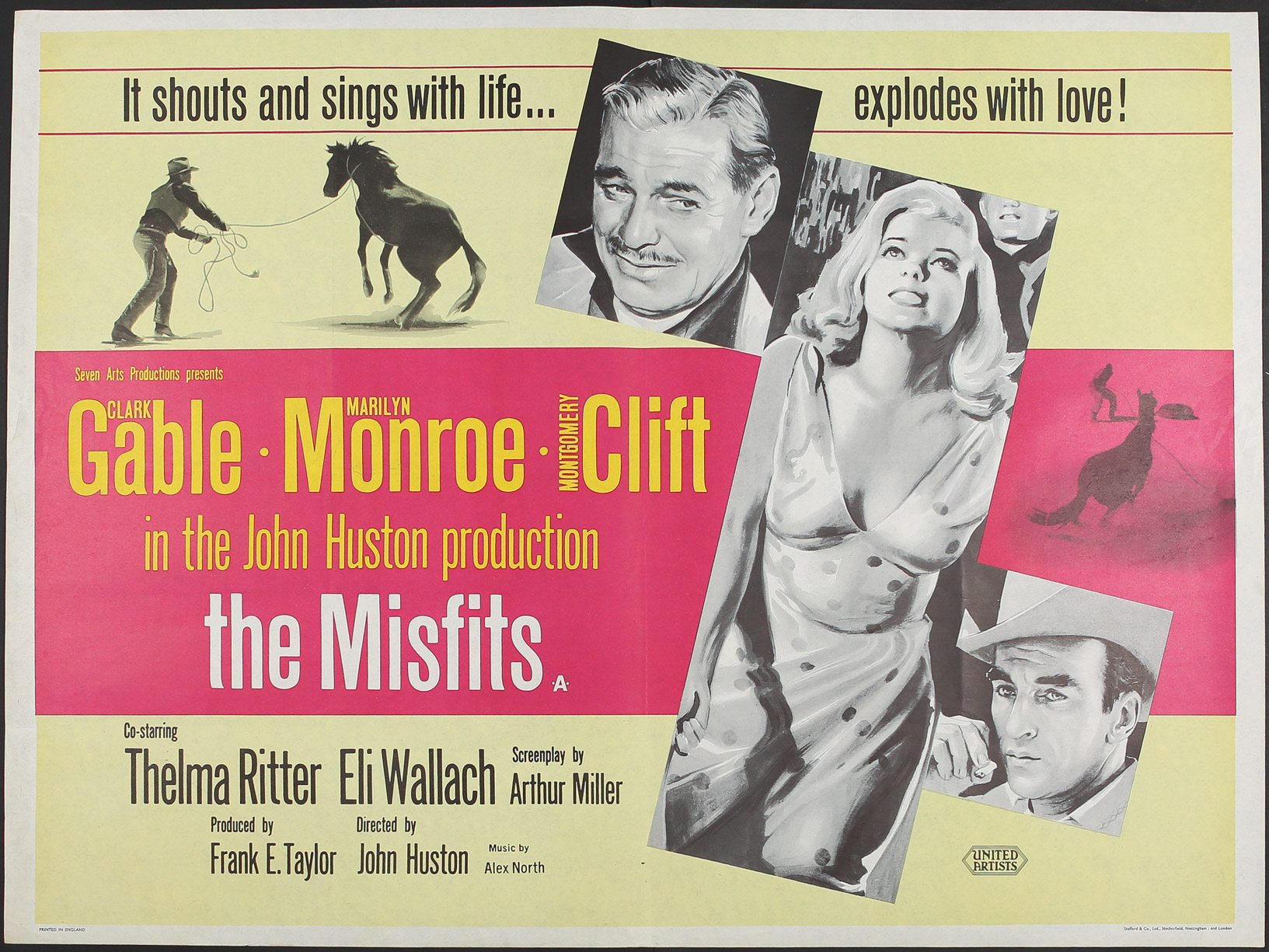 THE MISFITS (PG)
6.35pm Sony Movies Classic
Starring: Clark Gable, Marilyn Monroe, Montgomery Clift
Drama, Romance, Western
A divorcée falls for an over-the-hill cowboy who is struggling to maintain his romantically independent lifestyle. Classic drama that turned out to be last films for Gable and Monroe. Mild language and violence. Black and white.
EDDIE THE EAGLE (PG)
6.55pm Film4
Starring: Taron Egerton, Hugh Jackman
Drama, Comedy, Biopic
The story of Eddie Edwards, the notoriously tenacious British underdog ski jumper who charmed the world at the 1988 Winter Olympics. A feel-good delight. Mild sex references, mild bad language.
ARMORED (12)
7.10pm Sony Movies
Starring: Matt Dillon, Laurence Fishburne, Jean Reno
Thriller, Action, Crime
A newbie guard for an armoured truck company is coerced by his veteran coworkers to steal a truck containing $42 million. But a wrinkle in their supposedly foolproof plan divides the group, leading to a potentially deadly resolution. Decent crime thriller. One use of strong language and moderate bloody violence.
MISSION: IMPOSSIBLE – ROGUE NATION (12)
9pm Film4
Starring: Tom Cruise, Jeremy Renner, Simon Pegg, Rebecca Ferguson
Action, thriller
Members of the now-disbanded Impossible Missions Force must confirm the existence of a rogue organisation known as the Syndicate and destroy it. Exciting action sequel. Moderate violence and language.
WHAT A WAY TO GO! (U)
9pm Sony Movies Classic
Starring: Shirley Maclaine, Paul Newman, Robert Mitchum, Dean Martin, Gene Kelly, Robert Cummings, Dick Van Dyke
Comedy, Romance
A four-time widow discusses her four marriages, in which all of her husbands became incredibly rich and died prematurely because of their drive to be rich. Starry romantic comedy, 60s style. Very mild sex references.
ELYSIUM (15)
9pm Sony Movies
Starring: Matt Damon, Jodie Foster, Sharlto Copley
Sci-fi, action, drama
In the year 2154, the very wealthy live on a man-made space station while the rest of the population resides on a ruined Earth. A man takes on a mission that could bring equality to the polarised worlds. Inventive sci-fi from the director of District 9. strong language, bloody violence and gory images.
LOVE ACTUALLY (15)
10pm Channel 5
Starring: Hugh Grant, Emma Thompson, Colin Firth, Martine McCutcheon, Laura Linney, Liam Neeson, Bill Nighy, Rowan Atkinson, Chiwetel Ejiofor, Martin Freeman, Keira Knightley, Andrew Lincoln, Alan Rickman
Comedy, Drama, Romance
Follows the lives of eight very different couples in dealing with their love lives in various loosely interrelated tales all set during a frantic month before Christmas in London, England. Richard Curtis's hugely popular Christmas movie. Strong sex, language.
LOGAN LUCKY (12)
10pm ITV4
Starring: Channing Tatum, Adam Driver, Sebastian Stan, Daniel Craig, Katherine Waterston, Hilary Swank
Crime, Comedy
Two brothers attempt to pull off a heist during a NASCAR race in North Carolina. Hugely enjoyable crime caper. Infrequent strong language, moderate violence.
THE GREAT SMOKEY ROADBLOCK (15)
10pm Talking Pictures TV
Starring: Henry Fonda, Eileen Brennan, John Byner, Dub Taylor, Susan Sarandon
Action, Comedy
This movie is about an ageing trucker named Elegant John Howard. Howard decides he and his truck Elenor has one more good run in them, and with the help of a hitchhiker and a few others he will make it happen. Low-budget Smokey and the Bandit rip-off with a Hollywood legend. Violence, language and sexual references.
I AM NOT A WITCH (12)
11.40pm Film4
Starring: Gloria Huwiler, Chileshe Kalimamukwento
Drama
In a remote Zambian community a girl is denounced as a witch and sent on a trajectory of exploitation, as a tethered member of a witches' camp, a witch for hire and a tourist exhibit. Powerful and shocking tale. Moderate threat, bloody images. Subtitled.
EVERY HOME SHOULD HAVE ONE (15)
12.05am Talking Pictures TV
Starring: Marty Feldman, Judy Cornwell, Shelley Berman, Julie Ege
Comedy
Teddy works for a large advertising company. Given the seemingly impossible task of selling frozen porridge, he decides to produce commercials which make the product seem sexy. This leads him into confrontation with the "Keep Television Clean" movement, of which his wife is a senior member. Better-than-average British sex comedy. Sexual innuendo and mild language.
MIGHTY JOE YOUNG (PG)
1.10am Sony Movies Classic
Starring: Terry Moore, Ben Johnson, Robert Armstrong
Adventure, Action
A young woman who has raised a giant gorilla from an infant brings him to Hollywood years later seeking her fortune in order to save her family's ranch. King Kong-style adventure. Mild violence. Black and white.