Morning!
Middle of the week once again and it's looking a little cloudy but it's warm. If you're not sure, stay in and watch a movie.
Stay safe, look after yourself and Happy Wednesday!
AMAZON PRIME
THE REMAINS OF THE DAY (U)
Starring: Anthony Hopkins, Emma Thompson, James Fox, Christopher Reeve
Drama, Romance
A butler who sacrificed body and soul to service in the years leading up to World War II realises too late how misguided his loyalty was to his lordly employer. Beautiful drama with two outstanding lead performances.
BLADE II (18)
Starring: Wesley Snipes, Kris Kristofferson, Ron Perlman, Luke Goss
Horror, Action, Fantasy
Blade forms an uneasy alliance with the vampire council in order to combat the Reapers, who are feeding on vampires. The best of the Blade series directed by Guillermo del Toro. Very strong language, strong bloody violence & horror & drug use.
NETFLIX
CHANGELING (15)
Starring: Angelina Jolie, John Malkovich
Biopic, drama, crime
Grief-stricken mother Christine Collins (Angelina Jolie) takes on the L.A.P.D. to her own detriment when it tries to pass off an obvious impostor as her missing child. Tough drama directed by Clint Eastwood. Strong gory violence, language, nudity and sexual reference.
LONG SHOT (15)
Starring: Charlize Theron, Seth Rogen
Romance, Drama, Comedy
Journalist Fred Flarsky reunites with his childhood crush, Charlotte Field, now one of the most influential women in the world. As she prepares to make a run for the Presidency, Charlotte hires Fred as her speechwriter and sparks fly. Surprisingly funny comedy with a great double act. Strong language, sex references, sex, drug misuse.
NOW TV/SKY CINEMA
OVERLORD (18)
Starring: Jovan Adepo, Wyatt Russell, Bokeem Woodbine
War, Horror, Drama
A small group of American soldiers find horror behind enemy lines on the eve of D-Day. An imaginative yet horrific twist on the war drama. Strong bloody violence, disturbing images, language, and brief sexual content.
LAWRENCE OF ARABIA (PG)
Starring: Peter O'Toole, Alec Guinness, Anthony Quinn, Jack Hawkins, Omar Sharif
Biopic, Adventure, Drama
The story of T.E. Lawrence, the English officer who successfully united and led the diverse, often warring, Arab tribes during World War I in order to fight the Turks. One of the best epics ever made with a brilliant debut from Peter O'Toole. Mild violence.
MOVIES ON TERRESTRIAL TV
HELL BELOW ZERO (U)
11am Film4
Starring: Alan Ladd, Joan Tetzel
Action, Adventure, Drama
The captain of an Antarctic whaling ship falls overboard in mysterious circumstances and his daughter, aided by a sympathetic American, decides to investigate the accident.Gripping 50s adventure. Mild violence.
THE THING FROM ANOTHER WORLD (PG)
11.15am Sony Movies Action
Starring: Kenneth Tobey, Margaret Sheridan
Sci-fi, horror
Scientists and American Air Force officials fend off a bloodthirsty alien organism while at a remote arctic outpost. Classic sci-fi that inspired John Carpenter's 1982 The Thing. Scary scenes, mild horror and peril. Black and white.
THE BIG NOISE (U)
11.40am Talking Pictures TV
Starring: Stan Laurel, Oliver Hardy, Doris Merrick
Comedy, Adventure
During World War II Stan and Ollie find themselves as improbable bodyguards to an eccentric inventor and his strategically important new bomb. Feature-length Laurel and Hardy comedy. Black and white.
THE RECKLESS MOMENT (12)
12noon Sony Movie Classic
Starring: James Mason, Joan Bennett, Geraldine Brooks
Crime, Drama, Film-Noir
After discovering the dead body of her teenage daughter's lover, a housewife takes desperate measures to protect her family from scandal. Tense film-noir. Moderate violence. Black and white.
MY SIX LOVES (U)
1.10pm Talking Pictures TV
Starring: Debbie Reynolds, Cliff Robertson
Comedy
Broadway musical star arrives home and finds six runaway children living on the property. Delightfully cute 60s family comedy.
OUR MAN IN HAVANA (PG)
2.40pm Film4
Starring: Alec Guinness, Burl Ives, Maureen O'Hara
Comedy, crime, drama
Jim Wormold, who is a vacuum cleaner salesman, participates as an Agent in the British Secret Service. But he soon realizes that his plans by lying are going to get him into trouble. Classic spy drama with a strong lead. Mild sex references and language. Black and White.
GANDHI (PG)
2.50pm Sony Movies Classic
Starring: Ben Kingsley, Candice Bergen, Edward Fox, John Gielgud
Biopic, Drama
The life of the lawyer who became the famed leader of the Indian revolts against the British rule through his philosophy of nonviolent protest. Epic Oscar-winning biopic from Richard Attenborough. Violence and scenes of threat.
INVITATION TO A GUNFIGHTER (U)
4.50pm Film4
Starring: Yul Brenner, Janice Rule, George Segal
Western
In New Mexico, a Confederate veteran returns home to find his fiancée married to a Union soldier, his Yankee neighbours rallied against him and his property sold by the local banker who then hires a gunman to kill him. Mild violence.
A MAN FOR ALL SEASONS (U)
6.35pm Sony Movies Classic
Starring: Paul Scofield, Wendy Hiller, Robert Shaw
Biopic, drama
The story of Sir Thomas More, who stood up to King Henry VIII when the King rejected the Roman Catholic Church to obtain a divorce and remarry. Oscar-winning historical drama.
THE IRON LADY (12)
6.50pm Film4
Starring: Meryl Streep, Jim Broadbent, Richard E. Grant
Biopic, Drama
An elderly Margaret Thatcher talks to the imagined presence of her recently deceased husband as she struggles to come to terms with his death while scenes from her past life, from girlhood to British prime minister, intervene. Meryl Streep gives another award-winning performance. Real images of moderate violence, injury detail and brief nudity.
BRIDGE TO TERABITHIA (PG)
7.05pm Sony Movies
Starring: Tyler Atfield, Josh Hutcherson, Erin Annis
Fantasy, drama, family
A preteen's life turns upside down when he befriends the new girl in school, and they imagine a whole new fantasy world to escape reality. Incredibly moving family drama. Scary scenes and emotional distress.
THREE BILLBOARDS OUTSIDE EBBING, MISSOURI (15)
9pm 4Seven
Starring: Frances McDormand, Woody Harrelson, Sam Rockwell
Drama, Crime
A mother personally challenges the local authorities to solve her daughter's murder when they fail to catch the culprit. Outstanding Oscar-winning drama. Very strong language, strong violence, sex references.
THE OUTLAW JOSEY WALES (18)
9pm ITV4
Starring: Clint Eastwood, Chief Dan George, Sondra Locke
Western, Adventure
Missouri farmer Josey Wales joins a Confederate guerrilla unit and winds up on the run from the Union soldiers who murdered his family. Clint Eastwood's finest western. Strong violence, sexual violence and sexual content.
BRAM STOKER'S DRACULA (18)
9pm Horror Channel
Starring: Gary Oldman, Winona Ryder, Anthony Hopkins, Keanu Reeves, Richard E. Grant
Horror
The centuries-old vampire Count Dracula comes to England to seduce his barrister Jonathan Harker's fiancée Mina Murray and inflict havoc in the foreign land. Francis Ford Coppola's imagination of the Dracula legend. Strong sex, violence and bloody horror.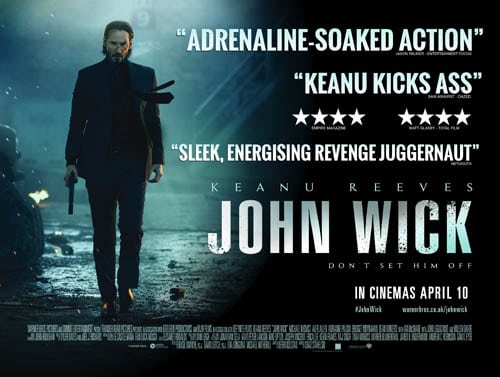 JOHN WICK (15)
9pm 5*
Starring: Keanu Reeves, Michael Nyqvist, Alfie Allen, Willem Dafoe
Thriller, Action, Crime
An ex-hit-man comes out of retirement to track down the gangsters that killed his dog and took everything from him. High-octane action movie which reinvented Keanu Reeves as a star. Strong language, bloody violence.
TOM JONES (12)
9pm Sony Movies Classic
Starring: Albert Finney, Susannah York, Hugh Griffith, Edith Evans
Drama, Comedy
The romantic and chivalrous adventures of adopted bastard Tom Jones in 18th-century England. Oscar-winning costume drama based on Henry Fielding's classic novel. Moderate sex references, violence, language.
GONE IN 60 SECONDS (15)
9pm Sony Movies
Starring: Nicolas Cage, Angelina Jolie, Giovanni Ribisi, Robert Duvall
Action, crime, thriller
A retired master car thief must come back to the industry and steal fifty cars with his crew in one night to save his brother's life. Flashy blockbuster remake of the 1977 cult favourite. Violence, sexuality and language.
SCREAM 2 (18)
11.05pm  5*
Starring: David Arquette, Neve Campbell, Courteney Cox, Sarah Michelle Gellar
Horror
Two years after the first series of murders, as Sydney acclimates to college life, someone donning the Ghostface costume begins a new string of killings. More scares and satire from Wes Craven. Strong bloody violence, language and sexual references.
STIR CRAZY (15)
11.40pm Sony Movies Classic
Starring: Gene Wilder, Richard Pryor
Comedy
Set up and wrongfully accused, two best friends will be sent to prison for a crime they didn't commit. However, no prison cell could keep them locked in. The return of Gene Wilder and Richard Pryor in a hugely successful and very funny comedy. Language and drug misuse.
FARGO (18)
11.45pm ITV4
Starring: Frances McDormand, William H. Macy, Steve Buscemi, Peter Stormare
Crime, Drama, Thriller, Comedy
Jerry Lundegaard's inept crime falls apart due to his and his henchmen's bungling and the persistent police work of the quite pregnant Marge Gunderson. The Coen Brothers masterpiece. A brilliant black comedy. Strong violence, language and sex.
A TOUCH OF LOVE (12)
12.05am Talking Pictures TV
Starring: Sandy Dennis, Ian McKellen
Drama
A young London woman, studying for her doctorate in the British Museum, spends her nights trying to avoid the sexual admiration of men in her life. 60s drama which was the movie debut of Ian McKellen. Moderate sex and mild sexualised nudity.