Morning!
It's Thursday so you get a live(ish) version of me tonight at 10 on http://www.zackfm.com with Movie weekly. Be great to have your company. Here are today's recommendations.
Stay safe. look after yourself and Happy Thursday!
AMAZON PRIME
CHARLIE'S ANGELS (12)
Starring: Naomi Scott, Kristen Stewart, Ella Balinska, Sam Claflin, Elizabeth Banks
Action, Adventure, Comedy
When a young systems engineer blows the whistle on a dangerous technology, Charlie's Angels are called into action, putting their lives on the line to protect us all. Enjoyable reboot of the popular TV series. Moderate violence, infrequent strong language.
EL MARIACHI (15)
Starring: Carlos Gallardo, Consuelo Gomez
Action, Crime, Thriller
A travelling mariachi is mistaken for a murderous criminal and must hide from a gang bent on killing him. Celebrated low budget action film that led to the movie Desperado. Strong violence.
NETFLIX
THE YOUNG OFFENDERS (15)
Starring: Alex Murphy, Chris Walley, Hilary Rose
Comedy
Two teenage boys cycle 160km on stolen bikes pursued by police to find a missing bale of cocaine worth 7 million euro. Set around the real event of Ireland's biggest cocaine seizure in 2007 of 440 million euro. Brilliantly funny comedy that led to the successful TV series. Very strong language, strong injury detail, sex.
FLAWLESS (15)
Starring: Robert De Niro, Philip Seymour Hoffman
Comedy, Drama, Crime
An ultraconservative security guard suffers a debilitating stroke and is assigned to a rehabilitative program that includes singing lessons, with the drag queen next door. Underrated comedy-drama from the late Joel Schumacher. Frequent strong language, and violence.
NOW TV/SKY CINEMA
ENCHANTED (PG)
Starring: Amy Adams, Patrick Dempsey, James Marsden, Timothy Spall, Susan Sarandon, Idina Menzel, Julie Andrews
Animated, Comedy, Musical
A young maiden in a land called Andalasia, who is prepared to be wed, is sent away to New York City by an evil Queen, where she falls in love with a lawyer. Hilarious twist on the fairy tale with the superb Amy Adams. Mild scary scenes and innuendo.
LETHAL WEAPON (15)
Starring: Mel Gibson, Danny Glover, Gary Busey
Drama, Crime, Adventure
Two newly paired cops who are complete opposites must put aside their differences in order to catch a gang of drug smugglers. The first and the best of the successful cop thriller series. Strong language, violence, drug use and sexualised nudity.
MOVIES ON TERRESTRIAL TV
THE TALL STRANGER (PG)
11am Film4
Starring: Joel McCrea, Virginia Mayo
Western
Back from the Civil War, an ex-Yankee officer aids a wagon train of former Confederates settle in a prosperous valley marred by cattle-rustling and land-grabbing feuds. Routine western adventure. Violence.
THE BODY SNATCHER (PG)
11.20am Horror Channel
Starring: Boris Karloff, Henry Daniell, Bela Lugosi
Horror, Thriller
A ruthless doctor and his young prize student find themselves continually harassed by their murderous supplier of illegal cadavers. Classic horror from the director of The Sound of Music. Unsettling scenes of horror. Black and white.
TO SIR, WITH LOVE (PG)
1pm Sony Movies Classic
Starring: Sidney Poitier, Judy Geeson, Suzy Kendall, Lulu
Drama
Idealistic engineer-trainee and his experiences in teaching a group of rambunctious white high school students from the slums of London's East End. 60s drama. Mild language, violence and sexual references.
THE SPANISH MAIN (U)
1.45pm BBC2
Starring: Maureen O'Hara, Paul Henreid
Adventure, Drama, Romance
After being wronged by the Caribbean authorities, a Dutch captain turns pirate to wage war. Rip-raoring adventure on the high seas. Violence.
SKY WEST AND CROOKED (PG)
2.30pm Talking Pictures TV
Starring: Hayley Mills, Ian McShane, Annette Crosbie, Laurence Naismith
Romance, Drama
A young, lonely, emotionally challenged teenage girl finds solace in burying dead animals after the sudden traumatic death of a childhood friend ten years earlier. The only film directed by actor John Mills. Mild language, violence and a prejudice theme.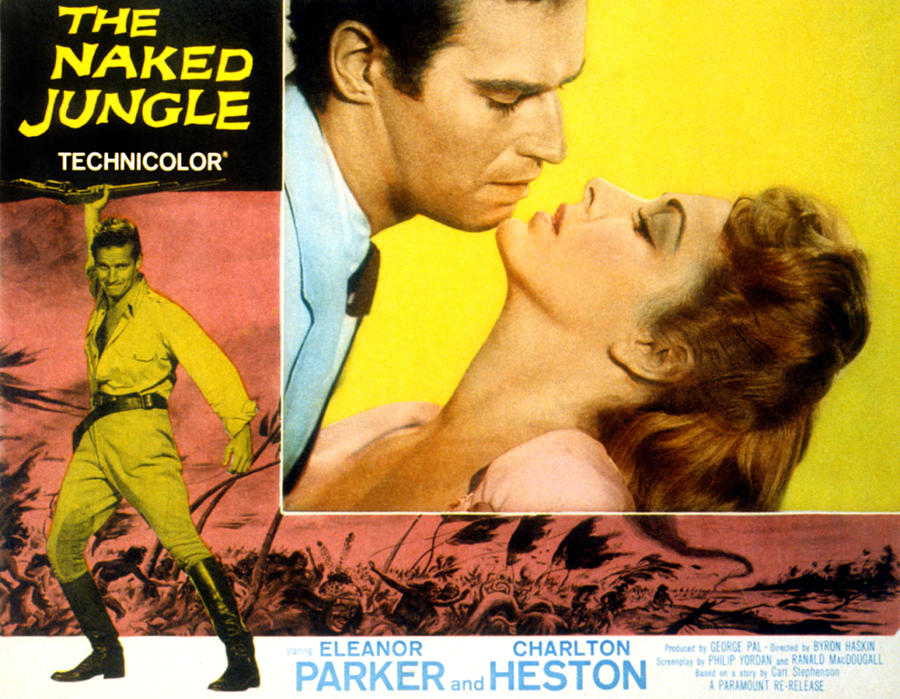 THE NAKED JUNGLE (12)
2.50pm Film4
Starring: Charlton Heston, Eleanor Parker
Adventure, Drama, Thriller
The Leiningen South American cocoa plantation is threatened by a 2-mile-wide, 20-mile-long column of army ants. Rugged action drama. Moderate violence.
DEAD RECKONING (U)
3.10pm Sony Movies Classic
Starring: Humphrey Bogart, Lizbeth Scott
Drama, Crime, Film-Noir, Thriller
A soldier runs away rather than receive the Medal of Honor, so his buddy gets permission to investigate, and love and death soon follow. Gripping Bogart thriller. Mild violence. Black and white.
HUSH (12)
4.55pm Sony Movies
Starring: Jessica Lange, Gwenyth Paltrow
Drama, Thriller
A couple with jobs and apartment in NYC, decide to move to his mum's farm, get married and have the baby there. They can also make the changes to get a better price for the farm. However, there's something seriously wrong with his mum. Creepy thriller. Violence, sensuality and brief strong language. May be edited for content.
DARK CITY (PG)
7pm Talking Pictures TV
Starring: Charlton Heston, Lizabeth Scott
Thriller, Drama, Film-Noir
Gamblers who "took" an out-of-town sucker in a crooked poker game feel shadowy vengeance closing in on them. Cracking film-noir thriller. Mild violence, threat, suicide references. Black and white.
DAD'S ARMY (U)
7.05pm Sony Movies Classic
Starring: Arthur Lowe, Clive Dunn, John Le Mesurier
Comedy, war
The misadventures of a ragtag group of elderly Home Guard local defence volunteers at the onset of WW2. Big-screening outing for the hugely popular TV comedy. Mild threat.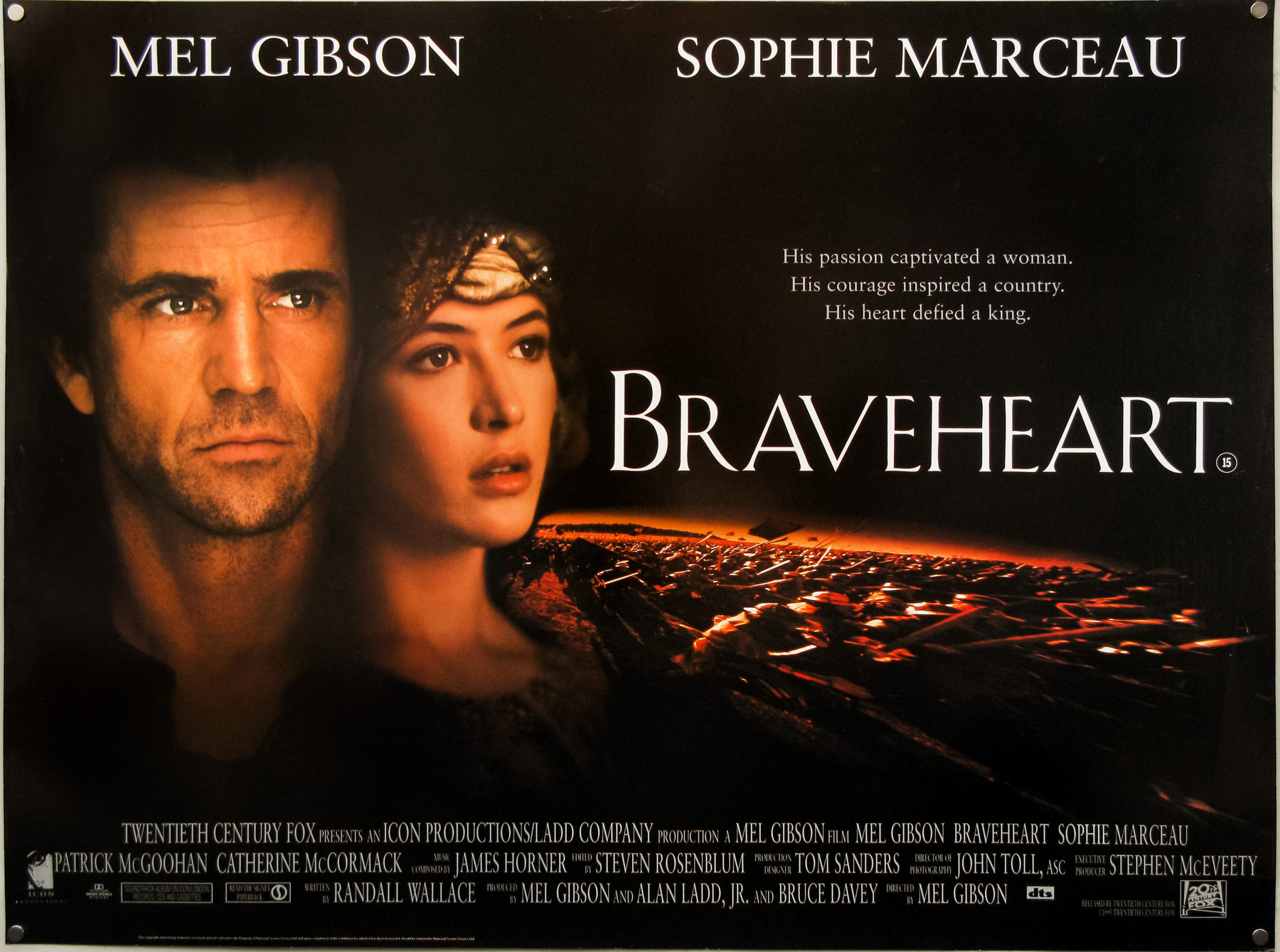 BRAVEHEART (15)
9pm Sony Movies
Starring: Mel Gibson, Sophie Marceau, Patrick McGoohan
Biopic, Drama, Action
When his secret bride is executed for assaulting an English soldier who tried to rape her, William Wallace begins a revolt against King Edward I of England. Mel Gibson's epic Oscar winner. Strong bloody violence.
THE BLUES BROTHERS (15)
9pm ITV4
Starring: John Belushi, Dan Aykroyd
Comedy, adventure, musical
Jake Blues, just released from prison, puts together his old band to save the Catholic home where he and his brother Elwood were raised. Cult classic comedy with a cracking soundtrack. Strong language, violence and sexual references.
THE CARPETBAGGERS (12)
9pm Talking Pictures TV
Starring: George Peppard, Alan Ladd
Drama
Jonas Cord is a disagreeable young tycoon who's building planes, directing films and catting around on the corporate make in 1930's Hollywood. Trashy yet fun 60s drama. Violence and sexual references.
SWEET COUNTRY (15)
9pm Film4
Starring: Bryan Brown, Matt Day, Tremayne Doolan
Western, Drama
Australian western set on the Northern Territory frontier in the 1920s, where justice itself is put on trial when an aged Aboriginal farmhand shoots a white man in self-defence and goes on the run as a posse gathers to hunt him down. Impressive and beautifully shot modern western. Strong language, injury detail, violence, racism theme.
THE OTHERS (12)
10pm 5*
Starring: Nicole Kidman, Fionnola Flanagan, Christopher Eccleston
Horror, Thriller
A woman who lives in her darkened old family house with her two photosensitive children becomes convinced that the home is haunted. Creepy horror movie. Frightening moments and adult themes.
THE CURSE OF FRANKENSTEIN (12)
11.10pm Talking Pictures TV
Starring: Peter Cushing, Christopher Lee
Horror
Victor Frankenstein builds a creature and brings it to life, but it behaves not as he intended. The first of Hammer's hugely popular Frankenstein series. Violence and horror.
THE BIG HEAT (15)
11.30pm Sony Movies Classic
Starring: Glenn Ford, Gloria Grahame
Crime, Thriller, Film-Noir
Tough cop Dave Bannion takes on a politically powerful crime syndicate. One of the best film-noir thrillers around. Violence and sexual references.
THE LOSERS (12)
11.30pm ITV4
Starring: Jeffrey Dean Morgan, Zoe Saldana, Chris Evans, Idris Elba
Comedy, Adventure, Action
A CIA special forces team are betrayed and left for dead by their superiors, galvanising them to mount an offensive on the CIA. Exciting underrated action movie. One use of strong language and moderate action violence.