Morning!
A miserable day today so if you are staying at home and are getting bored, then I have a few recommendations for you.
Stay safe, look after yourself and Happy Monday!
AMAZON PRIME
BROKEBACK MOUNTAIN (15)
Starring: Heath Ledger, Jake Gyllenhaal, Michelle Williams, Anne Hathaway
Drama, romance
The story of a forbidden and secretive relationship between two cowboys, and their lives over the years. Ang Lee's brilliant, award-winning drama with two outstanding performances from Heath Ledger and Jake Gyllenhaal. Strong language, violence, nudity and sex.
POWER RANGERS (12)
Starring: Bryan Cranston, Elizabeth Banks, Naomi Scot
Science Fiction, Fantasy, Adventure
A group of high-school students, who are infused with unique superpowers, harness their abilities in order to save the world. Far more entertaining than it has any right to be, reboot of the TV show. Moderate violence, threat. May be edited for content.
NETFLIX
THE LORD OF THE RINGS: THE TWO TOWERS (12)
Starring: Elijah Wood, Ian McKellen, Liv Tyler, Viggo Mortensen
Adventure, Fantasy
While Frodo and Sam edge closer to Mordor with the help of the shifty Gollum, the divided fellowship makes a stand against Sauron's new ally, Saruman, and his hordes of Isengard. The second in the epic Peter Jackson production. Moderate violence and mild horror.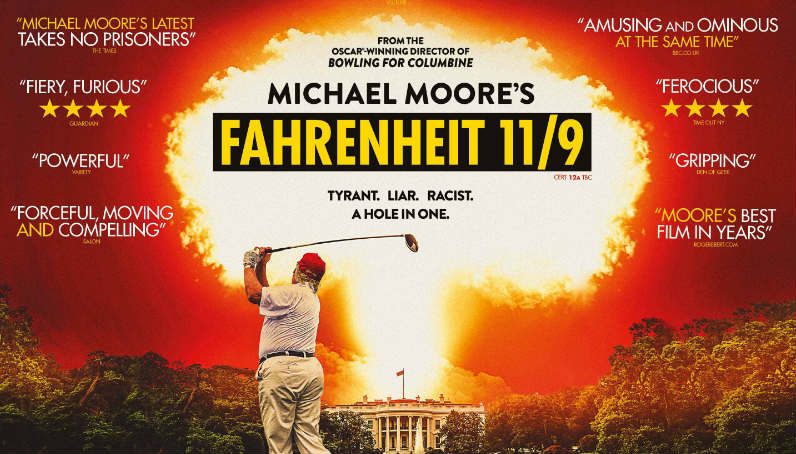 FAHRENHEIT 11/9 (15)
Starring: Michael Moore, Roger Ailes, Ashleigh Banfield
Documentary
Filmmaker Michael Moore examines the current state of American politics, particularly the Donald Trump presidency and gun violence, while highlighting the power of grassroots democratic movements. Another controversial documentary from the award-winning filmmaker. Strong language, disturbing images, racist behaviour.
NOW TV/SKY CINEMA
MUNICH (15)
Starring: Eric Bana, Daniel Craig, Geoffrey Rush
Action, Drama
Based on the true story of the Black September aftermath, about the five men chosen to eliminate the ones responsible for that fateful day. Powerful drama from Steven Spielberg. Strong violence and language.
HAPPY DEATH DAY 2U (15)
Starring: Jessica Rothe, Isreal Broussard, Phi Vu
Horror, Comedy
Tree Gelbman discovers that dying over and over was surprisingly easier than the dangers that lie ahead. Entertaining sequel to the surprise 2017 horror. Strong violence, threat, language.
MOVIES ON TERRESTRIAL TV
THE GREAT LOVER (12)
11.35pm Sony Movies Classic
Starring: Bob Hope, Rhonda Fleming
Comedy, Musical, Romance
On an ocean liner, an inept scoutmaster pursues a duchess while a killer pursues him. More quick-fire wit from Bob Hope. Moderate violence. Black and white.
THE THIRTY-NINE STEPS (PG)
12.35pm Film4
Starring: Robert Powell, David Warner, John Mills
Crime, Thriller, Adventure
In March 1914, a mining engineer named Richard Hannay tries to prevent Prussian Agents from executing a political assassination designed to trigger World War I. Rip-roaring adventure in this second screen version of the classic story. Mild violence.
MY FAVOURITE BRUNETTE (PG)
1.15pm Sony Movies Classic
Starring: Bob Hope, Dorothy Lamour, Peter Lorre, Lon Chaney Jr.
Comedy, Crime, Film-Noir
Shortly before his execution on the death row in San Quentin, amateur sleuth and baby photographer Ronnie Jackson, tells reporters how he got there. One of Bob Hope's finest. Infrequent moderate violence. Black and white.
LAURA (U)
2.15pm BBC2
Starring: Gene Tierney, Dana Andrews
Thriller, Mystery, Crime
A police detective falls in love with the woman whose murder he is investigating. Classic film-noir thriller. Mild violence and threat. Black and white.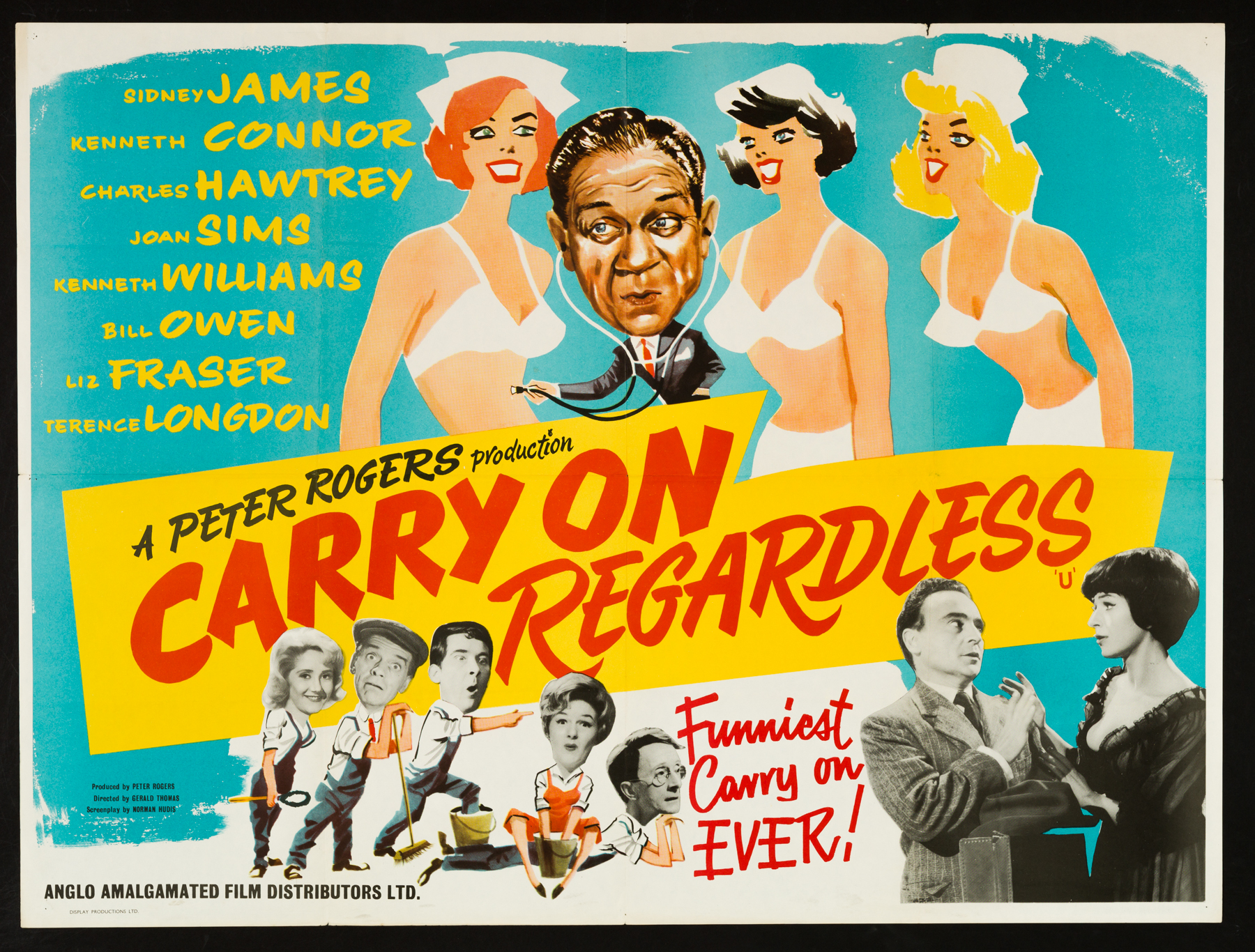 CARRY ON REGARDLESS (PG)
2.45pm Film4
Starring: Sidney James, Kenneth Connor, Charles Hawtrey, Joan Sims, Kenneth Williams
Comedy
The Helping Hands agency employs some very strange people to perform some very strange jobs. Even the simplest of tasks get bungled by the incompetent but lovable staff. One of the better early Carry On films. Innuendo. Black and White.
THE DEVIL AT 4 O'CLOCK (U)
2.55pm Sony Movies Action
Starring: Spencer Tracy, Frank Sinatra
Adventure, Drama, Thriller
A crusty, eccentric priest recruits 3 reluctant convicts to help him rescue a children's leper colony from a Pacific island menaced by a smouldering volcano. Boys' own adventure mixed with a disaster movie. Mild violence and peril.
ROAD TO RIO (U)
3.05pm Sony Movies Classic
Starring: Bob Hope, Bing Crosby, Dorothy Lamour
Comedy, musical, adventure
Two inept vaudevillians stow away on a Brazilian-bound ocean liner and foil a plot by a sinister hypnotist to marry off her niece to a greedy fortune hunter. More laughs from the Road team. Comic violence. Black and white.
THE 7TH VOYAGE OF SINBAD (U)
4pm Horror Channel
Starring: Kerwin Mathews, Kathryn Grant
Action, adventure, fantasy
When a princess is shrunken by an evil wizard, Sinbad must undertake a quest to an island of monsters to cure her and prevent a war. High adventure with effects by Ray Harryhausen. Violence and scary scenes.
STEPMOM (12)
4.30pm Sony Movies
Starring: Julia Roberts, Susan Sarandon, Ed Harris
Comedy, drama
A terminally-ill woman must deal with her ex-husband's new lover, who will be their children's stepmother. Tear-jerking comedy-drama. Infrequent strong language, moderate sex references, drug misuse. May be edited for content.
ROAD TO BALI (U)
6.10pm Sony Movies Classic
Starring: Bing Crosby, Bob Hope, Dorothy Lamour
Adventure, Comedy, Fantasy, Musical
Two unemployed show-biz pals accept treasure-diving work in Bali for a local princess and they find treasure, love and trouble. The sixth of the popular Road movies. Mild sex references and violence.
SO LONG AT THE FAIR (PG)
6.20pm Talking Pictures TV
Starring: Dirk Bogarde, Jean Simmons, David Tomlinson, Honor Blackman
Drama, Thriller
Vicky Barton visits Paris with her brother Johnny, only to discover the following morning he has gone missing and the hotel staff have no recollection of his presence. Well made and gripping British mystery. Mild emotional distress. Black and white.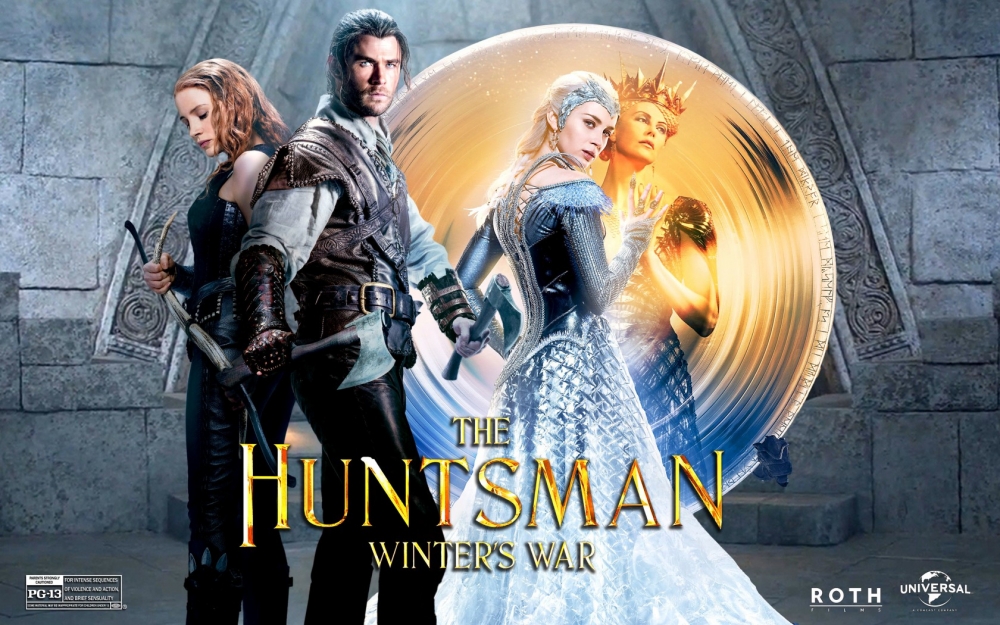 THE HUNTSMAN: WINTER'S WAR (12)
6.45pm Film4
Starring: Chris Hemsworth, Charlize Theron, Emily Blunt, Jessica Chastain
Adventure, fantasy
Eric and fellow warrior Sara, raised as members of ice Queen Freya's army, try to conceal their forbidden love as they fight to survive the wicked intentions of both Freya and her sister Ravenna.  Fantasy sequel to Snow White and the Huntsman. Violence and language.
SON OF PALEFACE (U)
7.05pm Sony Movies Classic
Starring: Bob Hope, Roy Rogers, Jane Russell
Comedy, Western
Junior Potter returns to claim his father's gold, which is nowhere to be found. "Mike" is the luscious head of a gang of thieves, and Roy Barton is the federal marshal hot on her trail. Hilarious comedy sequel. Sexual references and mild violence.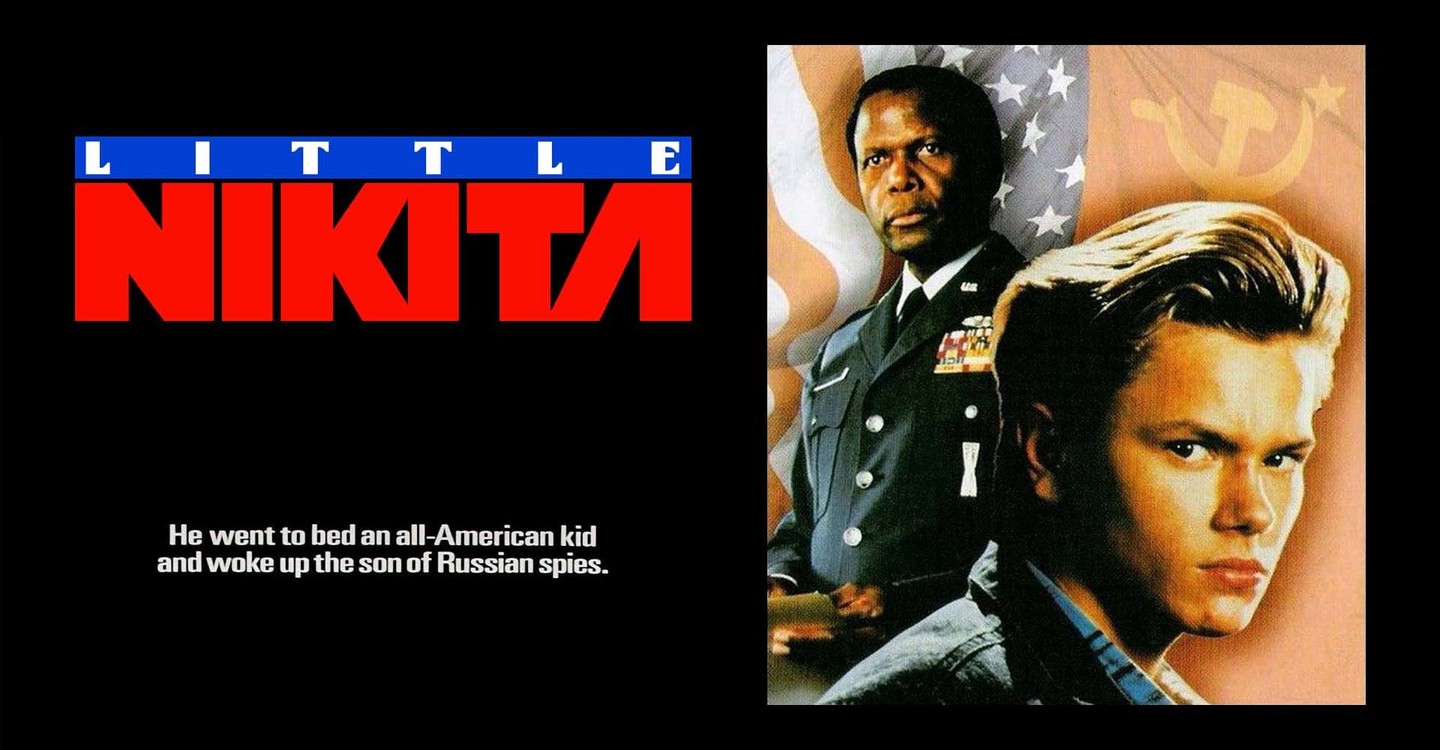 LITTLE NIKITA (12)
7.05pm Sony Movies
Starring: Sidney Poitier, River Phoenix
Drama, Thriller
An F.B.I. Agent works to uncover an All-American family as Soviet sleeper Agents, and gets caught up in friendship with their unaware son. Gripping spy thriller with a twist. One use of strong language and moderate violence.
HOW TO STEAL A MILLION (U)
9pm Sony Movies Classic
Starring: Audrey Hepburn, Peter O'Toole
Comedy, Crime, Romance
The daughter of an art forger teams up with a burglar to steal one of her father's forgeries and protect his secret. Classy comedy caper with two hugely cool leads. Very mild language.
MISSION: IMPOSSIBLE – ROGUE NATION (12)
9pm Film4
Starring: Tom Cruise, Jeremy Renner, Simon Pegg, Rebecca Ferguson
Action, thriller
Members of the now-disbanded Impossible Missions Force must confirm the existence of a rogue organisation known as the Syndicate and destroy it. Exciting action sequel. Moderate violence and language.
THE HUNGER GAMES (15)
9pm 5*
Starring: Jennifer Lawrence, Josh Hutcherson, Liam Hemsworth
Action, adventure, sci-fi
Katniss Everdeen voluntarily takes her younger sister's place in the Hunger Games: a televised competition in which two teenagers from each of the twelve Districts of Panem are chosen at random to fight to the death. First of the popular YA dystopian drama. Strong violence, language and threat.
FLATLINERS (15)
9pm Horror Channel
Starring: Kiefer Sutherland, Julia Roberts, Kevin Bacon, William Baldwin, Oliver Platt
Sci-Fi, Horror, Drama
Five medical students experiment with "near death" experiences, until the dark consequences of past tragedies begin to jeopardise their lives. Stylish sci-fi-horror. Some brief bloody surgery detail and violence, mild horror, language and sexual content.
METRO (18)
10.35pm ITV4
Starring: Eddie Murphy, Michael Rapaport, Michael Wincott
Action, Comedy, Thriller
A Hostage Negotiator teams up with a Sharpshooter to bring down a dangerous jewel thief. Eddie Murphy stars in this fast-paced action comedy. Strong violence and language.
UNKNOWN (12)
11.05pm Channel 5
Starring: Liam Neeson, Diane Kruger, Aidan Quinn, Frank Langella, January Jones, Bruno Ganz
Action, Thriller
A man awakens from a coma, only to discover that someone has taken on his identity and that no one, (not even his wife), believes him. With the help of a young woman, he sets out to prove who he is. Tense Liam Neeson thriller. Some intense sequences of violence and action, language and brief sexual content.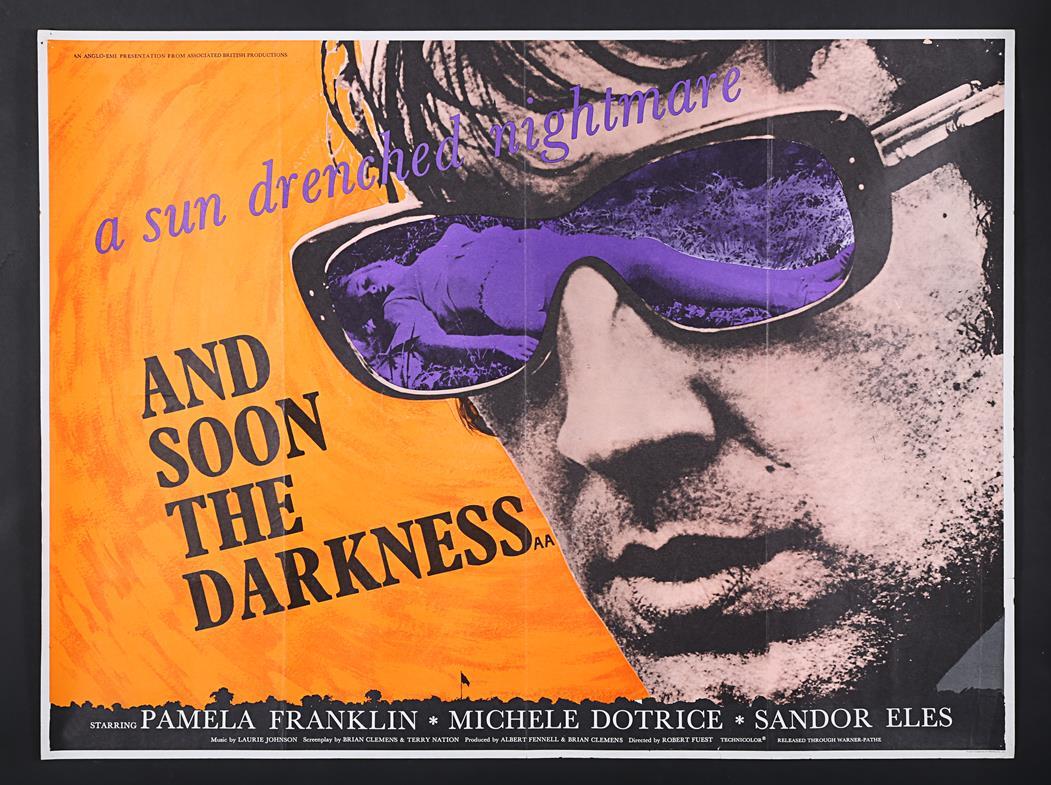 AND SOON THE DARKNESS (15)
11.05pm Talking Picture TV
Starring: Pamela Franklin, Michele Dotrice
Horror, mystery, thriller
Two young English women go on a cycling tour of the French countryside. When one of them goes missing, the other begins to search for her. But who can she trust? Creepy British thriller. Moderate violence and sexual violence theme.
PARKLAND (15)
11.40pm Film4
Starring: Zac Efron, Tom Welling, Paul Giamatti, Jackie Earle Haley, Billy Bob Thornton
Drama, Thriller
A recounting of the chaotic events that occurred at Dallas' Parkland Hospital on the day U.S. President John F. Kennedy was assassinated. Interesting ensemble piece. Bloody sequences of ER trauma procedures, some violent images and language.
CAPTIVE (15)
1.30am Film4
Starring: David Oyelowo, Kate Mara
Action, Drama, Thriller
A single mother struggling with drug addiction is taken hostage in her own apartment by a man on the run who has broken out of jail and murdered the judge assigned to his case. Tense thriller based on a true story. Drug use, moderate violence, threat, language.