Morning!
Hopefully you are not in Spain this morning, as you will have to go into quarantine for 2 weeks. If you are, then I'll be here with the recommendations to ease you through the days.
Stay safe, look after yourself and Happy Sunday!
AMAZON PRIME
GANGS OF NEW YORK (18)
Starring: Leonardo DiCaprio, Daniel Day-Lewis, Cameron Diaz, Jim Broadbent, John C. Reilly, Henry Thomas, Brendan Gleeson, David Hemmings, Liam Neeson
Crime, Drama
In 1862, Amsterdam Vallon returns to the Five Points area of New York City seeking revenge against Bill the Butcher, his father's killer. Martin Scorsese's epic historical drama. Intense strong violence, sexuality/nudity and language.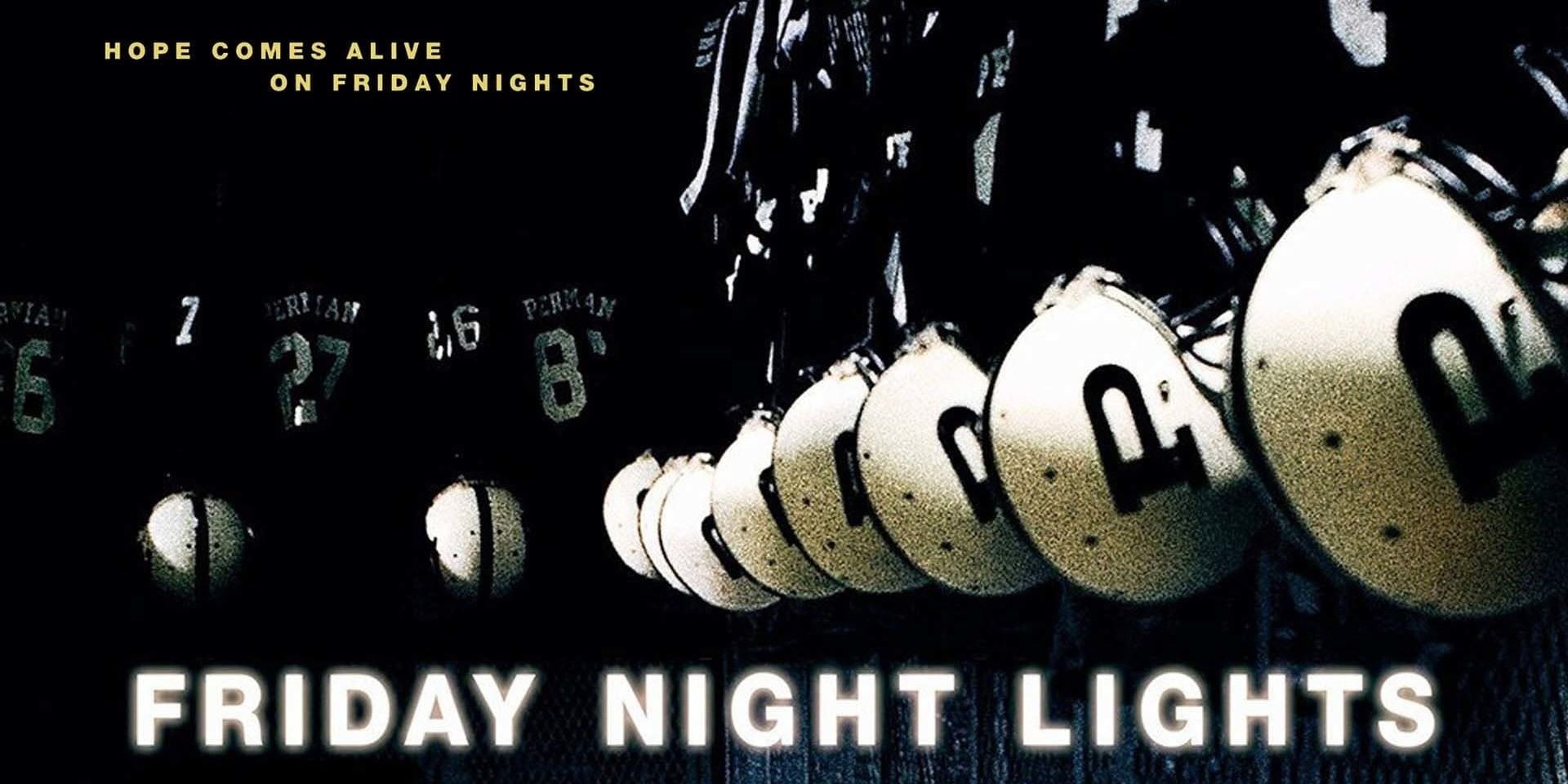 FRIDAY NIGHT LIGHTS (12)
Starring:  Billy Bob Thornton, Lucas Black
Action, Drama, Sports
Based on H.G. Bissinger's book, which profiled the economically depressed town of Odessa, Texas and their heroic high school football team, The Permian High Panthers. Excellent American Football drama that led to a TV series. Moderate violence and sex.
NETFLIX
KINDERGARTEN COP (15)
Starring: Arnold Schwarzenegger, Penelope Ann Miller, Pamela Reed, Linda Hunt
Action, Comedy
A tough cop must pose as a kindergarten teacher in order to locate a dangerous criminal's ex-wife, who may hold the key to putting him behind bars. Light-weight Arnie action comedy. Violence, sexual references, language including one use of strong language.
DEFIANCE (15)
Starring: Daniel Craig, Liev Schreiber, Jamie Bell, George Mackay
War, Drama
Jewish brothers in Nazi-occupied Eastern Europe escape into the Belarussian forests, where they join Russian resistance fighters, and endeavour to build a village, in order to protect themselves and about one thousand Jewish non-combatants. Terrific and tense wartime drama. Strong language and violence.
NOW TV/SKY CINEMA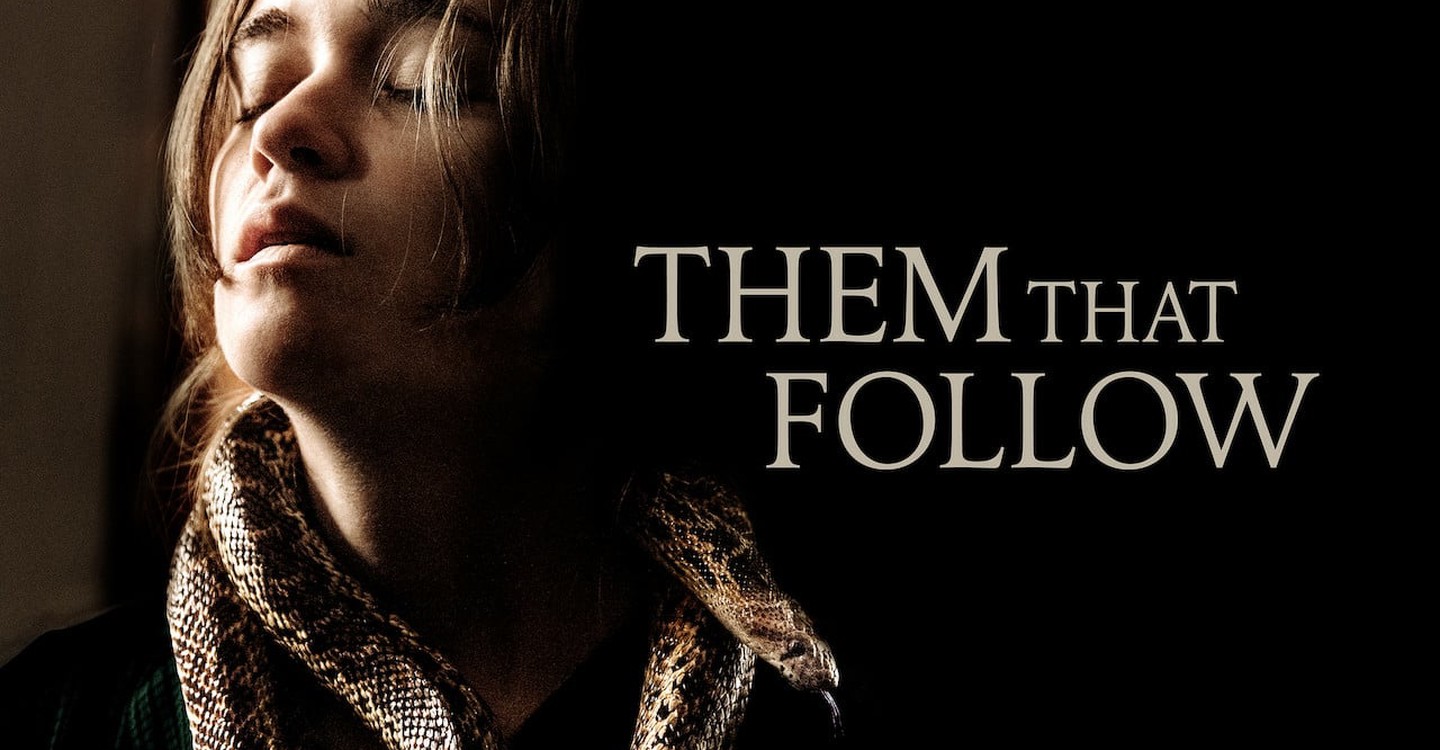 THEM THAT FOLLOW (15)
Starring: Olivia Colman, Kaitlyn Dever, Alice Englert, Jim Gaffigan
Drama, Thriller
Set deep in the wilds of Appalachia, where believers handle death-dealing snakes to prove themselves before God, a pastor's daughter holds a secret that threatens to tear her community apart. Overlooked disturbing drama. Sexual threat, bloody images, disturbing scenes.
CLEAR AND PRESENT DANGER (12)
Starring: Harrison Ford, Willem Dafoe, Anne Archer, Joaquim De Almeida
Action, Crime, Thriller
CIA Analyst Jack Ryan is drawn into an illegal war fought by the US government against a Colombian drug cartel. Harrison Ford's final outing of Tom Clancy's hero. Moderate violence and language.
MOVIES ON TERRESTRIAL TV
SHARK TALE (U)
11am Film4
Starring: Will Smith, Robert De Niro, Renee Zellweger
Animation, comedy
When a son of a gangster shark boss is accidentally killed while on the hunt, his would-be prey and his vegetarian brother decide to use the incident to their own advantage. Fun animated adventure. Mild comic violence and scary moments.
THE EARLY BIRD (U)
11.30am Talking Pictures TV
Starring: Norman Wisdom, Edward Chapman, Jerry Desmonde
Comedy
Norman is the assistant helping to run a small, old fashioned dairy which is threatened by a larger, modern organisation. Norman does his best to save the dairy (and his horse) and the usual chaos ensues. Typical Norman Wisdom comedy but in colour.
pFLUSHED AWAY (U)
12noon E4
Starring: Kate Winslet, Hugh Jackman, Ian McKellen, Andy Serkis
Comedy, Animation
The story of an uptown rat that gets flushed down the toilet from his penthouse apartment, ending in the sewers of London, where he has to learn a whole new and different way of life. Aardman animations first venture into CGI. Very mild language and sex references.
BRIDGE TO TERABITHIA (PG)
12.35pm Sony Movies
Starring: Tyler Atfield, Josh Hutcherson, Erin Annis
Fantasy, drama, family
A preteen's life turns upside down when he befriends the new girl in school, and they imagine a whole new fantasy world to escape reality. Incredibly moving family drama. Scary scenes and emotional distress.
TITANIC (PG)
12.55pm Sony Movies Classic
Starring: Clifton Webb, Barbara Stanwyck, Robert Wagner
Drama, Romance
An unhappily married couple struggle to deal with their problems while onboard the ill-fated ship. Not the James Cameron version but a 50s tale of the famous ship. Mild peril.
JOHNNY COME LATELY (U)
1.30pm Talking Pictures TV
Starring: James Cagney, Grace George
Drama
Grace George is hocking the silver candlesticks to keep her paper running. It's thirty years, and the local machine boss, Edward McNamara, has laid down the law: stop publishing those less-than-admiring editorials, print these puff pieces over her signature, and he won't have her mortgage called in. At court that morning, she watches as Jimmy Cagney is hauled in for vagrancy, pleads Not Guilty, and takes him on as a reporter. Unusual star vehicle for James Cagney. Black and white.
BEE MOVIE (U)
1.55pm CBBC
Starring: Jerry Seinfeld, Renee Zellweger
Animation, Adventure, Comedy
Barry B. Benson, a bee just graduated from college, is disillusioned at his lone career choice: making honey. On a special trip outside the hive, Barry's life is saved by Vanessa, a florist in New York City. As their relationship blossoms, he discovers humans actually eat honey, and subsequently decides to sue them. Family animation with an adult twist. Very mild language and innuendo.
GANDHI (PG)
3pm Sony Movies Classic
Starring: Ben Kingsley, Candice Bergen, Edward Fox, John Gielgud
Biopic, Drama
The life of the lawyer who became the famed leader of the Indian revolts against the British rule through his philosophy of nonviolent protest. Epic Oscar-winning biopic from Richard Attenborough. Violence and scenes of threat.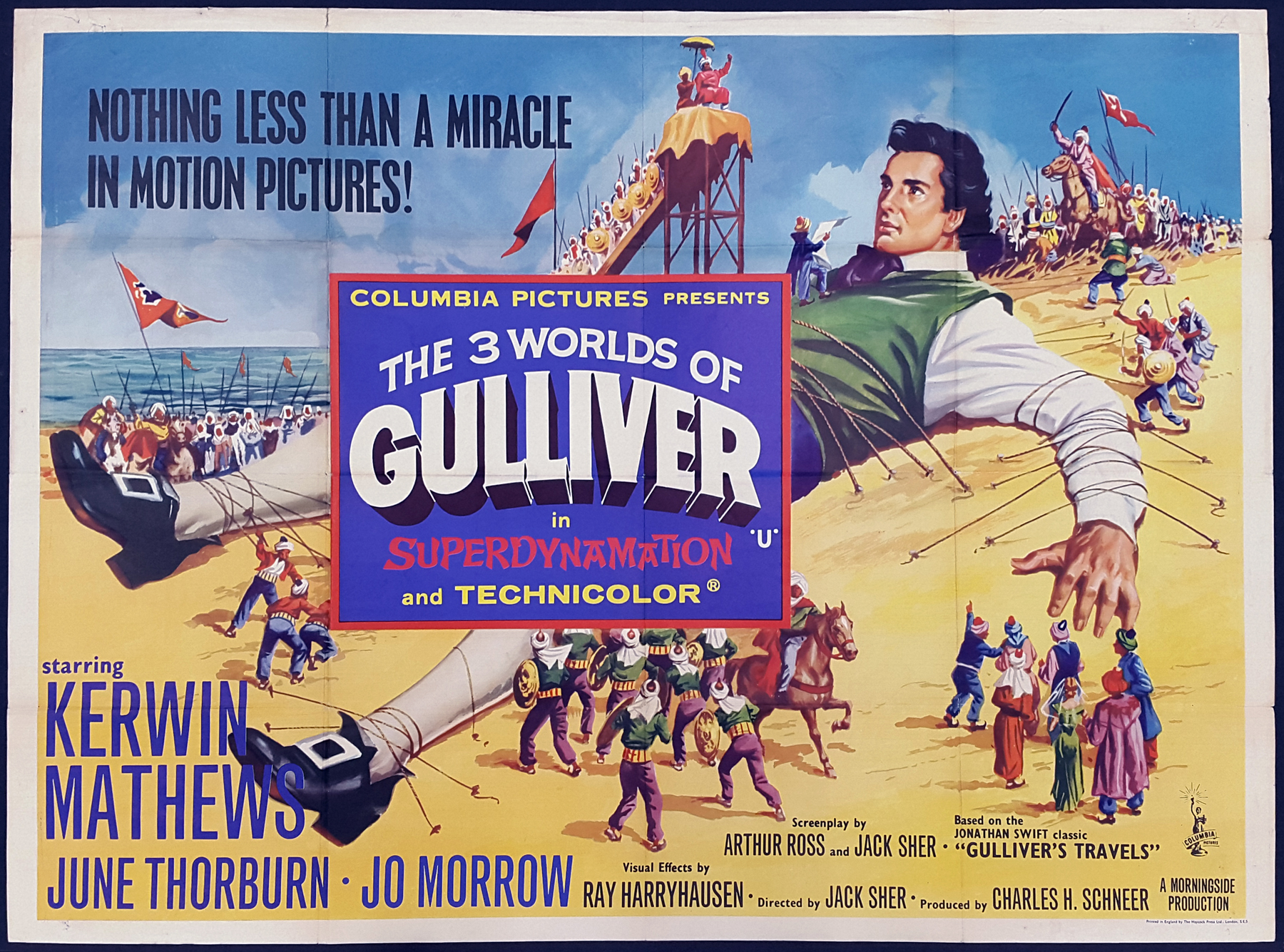 THE 3 WORLDS OF GULLIVER (U)
3.30pm Talking Pictures TV
Starring: Kerwin Mathews, Jo Morrow
Fantasy, adventure, drama, family
After being shipwrecked, a man finds himself on an island inhabited by tiny people, who soon make plans for him. Classic adventure with special effects from Ray Harryhausen. Mild violence and peril.
DEEP IMPACT (12)
4.10pm BBC2
Starring: Robert Duvall, Elijah Wood, Vanessa Redgrave
Action, Drama, Romance
A comet is discovered to be on a collision course with Earth. As doomsday nears, the human race prepares for the worst. One of two meteor disaster movies out in the same year. This was less painful. Intense disaster related elements and brief language.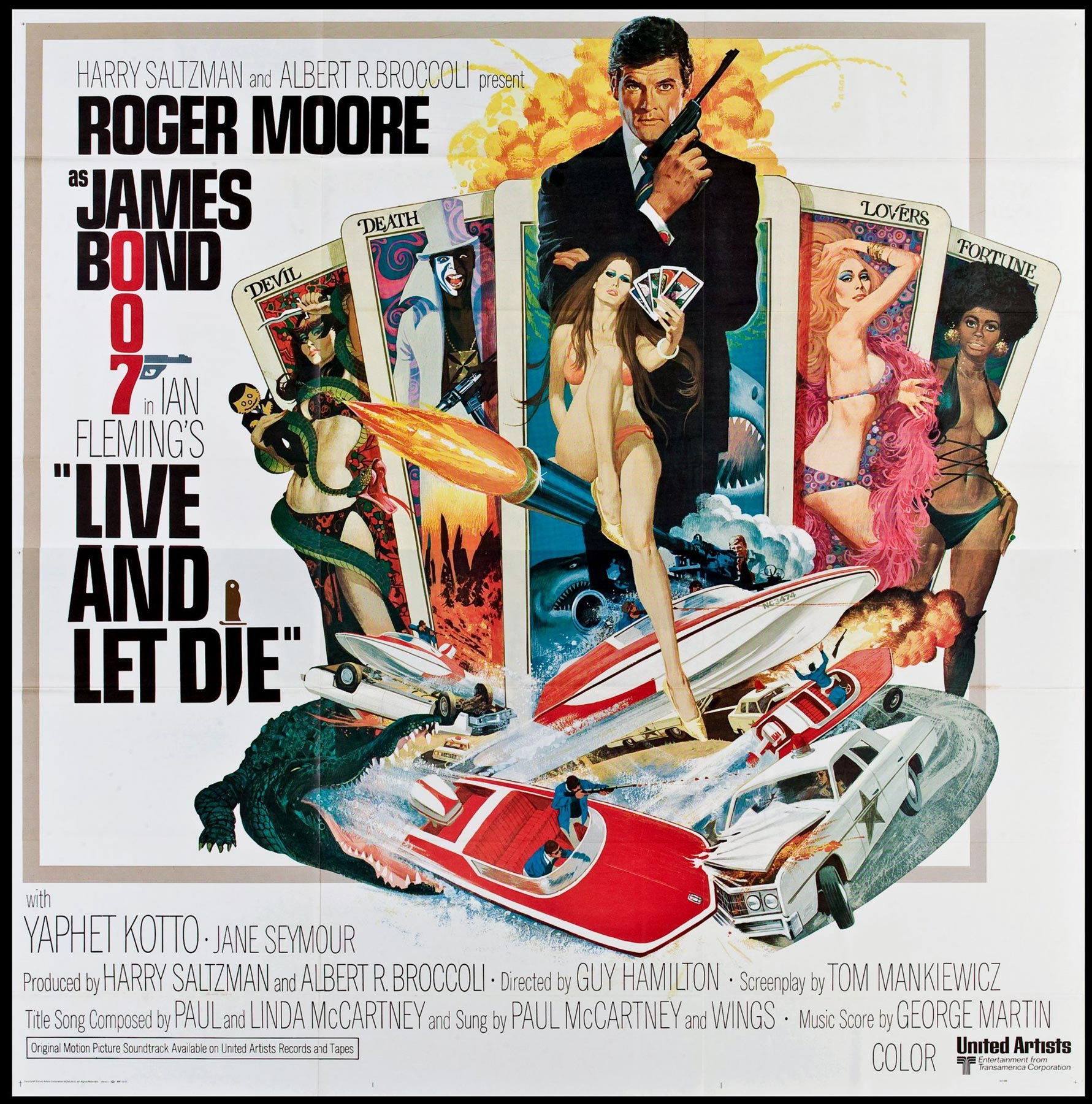 LIVE AND LET DIE (PG)
4.25pm ITV1
Starring: Roger Moore, Yaphet Kotto, Jane Seymour
Action, Adventure, Thriller
James Bond is sent to stop a diabolically brilliant heroin magnate armed with a complex organisation and a reliable psychic tarot card reader. Roger Moore's first outing as Bond and one of his best. Violence, sexual content and innuendo.
REAL STEEL (12)
4.30pm Sony Movies
Starring: Hugh Jackman, Evangeline Lilly, Kevin Durand
Drama, Action, sci-fi
In the near future, robot boxing is a top sport. A struggling ex-boxer feels he's found a champion in a discarded robot. Underrated sci-fi adventure with heart. Moderate language and violence.
CHICKEN RUN (U)
4.50pm ITV2
Starring: Jane Horricks, Mel Gibson
Animation, comedy, family
When a cockerel apparently flies into a chicken farm, the chickens see him as an opportunity to escape their evil owners. Hilarious spoof of The Great Escape. Mild language.
FUNNY FACE (U)
6.25pm Talking Pictures TV
Starring: Fred Astaire, Audrey Hepburn
Romance, Musical, Comedy
An impromptu fashion shoot at a book store brings about a new fashion model discovery in the shop clerk. Stylish and sparking musical with two cinematic icons. Infrequent mild comic violence.
JURASSIC WORLD (12)
6.35pm ITV2
Starring: Chris Pratt, Judy Greer, Vincent D'Onofrio, Bryce Dallas Howard
Science Fiction, Drama, Adventure
A new theme park, built on the original site of Jurassic Park, creates a genetically modified hybrid dinosaur, the Indominus Rex, which escapes containment and goes on a killing spree. Exciting adventure reboot. Moderate threat, occasional bloody moments, action violence.
WHAT A WAY TO GO! (U)
6.45pm Sony Movies Classic
Starring: Shirley Maclaine, Paul Newman, Robert Mitchum, Dean Martin, Gene Kelly, Robert Cummings, Dick Van Dyke
Comedy, Romance
A four-time widow discusses her four marriages, in which all of her husbands became incredibly rich and died prematurely because of their drive to be rich. Starry romantic comedy, 60s style. Very mild sex references.
EDDIE THE EAGLE (PG)
6.55pm Film4
Starring: Taron Egerton, Hugh Jackman
Drama, Comedy, Biopic
The story of Eddie Edwards, the notoriously tenacious British underdog ski jumper who charmed the world at the 1988 Winter Olympics. A feel-good delight. Mild sex references, mild bad language.
ICE AGE (U)
7.25pm E4
Starring: John Leguizamo, Ray Romano
Animation, comedy adventure
Set during the Ice Age, a sabertooth tiger, a sloth, and a woolly mammoth find a lost human infant, and they try to return him to his tribe. The first and the best of the now far-too-long series. Mild peril.
STAR TREK INTO DARKNESS (12)
9pm Film4
Starring: Chris Pine, Zachary Quinto, Zoe Saldana, Benedict Cumberbatch, Simon Pegg
Science Fiction, Adventure, Action
After the crew of the Enterprise find an unstoppable force of terror from within their own organisation, Captain Kirk leads a manhunt to a war-zone world to capture a one-man weapon of mass destruction. Impressive sequel to the reboot. Moderate violence, threat.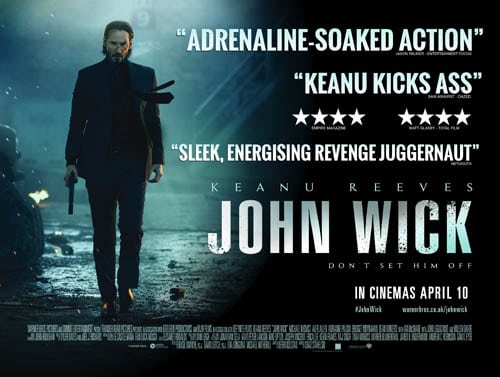 JOHN WICK (15)
9pm 5*
Starring: Keanu Reeves, Michael Nyqvist, Alfie Allen, Willem Dafoe
Thriller, Action, Crime
An ex-hit-man comes out of retirement to track down the gangsters that killed his dog and took everything from him. High-octane action movie which reinvented Keanu Reeves as a star. Strong language, bloody violence.
THE HITMAN'S BODYGUARD (15)
9pm Channel 4
Starring: Ryan Reynolds, Samuel L. Jackson, Gary Oldman, Salma Hayek
Action, Adventure, Comedy
The world's top bodyguard gets a new client, a hitman who must testify at the International Criminal Court. They must put their differences aside and work together to make it to the trial on time. Two leads working hard for a decent action comedy. Strong language, bloody violence.
SPACE COWBOYS (PG)
9pm ITV4
Starring: Clint Eastwood, Tommy Lee Jones, Donald Sutherland, James Garner
Action, Adventure, Drama
When retired engineer Frank Corvin is called upon to rescue a failing satellite, he insists that his equally old teammates accompany him into space. Four screen legends together for a far-fetched but fun adventure. Mild language and action.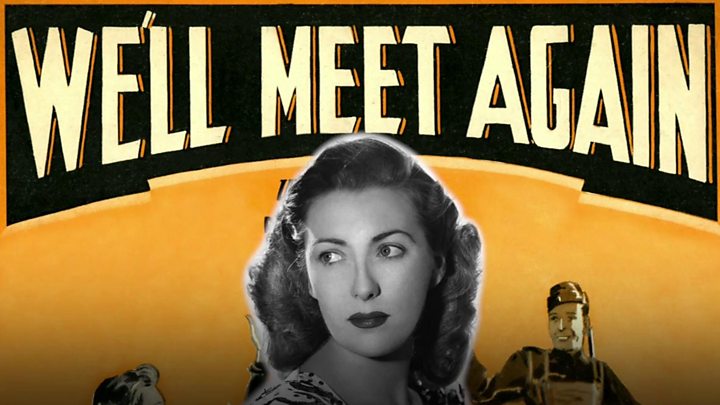 WE'LL MEET AGAIN (U)
9pm Sony Movies Classic
Starring: Vera Lynn, Geraldo, Patricia Roc
War, Musical, Drama
A young dancer trying to make it in London during World War II discovers that people like her singing voice, too. Although she's at first reluctant to sing, she finally does and becomes a star. Wartime musical with the late, great Vera Lynn. Mild threat. Black and white.
HURRY SUNDOWN (15)
10.05pm Talking Pictures TV
Starring: Following World War II, a northern cannery negotiates for the purchase of a large tract of uncultivated Georgia farmland. The major portion of the land 's owned by Julie Warren and has already been optioned by her unscrupulous, husband, Henry. Now the combine must also obtain 2 smaller plots. Forgotten drama with a strong cast. Violence, sexual violence, racial language.
TOM JONES (12)
10.45pm Sony Movies Classic
Starring: Albert Finney, Susannah York, Hugh Griffith, Edith Evans
Drama, Comedy
The romantic and chivalrous adventures of adopted bastard Tom Jones in 18th-century England. Oscar-winning costume drama based on Henry Fielding's classic novel. Moderate sex references, violence, language.
HELLBOUND: HELLRAISER II (18)
10.45pm Horror Channel
Starring: Clare Higgins, Ashley Laurence, Kenneth Cranham
Horror, thriller, fantasy
Kirsty is brought to an institution after the death of her family, where the occult-obsessive head resurrects Julia and unleashes the Cenobites once again. More disturbing horror continuing the Hellraiser story. Very strong gory violence, language, sex, sexual references and nudity.
ELYSIUM (15)
11.20pm Sony Movies
Starring: Matt Damon, Jodie Foster, Sharlto Copley
Sci-fi, action, drama
In the year 2154, the very wealthy live on a man-made space station while the rest of the population resides on a ruined Earth. A man takes on a mission that could bring equality to the polarised worlds. Inventive sci-fi from the director of District 9. strong language, bloody violence and gory images.
FARGO (18)
11.40pm ITV4
Starring: Frances McDormand, William H. Macy, Steve Buscemi, Peter Stormare
Crime, Drama, Thriller, Comedy
Jerry Lundegaard's inept crime falls apart due to his and his henchmen's bungling and the persistent police work of the quite pregnant Marge Gunderson. The Coen Brothers masterpiece. A brilliant black comedy. Strong violence, language and sex.
THE SALESMAN (12)
12.10am BBC2
Starring: Shahab Hosseini, Taraneh Alidoosti
Drama
While both participating in a production of "Death of a Salesman," a teacher's wife is assaulted in her new home, which leaves him determined to find the perpetrator over his wife's traumatised objections. Terrific Iranian drama. Highly recommendation. Sexual violence references, moderate sex references, violence.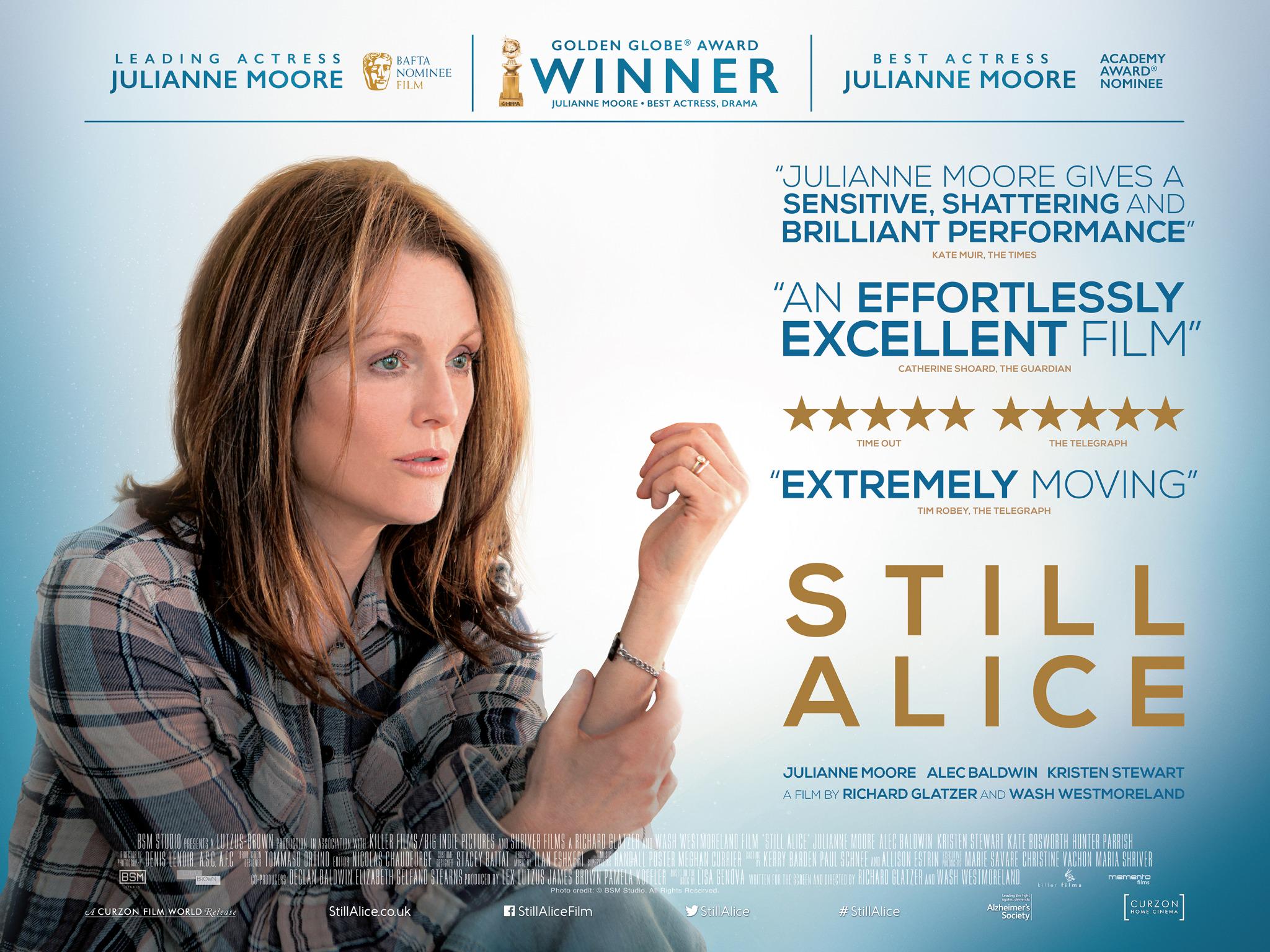 STILL ALICE (12)
12.30am Channel 4
Starring: Julianne Moore, Alec Baldwin, Kate Bosworth, Kristen Stewart
Drama
A linguistics professor and her family find their bonds tested when she is diagnosed with Alzheimer's Disease. Julianne Moore is magnificent in this heart-breaking drama. Infrequent strong language, moderate sex references.
THE MOUSE THAT ROARED (U)
1.20am Sony Movies Classic
Starring: Peter Sellers, Jean Seberg, David Kossoff
An impoverished backward nation declares a war on the United States of America, hoping to lose, but things don't go according to plan. Classic British comedy.