Morning!
The weather is improving…for a few days but that doesn't mean you have to go mad and jump on a bike! There are plenty of great films to enjoy, so here are the recommendations.
AMAZON PRIME
HOTEL ARTEMIS (15)
Starring: Jodie Foster, Sterling K. Brown, Dave Bautista, Sofia Boutella, Jeff Goldblum
Sci-Fi, Action, Thriller
Set in riot-torn, near-future Los Angeles, 'Hotel Artemis' follows the Nurse, who runs a secret, members-only emergency room for criminals. Interesting sci-fi thriller with plenty of violence. Strong language, bloody violence, injury detail, drug misuse.
GIRL, INTERRUPTED (15)
Starring: Winona Ryder, Angelina Jolie
Biopic, Drama
Based on writer Susanna Kaysen's account of her 18-month stay at a mental hospital in the late 1960s. Powerful drama with an Oscar-winning role for Angelina Jolie. Strong language, occasional horror and sexual references.
NETFLIX
TROY (15)
Starring: Brad Pitt, Eric Bana, Orlando Bloom, Diane Kruger, Sean Bean, Brian Cox, Peter O'Toole
Drama
An adaptation of Homer's great epic, the film follows the assault on Troy by the united Greek forces and chronicles the fates of the men involved. Epic but flawed tale with a strong cast. Graphic violence and some sexuality/nudity.
HEAVY METAL (15)
Starring: John Candy, Harold Ramis, John Vernon
Animation, Adventure, Fantasy
A glowing green orb – which embodies ultimate evil – terrorises a young girl with an anthology of bizarre and fantastic stories of dark fantasy, eroticism and horror. Imaginative adult animation. Sexual content including nudity, strong violence, language, disturbing images, and drug use.
NOW TV/SKY CINEMA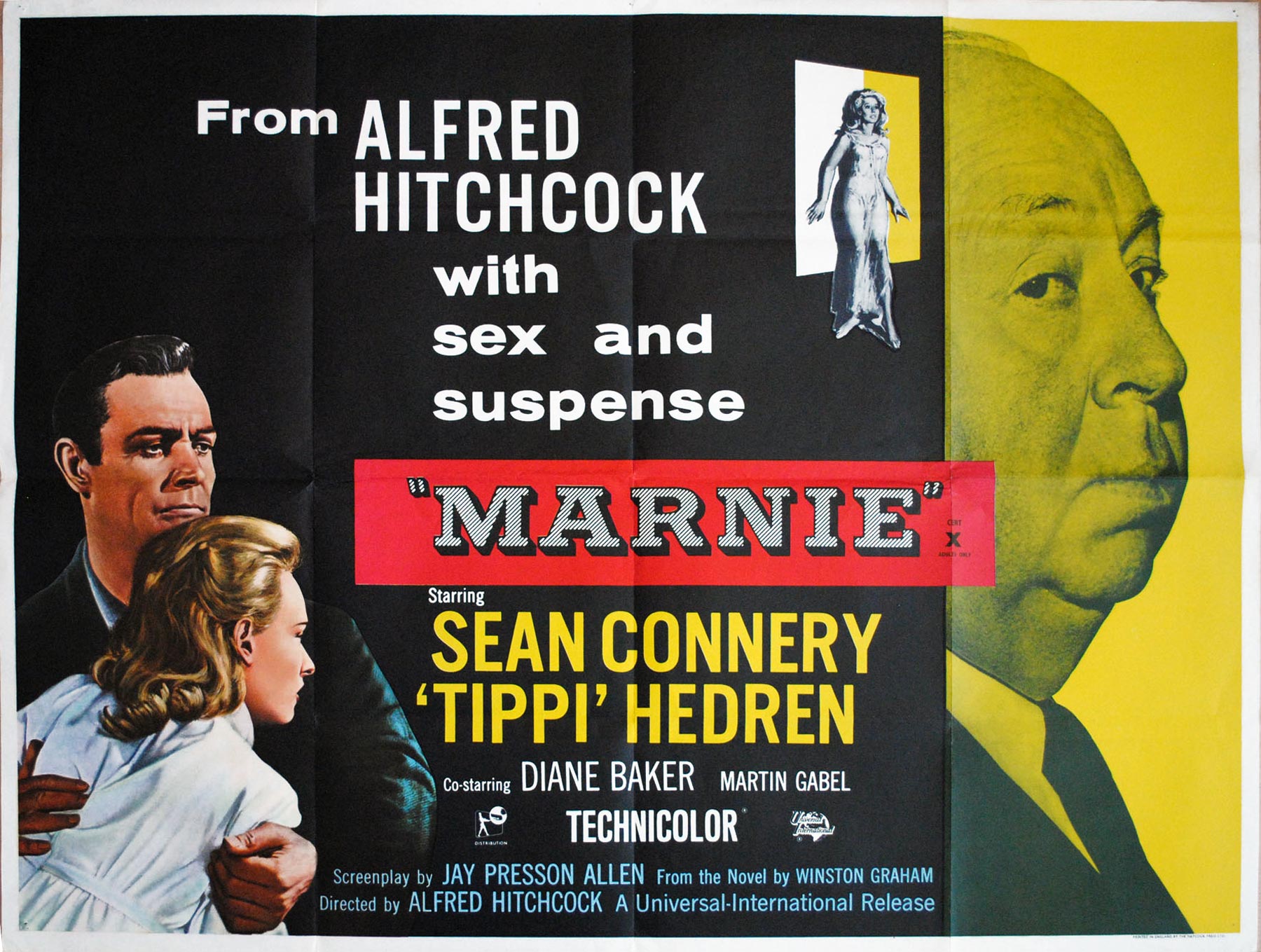 MARNIE (15)
Starring: Tippi Hedren, Sean Connery
Thriller, Drama
Mark marries Marnie although she is a habitual thief and has serious psychological problems, and tries to help her confront and resolve them. A lesser known Alfred Hitchcock thriller. Domestic and sexual threat.
MAD MAX BEYOND THUNDERDOME (15)
Starring: Mel Gibson, Tina Turner
Sci-Fi, Action, Adventure
After being exiled from the most advanced town in post apocalyptic Australia, a drifter travels with a group of abandoned children to rebel against the town's queen. The third in the series of action films from George Miller. Strong violence and one use of strong language.
MOVIES ON TERRESTRIAL TV
ANIMAL FARM (U)
12noon Film4+1
Starring: Gordon Heath, Maurice Denham
Animation, drama
A successful farmyard revolution by the resident animals vs. the farmer goes horribly wrong as the victors create a new tyranny among themselves. Animated version of George Orwell classic novel. Very mild violence and intense moments.
FANTASTIC VOYAGE (U)
12.35pm Film4
Starring: Stephen Boyd, Raquel Welch, Edmond O'Brien, Donald Pleasence
Sci-fi, adventure
A scientist is nearly assassinated. In order to save him, a submarine is shrunken to microscopic size and injected into his bloodstream with a small crew. Problems arise almost as soon as they enter the bloodstream. Classic sci-fi adventure. Mild violence and language.
GANDHI (PG)
12.50pm Sony Movies Classic
Starring: Ben Kingsley, Candice Bergen, Edward Fox, John Gielgud
Biopic, Drama
The life of the lawyer who became the famed leader of the Indian revolts against the British rule through his philosophy of nonviolent protest. Epic Oscar-winning biopic from Richard Attenborough. Violence and scenes of threat.
MYSTERIOUS ISLAND (U)
1pm Horror Channel
Starring: Michael Craig, Joan Greenwood, Herbert Lom
Adventure, fantasy
During the Civil War a group of Union soldiers and two Confederates escape the stockade using a hot air balloon and end up on a strange Pacific island. Old-school family adventure with creatures by Ray Harryhausen. Violence and peril.
THE MIRACLE OF THE BELLS (U)
2.20pm BBC2
Starring: Fred MacMurray, Alida Valli, Frank Sinatra
Drama
Granting her final request, a Hollywood press agent brings the dead body of an actress, who died after making her first and only film, back to her hometown for burial. Old-fashioned melodrama with a good cast. Black and white.
CHASING MAVERICKS (PG)
2.40pm Film4
Starring: Gerard Butler, Jonny Weston, Elisabeth Shue
Biopic, Drama, Sport
When young Jay Moriarity discovers that the mythic Mavericks surf break, one of the biggest waves on Earth, exists just miles from his Santa Cruz home, he enlists the help of local legend Frosty Hesson to train him to survive it. Surfing movie and the final film for director Curtis Hanson. Distressing scenes and one use of mild language.
BRIDGE TO TERABITHIA (PG)
4.55pm Sony Movies
Starring: Tyler Atfield, Josh Hutcherson, Erin Annis
Fantasy, drama, family
A preteen's life turns upside down when he befriends the new girl in school, and they imagine a whole new fantasy world to escape reality. Incredibly moving family drama. Scary scenes and emotional distress.
BEFORE WE GO (12)
4.55pm Film4
Starring: Chris Evans, Alice Eve
Romance, Drama, Comedy
Two strangers stuck in Manhattan for the night grow into each other's most trusted confidants when an evening of unexpected adventure forces them to confront their fears and take control of their lives. Chris Evans stars and directs this worthy romantic drama. Infrequent strong language, moderate sex references.
CHAMPION (PG)
6.50pm Talking Pictures TV
Starring: Kirk Douglas, Marilyn Maxwell
Drama, Film-Noir, Sport
Boxer Midge Kelly rises to fame…mainly by stepping on other people. Terrific boxing movie with a good performance from a young Kirk Douglas. Violence. Black and white.
THE SECRET LIFE OF WALTER MITTY (U)
9pm Sony Movies Classic
Starring: Danny Kaye, Virginia Mayo, Boris Karloff
Comedy, fantasy, romance
A clumsy daydreamer gets caught up in a sinister conspiracy. Delightful Danny Kaye version of the classic story. Mild violence.
GONE IN 60 SECONDS (15)
9pm Sony Movies
Starring: Nicolas Cage, Angelina Jolie, Giovanni Ribisi, Robert Duvall
Action, crime, thriller
A retired master car thief must come back to the industry and steal fifty cars with his crew in one night to save his brother's life. Flashy blockbuster remake of the 1977 cult favourite. Violence, sexuality and language.
SPACE COWBOYS (PG)
10.30pm ITV4
Starring: Clint Eastwood, Tommy Lee Jones, Donald Sutherland, James Garner
Action, Adventure, Drama
When retired engineer Frank Corvin is called upon to rescue a failing satellite, he insists that his equally old teammates accompany him into space. Four screen legends together for a far-fetched but fun adventure. Mild language and action.
IDA (12)
10.45pm Film4
Starring:  Agata Kulesza, Agata Trzebuchowska
Drama
A novice nun about to take her vows uncovers a family secret dating back to the German occupation. Hauntingly beautiful drama from the director of Cold War. Suicide scene and sexual content. Subtitled. Black and white.
SCREAM 3 (18)
11pm 5*
Starring: David Arquette, Neve Campbell, Courteney Cox Arquette, Patrick Dempsey
Horror, Thriller
While Sidney and her friends visit the Hollywood set of Stab 3, the third film based on the Woodsboro murders, another Ghostface killer rises to terrorise them. More horror from director Wes Craven. Strong language and violence.
TOM JONES (12)
11.15pm Sony Movies Classic
Starring: Albert Finney, Susannah York, Hugh Griffith, Edith Evans
Drama, Comedy
The romantic and chivalrous adventures of adopted bastard Tom Jones in 18th-century England. Oscar-winning costume drama based on Henry Fielding's classic novel. Moderate sex references, violence, language.
SCREAM OF FEAR (12)
1.50am Talking Pictures TV
Starring: Christopher Lee, Susan Strasberg
Thriller, horror
A wheelchair-bound young woman returns to her father's estate after ten years, and although she's told he's away, she keeps seeing his dead body on the estate. Creepy Hammer horror. Infrequent moderate horror. Black and White.
THE THING FROM ANOTHER WORLD (PG)
1.50am Sony Movies Classic
Starring: Kenneth Tobey, Margaret Sheridan
Sci-fi, horror
Scientists and American Air Force officials fend off a bloodthirsty alien organism while at a remote arctic outpost. Classic sci-fi that inspired John Carpenter's 1982 The Thing. Scary scenes, mild horror and peril. Black and white.
INSIDE LLEWYN DAVIS (15)
2.40am Channel 4
Starring: Oscar Isaac, Carey Mulligan, John Goodman
Comedy,  drama, music
A week in the life of a young singer as he navigates the Greenwich Village folk scene of 1961. The Coen Brothers direct another mini-masterpiece. Strong language, sex references, implied hard drug use.