Morning!
Stay safe, look after yourself and Happy Sunday!
AMAZON PRIME
THE WEDDING SINGER (12)
Starring: Drew Barrymore, Adam Sandler, Christine Taylor
Comedy, Music, Romance
Robbie, a singer, and Julia, a waitress, are both engaged, but to the wrong people. Fortune intervenes to help them discover each other. One of Adam Sandler's better comedies. One use of strong language and moderate sex references.
JFK (15)
Starring: Kevin Costner, Kevin Bacon, Tommy Lee Jones, Laurie Metcalf, Gary Oldman, Joe Pesci
Drama, Thriller
New Orleans District Attorney Jim Garrison discovers there's more to the Kennedy assassination than the official story. Impressive and epic Oliver Stone conspiracy thriller. Strong language, occasional strong gory images and sex references.
NETFLIX
50/50 (15)
Starring: Joseph Gordon-Levitt, Seth Rogen, Anna Kendrick, Bryce Dallas Howard, Anjelica Huston
Comedy, Drama
Inspired by a true story, a comedy centred on a 27-year-old guy who learns of his cancer diagnosis and his subsequent struggle to beat the disease. Surprisingly uplifting comedy-drama. Strong language, once very strong, strong sex and sex references.
THE WOMAN IN THE WINDOW (PG)
Starring: Edward G. Robinson, Joan Bennett, Raymond Massey
Crime, Thriller, Film-Noir
When a conservative middle-aged professor engages in a minor dalliance with a femme fatale, he is plunged into a nightmarish quicksand of blackmail and murder. Superb film-noir from director Fritz Lang. Mild violence. Black and white.
NOW TV/SKY CINEMA
THE MAN WHO KILLED DON QUIXOTE (15)
Starring: Adam Driver, Jonathan Pryce
Adventure, Comedy, Drama
Toby, a disillusioned film director, is pulled into a world of time-jumping fantasy when a Spanish cobbler believes himself to be Sancho Panza. He gradually becomes unable to tell dreams from reality. Terry Gilliam's imaginative and impressive comedy-drama. Strong language, violence, sexual references.
PACIFIC RIM (12)
Starring: Charlie Hunnam, Idris Elba, Ron Perlman
Science Fiction, Fantasy, Action
As a war between humankind and monstrous sea creatures wages on, a former pilot and a trainee are paired up to drive a seemingly obsolete special weapon in a desperate effort to save the world from the apocalypse. Guillermo del Toro's giant robots fighting monsters movie. What's not to like? Frequent moderate violence and one use of strong language.
MOVIES ON TERRESTRIAL TV
THE PUMPKIN EATER (12)
10.45am Sony Movies Classic
Starring: Anne Bancroft, Peter Finch, James Mason
Drama
A mother of many children plunges into depression. Powerful British drama of modern marriage. Moderate sex references and references to abortion. Black and white.
KUNG FU PANDA 2 (PG)
12.35pm Film4
Starring: Jack Black, Gary Oldman, Seth Rogen, Angelina Jolie, Jackie Chan, Jean-Claude Van Damme, Dustin Hoffman
Animation, Comedy, Adventure
Po and his friends fight to stop a peacock villain from conquering China with a deadly new weapon, but first the Dragon Warrior must come to terms with his past. Bright sequel to the popular animation. Mild martial arts action.
HITCH (12)
12.40pm Sony Movies
Starring: .Will Smith, Kevin James, Amber Valletta
Comedy, romance
While helping his latest client woo the woman of his dreams, a professional "date doctor" finds that his game doesn't quite work on the gossip columnist with whom he's smitten. An amiable romantic comedy. Language and sex references.
THE PRIME OF MISS JEAN BRODIE (12)
1pm Sony Movies Classic
Starring: Maggie Smith, Robert Stephens
Comedy, Drama, Romance
A headstrong young teacher in a private school in 1930s Edinburgh ignores the curriculum and influences her impressionable twelve-year-old charges with her over-romanticized world view. Terrific drama with a first-rate lead from Maggie Smith. Moderate language, sex references and sexualised nudity.
JUNGLE BOOK (U)
1.05pm Talking Pictures TV
Starring: Sabu, Joseph Calleia
Action, Adventure
A boy raised by wild animals tries to adapt to human village life. Before Disney, there was Zoltan Korda's adaptation of Kipling's classic story. Mild violence and peril.
THE SECRET LIFE OF WALTER MITTY (PG)
2.25pm Film4
Starring: Ben Stiller, Kristen Wiig, Sean Penn
Drama, Comedy, Adventure, Fantasy
When both he and a colleague are about to lose their job, Walter takes action by embarking on an adventure more extraordinary than anything he could have ever imagined. Fun adventure directed by Ben Stiller. Moderate violence, mild language and sex references.
MOONRISE KINGDOM (12)
3pm Sony Movies
Starring: Jared Gilman, Kara Hayward, Bruce Willis, Frances McDormand, Harvey Keitel, Tilda Swinton, Edward Norton, Bill Murray
Comedy, Drama, Romance
A pair of young lovers flee their New England town, which causes a local search party to fan out to find them. Another skilful slice of the absurd from director Wes Anderson. Moderate sex references.
MINIONS (U)
3.10pm ITV2
Starring: Sandra Bullock, Jon Hamm
Animated, comedy, adventure
Minions Stuart, Kevin, and Bob are recruited by Scarlet Overkill, a supervillain who, alongside her inventor husband Herb, hatches a plot to take over the world. Madcap animation comedy. Mild comic violence and rude toilet humour.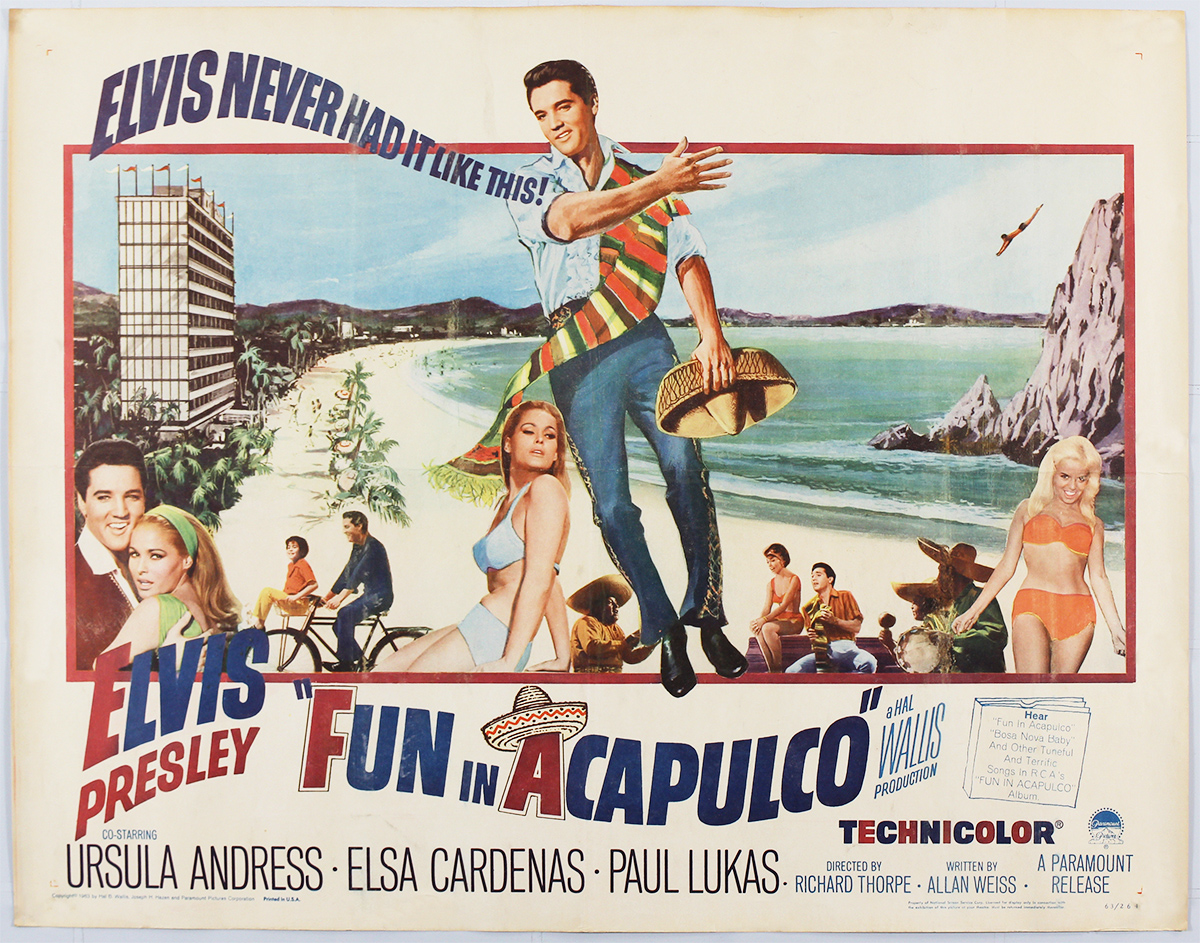 FUN IN ACAPULCO (U)
3.15pm Talking Pictures TV
Starring: Elvis Presley, Ursula Andress
Comedy, Musical
A yacht owner's spoiled daughter gets Mike fired, but a boy helps him get a job as singer at Acapulco Hilton etc. He upsets the lifeguard by taking his girl and 3 daily work hours. Mike's also seeing a woman bullfighter. Standard energetic Elvis musical.
TOMMY'S HONOUR (PG)
3.45pm BBC1
Starring: Ophelia Lovibond, Sam Neill, Peter Mullan, Jack Lowden
Biopic, Drama, Romance
In every generation, a torch passes from father to son. And that timeless dynamic is the beating heart of Tommy's Honour – an intimate, powerfully moving tale of the real-life founders of the modern game of golf. Beautiful looking biopic directed by Jason Connery. Mild bad language, sex references, distressing scenes.
MOONRAKER (PG)
4.05pm ITV1
Starring:  Roger Moore, Lois Chiles, Michael Lonsdale, Richard Kiel
Action, Adventure, Sci-Fi, Thriller
James Bond investigates the mid-air theft of a space shuttle, and discovers a plot to commit global genocide. 007 does Star Wars in one of the more ludicrous Bond films. Violence, innuendo and sexual content.
FANTASTIC FOUR: RISE OF THE SILVER SURFER (PG)
4.10pm Channel 4
Starring: Iona Gruffudd, Jessica Alba, Chris Evans, Michael Chiklis
Action, Adventure, Fantasy
The Fantastic Four learn that they aren't the only super-powered beings in the universe when they square off against the powerful Silver Surfer and the planet-eating Galactus. Massively flawed time-waster based on the Marvel characters.  Infrequent moderate violence, mild innuendo & language.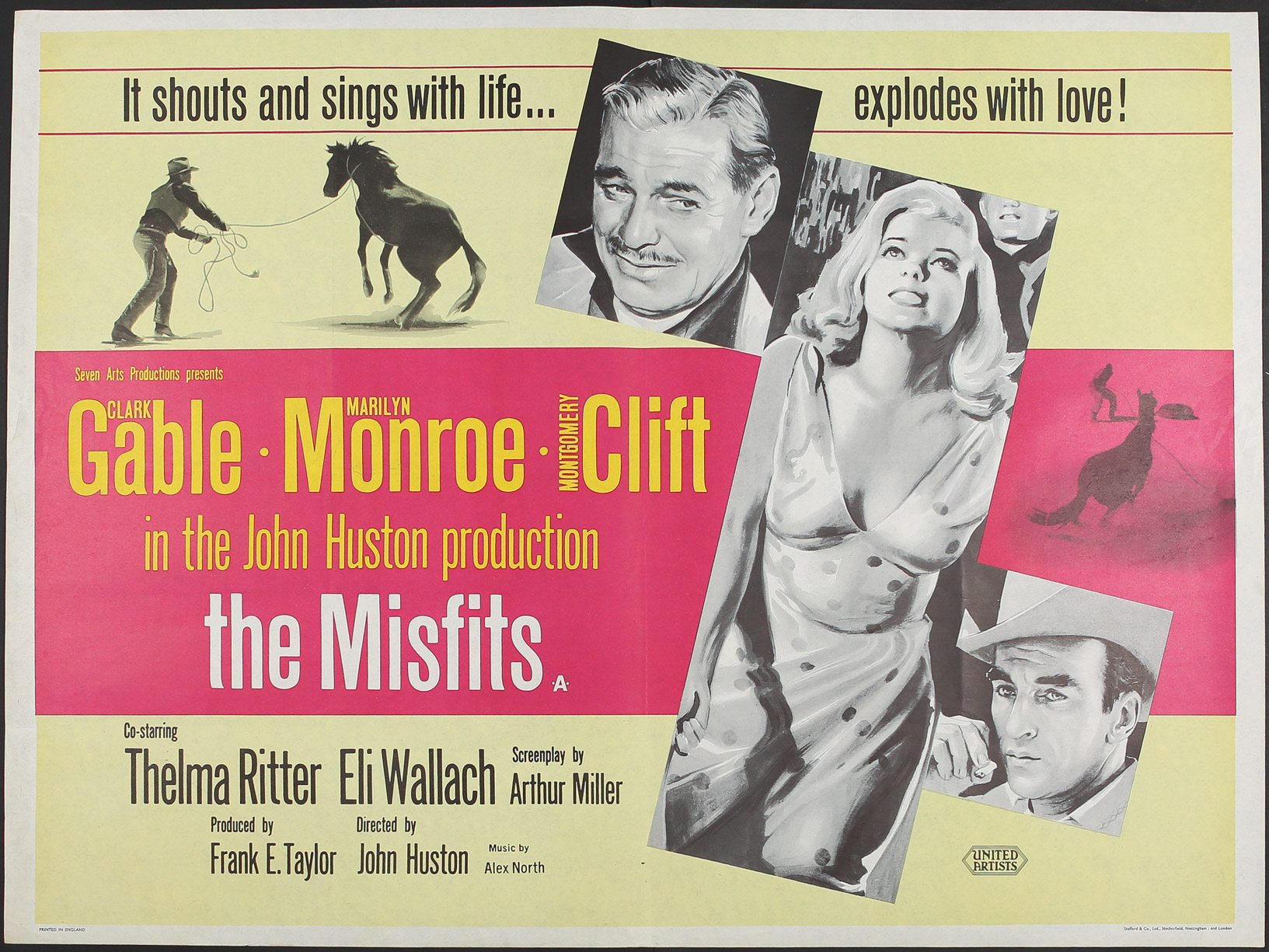 THE MISFITS (PG)
4.40pm Sony Movies Classic
Starring: Clark Gable, Marilyn Monroe, Montgomery Clift
Drama, Romance, Western
A divorcée falls for an over-the-hill cowboy who is struggling to maintain his romantically independent lifestyle. Classic drama that turned out to be last films for Gable and Monroe. Mild language and violence. Black and white.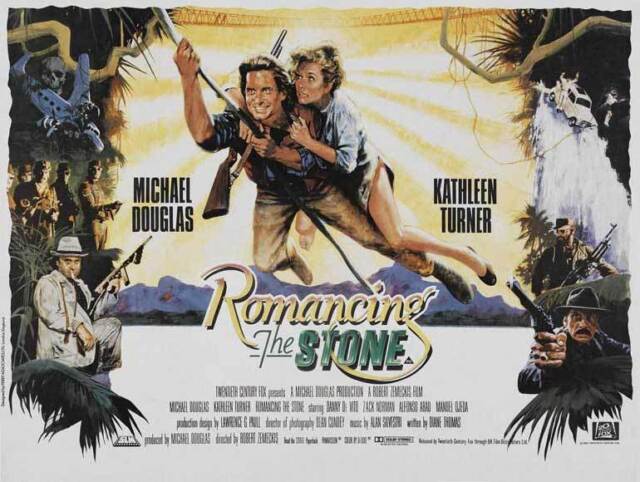 ROMANCING THE STONE (12)
4.40pm Film4
Starring: Michael Douglas, Kathleen Turner, Danny DeVito
Action, Adventure, Comedy
A mousy romance novelist sets off for Colombia to ransom her kidnapped sister, and soon finds herself in the middle of a dangerous adventure hunting for treasure with a mercenary rogue. Indiana Jones-style adventure from the director of Back to the Future. Moderate language, violence and drug references. May be edited for content.
TOWER HEIST (12)
4.55pm Sony Movies
Starring: Ben Stiller, Eddie Murphy, Matthew Broderick, Casey Affleck, Tea Leoni
Action, Comedy, Crime
When a group of hard-working guys find out they've fallen victim to their wealthy employer's Ponzi scheme, they conspire to rob his high-rise residence. Enjoyable crime caper with a strong cast. Infrequent strong language and moderate sex references.
THE HIGH AND THE MIGHTY (U)
6pm Talking Pictures TV
Starring: John Wayne, Claire Trevor
Action, Adventure, Drama
When a commercial airliner develops engine problems on a trans-Pacific flight and the pilot loses his nerve, it is up to the washed-up co-pilot Dan Roman to bring the plane in safely. Exciting John Wayne drama. Threat of plane disaster.
THE LEGO BATMAN MOVIE (U)
6.50pm ITV2
Starring: Will Arnett, Jenny Slate, Ralph Fiennes
Comedy, Animation, Action
A cooler-than-ever Bruce Wayne must deal with the usual suspects as they plan to rule Gotham City, while discovering that he has accidentally adopted a teenage orphan who wishes to become his sidekick. Hilarious comedy from the Lego Movie team. Mild comic violence, rude humour, very mild bad language.
X-MEN: THE LAST STAND (12)
6.55pm Film4
Starring: Patrick Stewart, Ian McKellan, Hugh Jackman
Action, adventure, fantasy
As the government find a cure for the mutant, one of the X-Men is struggling with her own powers. The third and weakest of the Marvel adaptation about mutants. Moderate violence, moderate bad language.
HOW TO MARRY A MILLIONAIRE (U)
7.05pm Sony Movies Classic
Starring: Lauren Bacall, Marilyn Monroe, Betty Grable
Comedy, Drama, Romance
Three women set out to find eligible millionaires to marry, but find true love in the process. Bubbly comedy from the 50s.
SHREK FOREVER AFTER (U)
7.10pm E4
Starring: Mike Myers, Eddie Murphy, Cameron Diaz, Antonio Banderas, Julie Andrews, John Cleese
Animation, Adventure, Comedy, Fantasy
Rumpelstiltskin tricks a mid-life crisis burdened Shrek into allowing himself to be erased from existence and cast in a dark alternate timeline where Rumpelstiltskin rules supreme. The final of the Shrek movies. Mild fight scenes.
ROCKY IV (PG)
8.05pm ITV4
Starring: Sylvester Stallone, Talia Shire, Burt Young, Carl Weathers, Dolph Lundgren
Drama, sport
Rocky Balboa proudly holds the world heavyweight boxing championship, but a new challenger has stepped forward: Drago, a six-foot-four, 261-pound fighter who has the backing of the Soviet Union. Rocky gets all flashy in this mid-80s edition. Infrequent moderate boxing violence, language and steroid abuse.
PATRIOTS DAY (15)
9pm Channel 4
Starring: Mark Wahlberg, Kevin Bacon, John Goodman
Drama, Action
The story of the 2013 Boston Marathon bombing and the aftermath, which includes the city-wide manhunt to find the terrorists responsible. Well-intended telling of the horrific events. Strong language, bloody injury detail, strong violence, threat.
FOUR WEDDINGS AND A FUNERAL (15)
9pm Film4
Starring: Hugh Grant, Andie MacDowell, Kristin Scott Thomas, Simon Callow
Comedy, drama
Over the course of five social occasions, a committed bachelor must consider the notion that he may have discovered love. Wonderful British comedy that made Hugh Grant a star. Strong language and moderate sex references.
HEIST (15)
9pm Sony Movies
Starring: Gene Hackman, Rebecca Pidgeon, Delroy Lindo, Ricky Jay, Danny DeVito, Patti LuPone
Action, Crime, Drama
A career jewel thief finds himself at tense odds with his longtime partner, a crime boss who sends his nephew to keep watch. Cracking crime thriller from writer/director David Mamet. Strong language and some violence.
BUS STOP (U)
9pm Sony Movies Classic
Starring: Marilyn Monroe, Don Murray
Comedy, Drama, Romance
A naive but stubborn cowboy falls in love with a saloon singer and tries to take her away against her will to get married and live on his ranch in Montana. Classic comedy with Marilyn Monroe. Sexual references.
DAYS OF THUNDER (12)
9pm 5*
Starring: Tom Cruise, Robert Duvall, Nicole Kidman
Drama, Sports, Action
A young hot-shot stock car driver gets his chance to compete at the top level. Flashy blockbuster from director Tony Scott. Strong language, intense car crashes and moderate sex references.
P2 (18)
9pm Horror Channel
Starring: Wes Bentley, Rachel Nichols
Horror, Thriller
A businesswoman is pursued by a psychopath after being locked in a parking garage on Christmas Eve. Effectively creepy horror. Strong language and violence, terror and sexualised threat.
THE STANFORD PRISON EXPERIMENT (15)
9.55pm ITV4
Starring: Billy Crudup,  Thomas Mann, Ezra Miller, Logan Miller, Tye Sheridan
Biopic, Drama
In 1971, twenty-four male students are selected to take on randomly assigned roles of prisoners and guards in a mock prison situated in the basement of the Stanford psychology building. Powerful drama showing the human condition at its worst. Language including abusive behaviour and some sexual references.
SAVING MR BANKS (PG)
10.30pm BBC1
Starring: Emma Thompson, Tom Hanks, Paul Giamatti, Jason Schwartzman, Colin Farrell
Biopic, Comedy, Drama
Author P.L. Travers reflects on her childhood after reluctantly meeting with Walt Disney, who seeks to adapt her Mary Poppins books for the big screen. Wonderful drama with Emma Thompson and Tom Hanks on fine form. Scenes of emotional upset.
TIMECOP (15)
11.10pm 5*
Starring: Jean-Claude Van Damme, Mia Sara, Ron Silver
Action, crime,sci-fi
Max Walker, an officer for a security agency that regulates time travel, must fend for his life against a shady politician who's intent on changing the past to control the future. Possibly Jean-Claude Van Damme best film. Strong violence, language and sex.
MERCURY RISING (15)
11.20pm Film4
Starring: Bruce Willis, Alec Baldwin, Miko Hughes
Action, Thriller
Shadowy elements in the NSA target a nine-year old autistic boy for death when he is able to decipher a top secret code. Tense and exciting thriller. Strong violence and language.
TOM JONES (12)
12.15am Sony Movies Classic
Starring: Albert Finney, Susannah York, Hugh Griffith, Edith Evans
Drama, Comedy
The romantic and chivalrous adventures of adopted bastard Tom Jones in 18th-century England. Oscar-winning costume drama based on Henry Fielding's classic novel. Moderate sex references, violence, language.
FEAR IN THE NIGHT (12)
12.15am Talking Pictures TV
Starring: Peter Cushing, Judy Geeson, Joan Collins, Ralph Bates
Thriller, Horror
A young woman recovering from a nervous breakdown moves with her husband to a boys' school and finds herself being terrorised by a mysterious one-armed man, but nobody believes her. 70s chiller from Hammer. Moderate threat and horror.
THE FLORIDA PROJECT (15)
12.35am Channel 4
Starring: Willem Dafoe, Brooklynn Prince, Valeria Cotto, Bria Vinaite
Drama
Set over one summer, the film follows precocious six-year-old Moonee as she courts mischief and adventure with her ragtag playmates and bonds with her rebellious but caring mother, all while living in the shadows of Walt Disney World. Wonderful and charming tale seen through the eyes of a child. Unmissable. Language throughout, disturbing behaviour, sexual references and some drug material.
GRANDMA (15)
2.35am Channel 4
Starring: Lily Tomlin, Julia Garner, Marcia Gay Harden
Drama, Comedy
A teenager facing an unplanned pregnancy seeks help from her acerbic grandmother, a woman who is long estranged from her daughter. Overlooked independent comedy-drama with a superb Lily Tomlin. Strong language, drug use.