Morning!
Just feel like closing myself off from the world today. The news banging on about schools needing to reopen, the things in Beirut and Simon Cowell's back, yet not a single mention that yesterday, in the UK, new cases of Covid-19 went up to over 1000. The largest amount since June. I am sick and tired of the news agendas not telling us the real truth and stories that are incredibly important and being pushed under the rug.
I may just sit and watch movies all day. Why don't you join me with today's recommendations.
Stay safe, look after yourself and Happy Monday!
AMAZON PRIME
TEEN TITANS GO! TO THE MOVIES (PG)
Starring: Scott Menville, Hynden Walch
Fantasy, Comedy, Animation
A villain's maniacal plan for world domination sidetracks five teenage superheroes who dream of Hollywood stardom. Absolutely hilarious satire of the superhero movie genre. Hugely underrated. Mild violence, threat, rude humour.
KISS KISS BANG BANG (15)
Starring: Val Kilmer, Robert Downey Jr, Michelle Monaghan
Action, Comedy, Thriller
A murder mystery brings together a private eye, a struggling actress, and a thief masquerading as an actor. Brilliant crime comedy from the writer of Lethal Weapon. Highly recommended. Language, violence and sexuality/nudity.
NETFLIX
JUMANJI (PG)
Starring: Robin Williams, Bonnie Hunt, Kirsten Dunst
Adventure, comedy
When two kids find and play a magical board game, they release a man trapped in it for decades – and a host of dangers that can only be stopped by finishing the game. The original adventure with Robin Williams. Mild fantasy horror.
HEARTS IN ATLANTIS (15)
Starring: Anthony Hopkins, Hope Davis, David Morse, Anton Yelchin
Drama, Thriller
Widowed Liz Garfield and her son Bobby change when mysterious stranger Ted Brautigan enters their lives. Little known Stephen King adaptation from the director of Shine. Violence and implied sexual assault.
NOW TV/SKY CINEMA
GOODFELLAS (18)
Starring: Robert De Niro, Ray Liotta, Joe Pesci, Lorraine Bracco,
Biopic, Drama, Crime
The story of Henry Hill and his life in the mob, covering his relationship with his wife Karen Hill and his mob partners Jimmy Conway and Tommy DeVito in the Italian-American crime syndicate. Martin Scorsese's epic gangster movie. Very strong violence and strong language.
BATMAN FOREVER (12)
Starring: Val Kilmer, Tommy Lee Jones, Jim Carrey, Nicole Kidman, Chris O'Donnell
Action, Adventure, Fantasy
Batman must battle former district attorney Harvey Dent, who is now Two-Face and Edward Nygma, The Riddler with help from an amorous psychologist and a young circus acrobat who becomes his sidekick, Robin. Colourful entry in the original Batman series. Moderate violence.
MOVIES ON TERRESTRIAL TV
THE PERFECT CATCH (PG)
11am Film4
Starring: Drew Barrymore, Jimmy Fallon
Comedy, Romance
Lindsay is stuck in the middle of her relationship with Ben and his passion for the Boston Red Sox. American version of Nick Hornby's Fever Pitch from the directors of There's Something About Mary. Mild language and sex references.
THE END OF THE AFFAIR (PG)
11.30am Sony Movies Classic
Starring: Deborah Kerr, Van Johnson, Peter Cushing, John Mills
Drama, Romance
In war-torn London, Maurice Bendrix (Van Johnson) falls in love with neighbour Sarah Miles (Deborah Kerr). They begin an illicit romance behind Sarah's husband's back. While war does not last forever, neither does love in this existentialist tale. Romantic drama based on Graham Greene's book. Sexual references. Black and white.
STUART LITTLE (U)
1.05pm Channel 4
Starring: Michael J. Fox, Geena Davis, Hugh Laurie
Comedy, Adventure
The Little family adopt a charming young mouse named Stuart, but the family cat wants rid of him. Charming and sweet family comedy. Brief language and mild peril.
IT SHOULD HAPPEN TO YOU! (U)
1.40pm Sony Movies Classic
Starring: Judy Holliday, Peter Lawford, Jack Lemmon
Comedy, romance
When a young woman with dreams of fame rents a billboard to advertise herself, her life changes overnight. Funny 1954 comedy. Mild sexual reference.
RANGO (PG)
2.45pm Film4
Starring: Johnny Depp, Timothy Olyphant, Isla Fisher
Animation, Adventure, Comedy, Western
Rango is an ordinary chameleon who accidentally winds up in the town of Dirt, a lawless outpost in the Wild West in desperate need of a new sheriff. Surreal stop-motion animation. Mild threat and scary scenes.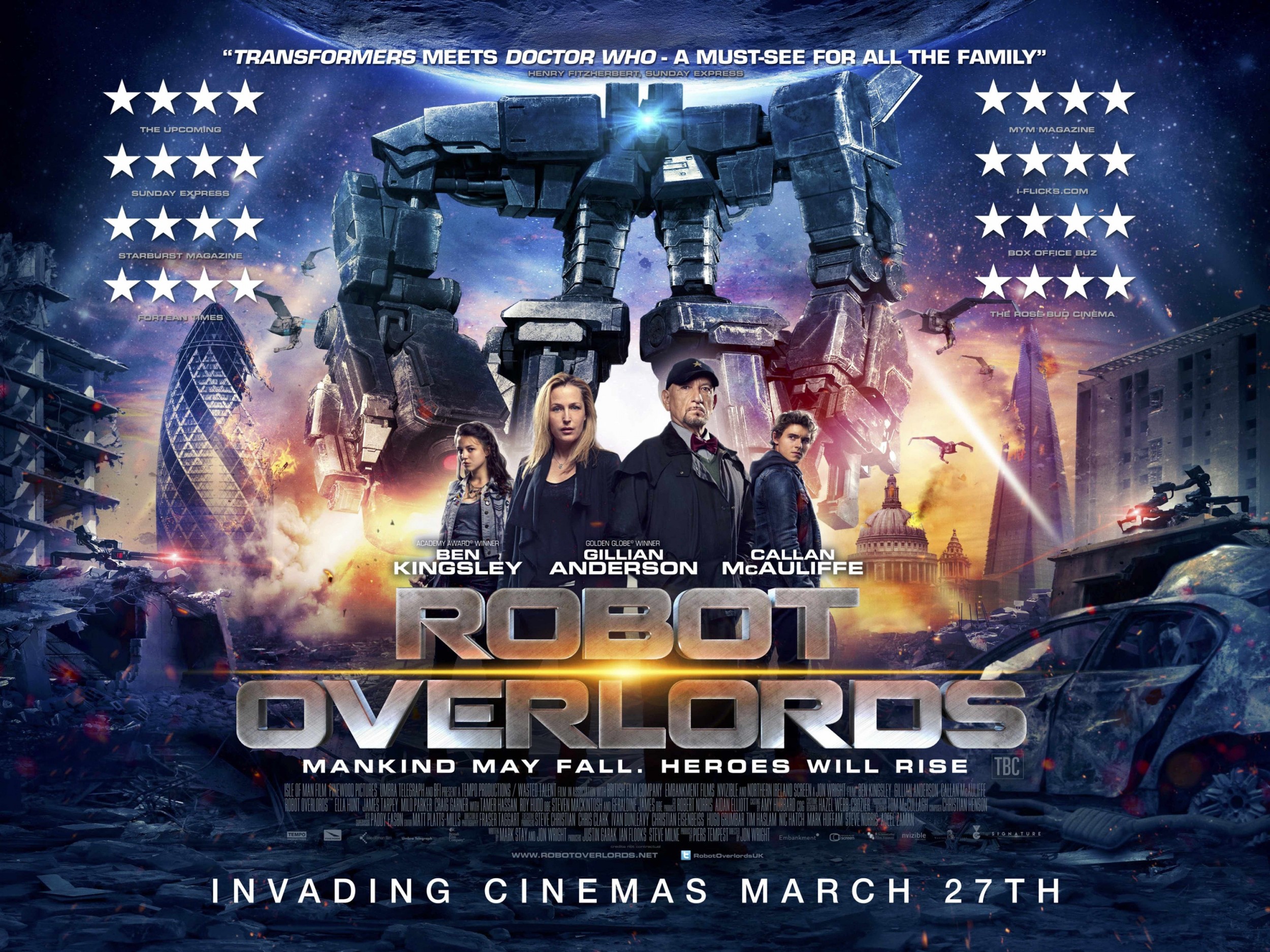 ROBOT OVERLORDS (12)
4pm Horror Channel
Starring: Gillian Anderson, Ben Kingsley, Callan McAuliffe
Action, Adventure, Sci-Fi
Earth has been conquered by robots from a distant galaxy. Survivors are confined to their houses and must wear electronic implants, risking incineration by robot sentries if they venture outside. Entertaining sci-fi adventure. Moderate threat, sex references.
TUNES OF GLORY (PG)
4.05pm Sony Movies Action
Starring: Alec Guinness, John Mills, Dennis Price, Susannah York
War, Drama
After World War II, a Highland Regiment's acting Commanding Officer, who rose from the ranks, is replaced by a peace-time Oxford-educated Commanding Officer, leading to a dramatic conflict between the two. Two of Britain's finest together for this enjoyable drama. Mild violence and language.
CLOAK AND DAGGER (PG)
4.25pm Talking Pictures TV
Starring: Gary Cooper, Lilli Palmer, Robert Alda
Adventure, Romance, Film-Noir
In WW2, the Allies race against time to persuade two nuclear scientists working for the Germans to switch sides. Another cracking film-noir from director Fritz Lang. Mild violence. Black and white.
CARRY ON SPYING (U)
4.55pm Film4
Starring: Kenneth Williams, Barbara Windsor, Bernard Cribbins, Charles Hawtrey
Comedy
A top-secret chemical formula has been stolen by STENCH (the Society for the Total Extinction of Non-Conforming Humans), and so Agent Simpkins and his three trainees are hot on the trail, chasing the villains across the world. The Carry On team take on the 60s spy films. Innuendo. Black and White.
MY FAVOURITE BRUNETTE (PG)
5.15pm Sony Movies Classic
Starring: Bob Hope, Dorothy Lamour, Peter Lorre, Lon Chaney Jr.
Comedy, Crime, Film-Noir
Shortly before his execution on the death row in San Quentin, amateur sleuth and baby photographer Ronnie Jackson, tells reporters how he got there. One of Bob Hope's finest. Infrequent moderate violence. Black and white.
CHARLOTTE GRAY (15)
6.40pm Film4
Starring: Cate Blanchett, Billy Crudup, Rupert Penry-Jones
Drama, Thriller, Romance
A young Scottish woman joins the French Resistance during World War II to rescue her Royal Air Force boyfriend who is lost in France. Cate Blanchett shines in this adaptation of Sebastian Faulks' novel. Some war related violence, sensuality and brief strong language. May be edited for content.
SON OF PALEFACE (U)
7.05pm Sony Movies Classic
Starring: Bob Hope, Roy Rogers, Jane Russell
Comedy, Western
Junior Potter returns to claim his father's gold, which is nowhere to be found. "Mike" is the luscious head of a gang of thieves, and Roy Barton is the federal marshal hot on her trail. Hilarious comedy sequel. Sexual references and mild violence.
LEGALLY BLONDE 2: RED, WHITE AND BLONDE (PG)
7.05pm 5*
Starring: Reese Witherspoon, Sally Field, Bob Newhart, Luke Wilson
Comedy
Elle Woods (Reese Witherspoon) heads to Washington, D.C. to join the staff of a Representative in order to pass a bill to ban animal testing. Reasonable sequel saved by the energy of Reece Witherspoon. Mild innuendo and language.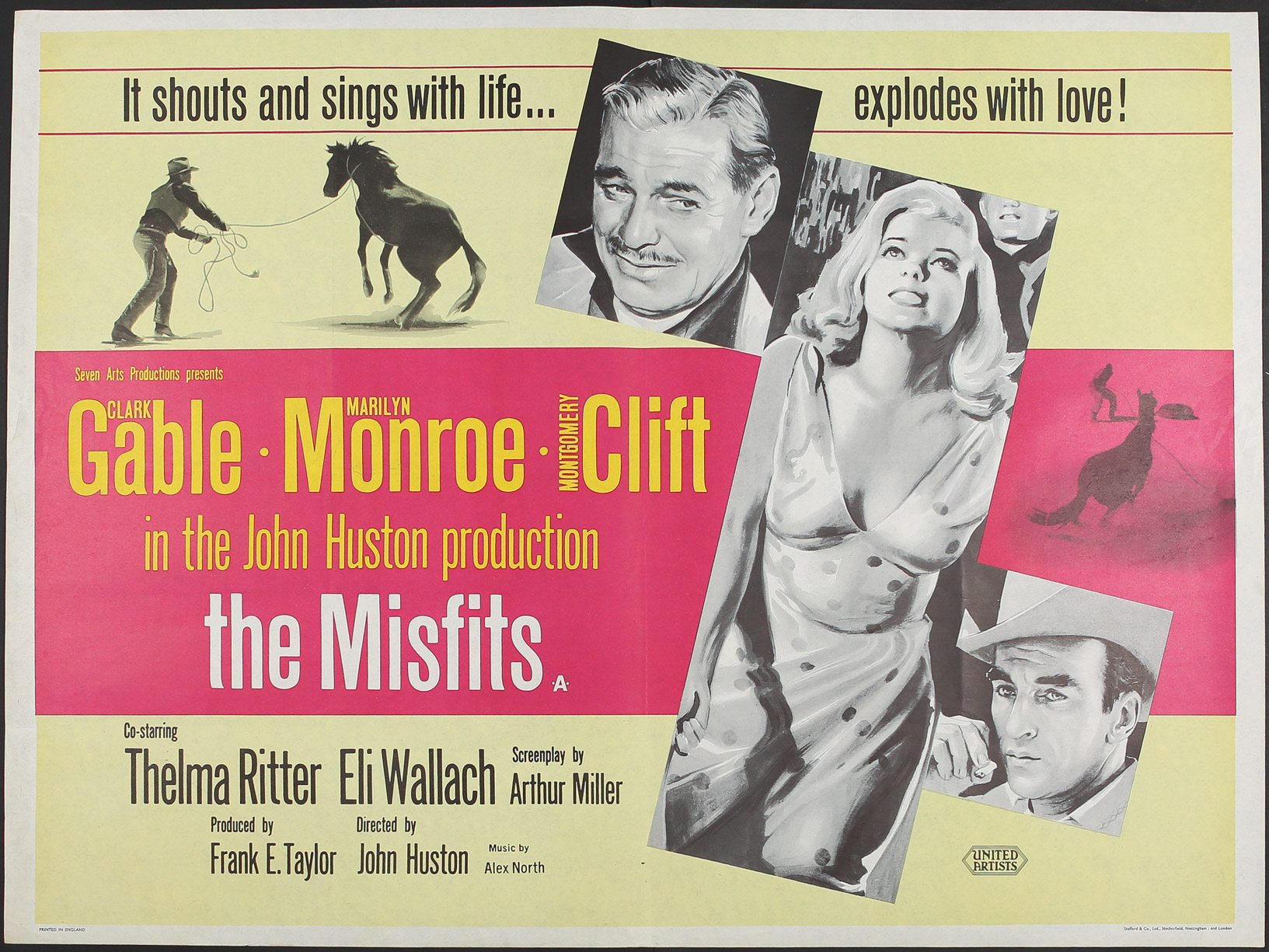 THE MISFITS (PG)
9pm Sony Movies Classic
Starring: Clark Gable, Marilyn Monroe, Montgomery Clift
Drama, Romance, Western
A divorcée falls for an over-the-hill cowboy who is struggling to maintain his romantically independent lifestyle. Classic drama that turned out to be last films for Gable and Monroe. Mild language and violence. Black and white.
JASON BOURNE (12)
9pm Film4
Starring: Matt Damon, Julia Stiles, Tommy Lee Jones, Alicia Vikander
Action, adventure, thriller
The CIA's most dangerous former operative is drawn out of hiding to uncover more explosive truths about his past. Fourth edition of the Jason Bourne story. Moderate violence and language.
LAND OF THE DEAD (15)
9pm Horror Channel
Starring: Simon Baker, John Leguizamo, Asia Argento, Dennis Hopper
Horror, Sci-Fi, Thriller
The living dead have taken over the world, and the last humans live in a walled city to protect themselves as they come to grips with the situation. Fourth of George A. Romero zombie movies. Strong language, violence, horror and gore.
ASSASSINS (15)
9pm ITV4
Starring: Sylvester Stallone, Antonio Banderas, Julianne Moore
Action, Thriller
Professional hit-man Robert Rath wants to fulfil a few more contracts before retiring but unscrupulous ambitious newcomer hit-man Miguel Bain keeps killing Rath's targets. Exciting action thriller from the director of Lethal Weapon. Strong bloody violence and language.
PREDESTINATION (15)
10.50pm Sony Movies
Starring: Ethan Hawke, Sarah Snook, Noah Taylor
Action, sci-fi, thriller
For his final assignment, a top temporal agent must pursue the one criminal that has eluded him throughout time. The chase turns into a unique, surprising and mind-bending exploration of love, fate, identity and time travel taboos. Cracking sci-fi time-travelling drama. Strong violence, sex, strong language.
KING OF THIEVES (15)
11.05pm Channel 5
Starring: Michael Caine, Charlie Cox, Michael Gambon, Tom Courtenay, Jim Broadbent, Ray Winstone
Thriller, Crime, Comedy
A true crime movie about a crew of retired crooks who pull off a major heist in London's jewellery district. What starts off as their last criminal hurrah, quickly turns into a brutal nightmare due to greed. Superb cast in a movie version of the Hatton Garden robbery. Very strong language.
ROMAN J. ISRAEL, ESQ. (12)
11.25pm Film4
Starring: Denzel Washington, Colin Farrell
Drama, Thriller
Roman J. Israel, Esq., a driven, idealistic defence attorney, finds himself in a tumultuous series of events that lead to a crisis and the necessity for extreme action. Another winning performance from Denzel Washington. Infrequent strong language, moderate violence.
FIRE DOWN BELOW (PG)
11.25pm Sony Movie Classic
Starring: Rita Hayworth, Robert Mitchum, Jack Lemmon
Adventure, Drama
The friendship between two tramp boat owners is threatened by the arrival of a beautiful and seductive passenger. Three stars in a cracking adventure. Mild violence and threat.
POLICE ACADEMY (15)
11.40pm ITV4
Starring: Steve Guttenberg, Kim Cattrell, Bubba Smith
Comedy
A group of good-hearted, but incompetent misfits enter the police academy, but the instructors there are not going to put up with their pranks. By far the best and funniest of the series. Language, crude humour and sexual content.
ELYSIUM (15)
12.45am Sony Movies
Starring: Matt Damon, Jodie Foster, Sharlto Copley
Sci-fi, action, drama
In the year 2154, the very wealthy live on a man-made space station while the rest of the population resides on a ruined Earth. A man takes on a mission that could bring equality to the polarised worlds. Inventive sci-fi from the director of District 9. strong language, bloody violence and gory images.
THE JAZZ SINGER (PG)
1am Talking Pictures TV
Starring: Neil Diamond, Laurence Olivier, Lucie Arnaz
Drama, Romance, Music
The son of a Jewish Cantor must defy the traditions of his religious father in order to pursue his dream of being a popular singer. 80s remake of the famous 20s drama. Mild language and sexual content.
TANGERINE (15)
1.50am Film4
Starring: Kitana Kiki Rodriguez, Mya Taylor
Comedy, Drama
A hooker tears through Tinseltown on Christmas Eve searching for the pimp who broke her heart. Wonderful drama from the director of The Florida Project, filmed entirely on iPhones. Strong language, sex, sex references, drug use.