Morning!
If you have returned from France after 4am this morning, then you are going to have to self quarantine for 14 days. If that's the case, then let me ease the pain by continuing to give you a list of movies to watch on TV and the streaming services.
Stay safe, look after yourself and Happy Saturday!
AMAZON PRIME
THE LAST SAMURAI (15)
Starring: Tom Cruise, Ken Watanabe, Billy Connolly, Tony Goldwyn
War, Action, Drama
An American military adviser embraces the Samurai culture he was hired to destroy after he is captured in battle.Spectacular drama with some terrific battle scenes. Strong violence.
WAR OF THE BUTTONS (12)
Starring: Liam Cunningham, Gregg Fitzgerald, Colm Meaney
Adventure, Drama
The children of Ballydowse and Carrickdowse engage in battles where they cut of the buttons, shoe-laces and underwear of their captured opponents. This is to get the boys in trouble with their parents. Absolutely delightful Irish drama. One use of moderate language and threat.
NETFLIX
LAND OF THE LOST (12)
Starring: Will Ferrell, Anna Friel, Danny McBride
Comedy, Adventure
On his latest expedition, Dr. Rick Marshall is sucked into a space-time vortex alongside his research assistant and a redneck survivalist. In this alternate universe, the trio make friends with a primate named Chaka, their only ally in a world full of dinosaurs and other fantastic creatures. Very silly remake of a long-forgotten TV show. One use of strong language and moderate sex references.
KAJAKI (15)
Starring: David Elliot, Mark Stanley
War, Drama, Biopic
Kajaki Dam 2006. A company of young British soldiers encounter an unexpected, terrifying enemy. A dried-out river bed, and under every step the possibility of an anti-personnel mine. A mine that could cost you your leg – or your life. Gritty and powerful war movie based on a true story. Very strong language, strong bloody injury detail.
NOW TV/SKY CINEMA
BRIDESMAIDS (15)
Starring: Kristen Wiig, Maya Rudolph, Rose Byrne, Melissa McCarthy
Comedy
Competition between the maid of honour and a bridesmaid, over who is the bride's best friend, threatens to upend the life of an out-of-work pastry chef. Hilarious gross-out comedy with heart. Very strong language, strong sex references and crude humour.
QUADROPHENIA (18)
Starring: Phil Daniels, Leslie Ash, Philip Davis, Mark Wingett, Sting, Ray Winstone
Music, Drama, Crime
Jimmy loathes his job and parents. He seeks solace with his mod clique, scooter riding and drugs, only to be disappointed. Based on the Who album, a tough, classic British film. Strong language, violence, drug use and sexual scenes.
MOVIES ON TERRESTRIAL TV
LEGALLY BLONDE 2: RED, WHITE AND BLONDE (PG)
10.45am 5*
Starring: Reese Witherspoon, Sally Field, Bob Newhart, Luke Wilson
Comedy
Elle Woods (Reese Witherspoon) heads to Washington, D.C. to join the staff of a Representative in order to pass a bill to ban animal testing. Reasonable sequel saved by the energy of Reece Witherspoon. Mild innuendo and language.
ANNA AND THE KING (12)
11am Film4
Starring: Jodie Foster, Chow Yun-Fat
Drama, Romance
The story of the romance between the King of Siam and widowed British schoolteacher, Anna Leonowens, during the 1860s. Lavish drama which the story inspired The King and I. Some intense violent sequences. May be edited for content.
THE QUEEN (12)
11.35pm ITV3
Starring: Helen Mirren, Michael Sheen
Biopic, drama
After the death of Princess Diana, Elizabeth II struggles with her reaction to a sequence of events nobody could have predicted. Good British drama with an Oscar-winning performance from Helen Mirren. Language.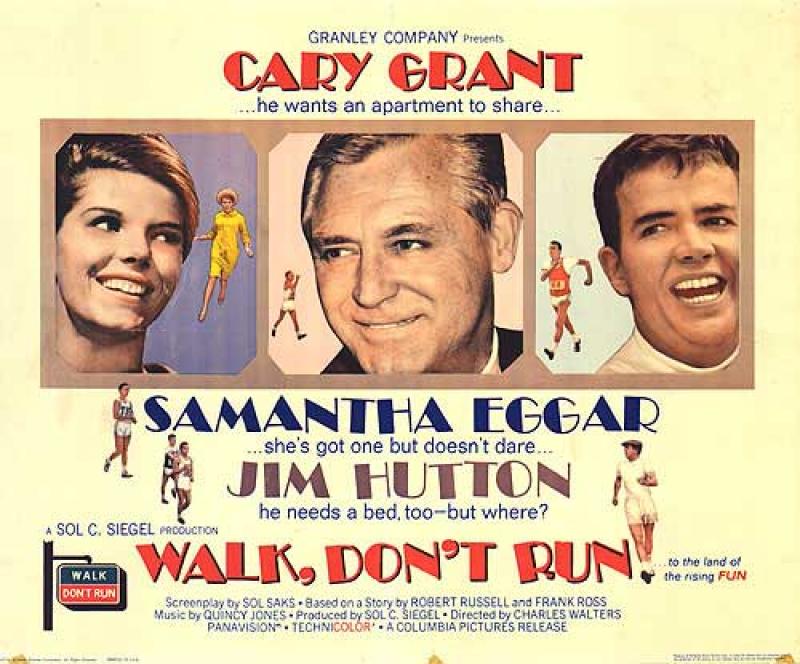 WALK, DON'T RUN (U)
11.40am Sony Movies Classic
Starring: Cary Grant, Samantha Eggar, Jim Hutton
Comedy, romance
During the housing shortage of the Summer Olympic Games in 1964, two men and a woman share a small apartment in Tokyo, and the older man soon starts playing Cupid to the younger pair. 60s romantic comedy. One very mild sex reference.
YOUNG SHERLOCK HOLMES (PG)
1.55pm Film4
Starring: Nicholas Rowe, Alan Cox, Sophie Ward, Anthony Higgins
Adventure, fantasy, mystery
When assorted people start having inexplicable delusions that lead to their deaths, a teenage Sherlock Holmes (Nicholas Rowe) decides to investigate. Inventive twist to the Sherlock Holmes stories. Frequent mild violence and some mild horror.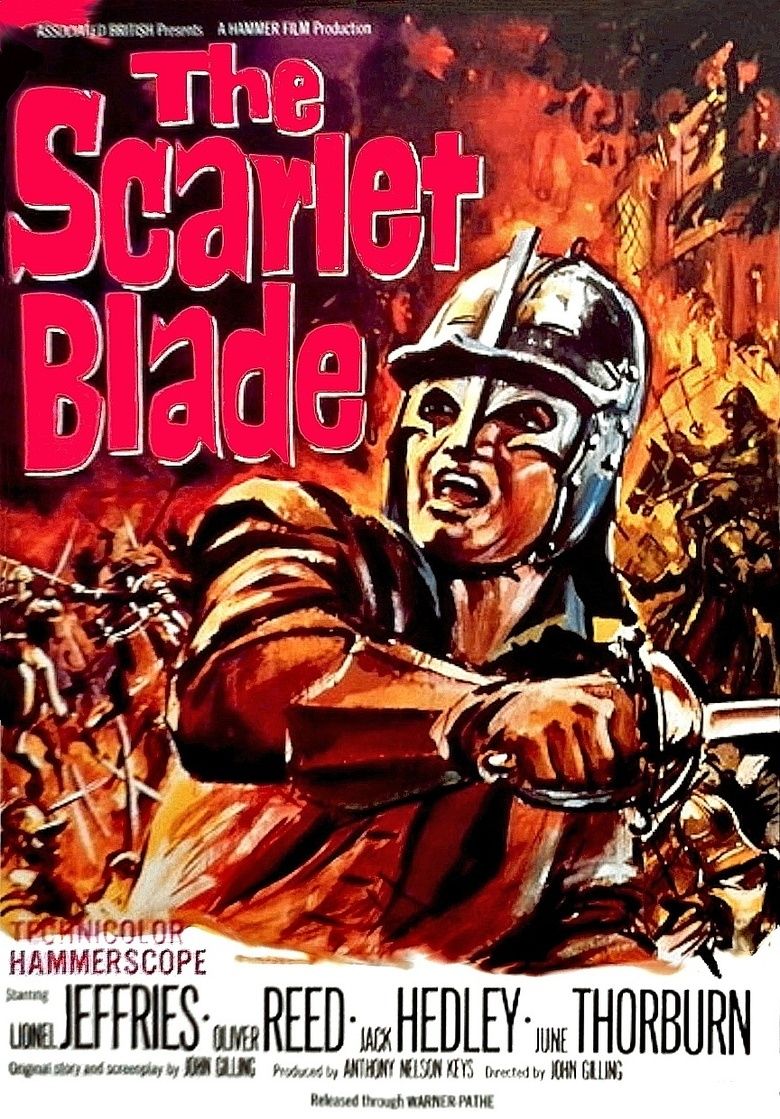 THE SCARLET BLADE (aka THE CRIMSON BLADE) (PG)
2.10pm Talking Pictures TV
Starring: Lionel Jeffries, Oliver Reed
Drama, Adventure, Action
In 1648, during the English Civil War, Captain Sylvester switches sides between the Parliamentary and Royalist camps as his interests dictate, while King Charles I is on the run from Oliver Cromwell's troops. Swashbuckling adventure from Hammer. Mild violence.
STRANGER THAN FICTION (12)
2.45pm Sony Movies
Starring: Will Ferrell, Maggie Gyllenhaal, Dustin Hoffman, Queen Latifah, Emma Thompson
Comedy, drama, fantasy
I.R.S. auditor Harold Crick suddenly finds himself the subject of narration only he can hear: narration that begins to affect his entire life, from his work, to his love-interest, to his death. Inventive comedy fantasy. Language.
LOVE AND FRIENDSHIP (U)
3pm BBC2
Starring: Kate Beckinsale, Chloë Sevigny
Comedy, Drama, Romance
Lady Susan Vernon takes up temporary residence at her in-laws' estate and, while there, is determined to be a matchmaker for her daughter Frederica — and herself too, naturally. Wonderful adaptation of Jane Austen's novella "Lady Susan".
CITY UNDER THE SEA (U)
3.50pm Talking Pictures TV
Starring: Vincent Price, Tab Hunter
Adventure, fantasy, horror
In 1903, in Cornwall, a group of locals discover an underwater city, dating back to 1803, that hides a society of smugglers and aquatic creatures. Perfectly fine time-waster. Mild peril.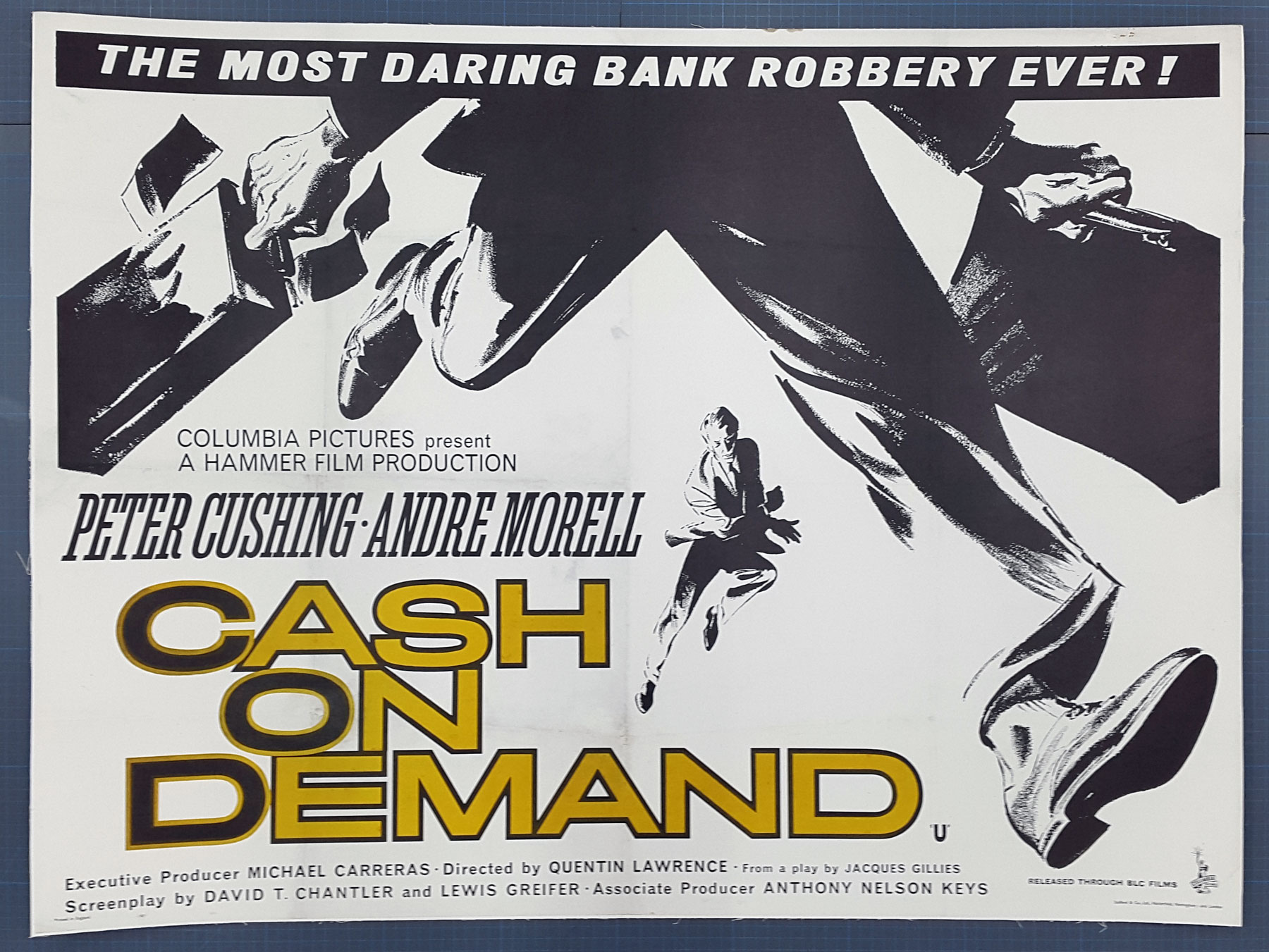 CASH ON DEMAND (PG)
3.50pm Sony Movies Classic
Starring: Peter Cushing, Andre Morrel
Crime, thriller
A charming but ruthless criminal holds the family of a bank manager hostage as part of a cold-blooded plan to steal 97,000 pounds. Hammer crime thriller. Mild threat. Black and white.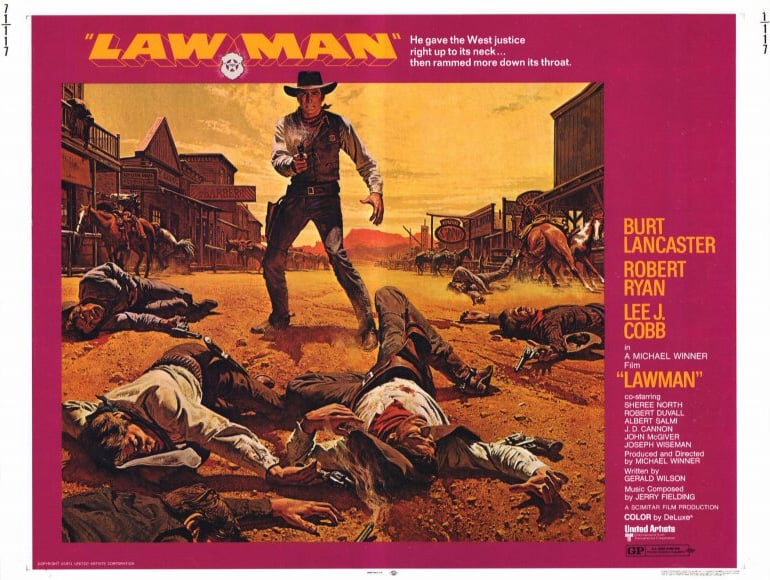 LAWMAN (15)
3.55pm ITV4
Starring: Burt Lancaster, Robert Ryan, Lee J. Cobb
Western, adventure
A lawman from Bannock arrives in Sabbath to arrest all the cattlemen whose wild celebration the year before resulted in the accidental death of an old man. Tough western from Michael Winner. Moderate violence. May be edited for content.
2012 (12)
4.20pm 5*
Starring: John Cusack, Woody Harrelson, Thandie Newton
Drama, Action
A frustrated writer struggles to keep his family alive when a series of global catastrophes threatens to annihilate mankind. Big-scale disaster movie from the director of Independence Day. Sustained moderate threat and one use of strong language.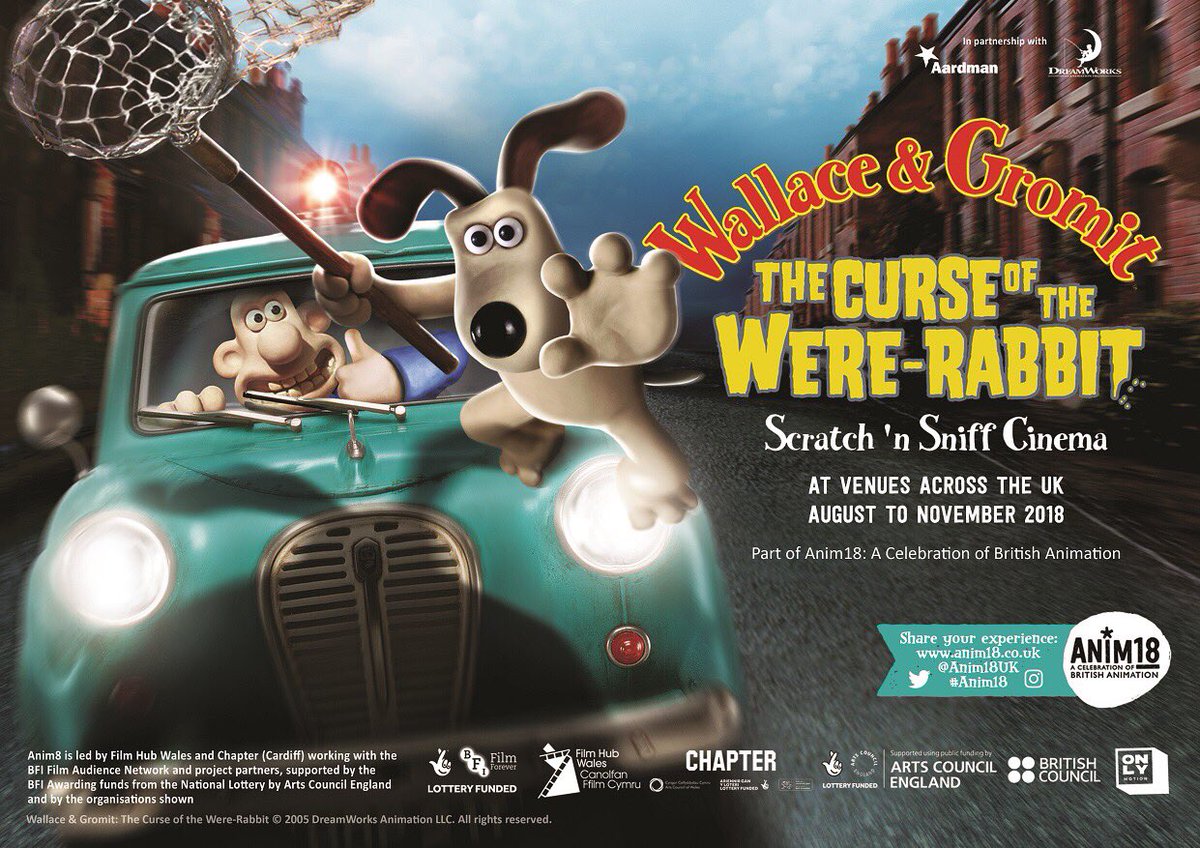 WALLACE AND GROMIT: THE CURSE OF THE WERE-RABBIT (U)
4.30pm BBC1
Starring:  Peter Sallis, Ralph Fiennes, Helena Bonham Carter, Peter Kay
Comedy, Animation, Adventure, Family
Working as experts in pest removal, Wallace and Gromit stumble upon a voracious monster that threatens to ruin the annual veggie-growing contest. Brilliant feature-length animation with the nation's favourite man and dog. Very mild language and comic scary scenes.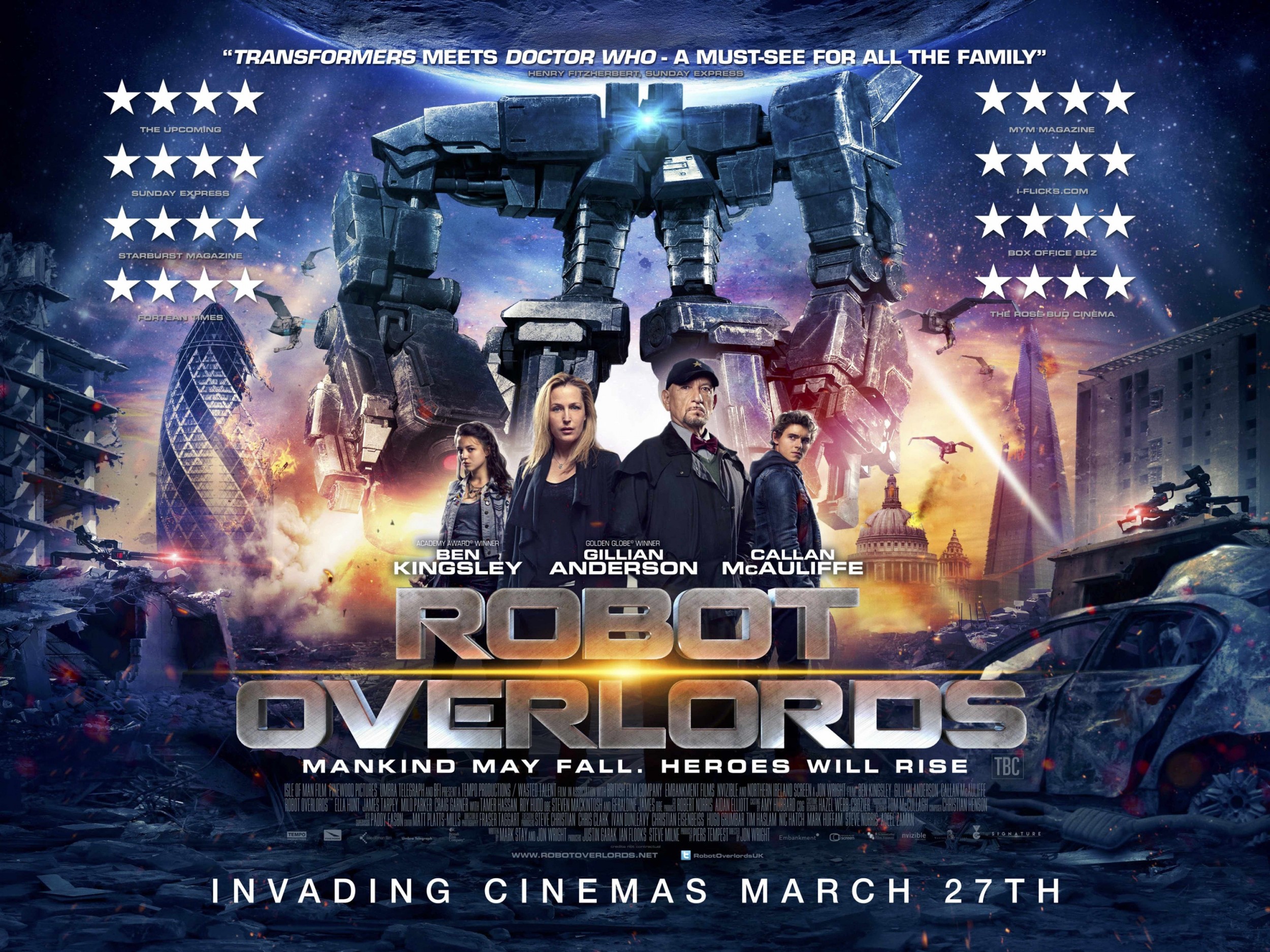 ROBOT OVERLORDS (12)
4.50pm Horror Channel
Starring: Gillian Anderson, Ben Kingsley, Callan McAuliffe
Action, Adventure, Sci-Fi
Earth has been conquered by robots from a distant galaxy. Survivors are confined to their houses and must wear electronic implants, risking incineration by robot sentries if they venture outside. Entertaining sci-fi adventure. Moderate threat, sex references.
MOONRISE KINGDOM (12)
5pm Sony Movies
Starring: Jared Gilman, Kara Hayward, Bruce Willis, Frances McDormand, Harvey Keitel, Tilda Swinton, Edward Norton, Bill Murray
Comedy, Drama, Romance
A pair of young lovers flee their New England town, which causes a local search party to fan out to find them. Another skilful slice of the absurd from director Wes Anderson. Moderate sex references.
HOTEL TRANSYLVANIA (U)
5.20pm ITV2
Starring: Adam Sandler, Selena Gomez, Steve Buscemi
Comedy, Animation
Dracula, who operates a high-end resort away from the human world, goes into overprotective mode when a boy discovers the resort and falls for the count's teenaged daughter. Crazy animated comedy perfect for the kids. Mild scary scenes and rude humour.
THE KEY (PG)
5.30pm Sony Movies Classic
Starring: William Holden, Sophia Loren, Trevor Howard
War, Drama, Romance
During World War II, successive tugboat British Captains sent on dangerous salvage missions pass-on the key to a home-port apartment, where a lonely Swiss-Italian young war-widow lives. War romance from director Carol Reed. Mild violence. Black and white.
THE LEGO BATMAN MOVIE (U)
5.55pm ITV2
Starring: Will Arnett, Jenny Slate, Ralph Fiennes
Comedy, Animation, Action
A cooler-than-ever Bruce Wayne must deal with the usual suspects as they plan to rule Gotham City, while discovering that he has accidentally adopted a teenage orphan who wishes to become his sidekick. Hilarious comedy from the Lego Movie team. Mild comic violence, rude humour, very mild bad language.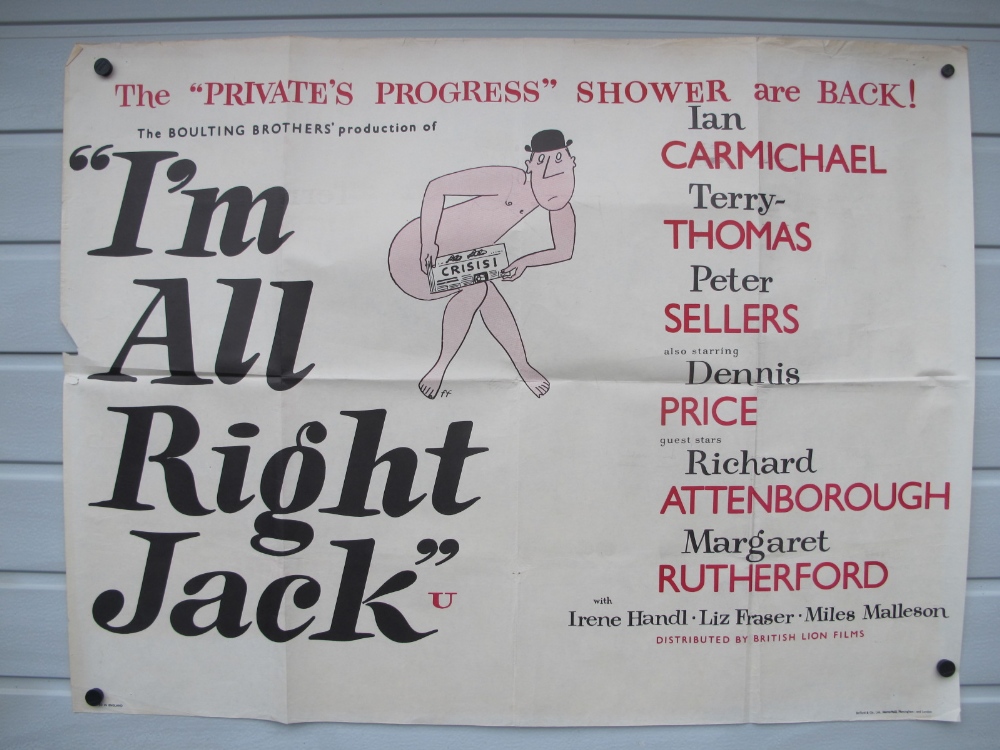 I'M ALL RIGHT JACK (U)
6pm Talking Pictures TV
Starring: Ian Carmichael, Peter Sellers, Irene Handl, Richard Attenborough, Terry-Thomas
Comedy
A naive aristocrat in search of a career becomes caught up in the struggles between his profit-minded uncle and an aggressive labour union. Classic British satire with a brilliant creation from Peter Sellers. Black and white.
SOLARIS (12)
6.55pm Sony Movies
Starring: George Clooney, Natasha McElhone
Sci-fi, drama, romance
A troubled psychologist is sent to investigate the crew of an isolated research station orbiting a bizarre planet. Steven Soderbergh's remake of the Russian classic. Language, sexual content, nudity and violence.
SHREK FOREVER AFTER (U)
7.10pm E4
Starring: Mike Myers, Eddie Murphy, Cameron Diaz, Antonio Banderas, Julie Andrews, John Cleese
Animation, Adventure, Comedy, Fantasy
Rumpelstiltskin tricks a mid-life crisis burdened Shrek into allowing himself to be erased from existence and cast in a dark alternate timeline where Rumpelstiltskin rules supreme. The final of the Shrek movies. Mild fight scenes.
OUTBREAK (15)
7.25pm 5*
Starring: Dustin Hoffman, Rene Russo, Morgan Freeman, Donald Sutherland
Action, Drama, Thriller
Army doctors struggle to find a cure for a deadly virus spreading throughout a California town that was brought to America by an African monkey. Tense thriller that maybe a little too close to real life. Strong language and moderate horror. Maybe edited for content.
THE PRIME OF MISS JEAN BRODIE (12)
8pm Sony Movies Classic
Starring: Maggie Smith, Robert Stephens
Comedy, Drama, Romance
A headstrong young teacher in a private school in 1930s Edinburgh ignores the curriculum and influences her impressionable twelve-year-old charges with her over-romanticised world view. Terrific drama with a first-rate lead from Maggie Smith. Moderate language, sex references and sexualised nudity.
SHERLOCK HOLMES: A GAME OF SHADOWS (12)
8pm ITV2
Starring: Robert Downey Jr., Rachel McAdams, Jude Law, Noomi Rapace, Stephen Fry
Adventure, Action, Crime
Detective Sherlock Holmes is on the trail of criminal mastermind Professor Moriarty, who is carrying out a string of random crimes across Europe. Entertaining sequel to the Guy Ritchie film. Moderate violence.
ROCKY IV (PG)
8pm ITV4
Starring: Sylvester Stallone, Talia Shire, Burt Young, Carl Weathers, Dolph Lundgren
Drama, sport
Rocky Balboa proudly holds the world heavyweight boxing championship, but a new challenger has stepped forward: Drago, a six-foot-four, 261-pound fighter who has the backing of the Soviet Union. Rocky gets all flashy in this mid-80s edition. Infrequent moderate boxing violence, language and steroid abuse.
THE MOLLY MAGUIRES (PG)
8.05pm Talking Pictures TV
Starring: Sean Connery, Richard Harris, Samantha Eggar
Drama
In the Pennsylvanian coal mines of 1876, a group of Irish immigrant workers begin to retaliate against the cruelty of their work environment. Powerful and tough drama. Violence and language.
TAKEN (18)
9pm Channel 4
Starring: Liam Neeson, Maggie Grace, Famke Janssen
Action, thriller
A retired CIA agent travels across Europe and relies on his old skills to save his estranged daughter, who has been kidnapped while on a trip to Paris. Tough, gripping thriller that is far superior to its sequels. Strong violence, language, sexual content and drug references.
WIND RIVER (15)
9pm Film4
Starring: Jeremy Renner, Elizabeth Olsen, Jon Bernthal
Drama, Crime
A veteran hunter helps an FBI agent investigate the murder of a young woman on a Wyoming Native American reservation. Underrated thriller with strong performances. Strong violence, injury detail, sexual violence, language.
BAYWATCH (15)
9pm E4
Starring: Dwayne Johnson, Zac Efron, Alexandra Daddario
Comedy, Action
Devoted lifeguard Mitch Buchannon butts heads with a brash new recruit, as they uncover a criminal plot that threatens the future of the bay. Big screen version of the 80s TV series, with added rude humour. Strong language, crude humour, nudity, violence.
FOR YOUR EYES ONLY (PG)
9.05pm ITV1
Starring: Roger Moore, Carole Bouquet, Topol, Lynn-Holly Johnson, Julian Glover
Action, Adventure, Thriller
James Bond is assigned to find a missing British vessel, equipped with a weapons encryption device and prevent it from falling into enemy hands. Bond goes back to basics with Roger Moore almost gadget free. Violence, sexual content and innuendo.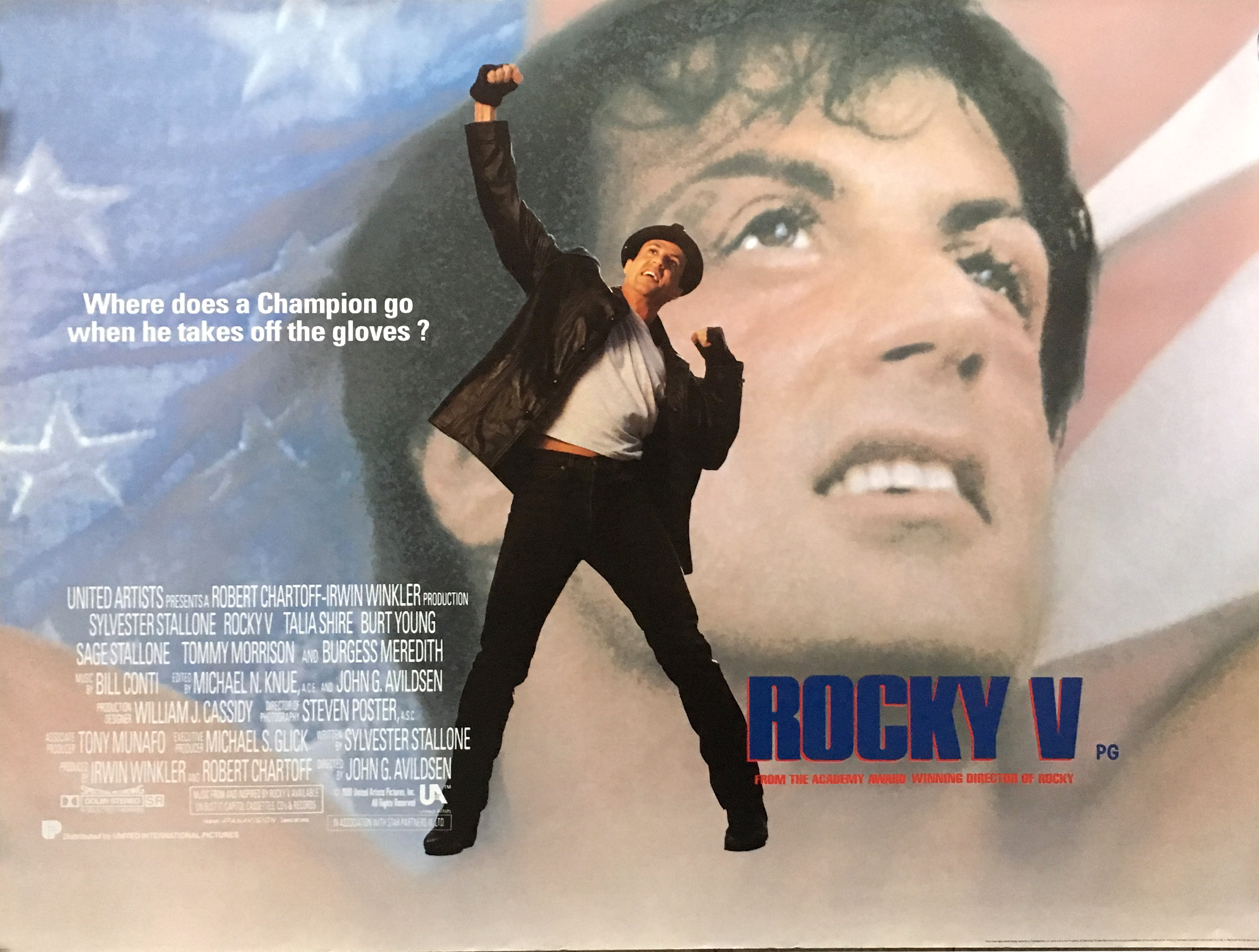 ROCKY V (PG)
9.50pm ITV4
Starring: Sylvester Stallone, Talia Shire, Burt Young, Sage Stallone, Burgess Meredith
Drama, sport
Reluctantly retired from boxing, and back from riches to rags, Rocky takes on a new protege who betrays him, as the champ's son must adjust to his family's new life after bankruptcy. Continuing the saga of the screen's most famous boxer. Moderate violence and mild language.
GUARDIANS OF THE GALAXY (12)
10.20pm BBC1
Starring: Chris Pratt, Zoe Saldana, Dave Bautista, Vin Diesel, Bradley Cooper
Science Fiction, Fantasy, Action
A group of intergalactic criminals must pull together to stop a fanatical warrior with plans to purge the universe. Massively entertaining sci-fi from Marvel. Moderate fantasy action violence, threat, moderate bad language.
LIFE AT THE TOP (12)
10.20pm Sony Movies Classic
Starring: Laurence Harvey, Jean Simmons, Honor Blackman
Drama
Joe Lampton thought he had really made it by marrying the boss's daughter in his northern mill town. But he finds he is being sidelined at work and his private life manipulated by his father-in-law. Sequel to the British drama, Man At The Top. Moderate language, violence and sex references. Black and white.
STARDUST (15)
10.35pm Talking Pictures TV
Starring: David Essex, Adam Faith, Larry Hagman
Drama, Music
The rise and fall of the rock singer Jim Maclaine, in the mid 60s, with his manager, Mike, and his group, "The Stray Cats." Sequel to That'll Be The Day. Language, mild violence, nudity, sex and drug use.
WORLD WAR Z (15)
10.45pm Channel 4
Starring: Brad Pitt, Mireille Enos, David Morse
Horror, Drama, Action
Former United Nations employee Gerry Lane traverses the world in a race against time to stop a zombie pandemic that is toppling armies and governments and threatens to destroy humanity itself. Visually impressive zombie movie. Sustained threat, strong violence and bloody injury detail.
PREDESTINATION (15)
10.50pm Sony Movies
Starring: Ethan Hawke, Sarah Snook, Noah Taylor
Action, sci-fi, thriller
For his final assignment, a top temporal agent must pursue the one criminal that has eluded him throughout time. The chase turns into a unique, surprising and mind-bending exploration of love, fate, identity and time travel taboos. Cracking sci-fi time-travelling drama. Strong violence, sex, strong language.
INSIDIOUS (15)
11.05pm 5*
Starring: Patrick Wilson, Rose Byrne, Barbara Hershey
Horror
A family looks to prevent evil spirits from trapping their comatose child in a realm called The Further. Modern-day supernatural horror. Strong horror and menace.
DRAG ME TO HELL (15)
11.10pm Film4
Starring:  Alison Lohman, Justin Long
Horror
A loan officer who evicts an old woman from her home finds herself the recipient of a supernatural curse. Desperate, she turns to a seer to try and save her soul, while evil forces work to push her to a breaking point. Brilliantly inventive horror from Evil Dead's Sam Raimi. Strong horror, language and violence.
THE STANFORD PRISON EXPERIMENT (15)
12 midnight ITV4
Starring: Billy Crudup,  Thomas Mann, Ezra Miller, Logan Miller, Tye Sheridan
Biopic, Drama
In 1971, twenty-four male students are selected to take on randomly assigned roles of prisoners and guards in a mock prison situated in the basement of the Stanford psychology building. Powerful drama showing the human condition at its worst. Language including abusive behaviour and some sexual references.
YOUNG FRANKENSTEIN (12)
12.15am BBC1
Starring: Gene Wilder, Marty Feldman, Madeline Kahn, Peter Boyle
Comedy
An American grandson of the infamous scientist, struggling to prove that his grandfather was not as insane as people believe, is invited to Transylvania, where he discovers the process that reanimates a dead body. Mel Brooks's brilliant spoof. Highly recommended. Moderate sex references. Black and white.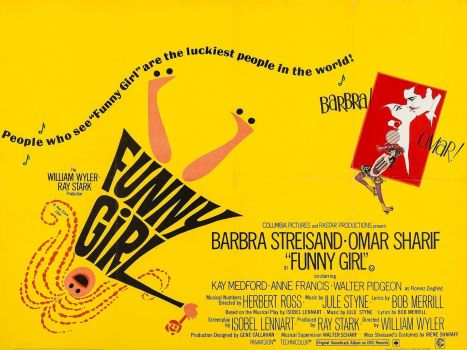 FUNNY GIRL (U)
12.40am Sony Movies Classic
Starring: Barbra Streisand, Omar Sharif
Biopic, drama, comedy, musical
The life of Fanny Brice, famed comedienne and entertainer of the early 1900s. We see her rise to fame as a Ziegfeld girl, subsequent career, and her personal life, particularly her relationship with Nick Arnstein. Oscar-winning musical drama. Very mild language and innuendo.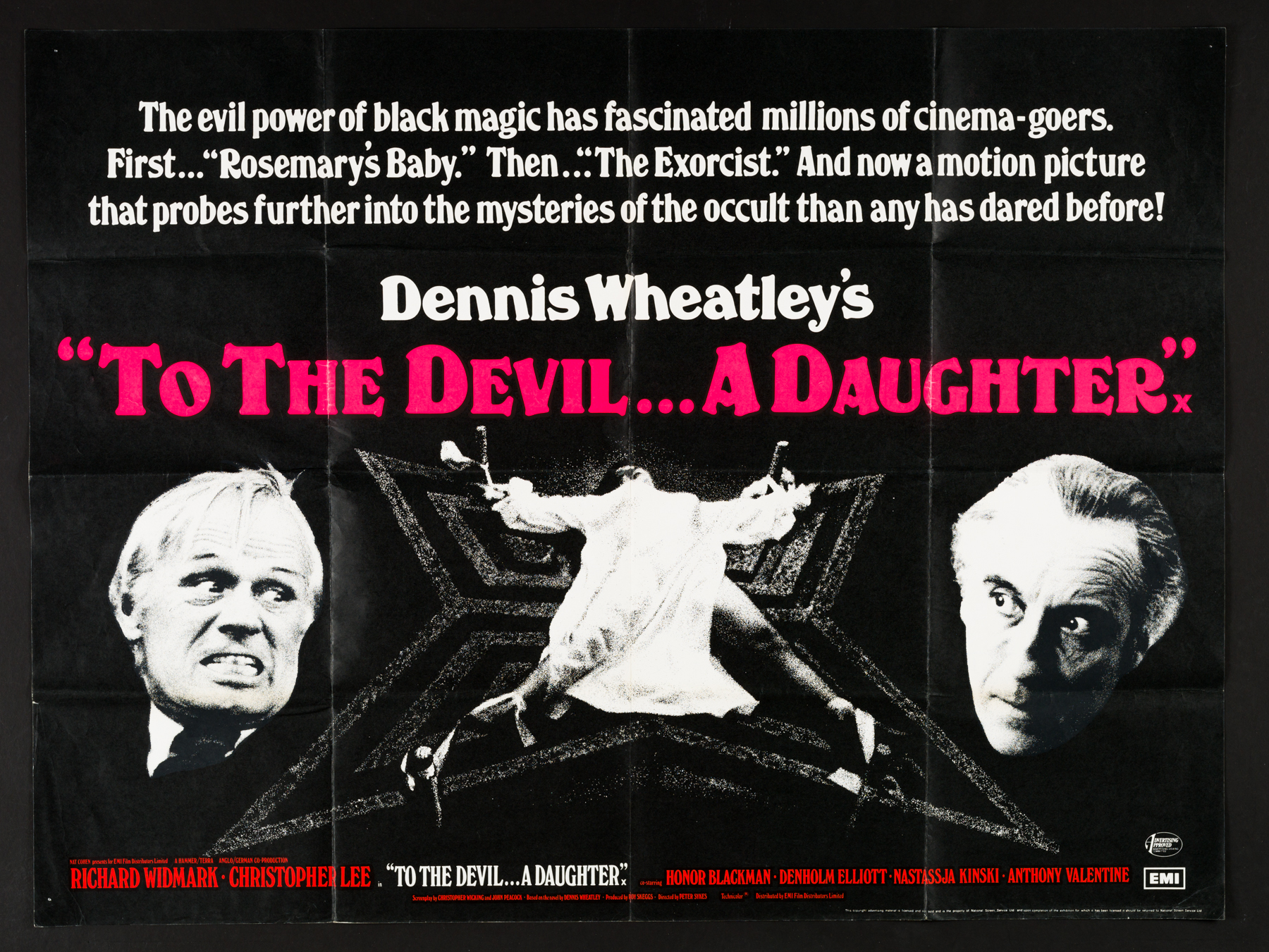 TO THE DEVIL A DAUGHTER (18)
12.50am Talking Pictures TV
Starring: Richard Widmark, Christopher Lee, Nastassja Kinski
Horror
An American occult novelist battles to save the soul of a young girl from a group of Satanists, led by an excommunicated priest, who plan on using her as the representative of the Devil on Earth. Creepy Hammer horror. Strong sex and bloody violence.
BERLIN SYNDROME (15)
1.10am Film4
Starring: Teresa Palmer, Max Riemelt
Horror, Drama
A passionate holiday romance leads to an obsessive relationship, when an Australian photojournalist wakes one morning in a Berlin apartment and is unable to leave. Incredibly tense thriller. Strong threat, violence, injury detail, sex, sexualised nudity.
FINAL DESTINATION (15)
1.30am ITV2
Starring: Devon Sawa, Ali Larter, Kerr Smith
Horror
After a teenager has a terrifying vision of him and his friends dying in a plane crash, he prevents the accident only to have Death hunt them down, one by one. Inventive horror that started a franchise. Strong language, bloody violence and horror.