Morning!
To all those who have got their GCSE results, I hope you received what you wanted. What you could do is watch a movie to celebrate. Here are the recommendations for today.
Stay safe, look after yourself and Happy Thursday!
AMAZON PRIME
IN THE HEART OF THE SEA (12)
Starring: Chris Hemsworth, Benjamin Walker, Cillian Murphy, Tom Holland, Ben Whishaw
Drama, Adventure
A recounting of a New England whaling ship's sinking by a giant whale in 1820, an experience that later inspired the great novel Moby-Dick. Ron Howard directs this exciting adventure. Moderate threat, injury detail.
KING KONG VS GODZILLA (PG)
Starring: Michael Keith, James Yagi, Tadan Takashima
Action, Adventure, Fantasy
A newspaper and television station funded by a pharmaceutical company want a sensation, which happens to be the discovery of King Kong on an island. He is captured and brought to Japan, where he escapes from captivity and battles Godzilla. 60s Japanese fantasy with the battle of two screen giants. Moderate fantasy violence.
NETFLIX
THE BREADWINNER (12)
Starring: Saara Chaudry, Laara Sadiq
Animation, Drama
In 2001, Afghanistan is under the control of the Taliban. When her father is captured, a determined young girl disguises herself as a boy in order to provide for her family. Wonderful animation with real heart. Moderate threat, violence.
NOW TV/SKY CINEMA
THE PLEDGE (15)
Starring: Jack Nicholson, Benicio Del Toro, Aaron Eckhart, Helen Mirren, Tom Noonan, Robin Wright Penn, Vanessa Redgrave, Mickey Rourke, Sam Shepard
Crime, Drama, Thriller
On the night he retires as a Reno, Nevada detective, Jerry Black (Jack Nicholson) pledges to the mother of a murdered girl that he will find the killer. Starry thriller from director Sean Penn. Strong violence, child abuse and crime scene images,
MOVIES ON TERRESTRIAL TV
YOUNG SHERLOCK HOLMES (PG)
11am Film4
Starring: Nicholas Rowe, Alan Cox, Sophie Ward, Anthony Higgins
Adventure, fantasy, mystery
When assorted people start having inexplicable delusions that lead to their deaths, a teenage Sherlock Holmes (Nicholas Rowe) decides to investigate. Inventive twist to the Sherlock Holmes stories. Frequent mild violence and some mild horror.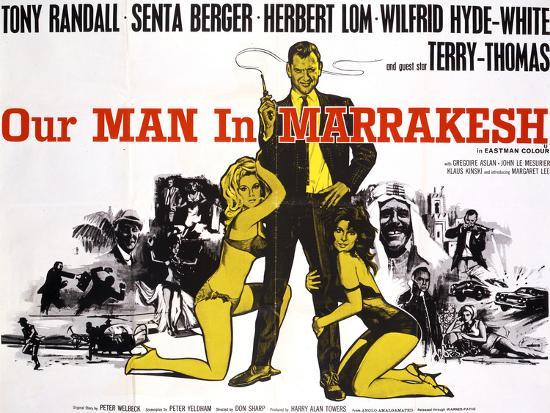 OUR MAN IN MARRAKESH (PG)
11.05am Talking Pictures TV
Starring: Tony Randall, Wilfrid Hyde-White, Herbert Lom, Terry-Thomas, Senta Berger, Klaus Kinski
Comedy
One of six travellers who catch the bus from Casablanca airport to Marrakesh is carrying $2 million to pay a local operator to fix United Nations votes. But which one? Crazy sixties comedy. Mild violence, threat, injury detail.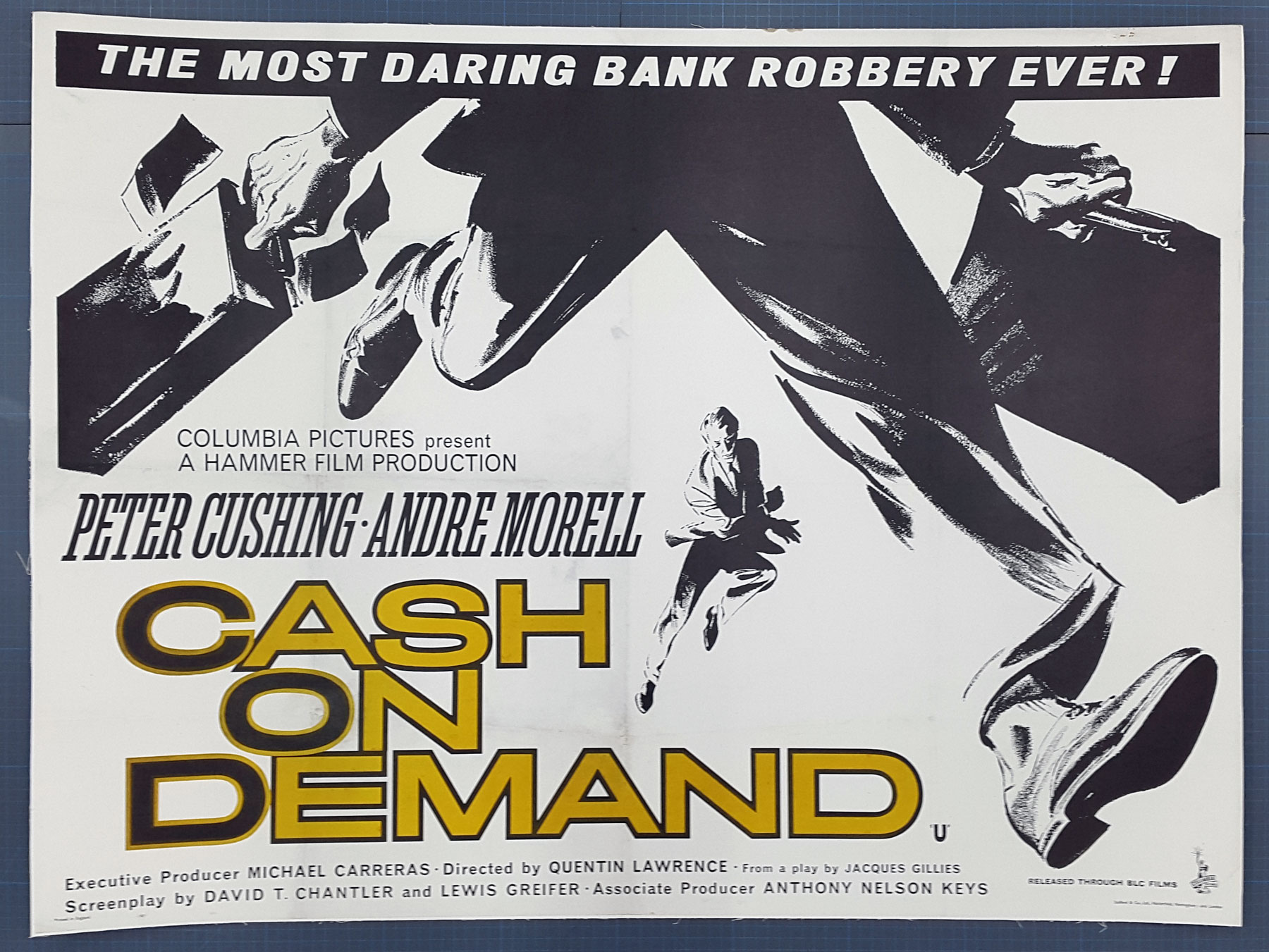 CASH ON DEMAND (PG)
11.40am Sony Movies Classic
Starring: Peter Cushing, Andre Morrel
Crime, thriller
A charming but ruthless criminal holds the family of a bank manager hostage as part of a cold-blooded plan to steal 97,000 pounds. Hammer crime thriller. Mild threat. Black and white.
ANNA AND THE KING (12)
1.05pm Film4
Starring: Jodie Foster, Chow Yun-Fat
Drama, Romance
The story of the romance between the King of Siam and widowed British schoolteacher, Anna Leonowens, during the 1860s. Lavish drama which the story inspired The King and I. Some intense violent sequences. May be edited for content.
CARVE HER NAME WITH PRIDE (PG)
2.50pm Talking Pictures TV
Starring: Virginia McKenna, Paul Scofield, Jack Warner
War, biopic, drama
During World War II, a recently widowed young woman is recruited to work as a spy in France. Classic wartime drama based on a true story. Violence. Black and white.
THE BEDFORD INCIDENT (PG)
2.55pm Sony Movies Classic
Starring: Richard Widmark, Sidney Poitier
War, Thriller
An American destroyer Captain is determined to confront a Soviet submarine caught violating territorial waters. Perhaps too determined. Cracking war drama with two strong leads. Violence. Black and white.
GANDHI (PG)
3.25pm Sony Movies Classic
Starring: Ben Kingsley, Candice Bergen, Edward Fox, John Gielgud
Biopic, Drama
The life of the lawyer who became the famed leader of the Indian revolts against the British rule through his philosophy of nonviolent protest. Epic Oscar-winning biopic from Richard Attenborough. Violence and scenes of threat.
THE COCKLESHELL HEROES (U)
5.05pm Sony Movies Action
Starring: Jose Ferrer, Trevor Howard, Anthony Newley
War, Action, Drama
During World War II, German ships are "safely" docked upriver at Bordeaux, but the British send a team of kayakers to attack them. Exciting war drama directed by Jose Ferrer. Violence.
ANOTHER TIME, ANOTHER PLACE (U)
5.10pm Talking Pictures TV
Starring: Lana Turner, Barry Sullivan, Glynis Johns, Sean Connery
War, drama, romance
An American war correspondent falls in love with a BBC reporter, but their relationship seems doomed from the start. 50s melodrama with a young Sean Connery. Black and white.
THE BLISS OF MRS. BLOSSOM (PG)
7.10pm Talking Pictures TV
Starring: Shirley MacLaine, Richard Attenborough, James Booth
Comedy
Harriet Blossom, the lonely wife of a workaholic brassiere manufacturer, breaks her sewing machine and ends up in bed with the repairman, a mechanic from one of her husband's factories. The man, Ambrose, is supposed to leave during the night, but Harriet finds him the next day still hiding in the attic. Harriet lets her new lover stay in the attic for years, managing to keep it all secret from her husband and from the detectives investigating the sudden disappearance of a certain Mr. Ambrose Tuttle. Madcap 60s sex comedy. Innuendo.
AWAKENINGS (15)
9pm Sony Movies Classic
Starring: Robert De Niro, Robin Williams
Biopic, Drama
The victims of an encephalitis epidemic many years ago have been catatonic ever since, but now a new drug offers the prospect of reviving them. Incredibly moving drama with two outstanding performances. Language and upsetting scenes.
THE BANK JOB (15)
9pm Film4
Starring: Jason Statham, Saffron Burrows
Crime, Thriller
Martine offers Terry a lead on a foolproof bank hit on London's Baker Street. She targets a roomful of safe deposit boxes worth millions in cash and jewellery along with a treasure trove of dirty secrets. Surprisingly tense crime thriller. Very strong language, and strong sex and violence.
QUARTET (12)
9pm BBC Four
Starring: Michael Gambon, Maggie Smith, Billy Connolly, Pauline Collins, Sheridan Smith, Tom Courtenay
Comedy, Drama
At a home for retired musicians, the annual concert to celebrate Composer Giuseppe Verdi's birthday is disrupted by the arrival of Jean (Dame Maggie Smith), an eternal diva and the former wife of one of the residents. Delightful comedy-drama directed by Dustin Hoffman. Strong language.
THE GAUNTLET (18)
9pm ITV4
Starring: Clint Eastwood, Sondra Locke
Action, crime, thriller
A hard but mediocre cop is assigned to escort a prostitute into custody from Las Vegas to Phoenix, so that she can testify in a mob trial. But a lot of people are literally betting that they won't make it into town alive. Tough, violent Clint Eastwood cop thriller. Strong language and violence and a scene of attempted rape.
THE LOOKING GLASS WAR (12)
9pm Talking Pictures TV
Starring: Christopher Jones, Pia Degermark, Ralph Richardson, Anthony Hopkins, Paul Rogers, Susan George
Action, drama, thriller
From the John le Carré novel about a British spy, who sends a Polish defector to East Germany, to verify missile sites. Gripping espionage thriller. Violence.
OUTBREAK (15)
10pm 5*
Starring: Dustin Hoffman, Rene Russo, Morgan Freeman, Donald Sutherland
Action, Drama, Thriller
Army doctors struggle to find a cure for a deadly virus spreading throughout a California town that was brought to America by an African monkey. Tense thriller that maybe a little too close to real life. Strong language and moderate horror.
MONEY MONSTER (15)
11.05pm Sony Movies
Starring: George Clooney, Julia Roberts, Jack O'Connell
Thriller, Drama
Financial TV host Lee Gates and his producer Patty are put in an extreme situation when an irate investor takes them and their crew as hostage. Powerful drama directed by Jodie Foster. Strong language, sex.
INGLORIOUS BASTERDS (18)
11.10pm ITV4
Starring: Brad Pitt, Christoph Waltz
In Nazi-occupied France during World War II, a plan to assassinate Nazi leaders by a group of Jewish U.S. soldiers coincides with a theatre owner's vengeful plans for the same. Quentin Tarantino's war drama with an Oscar-winning performance from Christoph Waltz. Strong language and graphic violence.
THE BEST PAIR OF LEGS IN THE BUSINESS (12)
11.10pm Talking Pictures TV
Starring: Reg Varney, Frances Bennett, Christopher Chittel
Comedy, Drama
With his life crumbling around him in a dingy holiday camp, middle-aged female impersonator, Sherry.Sheridan stays rooted in the past,but will his son Alan, and long-suffering wife Mary, stay with him? On The Buses star Reg Varney stars in this backstage comedy-drama. Moderate language and sex references.
HOUNDS OF LOVE (18)
11.15pm Film4
Starring: Emma Booth, Ashleigh Cummings, Stephen Curry
Thriller, Crime
Vicki Maloney is randomly abducted from a suburban street by a disturbed couple. As she observes the dynamic between her captors she quickly realises she must drive a wedge between them if she is to survive. Tough and disturbing thriller. Sustained sexual threat, nudity, violence, language and disturbing scenes.