Morning!
It's Friday! It's windy! And so there are more movies for you to enjoy. Here are the recommendations.
Stay safe, look after yourself and Happy Friday!
AMAZON PRIME
THE PURGE (15)
Starring: Ethan Hawke, Lena Headey
Thriller, Science Fiction, Horror
A wealthy family is held hostage for harbouring the target of a murderous syndicate during the Purge, a 12-hour period in which any and all crime is legal. The first of the successful horror series. strong language and bloody violence.
CARLA'S SONG (15)
Starring: Robert Carlyle, Scott Glen
War, Drama, Romance
A bus driver George Lennox meets Carla, a Nicaraguan exile living a precarious, profoundly sad life in Glasgow. Her back is scarred, her boyfriend missing, her family dispersed; she's suicidal. George takes her to Nicaragua to find out what has happened to them and to help her face her past. Powerful drama from ken Loach. Strong language.
NETFLIX
AFTER THE WEDDING (12)
Starring: Michelle Williams, Julianne Moore, Billy Crudup
Drama
A manager of an orphanage in Kolkata travels to New York to meet a benefactor. Terrific drama with great performances from a solid cast. Infrequent strong language, upsetting scenes.
NOW TV/SKY CINEMA
ZOMBIELAND: DOUBLE TAP (15)
Starring: Jesse Eisenberg, Emma Stone, Abigail Breslin, Woody Harrelson, Zoey Deutch, Bill Murray
Horror, Comedy, Adventure
Columbus, Tallahassee, Wichita, and Little Rock move to the American heartland as they face off against evolved zombies, fellow survivors, and the growing pains of the snarky makeshift family. Sequel to the cult favourite from 2009. Strong gory comic violence, language.
AUSTIN POWERS: THE SPY WHO SHAGGED ME (12)
starring: Mike Myers, Heather Graham, Michael York, Robert Wagner, Rob Lowe, Seth Green
Comedy, Adventure
Dr. Evil is back and has invented a new time machine that allows him to go back to the 1960s and steal Austin Powers' mojo, inadvertently leaving him "shagless". More mayhem with Mike Myers and his comedy spy creation. Frequent moderate sex references and bleeped strong language.
MOVIES ON TERRESTRIAL TV
COCOON (PG)
11am Film4
Starring: Steve Guttenberg, Don Ameche, Wilford Brimley, Hume Cronyn
Comedy, drama, sci-fi
When a group of trespassing seniors swim in a pool containing alien cocoons, they find themselves energised with youthful vigour. Entertaining sci-fi from director Ron Howard. Language, mild violence and sexual reference.
VIVA MAX (U)
11.10am Talking Pictures TV
Starring: Peter Ustinov, Pamela Tiffin
Comedy
In the 1960s, a screwy Mexican General and his troops cross into Texas to re-capture the Alamo from the Gringos but they face opposition from the local police, the National Guard and the U.S. State Department. Little seen madcap comedy.
COVER GIRL (U)
12noon Sony Movies Classic
Starring: Rita Hayworth, Gene Kelly, Phil Silvers
Musical, comedy, romance
Rusty Parker wins a contest and becomes a celebrated cover girl; this endangers her romance with dancing mentor Danny. Bright and breezy musical comedy from the 40s.
FERNGULLY: THE LAST RAINFOREST (U)
1.20pm Film4
Starring: Tim Curry, Samantha Mathis, Christian Slater, Robin Williams
Animation, Adventure, Comedy
The magical inhabitants of a rainforest fight to save their home, which is threatened by logging and a polluting force of destruction called Hexxus. Bright animation with a scene stealing vocal from Robin Williams. Infrequent very mild scary scenes.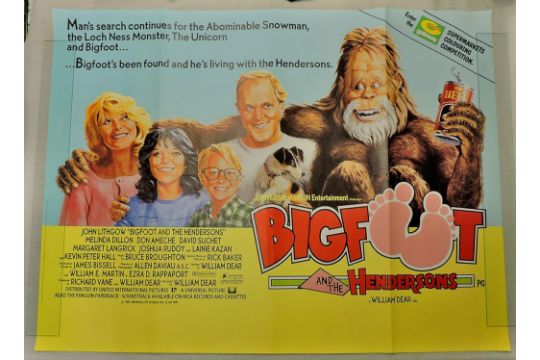 HARRY AND THE HENDERSONS (PG)
2.50pm Film4
Starring: John Lithgow, Melinda Dillon
Fantasy, comedy, family
The Henderson family adopt a friendly Sasquatch but have a hard time trying to keep the legend of 'Bigfoot' a secret. Delightful 80s family comedy. Mild language, horror and comic violence.
WATERLOO (U)
4.35pm Sony Movies Classic
Starring: Rod Steiger, Christopher Plummer, Orson Welles
Action, biopic, war, drama
Facing the decline of everything he has worked to obtain, conqueror Napoleon Bonaparte and his army confront the British at the Battle of Waterloo. Impressive epic war drama. Mild violence.
LET'S DO IT AGAIN (U)
5pm Sony Movies Classic
Starring: Jane Wynam, Ray Milland, Aldo Ray
Musical, Comedy
In this 1953 musical remake of "The Awful Truth", Wyman is married to womanising composer Milland and sets out to give him some of his own medicine. Sparkling jazzy musical. Sexual references.
THE NATURAL (PG)
5.10pm Sony Movies
Starring: Robert Redford, Robert Duvall, Glenn Close, Kim Basinger
Drama, Sport
An middle-aged unknown comes seemingly out of nowhere to become a legendary baseball player with almost supernatural talent. Wonderful feel-good baseball movie. Mild violence and language.
BRIGHTON ROCK (PG)
7.10pm Talking Pictures TV
Starring: Richard Attenborough, Hermione Baddeley
Crime, drama
In Brighton in 1935, small-time gang leader Pinkie Brown murders a journalist and later desperately tries to cover his tracks but runs into trouble with the police, a few witnesses and a rival gang. Classic British drama with a star-making performance from Richard Attenborough. Mild violence and language.
YOU MUST BE JOKING (U)
7.55pm Sony Movies Classic
Michael Callan, Lionel Jeffries
Comedy
A motley group of soldiers are set loose in swinging London in an initiative test to collect a selection of esoteric items. Silly 60s comedy. Mild innuendo.
SHERLOCK HOLMES: A GAME OF SHADOWS (12)
8pm ITV2
Starring: Robert Downey Jr., Rachel McAdams, Jude Law, Noomi Rapace, Stephen Fry
Adventure, Action, Crime
Detective Sherlock Holmes is on the trail of criminal mastermind Professor Moriarty, who is carrying out a string of random crimes across Europe. Entertaining sequel to the Guy Ritchie film. Moderate violence.
SOLARIS (12)
8pm Sony Movies
Starring: George Clooney, Natasha McElhone
Sci-fi, drama, romance
A troubled psychologist is sent to investigate the crew of an isolated research station orbiting a bizarre planet. Steven Soderbergh's remake of the Russian classic. Language, sexual content, nudity and violence.
THE LAST SAMURAI (15)
9pm 5*
Starring: Tom Cruise, Ken Watanabe, Billy Connolly, Tony Goldwyn
War, Action, Drama
An American military adviser embraces the Samurai culture he was hired to destroy after he is captured in battle.Spectacular drama with some terrific battle scenes. Strong violence.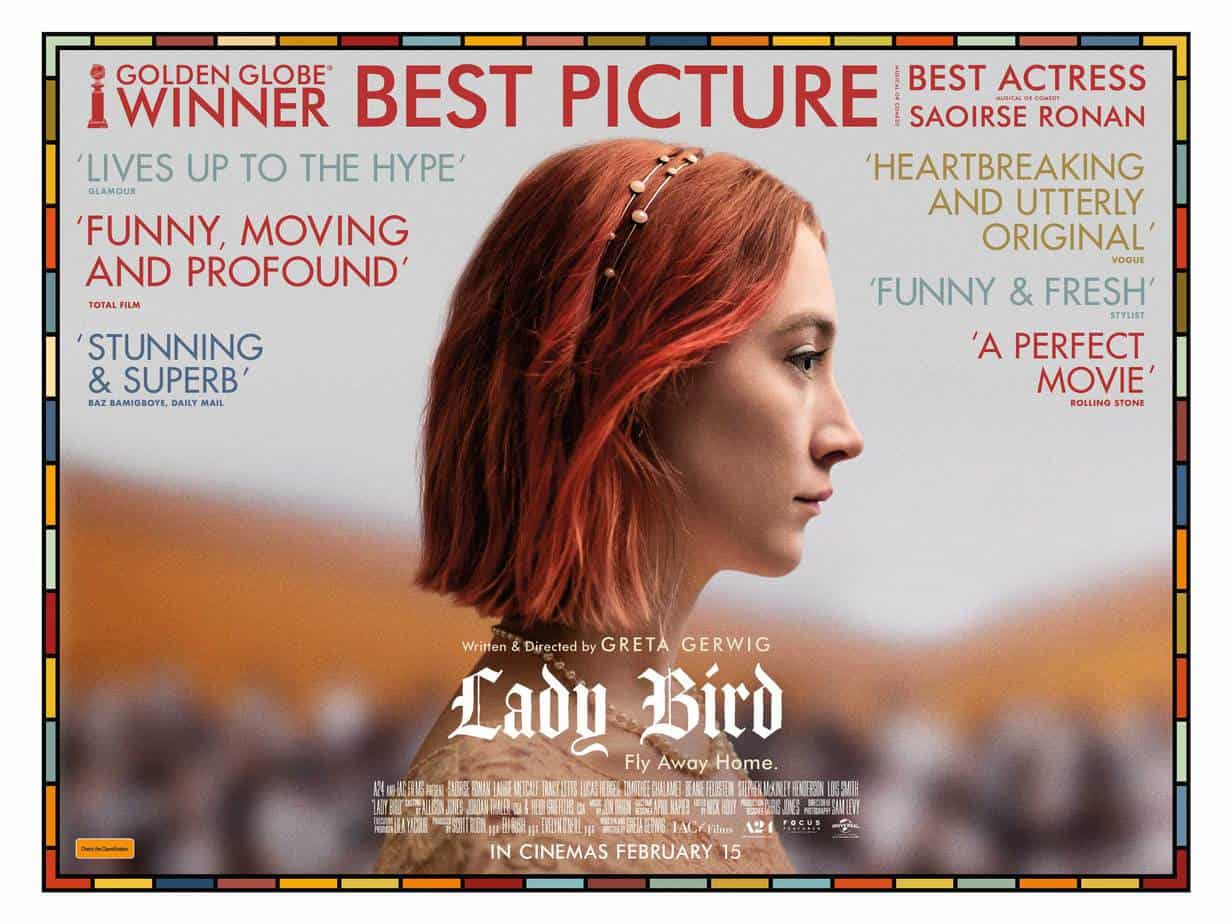 LADY BIRD (15)
9pm BBC2
Starring: Saosire Ronan, Laurie Metcalf, Timothée Chalamet
Comedy, drama
Christine "Lady Bird" McPherson (Saoirse Ronan) is a high school senior from the "wrong side of the tracks". She longs for adventure, sophistication, and opportunity, but finds none of that in her Sacramento Catholic high school. Award-winning coming of age drama from Greta Gerwin, the director of Little Women. Strong language and sexual content.
ROXANNE (PG)
9pm Sony Movies Classic
Starring: Steve Martin, Daryl Hannah
Comedy, romance
The large-nosed C.D. Bales is in love with the beautiful Roxanne; she falls for his personality but another man's looks. Delightfully funny Steve Martin penned comedy romance. Mild language and sexual references.
ROBOCOP 2 (18)
9pm ITV4
Starring: Peter Weller, Nancy Allen, Daniel O'Herlihy
Sci-Fi, Action, Thriller
Cyborg law enforcer RoboCop returns to protect the citizens of old Detroit but faces a deadly challenge when a rogue OCP member secretly creates a new, evil RoboCop 2. Reasonable sequel to the 1987 cult classic. Sci-fi violence, graphic disturbing images, language, and for drug use.
BAYWATCH (15)
9pm E4
Starring: Dwayne Johnson, Zac Efron, Alexandra Daddario
Comedy, Action
Devoted lifeguard Mitch Buchannon butts heads with a brash new recruit, as they uncover a criminal plot that threatens the future of the bay. Big screen version of the 80s TV series, with added rude humour. Strong language, crude humour, nudity, violence.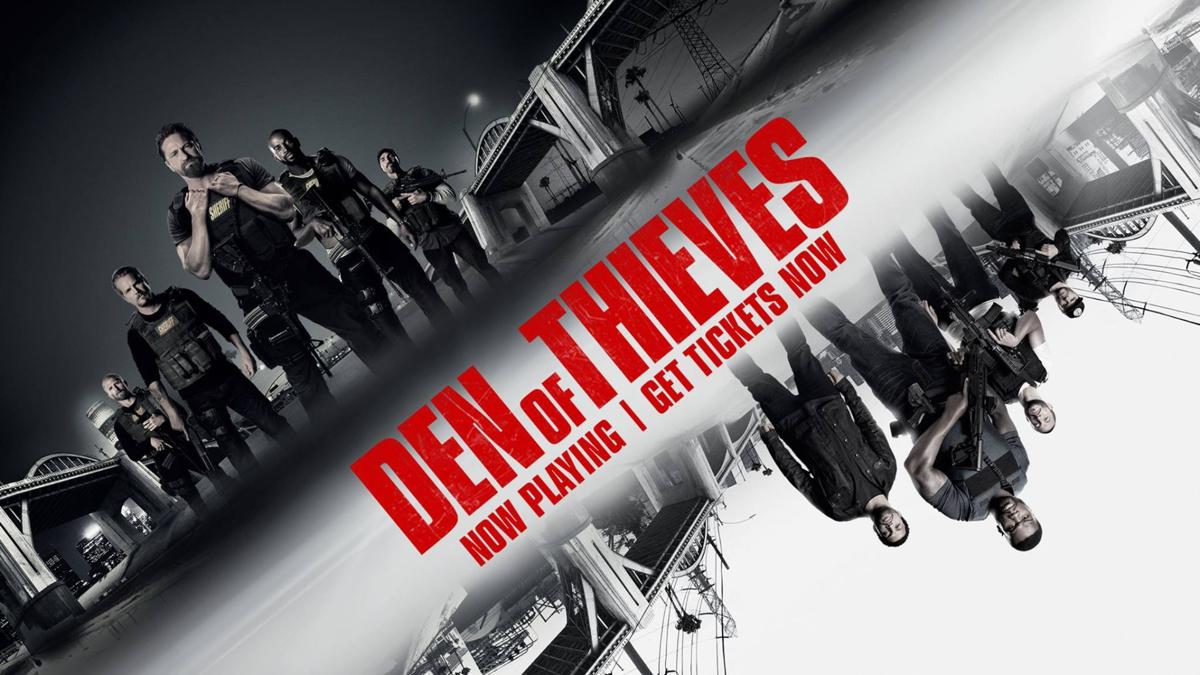 DEN OF THIEVES (15)
9pm Film4
Starring: Gerard Butler, Jordan Bridges
Action, crime, drama
An elite unit of the LA County Sheriff's Dept. and the state's most successful bank robbery crew clash as the outlaws plan a seemingly impossible heist on the Federal Reserve Bank. Tough crime drama. Strong language, violence, threat.
NOCTURNAL ANIMALS (15)
10pm Sony Movies
Starring: Amy Adams, Jake Gyllenhaal
Drama, Thriller
A wealthy art gallery owner is haunted by her ex-husband's novel, a violent thriller she interprets as a symbolic revenge tale. Terrific thriller with another winning performance from Amy Adams. Strong threat, violence, sexual violence, nudity, language.
THE INBETWEENERS 2 (15)
10pm Channel 4
Starring: Simon Bird, James Buckley, Blake Harrison, Joe Thomas
Comedy
Jay, Neil, Simon, and Will reunite in Australia for a holiday. The continuing outrageous adventures of the four friends. Hilarious. Very strong nudity, sex references, very strong language and scenes that may disgust.
LUST OF A VAMPIRE (18)
10pm Talking Pictures TV
Starring: Ralph Bates, Barbara Jefford, Michael Johnson
Horror
In 1830, forty years to the day since the last manifestation of their dreaded vampirism, the Karnstein heirs use the blood of an innocent to bring forth the evil that is the beautiful Mircalla – or as she was in 1710, Carmilla. Late edition Hammer horror. Horror violence and nudity.
THE LOST BOYS (15)
10.45pm BBC1
Starring: Kiefer Sutherland, Jason Patric
Horror, comedy
After moving to a new town, two brothers discover that the area is a haven for vampires.Stylish 80s favourite. Moderate violence and horror.
ENTER THE DRAGON (18)
11.10pm ITV4
Starring: Bruce Lee, John Saxon, Jim Kelly
Action, Adventure, Thriller
A martial artist agrees to spy on a reclusive crime lord using his invitation to a tournament there as cover. Bruce Lee's first Hollywood movie that turned him into an icon. Strong violence, sexual content and nudity.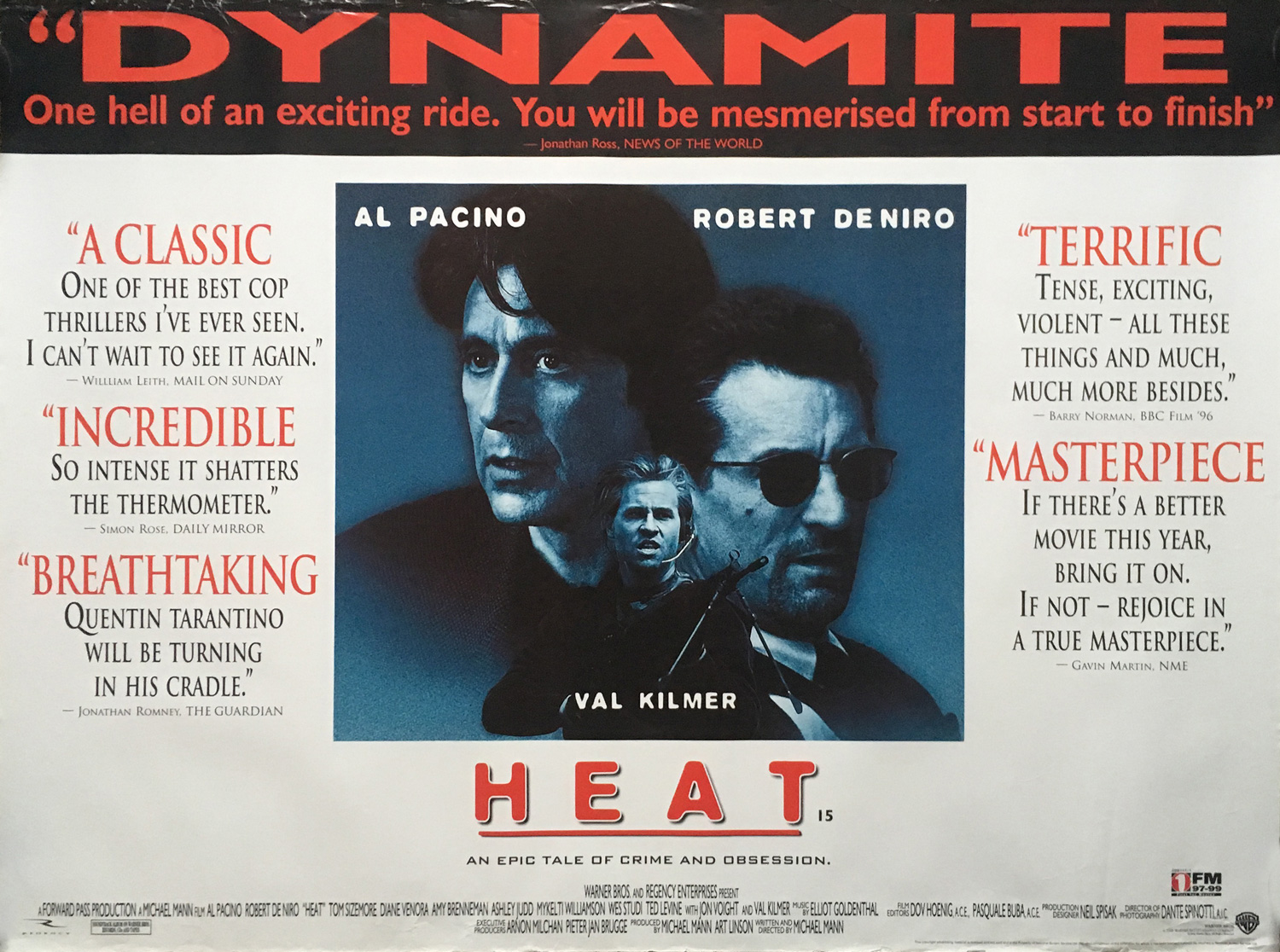 HEAT (15)
11.50pm Film4
Starring: Al Pacino, Robert De Niro, Val Kilmer
Crime, Thriller
A group of professional bank robbers start to feel the heat from police when they unknowingly leave a clue at their latest heist. Michael Mann's epic crime thriller. Strong language, violence and gore.
EXPRESSO BONGO (12)
12midnight Talking Pictures TV
Starring: Cliff Richard, Laurence Harvey, Sylvia Syms
Musical, Drama, Comedy
Johnny Jackson, a sleazy talent agent, discovers teenager Bert Rudge singing in a coffee house. Despite Bert's protestation that he really is only interested in playing bongos, Johnny starts him on the road to stardom. London-based drama with Cliff Richard providing the songs. Moderate nudity, moderate bad language. Black and white.
A SINGLE MAN (12)
12.20am Sony Movies
Starring: Colin Firth, Julianne Moore, Matthew Goode, Nicholas Hoult
Drama
Fashion designer Tom Ford directs this beautiful looking, stylish drama with Colin Firth as an English professor struggling to cope after the death of his boyfriend. Suicide theme, moderate threat, drug references and nudity.
THE LEVELLING (15)
12.20am BBC2
Starring: Ellie Kendrick, David Troughton
Drama
When Clover Catto (Ellie Kendrick) receives a call telling her that her younger brother Harry (Joe Blakemore) is dead, she must return to her family farm and face the man she hasn't spoken to in years: her father Aubrey (David Troughton). Fantastic and gripping drama. Highly recommended. Strong language, sex references.
JOY RIDE (15)
12.30am Horror Channel
Starring: Steve Zahn, Paul Walker, Leelee Sobieski
Mystery, thriller
Three young people on a road trip from Colorado to New Jersey talk to a trucker on their CB radio, then must escape when he turns out to be a psychotic killer. Thriller in the same vein as Duel. Also known as Road Kill. Strong language, violence and horror.