Morning!
Apologises for those looking for the blog yesterday. Due to circumstances out of my control, I couldn't get it published but I am back…for a while.
Due to the return this week of a blockbuster movie in the form of Tenet, I will be winding down the recommendation part of the blog. It may be a weekly thing instead of daily, mainly as most of the films I have covered and Netflix haven't released any new films so I am exhausting their output. As this blog was originally set up for reviews of movies, that will return with a review of TENET later this week.
In the meantime, here are today's long recommendations.
AMAZON PRIME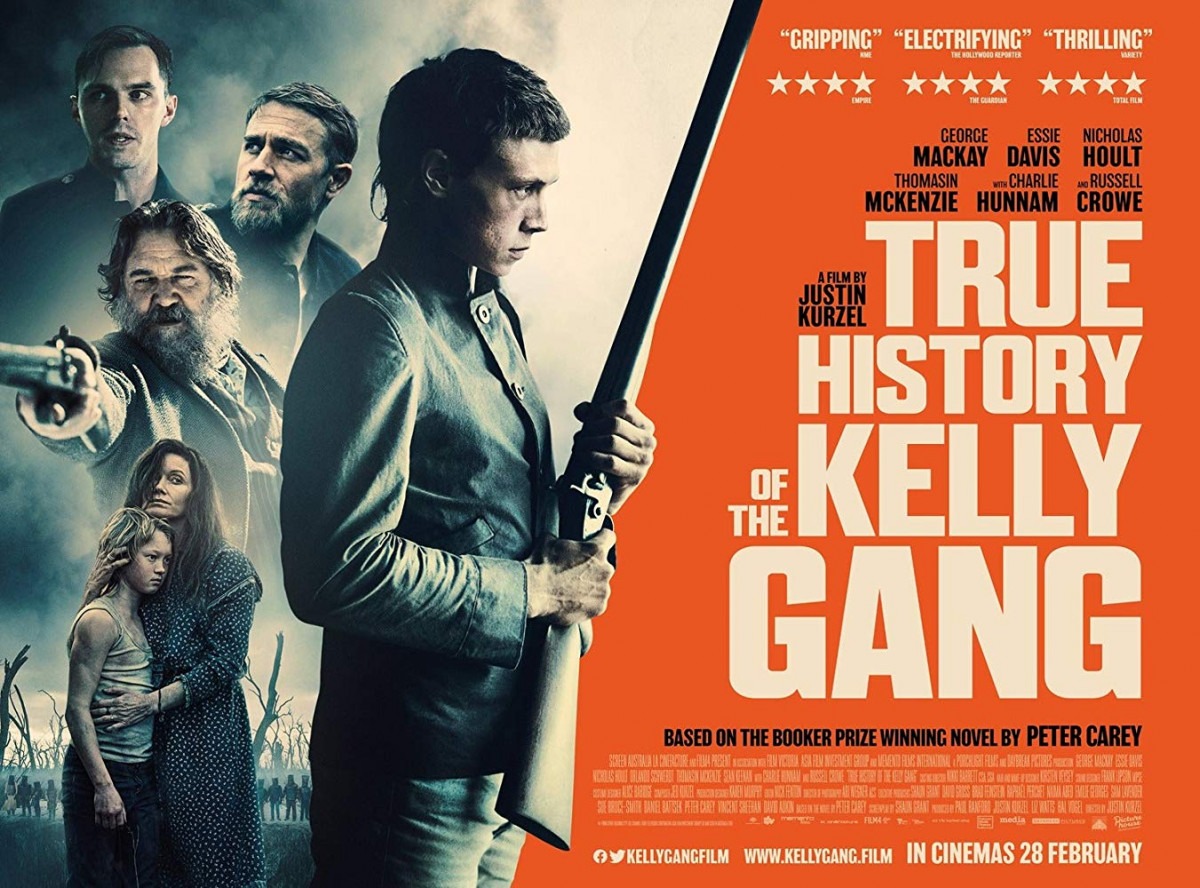 TRUE HISTORY OF THE KELLY GANG (18)
Starring: George MacKay, Essie Davis, Nicholas Hoult, Russell Crowe
Western, Drama
Based on Peter Carey's novel. The story of Australian bushranger Ned Kelly and his gang as they flee from authorities during the 1870s. Impressive Australian drama released just before lockdown starring George (1917) MacKay. Strong violence throughout, bloody images, very strong language, sexual content and some nudity.
13 GOING ON 30 (12)
Starring: Jennifer Garner, Mark Ruffalo
Comedy, Fantasy
A girl makes a wish on her thirteenth birthday, and wakes up the next day as a thirty-year-old woman. Delightfully sweet body-swap comedy. Moderate sex, language and drug references.
NETFLIX
KILL THE MESSENGER (15)
Starring: Jeremy Renner, Andy Garcia, Michael Sheen
Thriller, Drama, Crime
Journalist Gary Webb, California 1996, started investigating CIA's role in the 1980s in getting crack cocaine to the black part of LA to get money and weapons to the Contras/freedom fighters in Nicaragua. Decent political conspiracy drama. Strong language, drug use, drug references.
NOW TV/SKY CINEMA
CRANK (18)
Starring: Jason Stratham, Efren Ramirez, Amy Smart
Action, crime, thriller
Professional assassin Chev Chelios learns his rival has injected him with a poison that will kill him if his heart rate drops. Crazy adrenaline-fuelled action movie. strong violence, language, sex and drug use.
DANGEROUS MINDS (15)
Starring: Michelle Pfeiffer, George Dzundza, Courtney B. Vance
Biopic, Drama
Louanne Johnson is an ex-marine, hired as a teacher in a high-school in a poor area of the city. After a terrible reception from the students, she tries unconventional methods of teaching (using karate, Bob Dylan lyrics etc) to gain the trust of the students. Cliched classroom drama made better by Michelle Pfeiffer. Strong language and moderate sex references and violence.
DISNEY+
X-MEN: DARK PHOENIX (12)
Starring: Sophie Turner, Jennifer Lawrence, Michael Fassbender, James McAvoy, Nicholas Hoult
Fantasy, Adventure, Action
Jean Grey begins to develop incredible powers that corrupt and turn her into a Dark Phoenix, causing the X-Men to decide if her life is worth more than all of humanity. The final of the current X-Men movies is sadly the weakest. Moderate violence, bloody images, infrequent strong language.
BIG (12)
Starring: Tom Hanks, Elizabeth Perkins, Robert Loggia
Comedy, Drama, Fantasy
After wishing to be made big, a teenage boy wakes the next morning to find himself mysteriously in the body of an adult. Wonderfully charming body-swap comedy with the brilliant Tom Hanks. Infrequent strong language, moderate sex references.
MOVIES ON TERRESTRIAL TV
THE RETURN OF THE PINK PANTHER (PG)
11am Film4
Starring: Peter Sellers, Christopher Plummer, Catherine Schell, Herbert Lom
Comedy, crime
Inspector Jacque Clouseau (Peter Sellers) is put on the case when the Pink Panther diamond is stolen, with the Phantom's trademark glove the only clue. The best (in my opinion) of the series. Mild slapstick violence.
HELLFIGHTERS (PG)
12.10pm Sony Movies Action
Starring: John Wayne, Katherine Ross, Vera Miles
Action, Adventure, drama
The story of macho oil well firefighters and their wives. A tense and exciting action film from the director of The Wild Geese. Mild violence and language.
HOW TO STEAL A MILLION (U)
1.15pm Sony Movies Classic
Starring: Audrey Hepburn, Peter O'Toole
Comedy, Crime, Romance
The daughter of an art forger teams up with a burglar to steal one of her father's forgeries and protect his secret. Classy comedy caper with two hugely cool leads. Very mild language.
DRAGONHEART (PG)
1.15pm Film4
Starring: Dennis Quaid, David Thewlis, Pete Postlethwaite, Sean Connery
Action, Adventure, Fantasy
The last dragon and a disillusioned dragonslaying knight must cooperate to stop an evil King, who was given partial immortality. Fun fantasy film with Sean Connery as the voice of the dragon. Mild bad language and violence.
THE MUMMY'S SHROUD (PG)
1.30pm Talking Pictures TV
Starring: Andre Morell, John Phillips, David Buck
Horror
In 1920 an archaeological expedition discovers the tomb of an ancient Egyptian child prince. Returning home with their discovery, the expedition members soon find themselves being killed off by a mummy, which can be revived by reading the words off the prince's burial shroud. Another gem from the Hammer studios. Mild horror.
BICENTENNIAL MAN (PG)
1.45pm Sony Movies
Starring: Robin Williams, Sam Neill
Comedy, drama, sci-fi
An android endeavour to become human as he gradually acquires emotions. Sickly sweet sci-fi comedy-drama. Language and some sexual content.
A VIEW TO A KILL (PG)
1.55pm ITV1
Starring: Roger Moore, Tanya Roberts, Christopher Walken, Grace Jones, Patrick MacNee
Action, Adventure, Thriller
The recovery of a microchip off the body of a fellow agent, leads James Bond to a mad industrialist who plans to create a worldwide microchip monopoly by destroying California's Silicon Valley. Final outing for Roger Moore as 007. Mild action violence, threat, language and sex references.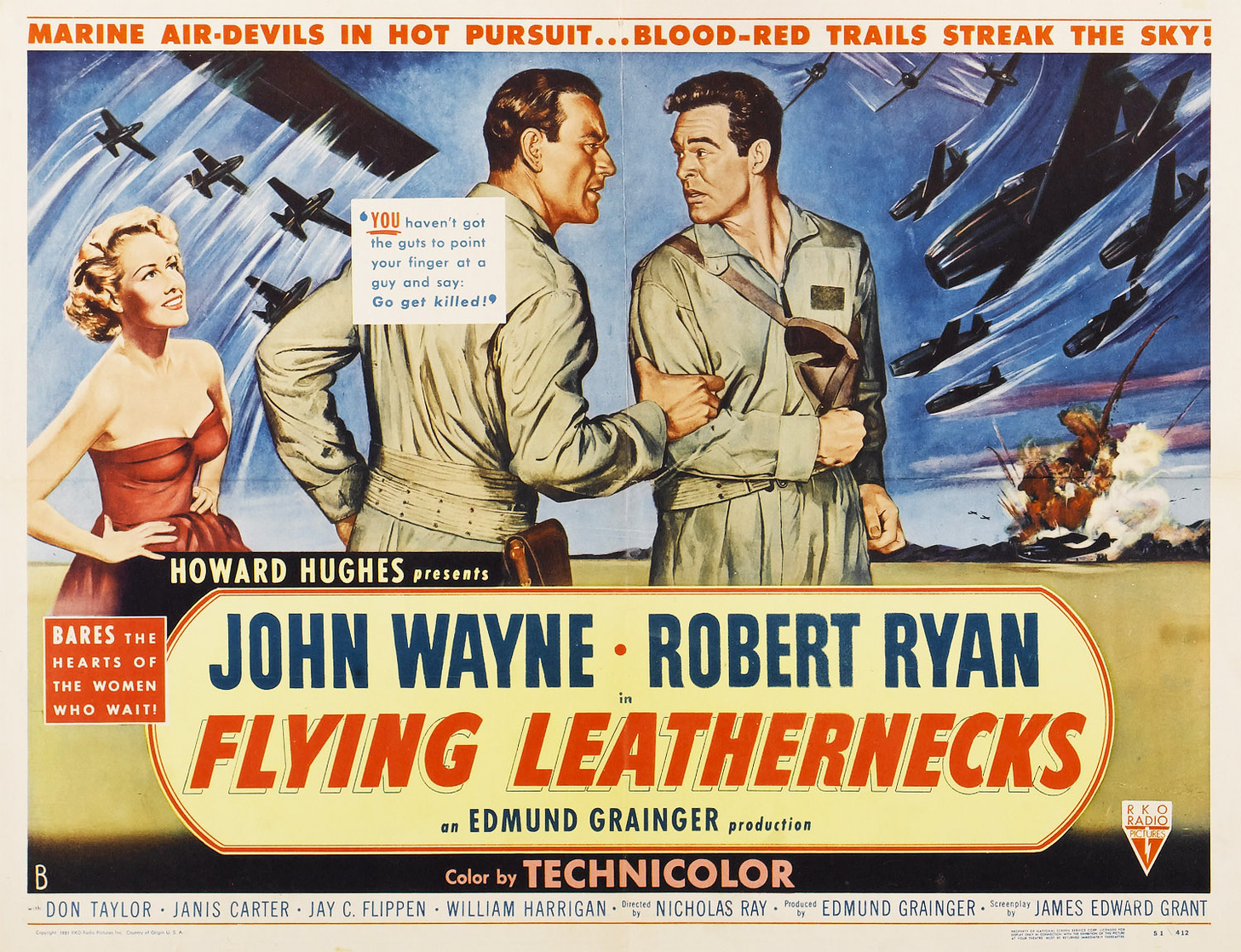 FLYING LEATHERNECKS (PG)
2.35pm Sony Movies Action
Starring: John Wayne, Robert Ryan
War, action, drama
Major Kirby leads The Wildcats squadron into the historic WWII battle of Guadalcanal. Tough John Wayne war movie. Violence.
LE MANS (PG)
3.15pm BBC2
Starring: Steve McQueen, Siegfried Rauch, Elga Anderson
Action, Adventure, Drama
Almost in breadth and depth of a documentary, this movie depicts an auto race during the 70s on the world's hardest endurance course: Le Mans in France.  Mixing drama with real footage, this is a must for petrol-heads. Mild injury detail.
HOW TO TRAIN YOUR DRAGON (PG)
3.20pm Film4
Starring: Jay Baruchel, Gerard Butler
Animation, Fantasy, Adventure
A hapless young Viking who aspires to hunt dragons becomes the unlikely friend of a young dragon himself, and learns there may be more to the creatures than he assumed. Wonderful and underrated animated fantasy. Frequent mild threat.
HOBSON'S CHOICE (U)
3.20pm Talking Pictures TV
Starring: Charles Laughton, Brenda De Banzie, John Mills
Comedy, drama, romance
Henry Hobson (Charles Laughton) is a successful bootmaker, a widower and a tyrannical father of three daughters. The girls each want to leave their father by getting married, but Henry refuses because marriage traditions require him to pay out settlements. Charming comedy with a larger-than-life performance from Charles Laughton. Black and white.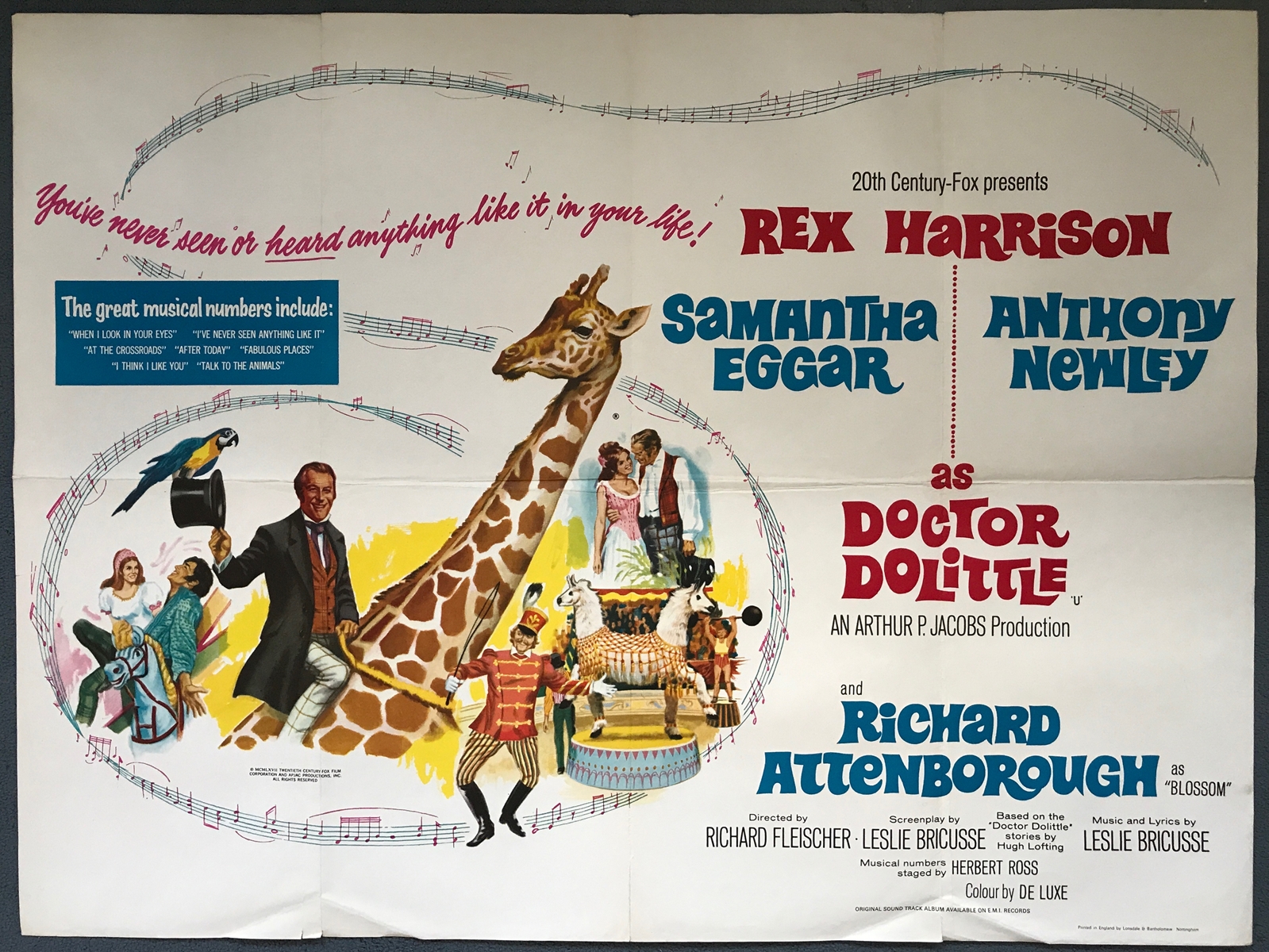 DOCTOR DOLITTLE (U)
3.45pm Sony Movies Classic
Musical, Adventure, Comedy, Fantasy
Starring: Rex Harrison, Anthony Newley, Samantha Eggar, Richard Attenborough
After the animal communicating veterinarian goes too far for his clientele, he and his friends escape their hometown to the sea in search of the Great Pink Sea Snail. Musical flop on its release, it passes the time.
ELLA ENCHANTED (PG)
4.20pm Sony Movies
Starring: Anne Hathaway, Hugh Dancy, Cary Elwes
Comedy, Fantasy
Ella is under a spell to be constantly obedient, a fact she must hide from her new stepfamily in order to protect the prince of the land, her friend for whom she's falling. Enormously entertaining fairy tale. Mild comic violence.
ANGEL AND THE BADMAN (U)
4.45pm Sony Movies Action
Starring: John Wayne, Gail Russell, Harry Carey
Western, Action, Romance
Quirt Evans, an all round bad guy, is nursed back to health and sought after by Penelope Worth, a Quaker girl. He eventually finds himself having to choose between his world and the world Penelope lives in. Classic John Wayne western. Mild violence. Black and white.
PADDINGTON (PG)
5.15pm Film4
Starring: Ben Whishaw, Julie Walters, Sally Hawkins, Hugh Bonneville, Peter Capaldi, Jim Broadbent, Nicole Kidman
Adventure, Drama, comedy
Family adventure about a talking bear from Peru who travels to London looking for a new home. One of the most joyful movies of the decade. We could all do with a bit of Paddington in our lives. Dangerous behaviour, mild threat, innuendo, infrequent mild bad language.
THE SECRET LIFE OF PETS (U)
5.15pm ITV2
Starring: Louis C.K., Eric Stonestreet, Kevin Hart
Animation, Adventure, Comedy
The quiet life of a terrier named Max is upended when his owner takes in Duke, a stray whom Max instantly dislikes. What starts as an inventive comedy leads to a routine animation. Mild action, rude humour.
MAMMA MIA! (PG)
6pm ITV 1
Starring: Meryl Streep, Pierce Brosnan, Colin Firth, Stellan Skarsgard, Julie Walters, Dominic Cooper, Amanda Seyfried, Christine Baranski
Musical, Comedy, Romance
The story of a bride-to-be trying to find her real father told using hit songs by the popular 1970s group ABBA. Feel-good musical smash. Mild bad language, sex references.
SEABISCUIT (PG)
6.15pm Sony Movies
Starring: Tobey Maguire, Jeff Bridges, Chris Cooper
Drama, sport, biopic
True story of the undersized Depression-era racehorse whose victories lifted not only the spirits of the team behind it but also those of their nation. Enjoyable horse racing drama. Mild language and violence.
LEGEND (PG)
6.40pm Horror Channel
Starring: Tom Cruise, Mia Sara, Tim Curry
Adventure, Fantasy
A young man must stop the Lord of Darkness from destroying daylight and marrying the woman he loves.Beautifully looking fantasy from Ridley Scott. Mild threat.
BOY ON A DOLPHIN (PG)
6.40pm Sony Movies Classic
Starring: Sophia Loren, Alan Ladd, Clifton Webb
Adventure, Drama, Romance
A woman finds a treasure and is torn between two men: one who wants to sell it and one who wants to gift it to Greece. Lavish romantic drama.
PERCY JACKSON: SEA OF MONSTERS (PG)
6.55pm E4
Starring: Logan Lerman, Alexandra Daddario, Nathan Fillion, Brandon T. Jackson
Fantasy, Adventure
In order to restore their dying safe haven, the son of Poseidon and his friends embark on a quest to the Sea of Monsters, to find the mythical Golden Fleece, all the while trying to stop an ancient evil from rising. Effect-ridden family adventure. Moderate fantasy violence and threat, and mild language.
SPECTRE (12)
8pm ITV2
Starring: Daniel Craig, Christoph Waltz, Léa Seydoux, Ralph Fiennes
Action, thriller
A cryptic message from James Bond's past sends him on a trail to uncover the existence of a sinister organisation named SPECTRE. With a new threat dawning, Bond learns the terrible truth about the author of all his pain in his most recent missions. Daniel Craig's fourth outing as Bond. Violence, language, sexual content.
LEGEND (18)
9pm Film4
Starring: Tom Hardy, Taron Egerton, Emily Browning, Christopher Eccleston
Biopic, Crime, Drama
The true story of London's most notorious gangsters, twins Reggie and Ronnie Kray. As the brothers rise through the criminal underworld, Ronnie advances the family business with violence and intimidation while Reggie struggles to go legitimate for local girl Frances Shea. Very strong language, strong violence.
THE COMANCHEROS (PG)
9pm Sony Movies Action
Starring: John Wayne, Stuart Whitman
Western, Adventure, Drama
Texas Ranger Jake Cutter arrests gambler Paul Regret, but soon finds himself teamed with his prisoner in an undercover effort to defeat a band of renegade arms merchants and thieves dealing with the Comanches known as Comancheros. Western adventure from the director of Casablanca. Mild violence.
THE FIRM (15)
9pm 5*
Starring: Tom Cruise, Jeanne Tripplehorn, Gene Hackman
Thriller, drama
A young lawyer joins a prestigious law firm only to discover that it has a sinister dark side. Decent adaptation of John Grisham's best-selling thriller. Language and violence.
PANIC ROOM (15)
9pm Sony Movies
Starring: Jodie Foster, Kristen Stewart, Forest Whitaker, Jared Leto
Thriller, Crime
A divorced woman and her diabetic daughter take refuge in their newly-purchased house's safe room, when three men break-in, searching for a missing fortune. Incredibly tense thriller from David Fincher. Strong language and violence.
IN LIKE FLINT (PG)
9pm Sony Movies Classic
Starring: James Coburn, Lee J. Cobb
Action, Adventure, Comedy
Flint is again called out of retirement when his old boss finds that he seems to have missed three minutes while golfing with the president. Flint finds that the president has been replaced by an actor.Flint finds that a group of women have banded together to take over the world through subliminal brainwashing in beauty salons they own. More groovy spy fun with James Coburn. Mild violence and sexual references.
LITTLE FOCKERS (12)
9pm E4
Starring: Robert De Niro, Jessica Alba, Ben Stiller, Owen Wilson, Dustin Hoffman, Teri Polo, Harvey Keitel, Blythe Danner, Barbra Streisand
Comedy
Family-patriarch Jack Byrnes wants to appoint a successor. Does his son-in-law, the male nurse Greg Focker, have what it takes? The third in the successful Meet The Parents series. Moderate sex references and crude humour.
ROBOCOP 2 (18)
9.55pm ITV4
Starring: Peter Weller, Nancy Allen, Daniel O'Herlihy
Sci-Fi, Action, Thriller
Cyborg law enforcer RoboCop returns to protect the citizens of old Detroit but faces a deadly challenge when a rogue OCP member secretly creates a new, evil RoboCop 2. Reasonable sequel to the 1987 cult classic. Sci-fi violence, graphic disturbing images, language, and for drug use.
THE BOOK THIEF (12)
10pm Channel 4
Starring: Sophie Nélisse, Geoffrey Rush, Emily Watson
War, Drama
While subjected to the horrors of World War II Germany, young Liesel finds solace by stealing books and sharing them with others. In the basement of her home, a Jewish refugee is being protected by her adoptive parents. Decent adaptation of the best-selling novel. Scenes of emotional distress and moderate threat.
DOWNHILL RACER (PG)
10pm Talking Pictures TV
Starring: Robert Redford, Gene Hackman
Drama, Sport
Quietly cocky Robert Redford joins U.S. ski team as downhill racer and clashes with the team's coach, played by Gene Hackman. Lots of good skiing action leading to an exciting climax. Exciting skiing sequences in this terrific sports drama. Mild violence, sexual references and intense skiing sequences.
THE NOTEBOOK (12)
10.30pm BBC1
Starring: Rachel McAdams, Ryan Gosling, Gena Rowlands, James Garner
Romance, drama
A poor yet passionate young man falls in love with a rich young woman, giving her a sense of freedom, but they are soon separated because of their social differences. Hugely popular weepie. Moderate sex.
THE TAKING OF PELHAM ONE TWO THREE (15)
11.15pm Sony Movies Classic
Starring: Walter Matthau, Robert Shaw, Martin Balsam, Hector Elizondo
Action, Crime, Thriller
In New York, armed men hijack a subway car and demand a ransom for the passengers. Even if it's paid, how could they get away? Superb thriller from the 70s. Highly recommended. Strong language and violence.
AWAKENINGS (15)
11.20pm Sony Movies Classic
Starring: Robert De Niro, Robin Williams
Biopic, Drama
The victims of an encephalitis epidemic many years ago have been catatonic ever since, but now a new drug offers the prospect of reviving them. Incredibly moving drama with two outstanding performances. Language and upsetting scenes.
BOYHOOD (15)
11.40pm Film4
Starring: Patricia Arquette, Ellar Coltrane, Ethan Hawke
Drama
Impressive drama from Richard Linklater, following the life of Mason, from early childhood to his arrival at college. Filmed over 12 years and winner of an Oscar for Patricia Arquette. Strong language, sex references, drug use.
THE COTTON CLUB (15)
12.05am Talking Pictures TV
Starring: Richard Gere, Gregory Hines, Diane Lane, Lonette McKee, Bob Hoskins
Crime, Drama, Music
Meet the jazz musicians, dancers, owner and guests (e.g. gangster Dutch Schultz) of The Cotton Club in 1928-30s Harlem. Francis Ford Coppola's forgotten gangster movie. Very strong language and violence.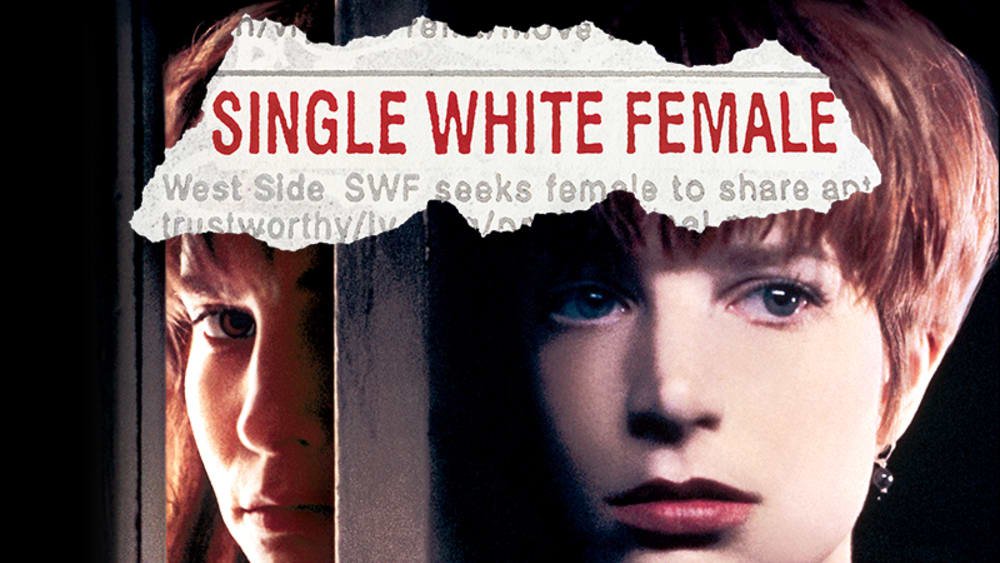 SINGLE WHITE FEMALE (18)
12.10am 5*
Starring: Bridget Fonda, Jennifer Jason Leigh
Thriller
A woman advertising for a new roommate finds that something very strange is going on with the tenant who decides to move in. An unsettling thriller with two outstanding lead performances. Language, sexual content, nudity and violence.
THE SQUARE (15)
12.30am Channel 4
Starring: Claes Bang, Elisabeth Moss, Dominic West, Terry Notary
Drama, Comedy
A prestigious Stockholm museum's chief art curator finds himself in times of both professional and personal crisis as he attempts to set up a controversial new exhibit. Brilliant if disturbing satirical drama. Very strong language, sexual threat, strong sex. Subtitled.
DISTRICT 9 (15)
1.35am Sony Movies
Starring: Sharlto Copley, Jason Cope, Nathalie Boltt
Sci-Fi, Thriller
Violence ensues after an extraterrestrial race forced to live in slum-like conditions on Earth finds a kindred spirit in a government agent exposed to their biotechnology. Extraordinary sci-fi adventure from South Africa. One use of very strong language and strong bloody violence.