Director: Aaron Sorkin
Starring: Eddie Redmayne, Alex Sharp, Sacha Baron Cohen, Jeremy Strong, John Carroll Lynch, Mark Rylance, Frank Langella, Michael Keaton, Ben Shenkman, Joseph Gordon-Levitt, Yahya Abdul-Mateen II
Written by: Aaron Sorkin
Running Time: 129 mins
Cert: 15
Release date: 2 October 2020
The Trail of the Chicago 7 is a courtroom drama based on the real case brought by the US government against demonstrators of the Vietnam War. In America, it's a notorious case, although in the UK, not so much. Going into Aaron Sorkin's drama is a little like going in blind. You don't know what happened, who these characters are and what the outcome is. In a way, it's the best way to watch this, because, for just over two hours, you are taken on an unbelievable journey that will grip and leave you gasping for breath by the end.
Chicago 1968 and the Democratic Party Convention was met with violence as demonstrators clashed with police, leading the newly-elected district attorney wanting to make an example. Tom Hayden, Abbie Hoffman, David Dellinger, Rennie Davis and Jerry Rubin, along with two other men and Bobby Seale of the Black Panther, were brought up on charges. With a prejudiced judge and an almost unwinnable case, defence lawyer William Kunstler must fight their corner.
Aaron Sorkin knows how to deliver a courtroom drama. He was the man responsible for A Few Good Men so that he can handle the terminology and clichés with ease. Taking the real-life events, Sorkin grabs you from the beginning with a brief history of the people and faces leading up to Nixon winning the presidency.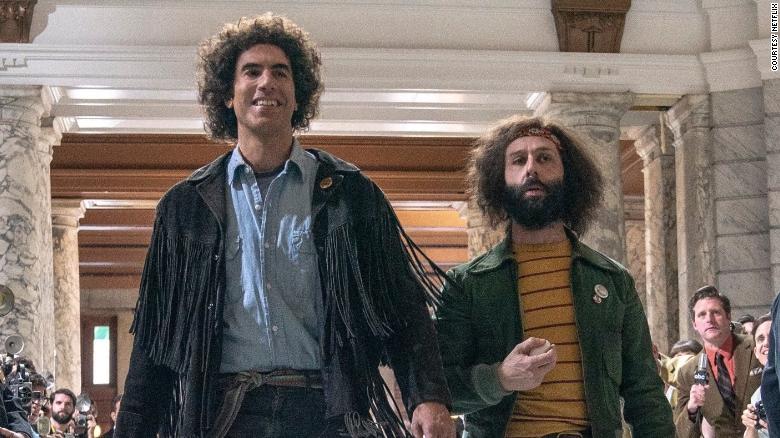 We are introduced to the key players of this pantomime (and it is a pantomime). Hayden and Davis are the students who keep track of the names of the dead and who want to make a difference. Hoffman and Rubin are hippies with the whole "Make love not war!" attitude. At the same time, suburban father Dellinger, a conscientious objector and father of a young boy, comes to Chicago to express his disapproval.
Once inside the courtroom, Sorkin introduces the real villain of the piece: Judge Hoffman (no relation to Abbie). A man who has a plan, who is on the side of the prosecutors from the start and who dishes out contempt of court orders like they are flyers for the recruitment office. Instantly, you know that this was never going to be a comfortable ride for these men. Judge Hoffman has a particular grievance against Black Panther member Bobby Seale, who wasn't even involved, yet stands trial for the same reasons.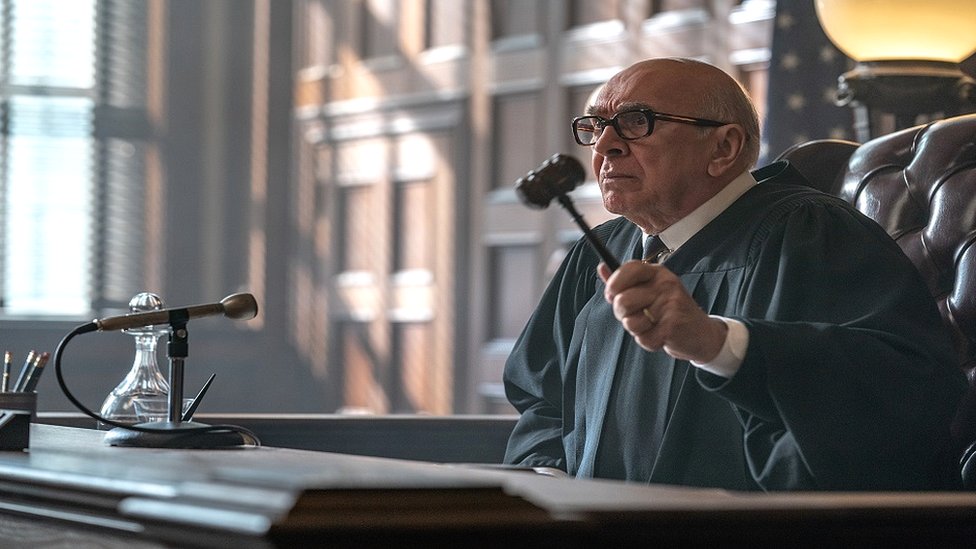 Sorkin hits us with shock after shock, adding a dash of humour and a sidebar of anger. You are amazed that this kind of justice could ever go on in a court of law. A judge who has no place being in charge, tripping up the defendants every opportunity he gets. Sometimes without provocation or reason. You can feel the frustration oozing off the bodies of the men on trial. Even when a key witness is brought the stand, he is silenced. Sorkin wants us to emote, wants us to get angry, wants us to be appalled and he does it with ease.
It also helps that the ensemble cast are superb. Eddie Redmayne as Tom Hayden has never been better, underplaying this student who is the most conventional of the group. Sacha Baron Cohen brings humour and pathos in equal measures as Abbie Hoffman. At the same time, Mark Rylance's lawyer William Kunstler is a quiet man who tries everything in his power to represent when he knows the outcome, is generous as well as being watchable. Yet it is Frank Langella as Judge Hoffman who impresses. You never know where he stands politically, but you do know that he is the worst judge ever and your hatred for him builds throughout—a fantastic performance.
Released in cinemas briefly, and now available on Netflix, The Trial of the Chicago 7 is a big, impressive drama that was a total crowd-pleaser. Some may criticise it for playing to the audience. It doesn't matter. It is a brilliantly executed courtroom tale with another impressive script from Sorkin. Wonderful.
5/5