Director: Craig Brewer
Starring: Eddie Murphy, Arsenio Hall, Wesley Snipes, James Earl Jones, Shari Headley, Jermaine Fowler, Leslie Jones, Tracy Morgan
Written by: Kenya Barris, (also story) Barry W. Blaustein, David Sheffield, (story) Justin Kanew and (based on the characters created) Eddie Murphy
Running Time: 110 mins
Cert: 12
Release date: 5th March 2021 (Amazon Prime)
It was 1988 when we were first introduced to Prince Akeem, the young heir to the throne of Zamunda, who came to America to find a bride. This comedy from John Landis was a huge hit and continued the run of successes Eddie Murphy was having during this time. Now, some 32 years on, we get a sequel. Landis has moved on, Murphy has struggled with a career full of flops and turkeys, and the world has certainly changed. So will a film that was very much of the time could make it in the 21st Century? Would anyone really be that interested? Well, with a pandemic still holding us back from cinemas and people craving entertainment, maybe the nostalgia will bring us back. Is it any good, though?
Prince Akeem is on the verge of becoming king as his father is dying. Settled down to family life with wife Lisa and his three daughters, the heir must be handed on to a male heir when Akeem takes on the top role. Akeem discovers that he has a son he didn't know about, living in America. With his trusted aide, Semmi, they return to Queens to find Lavelle, his son.
Director Craig Brewer, who helmed Murphy's excellent comeback, Dolemite Is My Name, takes control of this sequel. While it has the colour and vibrancy of the original film, it is a movie that relies on knowing winks to the audience and a familiarity of the first film. Everything you remember about the Coming To America is here, from the extended characters that both Murphy and co-star, Arsenio Hall, are back. These creations are a little older but not a lot wiser, while the main characters return and even some cameos from smaller characters. All of this will make those who have fond memories of the 1988 comedy smile, although those who are coming to this film afresh may be left bemused.
This is one of the problems with this sequel. It relies so much on a knowledge of the original that most of the jokes fall flat. It also tries desperately to poke fun out of itself, whether from the change in sexual politics or the fact that this is a sequel that has taken so long to get to the screen. A scene has characters talking about American movies being filled with superhero films, reboots and sequels to old films that no one remembers. This comes across not as self-depreciation but as a criticism of its own existence.
The world has changed so gone are the naked bathers and in comes stronger females. The inclusion of three daughters who have a kick-ass attitude and could easily fill the roles of queens, show exactly how much times have changed in those 32 years. This is no longer a man's world and the film wants us to realise this. Yet there are still moments when the sexual politics are dubious. A sequence involving a musical numbers around Prince's Gett Off does take us back to the 1980s, as if for a few moments they forgot because they had the rights to a song.
When Eddie Murphy first arrived on the scene, he was a fast-talking, energetic young man who, over time, just seems to have become lazier with every movie he makes. Dolemite was the first time in ages that we saw flashes of the old Murphy, and here we get to glimpse into that world once again. As Akeem, he was always a quieter, more controlled performance in his previous films, allowing him to let loose in his cameo characters, including Clarence and Saul from the barbers in Queens. They return but don't have enough screen time. Neither does co-star Arsenio Hall, who made a decent comedy partner to Murphy in the first film. They have very little screen time together, which worked so well last time.
The introduction of new characters Lavelle and his family shifts the focus away, and sadly, they are not as interesting or as funny as the team think they are. As the young prince, Jermaine Fowler is fine but lacks real fire for us to really care. Tracy Morgan is wasted as Lavelle's uncle, while Leslie Jones brings the energy needed as Lavelle's mother, and she has some of the funnier lines. However, the star of this film is Wesley Snipes as General Izzi, a military man who wants the power of Zamunda. Every time he enters, the film lifts, and he wins over with his comic creation.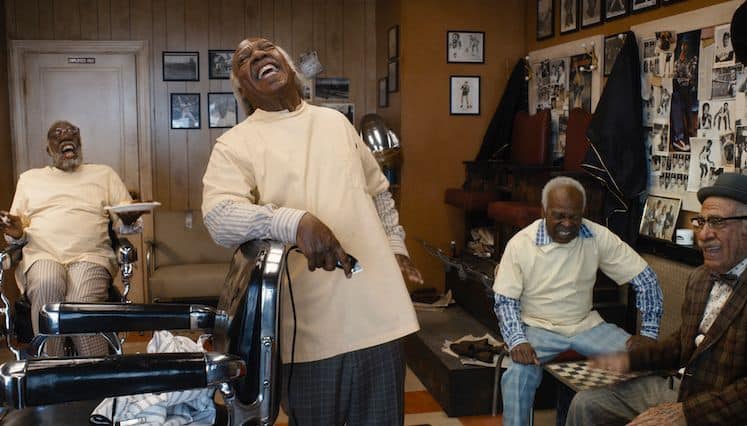 Coming 2 America isn't a terrible film. It brings a smile to the face but don't expect belly laughs. Those who have a fondness for Coming To America will certainly not hate it but will probably be disappointed. Those who have no memory of the last film will wonder what all the fuss is about. It probably will be completely forgettable in a few days, but while it's on, it's fine.
3/5