Director: Lee Daniels
Starring: Andra Day, Trevante Rhodes, Garrett Hedlund, Natasha Lyonne, Leslie Jordan, Miss Lawrence, Erik LaRay Harvey
Written by: Suzan-Lori Parks and (based on the book "Chasing The Scream") Johann Hari
Running Time: 130 mins
Cert: 15
Release date: 27th February 2021
There have been hundreds of biopics about singers. Most are depressing and full of the story's star being mistreated or suffering from addiction. Most do end with an upbeat note that the said star finds happiness and fame for the talent they have—others, like The United States Vs. Billie Holiday is determined to wring every inch of despair from its focal character. According to Lee Daniels' movie, Holiday's life was literally hell.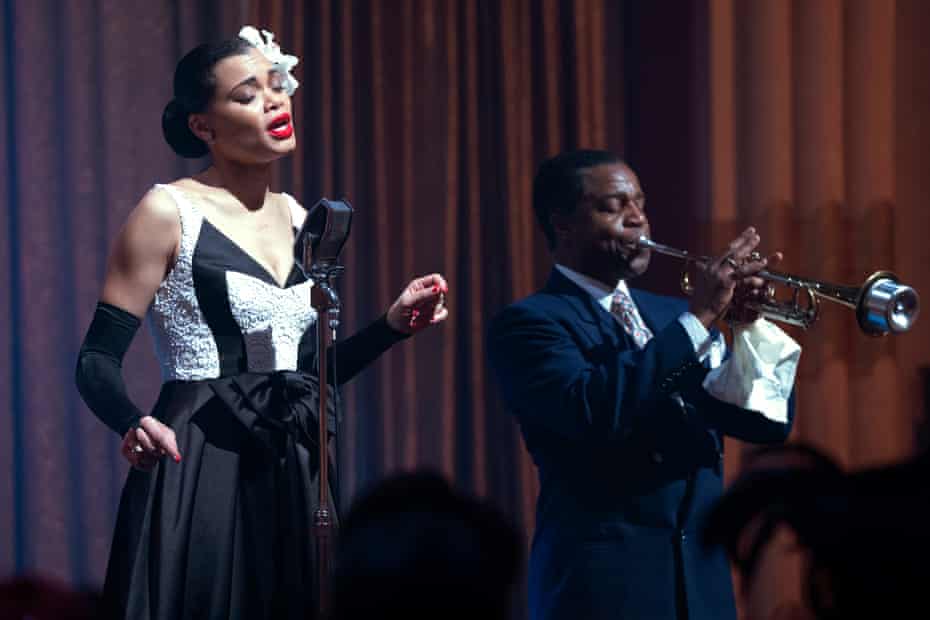 Billie Holiday was the creaky-voiced genius of the Jazz scene. People would travel far and wide to see her perform. One song about the civil rights movement, "Strange Fruit", is upsetting the authorities. To stop singing the one number that she is renowned for, the Federal Department of Narcotics decides that if they can get her on her drug addiction, this will curb her popularity and make her an example of their crackdown on drugs. Sending in Federal Agent Jimmy Fletcher in a sting, the two start an affair that lasts throughout a ten-year period.
Lee Daniels, who directed the brilliant yet incredibly downbeat Precious, obviously has a real love for Billie Holiday's music, as he allows full numbers to be performed. These moments throughout the film are somewhat life relief from all the other horrors that Ms Holiday suffered. Whether it be violent men or her treatment by the FDN, Billie's ten-year journey through this film is hardly light-hearted. This becomes the film's main problem.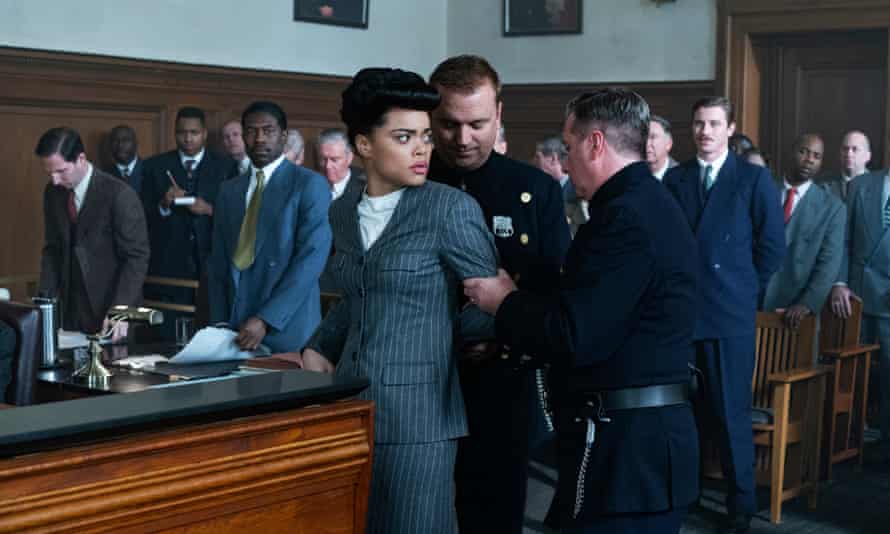 Billie Holiday's life was a mess. This has been well documented throughout the years, and the only time she was happy was when she was on stage. The 1973 Diana Ross film, Lady Sings The Blues, captured her bleak world, even if it was a little over performed. Surely this version would give us more light and shade? No chance. This is as dark and depressing as any biopic before it. Billie suffers and suffers badly, from the racial prejudice she faces, even to the point of being ordered to use a service elevator but a black busboy, to her treatment by men who want her as a slave, to make them money and to use her for sex as and when they want.
Tacked onto this is a tonally unbalanced romance between Billie and Federal Agent Jimmy Fletcher. We see Fletcher at the beginning as a starstruck Army boy. Yet, it soon becomes apparent that he has been sent to capture any illegal activity to warrant her arrest. Even knowing this, she still allows him to get close to her. While she is married to violent men who are taking her for everything she has, she almost has to beg for her own money.
This level of bleakness comes across as often soapy as we jump from one dark moment to the next. Throw in her continuous drug-taking and what we have is a two-hour journey into the dark side of a musical genius. Yet there is a ray of sunshine throughout this, and that's Andra Day. As Billie, she excels. She captures just how messed up this singer was, whether from the men in her lives of the drugs she injects into her. All the time, Day shows a huge level of respect for her, and she manages to keep her head above the water throughout. As the supporting cast is often given little to do, Day propels energy to her hard to ignore performance. Nominated for an Oscar (and one of the favourites to win), this is probably the only real reason to watch this film, unless you want to feel completely depressed.
There is a decent version of Billie Holiday's life story out there, but sadly, this isn't it. A drab and often sensationalist version of events, it will bring your whole evening down. Still, Andra Day is certainly the star of the show, and along with her musical interpretations of Holiday's work, they are the winners of this movie. The rest may just bring you down.
2/5
The United States vs. Billie Holiday can be seen on Now TV and Sky Cinema