Morning! In the words of Glenn Frey…the heat is on! The last day of March and the temperatures are rising. However, we still all need to be careful and don't go crazy. There is still a pandemic going on. If you are nervous about going out, then may I suggest a few movies you can watch on your telly box, on Wednesday 31st March.
Stay safe, look after yourself and Happy Wednesday!
AMAZON PRIME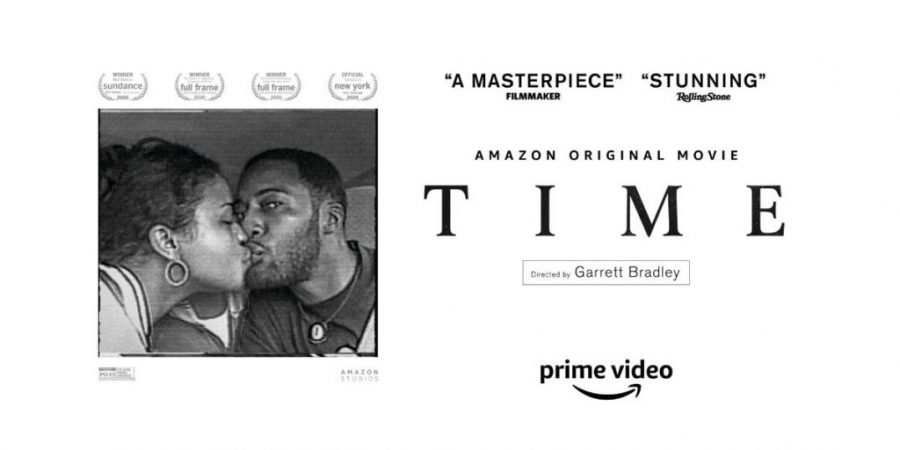 TIME (12)
Starring: Rob Rich II, Fox Rich, Freedom Rich, Justus Rich
Documentary
Fox Rich fights for the release of her husband, Rob, who is serving a 60-year sentence in prison. Powerful and moving tale of a family's struggle. Oscar nominated. Infrequent strong language, discriminatory terms.
48HRS (15)
Starring: Nick Nolte, Eddie Murphy
Thriller, Crime, Comedy
A hard-nosed cop reluctantly teams up with a wise-cracking criminal temporarily paroled to him, in order to track down a killer. Superb buddy cop thriller which was Eddie Murphy's first feature film. Strong language, violence and nudity and racist language.
NETFLIX
DIRTY DANCING (12)
9pm 5*
Starring: Patrick Swayze, Jennifer Grey
Drama, romance, music
Spending the summer at a Catskills resort with her family, Frances "Baby" Houseman falls in love with the camp's dance instructor, Johnny Castle. Hugely popular romance. Moderate sex references.
THE GIRL ON THE TRAIN (15)
Starring: Emily Blunt, Haley Bennett, Luke Evans, Rebecca Ferguson
Thriller
A woman becomes obsessed with uncovering the truth behind a person's disappearance. Based on the best selling novel with a superb performance from Emily Blunt. Strong language, sex, violence.
NOW TV
ETERNAL BEAUTY (15)
Starring: Sally Hawkins, Billie Piper, David Thewlis
Comedy, Drama, Romance
After Jane falls into a state of despair over her schizophrenia, she encounters new sources of love and life with surprising results. Another winning performance from Sally Hawkins. Strong language, mental illness theme, suicide references.
MICHAEL CLAYTON (15)
Starring: George Clooney, Sydney Pollack, Tilda Swinton, Tom Wilkinson
Crime, Drama
A law firm brings in its "fixer" to remedy the situation after a lawyer has a breakdown while representing a chemical company that he knows is guilty in a multibillion-dollar class action suit. Cracking thriller with an Oscar-winning performance from Tilda Swinton. Very strong language, strong sex references.
DISNEY+
PLANET OF THE APES (PG)
Starring: Charlton Heston, Roddy McDowell, Maurice Evans, Kim Hunter, James Whitmore
Sci-Fi, Adventure
An astronaut crew crash-lands on a planet in the distant future where intelligent talking apes are the dominant species, and humans are the oppressed and enslaved. Classic sci-fi that spawned a series of sequels and reboots. Violence, mild language and scenes that maybe upsetting.
RUTHLESS PEOPLE (15)
Starring: Danny DeVito, Judge Reinhold, Bette Midler, Anita Morris, Helen Slater
Comedy
A couple, cheated by a vile businessman, kidnap his wife in retaliation, without knowing that their enemy is delighted they did. Hilarious black comedy from the directors of Airplane. Strong language, sex, nudity, sexual references.
MOVIES ON TERRESTRIAL TV
DREAMBOAT (U)
12.15pm Talking Pictures TV
Starring: Clifton Webb, Ginger Rogers, Anne Francis, Jeffrey Hunter
Thornton Sayre, a respected college professor, is plagued when his old movies are shown on TV and sets out with his daughter to stop it. However, his former co-star is the hostess of the TV show playing his films and she has other plans. Likeable comedy from the 50s.
FLUSHED AWAY (U)
12.45pm Film4
Starring: Kate Winslet, Hugh Jackman, Ian McKellen, Andy Serkis
Comedy, Animation
The story of an uptown rat that gets flushed down the toilet from his penthouse apartment, ending in the sewers of London, where he has to learn a whole new and different way of life. Aardman animations first venture into CGI. Very mild language and sex references.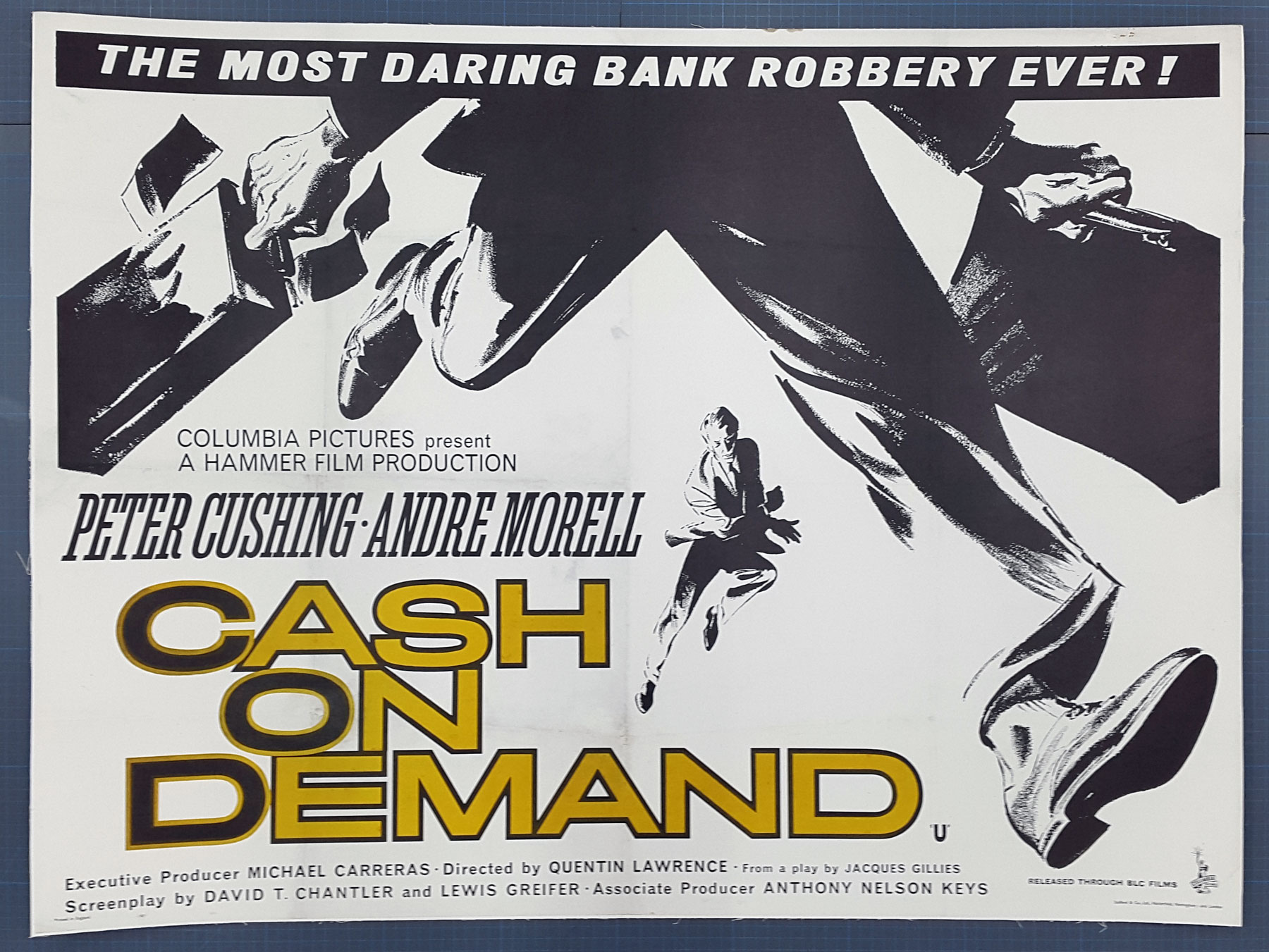 CASH ON DEMAND (PG)
2.15pm Sony Movies Classic
Starring: Peter Cushing, Andre Morrel
Crime, thriller
A charming but ruthless criminal holds the family of a bank manager hostage as part of a cold-blooded plan to steal 97,000 pounds. Hammer crime thriller. Mild threat. Black and white.
YOUNG SHERLOCK HOLMES (PG)
2.30pm Film4
Starring: Nicholas Rowe, Alan Cox, Sophie Ward, Anthony Higgins
Adventure, fantasy, mystery
When assorted people start having inexplicable delusions that lead to their deaths, a teenage Sherlock Holmes (Nicholas Rowe) decides to investigate. Inventive twist to the Sherlock Holmes stories. Frequent mild violence and some mild horror.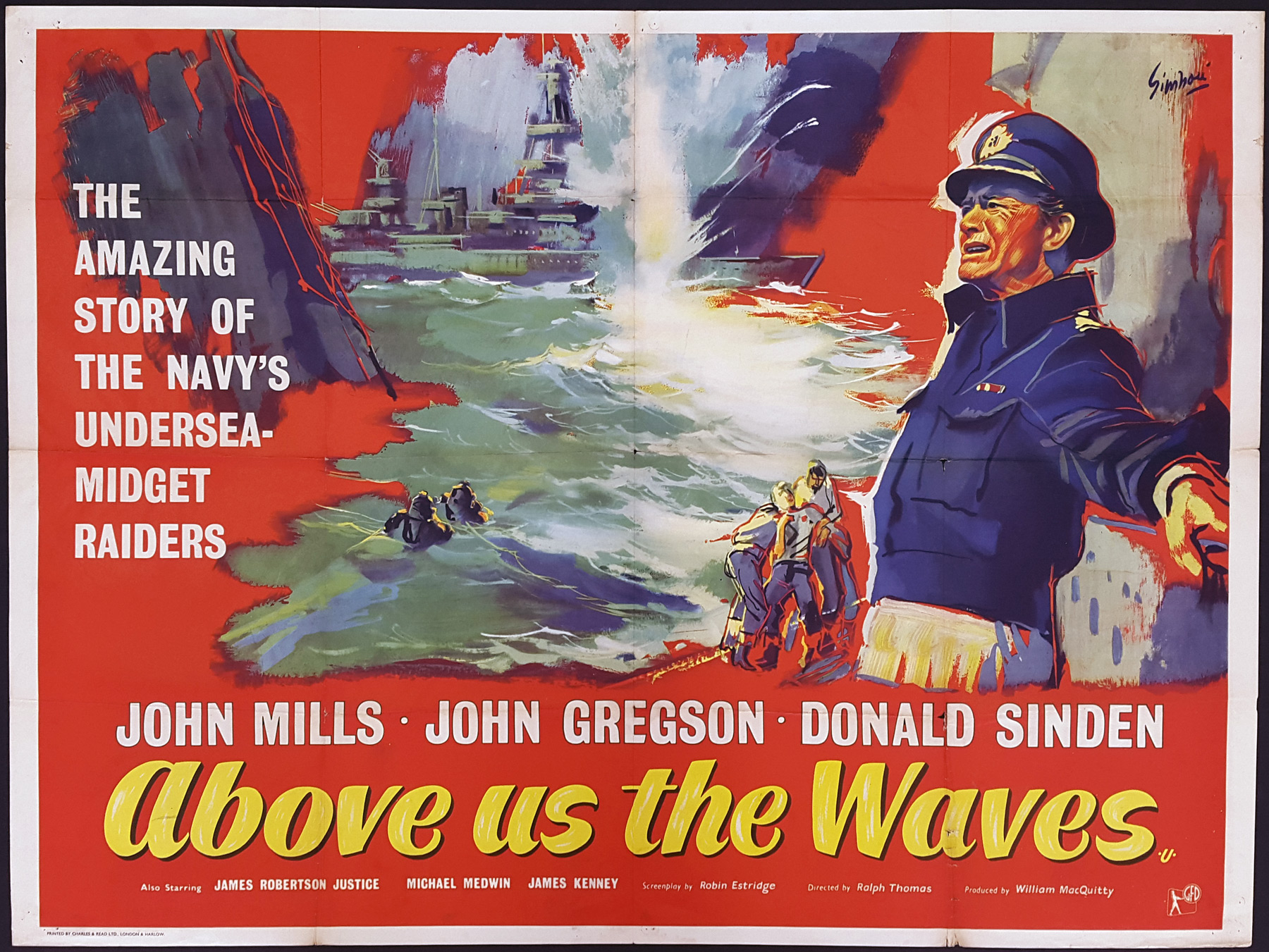 ABOVE US THE WAVES (U)
2.30pm Talking Pictures TV
Starring: John Mills, John Gregson, Donald Sinden, James Robertson Justice
War, Drama
The attack by British submarines on the German battleship "Tirpitz" in a Norwegian fjord during World War II. Tense classic British war drama. Mild violence.
YOU MUST BE JOKING (U)
2.55pm Sony Movies Classic
Michael Callan, Lionel Jeffries, Denholm Elliott, Terry-Thomas
Comedy
A motley group of soldiers are set loose in swinging London in an initiative test to collect a selection of esoteric items. Silly 60s comedy. Mild innuendo.
KING RAT (PG)
3.05pm Sony Movies Action
Starring: George Segal, Tom Courtenay, John Mills, James Fox
War, Drama
Fast-taking wheeler-dealer Corporal King (George Segal), in a Malaysian P.O.W. camp during World War II, uses bribery and larceny to take de facto control of the camp from his senior officers. Terrific P.O.W. drama with the late George Segal. Mild bad language, threat and war horror. Black and white.
STARGATE (PG)
6.40pm Film4
Starring: Kurt Russell, James Spader, Jaye Davidson
Sci-fi, action, adventure
An interstellar teleportation device, found in Egypt, leads to a planet with humans resembling ancient Egyptians who worship the god Ra. Exciting sci-fi adventure. Mild language and fantasy violence.
OUR MAN IN HAVANA (PG)
6.40pm Sony Movies Classic
Starring: Alec Guinness, Burl Ives, Maureen O'Hara
Comedy, crime, drama
Jim Wormold, who is a vacuum cleaner salesman, participates as an Agent in the British Secret Service. But he soon realizes that his plans by lying are going to get him into trouble. Classic spy drama with a strong lead. Mild sex references and language. Black and White.
HIGHLANDER (15)
9pm Horror Channel
Starring: Christopher Lambert, Sean Connery
Action, adventure, fantasy
An immortal Scottish swordsman must confront the last of his immortal opponent, a murderously brutal barbarian who lusts for the fabled "Prize". Flashy 80s action film. Strong violence, language and moderate sex.
FOUR WEDDINGS AND A FUNERAL (15)
9pm Film4
Starring: Hugh Grant, Andie MacDowell, Kristin Scott Thomas, Simon Callow
Comedy, drama
Over the course of five social occasions, a committed bachelor must consider the notion that he may have discovered love. Wonderful British comedy by Richard Curtis, that made Hugh Grant a star. Strong language and moderate sex references.
JACK REACHER: NEVER GO BACK (12)
9pm E4
Starring: Tom Cruise, Cobie Smulders
Action, Adventure, Thriller
Jack Reacher must uncover the truth behind a major government conspiracy in order to clear his name while on the run as a fugitive from the law. Tom Cruise returns as Jack Reacher in this decent sequel. Moderate violence, language, brief bloody moments.
FEAR IS THE KEY (15)
9.05m Talking Pictures TV
Starring: Barry Newman, Suzy Kendall
Action, crime, drama
A man is in radio contact with his family when their aeroplane is shot down. He wants those responsible and becomes a criminal to get a job as deep-sea diver with those salvaging the plane's cargo. Tough Alistair MacLean adaptation. Violence and language.
COP LAND (18)
10.10pm ITV4
Starring: Sylvester Stallone, Harvey Keitel, Robert De Niro, Ray Liotta
Crime, Drama, Thriller
The Sheriff of a suburban New Jersey community, populated by New York City police officers, slowly discovers the town is a front for mob connections and corruption. A brilliant performance from Sylvester Stallone in a cast of heavy-weights. Violence, strong language and brief nudity.
SENSE AND SENSIBILITY (U)
10.25pm Channel 5
Starring: Emma Thompson, Alan Rickman, Kate Winslet, Hugh Grant
Drama, romance
Rich Mr. Dashwood dies, leaving his second wife and her three daughters poor by the rules of inheritance. The two eldest daughters are the title opposites. Charming adaptation by Emma Thompson of Jane Austen's wonderful novel.
SCREAM 3 (18)
11pm 5*
Starring: David Arquette, Neve Campbell, Courteney Cox Arquette, Patrick Dempsey
Horror, Thriller
While Sidney and her friends visit the Hollywood set of Stab 3, the third film based on the Woodsboro murders, another Ghostface killer rises to terrorise them. More horror from director Wes Craven. Strong language and violence.
HURRY SUNDOWN (15)
12.15am Talking Pictures TV
Starring: Michael Caine, Jane Fonda, John Phillip Law, Diahann Carroll, Faye Dunaway
Following World War II, a northern cannery negotiates for the purchase of a large tract of uncultivated Georgia farmland. The major portion of the land 's owned by Julie Warren and has already been optioned by her unscrupulous, husband, Henry. Now the combine must also obtain 2 smaller plots. Forgotten drama with a strong cast. Violence, sexual violence, racial language.
TANGERINE (15)
11.20pm Film4
Starring: Kitana Kiki Rodriguez, Mya Taylor
Comedy, Drama
A hooker tears through Tinseltown on Christmas Eve searching for the pimp who broke her heart. Wonderful drama from the director of The Florida Project, filmed entirely on iPhones. Strong language, sex, sex references, drug use.