Morning! It's Thursday 8th April, meaning only a few days to go when lockdown will ease and non-essential shops reopen. It will be great to wander around shops again, spending money we don't have and buying things we don't really need. Something to look forward to. Back to today and here are the pick of the movie entertainment on your small screen.
Stay safe, look after yourself and Happy Thursday!
AMAZON PRIME
THE HUNT (15)
Starring: Mads Mikkelsen, Thomas Bo Larsen, Annika Wedderkopp
Drama
A teacher lives a lonely life, all the while struggling over his son's custody. His life slowly gets better as he finds love and receives good news from his son, but his new luck is about to be brutally shattered by an innocent little lie. Extremely tough drama with a fantastic performance from Mads Mikkelsen. Sexual content including a graphic image, violence and language. Subtitles.
MY MAN GODFREY (U)
Starring: William Powell, Carole Lombard, Alice Brady, Gail Patrick
Comedy, Romance
A scatter-brained socialite hires a vagrant as a family butler – but there's more to Godfrey than meets the eye. Wonderful old-fashioned screwball comedy. Black and white.
NETFLIX
HOT FUZZ (15)
Starring: Simon Pegg, Nick Frost, Timothy Dalton
Action, Adventure, Comedy
A skilled London police officer is transferred to a small town with a dark secret. Hilarious comedy from the Shaun of the Dead team. Very strong language and strong comic bloody violence.
SCHINDLER'S LIST (15)
Starring: Liam Neeson, Ben Kingsley, Ralph Fiennes
Biopic, War, Drama
In German-occupied Poland during World War II, industrialist Oskar Schindler gradually becomes concerned for his Jewish workforce after witnessing their persecution by the Nazis. Steven Spielberg's extraordinary Oscar-winning drama. Strong violence, threat, language. Black and white.
NOW TV
THE SOCIAL NETWORK (12)
Starring: Jesse Eisenberg, Andrew Garfield, Justin Timberlake
Drama, biopic
As Harvard student Mark Zuckerberg creates the social networking site that would become known as Facebook, he is sued by the twins who claimed he stole their idea, and by the co-founder who was later squeezed out of the business. A fascinating insight into the beginnings of Facebook. Infrequent strong language and drug use.
ROCKETMAN (15)
Starring: Taron Egerton, Bryce Dallas Howard, Jamie Bell, Richard Madden, Taron Egerton, Stephen Graham
Biopic, Drama, Musical
A musical fantasy about the fantastical human story of Elton John's breakthrough years. Taron Edgerton shines as Elton John in this wonderfully visceral musical drama. Drug misuse, sex, very strong language.
DISNEY+
BAD GIRLS (15)
Starring: Drew Barrymore, Andie Macdowell, Mary Stuart Masterson, Madeleine Stowe
Western, Action, Drama
When saloon prostitute Cody Zamora rescues her friend Anita from an abusive customer by killing him, she is sentenced to hang. However, Anita and their two friends Eileen and Lilly rescue Cody and the four make a run for Texas, pursued by Graves and O'Brady, two Pinkerton detectives hired to track them. Forgotten western adventure with a female twist. Moderate language and nudity.
THE POSEIDON ADVENTURE (PG)
Starring: Gene Hackman, Ernest Borgnine, Red Button, Carol Lynley, Roddy McDowell, Stella Stevens, Shelley Winters
Action, Adventure, Drama
Nine people explore a cruise ship at sea in a manner that turns their whole lives upside down. Classic disaster movie. Mild violence, language and intense scenes throughout.
MOVIES ON TERRESTRIAL TV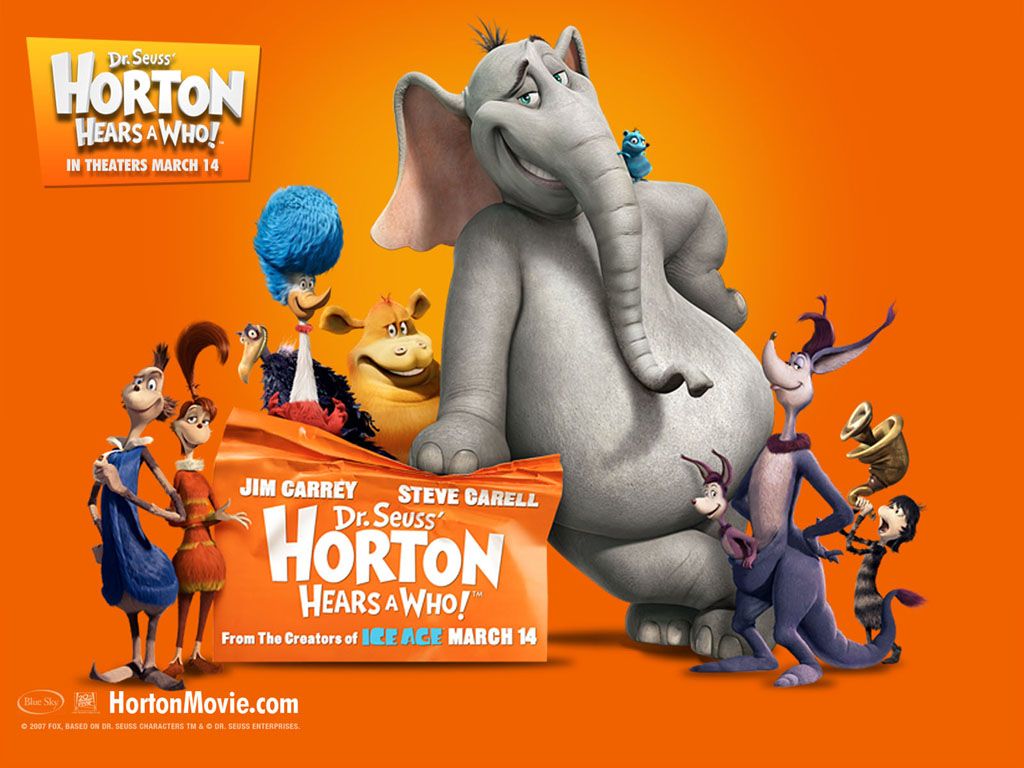 HORTON HEARS A WHO! (U)
11am Film4
Starring: Jim Carrey, Steve Carell
Animation, Comedy, Adventure
Horton the Elephant struggles to protect a microscopic community from his neighbours who refuse to believe it exists. Engaging animation of the classic Dr. Seuss story.
THE SPONGEBOB MOVIE: SPONGE OUT OF WATER (U)
12.45pm Film4
Starring: Tom Kenny, Bill Fagerbakke, Antonio Banderas
Animation, Comedy
After SpongeBob's beloved pet snail Gary is snail-napped, he and Patrick embark on an epic adventure to The Lost City of Atlantic City to bring Gary home. Crazy mix of CGI animation and live-action. A bonkers hoot. Mild slapstick violence, toilet humour.
TREMORS (12)
1pm Horror Channel
Starring: Kevin Bacon, Fred Ward
Science Fiction, Horror, Comedy
Natives of a small isolated town defend themselves against strange underground creatures which are killing them one by one. Extremely entertaining monster movie. Moderate threat, gore, infrequent strong language.
MURDERERS' ROW (PG)
1.45pm Sony Movies Classic
Starring: Dean Martin, Ann-Margret, Karl Malden
Action, adventure, comedy
Handsome top-secret American agent Matt Helm must recover a laser-weapons inventor who has been kidnapped by arch-villain Julian Wall. more spy-spoof adventures of Matt Helm. Mild violence and sexual references.
OLIVER! (U)
3.55pm Sony Movies Classic
Starring: Ron Moody, Oliver Reed, Harry Secombe, Shani Wallis, Mark Lester, Jack Wild
Musical, drama
After being sold to a mortician, young orphan Oliver Twist runs away and meets a group of boys trained to be pickpockets by an elderly mentor. Oscar-winning musical that has an amazing performance from Ron Moody. Mild violence.
TEEN WOLF (PG)
4.10pm Film4
Starring: Michael J. Fox, James Hampton
Comedy, fantasy, romance
An ordinary high school student discovers that his family has an unusual pedigree when he finds himself turning into a werewolf. Fun comedy from the 80s. Not to be confused with the recent TV series of the same name. Mild language, sex, horror and drug references.
GREASE (PG)
6.50pm 4Seven
Starring: John Travolta, Olivia Newton-John, Stockard Channing
Musical, Romance, Comedy
Good girl Sandy Olsson (Olivia Newton-John) and greaser Danny Zuko (John Travolta) fell in love over the summer. When they unexpectedly discover they're now in the same high school, will they be able to rekindle their romance? Classic 70s musical that spawned a string of hits. Frequent mild sex references and mild language.
THE RUNNING MAN (PG)
6.50pm Sony Movies Classic
Starring: Laurence Harvey, Lee Remick, Alan Bates
Thriller
An Englishman with a grudge against an insurance company for a disallowed claim fakes his own death, but is soon pursued by an insurance investigator. Carol Reed's tense thriller. Mild violence, threat, sex references, language.
THE ELEPHANT MAN (12)
9pm BBC Four
Starring: John Hurt, Anthony Hopkins, Anne Bancroft
Drama, Biopic
A Victorian surgeon rescues a heavily disfigured man who is mistreated while scraping a living as a side-show freak. Behind his monstrous façade, there is revealed a person of kindness, intelligence and sophistication. Heart-breaking drama with an award-winning performance from John Hurt. Moderate threat, upsetting scenes, injury detail. Black and White.
THE GRADUATE (15)
9pm Sony Movies Classic
Starring: Anne Bancroft, Dustin Hoffman, Katharine Ross, William Daniels
Comedy, Drama
A disillusioned college graduate finds himself torn between his older lover and her daughter. Classic sex comedy which turned Dustin Hoffman into a star. Moderate sex references, infrequent brief nudity.
UNBREAKABLE (12)
9pm Sony Movies
Starring: Bruce Willis, Samuel L. Jackson, Robin Wright
Drama, Sci-Fi, Mystery
A man learns something extraordinary about himself after a devastating accident. Superb mystery from the director of The Sixth Sense. Mature thematic elements including some disturbing violent content, and for a crude sexual reference.
COMMANDO (18)
9pm Film4
Starring: Arnold Schwarzenegger, Rae Dawn Chong
Action, Adventure, Thriller
A retired Special Forces colonel tries to save his daughter, who was abducted by his former subordinate. 80s action from Arnie. Strong violence and language.
CLIFFHANGER (15)
9pm ITV4
Starring: Sylvester Stallone, John Lithgow, Michael Rooker, Janine Turner
Action, adventure, crime
A botched mid-air heist results in suitcases full of cash being searched for by various groups throughout the Rocky Mountains. Explosive blockbuster described as Die Hard on a mountain. Strong violence and language.
AVENGERS ASSEMBLE (12)
10.45pm BBC1
Starring: Robert Downey Jr., Chris Evans, Chris Hemsworth, Scarlett Johansson, Mark Ruffalo, Jeremy Renner, Tom Hiddleston, Samuel L. Jackson, Paul Bettany, Stellan Skarsgard, Cobie Smulders, Gwyneth Paltrow
Action, Adventure, Fantasy
Earth's mightiest heroes must come together and learn to fight as a team if they are going to stop the mischievous Loki and his alien army from enslaving humanity. Rip-roaring adventure from the Marvel Cinematic Universe. Moderate fantasy violence.
OVERLORD (18)
10.50pm Film4
Starring: Jovan Adepo, Wyatt Russell, Bokeem Woodbine
War, Horror, Drama
A small group of American soldiers find horror behind enemy lines on the eve of D-Day. An imaginative yet horrific twist on the war drama. Strong bloody violence, disturbing images, language, and brief sexual content.
GET CARTER (18)
11.20pm ITV4
Starring: Michael Caine, Ian Hendry, Britt Ekland
Action, crime, thriller
When his brother dies under mysterious circumstances in a car accident, London gangster Jack Carter travels to Newcastle to investigate. Brutal British crime drama. Strong violence, language, sex, nudity.
AWAKENINGS (15)
12.50am Sony Movies Classic
Starring: Robert De Niro, Robin Williams
Biopic, Drama
The victims of an encephalitis epidemic many years ago have been catatonic ever since, but now a new drug offers the prospect of reviving them. Incredibly moving drama with two outstanding performances. Language and upsetting scenes.
THE RAID 2 (18)
1am Film4
Starring: Iko Uwais, Julie Estelle, Arifin Putra, Oka Antara, Yayan Ruhian, Donny Alamsyah
Action, Thriller
Only a short time after the first raid, Rama goes undercover with the thugs of Jakarta and plans to bring down the syndicate and uncover the corruption within his police force. Full-on action sequel with impressive fight scenes. Strong bloody violence, gore.