Director: Patrick Hughes
Starring: Ryan Reynolds, Samuel L. Jackson, Salma Hayek, Antonio Banderas, Morgan Freeman, Frank Grillo
Written by: Tom O'Connor, Brandon Murphy and Phillip Murphy
Running Time: 100 mins
Cert: 15
Release date: 14th June 2021
Last week, I reviewed "Nobody", an action film full of inventiveness and wit, and it was hugely enjoyable, regardless of the violent content and fruity language. This was how to do an exceptional action movie. But, unfortunately, the Hitman's Wife's Bodyguard is the polar opposite and shows how not to do a great action movie. In fact, from the moment this unwanted sequel to the mediocre The Hitman's Bodyguard started, you knew that this was going to be a 100-minute trudge throughout well-worn action scenes, forced humour and a script that encouraged every line to have the F-word in there somewhere.
Michael Bryce used to be a Triple-A bodyguard until hitman Darius Kincaid hired him. Suffering from excess stress, his therapist advises him to stop using guns, go on holiday and find some peace in himself. While in Italy, he is dragged into a world of violence once again by Darius's wife, Sonia, who needs Bryce to save her husband. The three find themselves caught up in an Interpol plot to capture Greek gang boss Aristotle Papadopoulos from holding the EU to ransom with the ability to destroy all computer networks.
Where do I start? First up, it's boring. It never tries to do anything different with the action sequences. We have chases on scooters, in vans, with helicopters—fights in nightclubs, in warehouses. You could quickly tick off each scene as one you have viewed in a multitude of far better action movies, mainly from Bond or Mission: Impossible.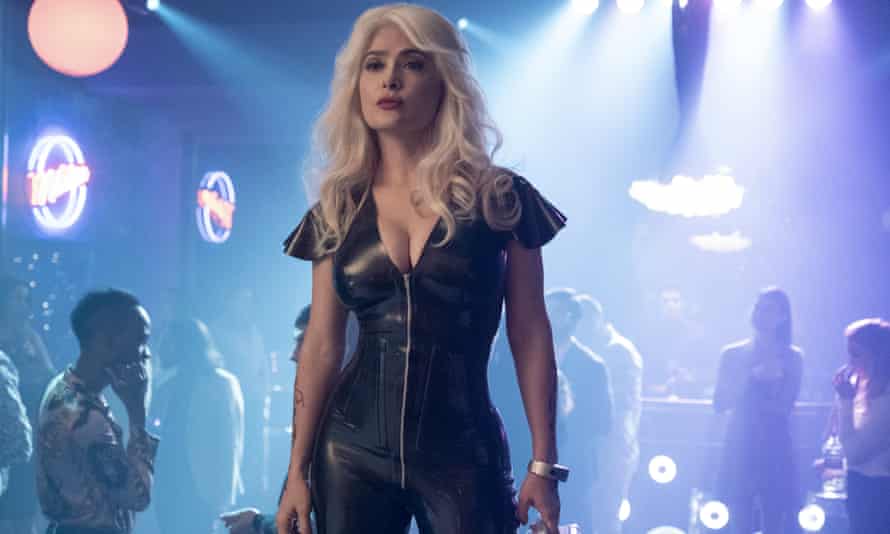 Secondly, the plot is utter nonsense. A diamond-tipped drill that can cut through titanium plates to send a deadly virus through the computer networks not only to shut down all websites but blow up power stations is something you'd expect to find 007 to be dealing with. Yes, we have a flamboyant villain, and we have a twist in which someone is playing for the other side. Tick that as seen and done before.
Even the start is a direct rip-off of both Grosse Pointe Blank and Analyse This. Bryce is suffering from nightmares involving Kincaid, and his therapist (played by Brit Rebecca Front, who is far better than this) doesn't want to deal with someone whose life is one of violence.
Anyone who remembers the first film (and to be honest, it was hardly that memorable, to begin with) will know that Bryce and Kincaid became friends by the end of the film. Here we are led to believe they hate each other once again to put a bit of spark in their buddy-buddy relationship. Yet we now have the bonus of Kincaid's wife, an ultra-violent, foul-mouthed woman who wants to be a mother. The three are somehow dragged into this plot involving Interpol and tracking down this virus. All the while, the three bicker and fight and swear…all the time! I'm not a prude, but it is never clever or big to rely on a barrage of foul language to get laughs. It shows how lazy the scriptwriters are that they cannot use wit and wordplay to create humour.
It also becomes apparent that the budget has been upped for the cast to spend the summer filming in and around Italy, which is probably why the starry cast (and it is impressive) appears. Ryan Reynolds returns as Bryce, and what the script allows him to do is a comment for every situation. Yes, it's what Reynolds does very well (see Deadpool) while Samuel L. Jackson, as Kincaid, looks utterly bored, never really trying to inject life into his character, but he does get to say his trademark MF a lot.
New additions include Morgan Freeman, who looks like he's there for a holiday and the cheque. Antonio Banderas is chewing up the scenery as the flamboyant Aristotle, and worst of all, Salma Hayek, who has proven in the past that she is a watchable leading lady, screeching at every opportunity as Sonia. It becomes increasingly grating as time slowly drags on. Even Richard E. Grant makes a brief appearance, looking as if he has been given far too much sugar.
Crass, uninventive and utter waste of a talented cast, The Hitman's Wife's Bodyguard (even the title is annoying) is a film that will hopefully go away quickly. If you want routine and familiarity, then go and see this pile of rubbish. If you want something different, give Nobody a go.
1 out of 5