Director: Justin Lin
Starring: Vin Diesel, Michelle Rodriguez, Jordana Brewster, Tyrese Gibson, Ludacris, Nathalie Emmanuel, John Cena, Charlize Theron
Written by: (also story) Justin Lin, Daniel Casey, (story) Alfredo Botello and (based on the characters created) Gary Scott Thompson
Running Time: 145 mins
Cert: 12A
Release date: 24th June 2021
It was twenty years ago that The Fast and the Furious first revved onto our screens. The B-movie action film about illegal street racing has come a long way since then. The series has gone from criminal activity on a small scale to ludicrous stunts and set pieces that define physics. Now comes F9, the ninth in the series with one spin-off and a cartoon series. Making over $6 billion, the Fast and Furious series doesn't seem to be coming to an end any sooner, but the wheels seem to be coming off on the evidence of this new entry to the franchise.
A plane crash starts a new mission for Dominic Toretto and his team, as they go in search of two parts to a sphere that, in the wrong hands, will wipe out all system networks. Thinking that the people who have taken the first part are an international terrorist group, Dominic is shocked to find that the man behind it is his younger brother, Jakob. Chasing across the world, the team are running out of time. If the sphere is complete, it will be sent to a satellite and beamed down. The team will go to no ends of the world to stop Jakob and destroy the sphere.
With each film, the action sequences have become more prominent, louder and more implausible. We've had tanks, giant safes and even a submarine to impress us. So, where can they go from here? This is the one where they end up in space. Yes, this is not a spoiler as it has already been heavily discussed, but the series has always wanted to be compared to the Bond films; well, they have become Moonraker.
The problem is that while the film starts with a bang and never stops, as one of the characters says in a running gag, they never have a scratch on them. They have become invincible. So much so that even characters who died return from the dead. Yet with this knowledge, the stunt work comes across as just a spectacle to watch, without any real jeopardy or peril. No matter who much carnage is going on around them, you know that these characters will pick themselves up and dust themselves down till the subsequent big set-piece.
This one has giant magnets, armed trucks, stealth planes that pick up cars and, more ridiculous, a vehicle that has a rocket attached to it. There's even a scene in which Dominic drives his car into the rope of a recently destroyed bridge and swings across a great cavern. However, these stunts are starting to look tired compared to previous adventures in the series. Plot-wise, it also is the weakest, as Toretto takes on his younger brother, who has a past due to a family tragedy. A brother who has always been in Dominic's shadow and so wanted to outdo him.
As usual, we are reminded that while cars and buildings are destroyed without any thought for passers-by (there never seems to be any mention of people dying in these wild chases), the most important thing is family. It almost becomes a word that means very little by the end, but we need Dominic to tell us every opportunity going.
The cast goes through the routines, never even attempting to give us character development or deep emotions. They are the same throughout every movie. Even the "guest stars" this time are less impressive. Helen Mirren makes a pointless cameo driving a speed through the streets of London, while Charlize Theron returns as Cipher, sporting a new haircut and spending her time inside a glass box. John Cena, as Jakob, is probably the weakest villain that the series has introduced, and the wrestler cannot replace the screen charisma of Dwayne Johnson.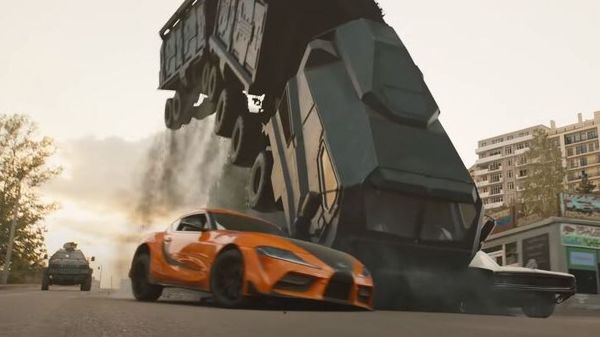 F9 has everything Fast and Furious fans will enjoy, but it feels like it needs an oil change. It will please those returning to cinemas, but you may think that it's time for something fresh, as well as keeping it down to earth.
3 out of 5