Director: Destin Daniel Cretton
Starring: Simu Liu, Awkwafina, Tony Leung, Michelle Yeoh, Meng'er Zhang, Benedict Wong
Written by: Andrew Lanham, (also screen story) Destin Daniel Cretton, Dave Callaham, (based on the Marvel comics) Steve Englehart and Jim Starlin
Running Time: 132 mins
Cert:12A
Release date: 3rd September 2021
When I was an avid Marvel comic reader during my childhood days, I remember in the 70s a comic called Master of Kung Fu. These were created when Bruce Lee was a star and all things martial arts were trendy. It told of a young man's battle with his father, Fu Manchu. What was so memorable about it was the red judo suit, the headband around Shang-Chi's thick dark hair, and a lot of high kicks and punches but no natural superpowers. What was a massive surprise to me was when they announced that Shang-Chi was the newest character in the Marvel Cinematic Universe. How would audiences take to a hero that wasn't up there with the likes of Spider-Man and Hulk? I think they will welcome him with as much affection as I did as a ten-year-old, for Shang-Chi and the Legend of the Ten Rings is a terrific entry to the franchise.
Shaun is a regular guy living in San Francisco, parking cars with his best friend, Katy. That is, until one journey to work, members of the Ten Rings attack him, a terrorist group who are after a penchant Shaun possesses. He has to come clean to Katy as they head to warn his sister, Xialing, that he is Shang-Chi, the son of a man who possesses ten rings that have made him greedy for power for hundreds of years. Returning to their homeland, Shang-Chi discovers that his father is hearing the voice of his dead wife and needs the penchants to enter a secret realm where he believes she is being held captive.
Co-writer and director Destin Daniel Cretton has taken a quite complex origins story and thrown everything at his power onto the screen to tell his fantastic tale. Dragons, spectacular set pieces, effect galore and fighting—lots and lots of fighting. Yet scrape away these tricks and treats, and underneath is a family story. Not the kind of family that Vin Diesel grunts about in every Fast & Furious movie, but a family coping with grief, coping with making the wrong decisions in life and eventually a longing to bring back what cannot return. It is a tale with a massive human heart.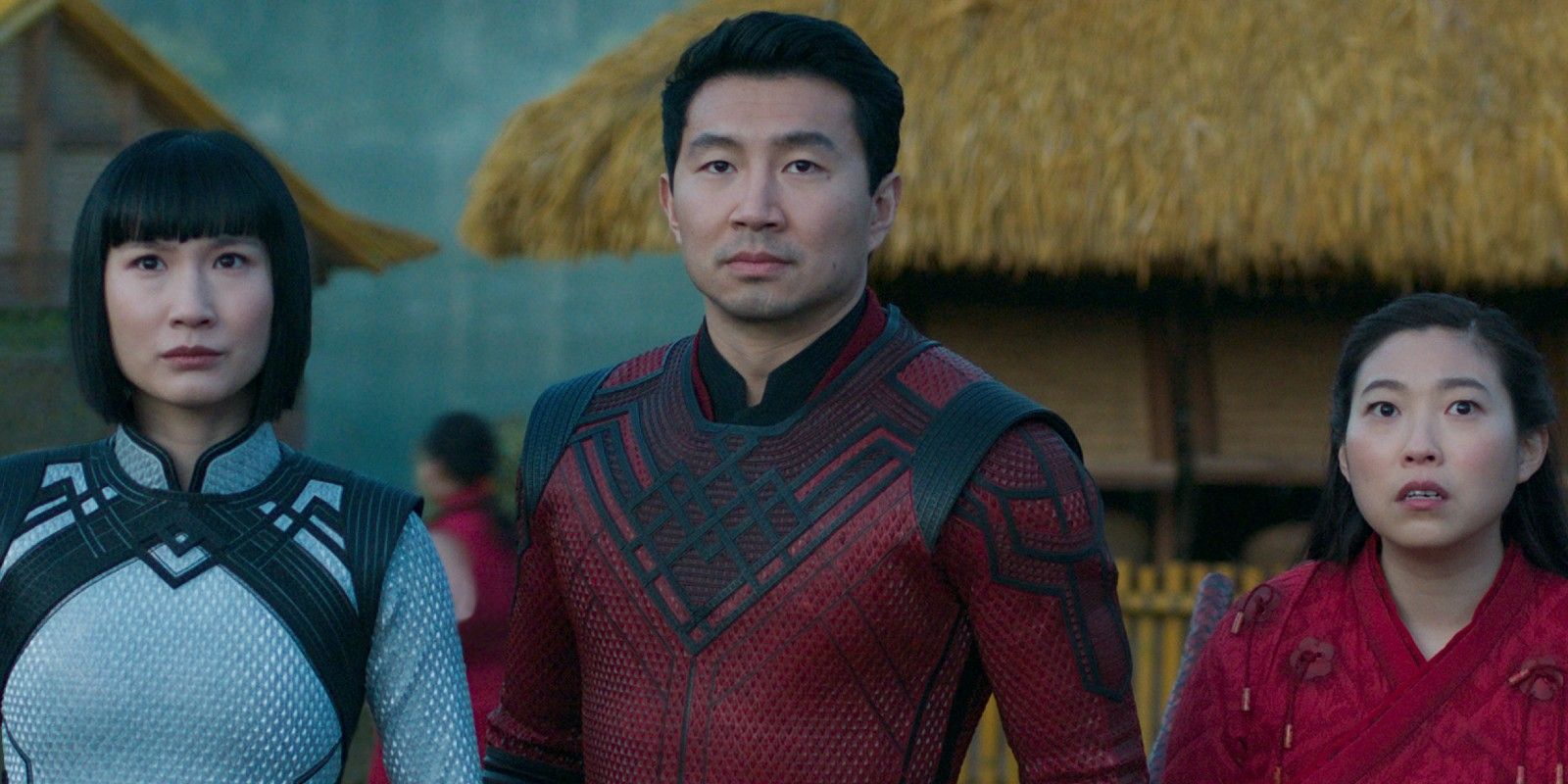 Starting with the story of the Ten Rings, an organisation led by Xu Wenwu, who had sent fear throughout the world as he demands absolute power. The weapon is the objects around his wrists that can cause death and destruction until, that is, he meets a beautiful woman who guides him away from acts of terror, producing a family. However, Xu wants his son to be physically strong, so he trains him in martial arts. Life could not be better until his wife is murdered and revenge comes forth.
Even if the plot is rich with detail and produces more rounded characters than most Marvel movies, and a villain whose motive is love lost, this scores highly in the action sequences. A fight scene on a bus, where we get to see Shang-Chi's expertise in Kung Fu, is breathtaking. An exciting, adrenaline-rush scene with the hero is having to fight a man with a giant sword as a hand, slicing up the bus and anything attached, while the bus goes out of control. It is fast-paced, exhausting, and one of the best that Marvel has produced. Yet don't think it stops there. Each fight scene gets better and more complex as it goes along.
It's also a film that borrows from other genres and movies. It evokes Crouching Tiger, Hidden Dragon, The Lord of the Rings and even Manga. Yet it also has its own identity as well as fitting comfortably in the world of Marvel. It's a clever ploy to produce the film now, the 25 in the franchise. It may be a hard sell if they had made it in the early years, but Marvel has created such a massive presence in Hollywood that they could release a movie about even lesser-known characters and still get an audience. It is precisely what they are doing with this phase. (Their next movie being Eternals).
The cast (mainly Asian) is perfect. Simu Liu has the physical presence of Shang-Chi, as well as coping well with the emotional side. He looks likes a regular guy while still managing to cope with the intense fight sequences. Tony Leung brings an air of class as his father, and it's always a treat to see Michelle Yeoh on screen. We also get some delicious cameos from past Marvel stars. Yet it is Awkwafina who steals the film with her cheeky one-liners as his best friend. A welcome addition to the MCU, we look forward to more of her and Shang-Chi.
Shang-Chi and the Legend of the Ten Rings is an exciting origins story with a little of everything to make it a near-perfect popcorn treat. It looks magnificent, it has fights that will blow your mind, and it's a bundle of fun. Stick around for even more surprises in the two post-credit sequences. Watching this, I was transported back to the 70s, and it's a nice place to be.
4 out of 5