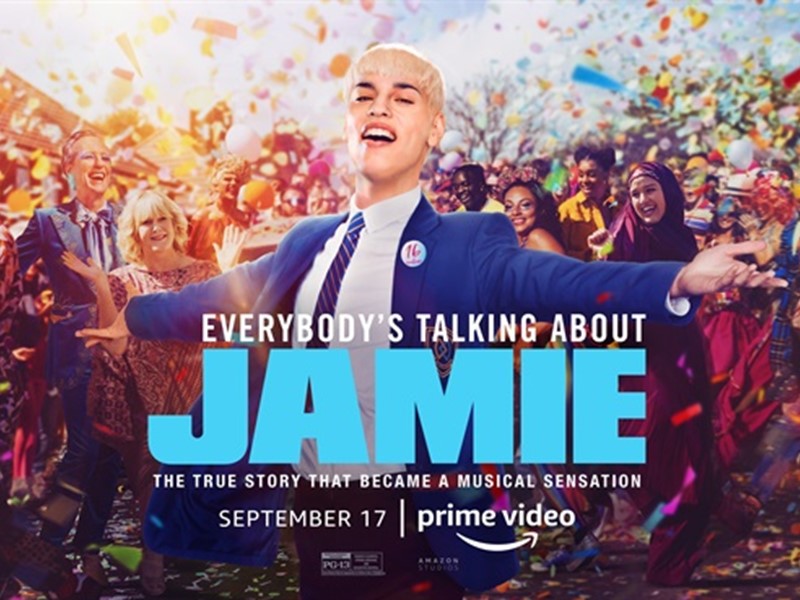 Director: Jonathan Butterell
Starring: Max Harwood, Sarah Lancashire, Lauren Patel, Richard E. Grant, Shobna Gulati, Sharon Horgan
Written by: Tom MacRae, (based on the stage musical) Jonathan Butterell and Dan Gillespie Sells
Running time: 117 mins
Cert: 12
Release date 17th September 2021
There seems to be a cinematic musical resurgence. Already this year, we had In The Heights and still to come, Dear Evan Hansen and Steven Spielberg's remake of West Side Story, with other musicals in the pipeline. Now we get the West End sensation, Everybody's Talking About Jamie. Based on the true story about a boy who decides to show his true identity, this is a heartfelt tale that certainly packs an emotional punch while uplifting and feel-good triumph.
Jamie New lives in Sheffield with his mother and is turning 16. Openly gay, he goes to a comprehensive school where he faces abuse from his classmates. While his peers' dream of being YouTube stars, Jamie's ambition in life is to be a drag queen. Not knowing where to turn, he finds a store run by Hugo Battersby, selling outfits, especially for the drag world. Allowing himself to take that first step to his dreams, Jamie decides to take it further by attending his school prom in drag, much to the horror of a by-the-book teacher.
Based on the true, inspirational story of a young man who went to his prom in drag, the first noticeable thing about this musical is how un-musical the songs are. Having not seen the stage production, it starts with a spectacular routine in which Jamie, dreaming about his future, saving up for a pair of fabulous shoes, goes from mundane classroom to colour and lights of the drag world. It's quite a stark shock from a film that captures the simple life of Sheffield, with Jamie delivering papers and going through the motions of an ordinary day. Yet this is the start of a musical that manages to come across less jazz hands and more like films such as Pride and Kinky Boots.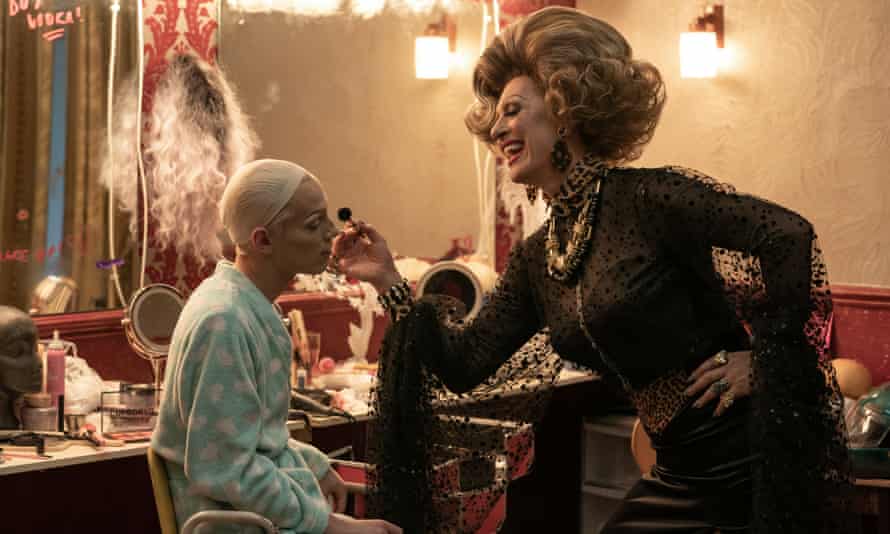 Directed by the stage creator of the show, Jonathan Butterell, with his feature debut, he isn't afraid to experiment with the look of the film. Keeping its feet firmly on the ground during the dramatic moments, the musical numbers are given attractive styles, whether from the traditional, big dance numbers to sequences with black and white or characters merging into flashbacks. One of the most compelling moments is when Hugo Battersby shares his memories with Jamie about his drag past in the 80s and coping with prejudice and the AIDS epidemic. It's also one of the high points in a film rammed with such moments.
As I said, the songs don't sound like the show-stoppers you find in most traditional musicals. Writer Dan Gillespie Sells, the lead singer of the group The Feeling, delivers catchy pop songs mixed with ballads that break your heart. What also scores high is that the film never steers away from challenging subject matters. Jamie only wants to be accepted by his estranged father, a man who refuses to accept his son isn't the football-loving, blokey bloke he would expect from a son. Yet this is never forced by some over-the-top musical number. Instead, we get a gentle ballad, with Jamie looking back to the first time he wore a dress in front of his dad. His mother, sung by there's another number called My Boy, which will break your heart.
The performances all work exceptionally well. As Jamie, newcomer Max Harwood shines. He brings plenty of pizzazz and attitude while still managing to bring heart to a young man caught up in a confusing world, where acceptance is essential. He holds the film together and holds his own even up against some screen heavyweights. Lauren Patel is a delight as Jamie's best friend, Pritti, while the rest of the young cast cope with the big musical numbers with energy and aplomb.
Sarah Lancaster, who has been a stalwart of British TV since her days on Coronation Street, gets to shine on the big screen as Jamie's doting mother, and she doesn't disappoint. She turns the role of a supportive woman into a fully-rounded character into a woman who allows Jamie to be exactly who he wants to be, even if her ex-husband wants to disown him. Her single musical moment will reduce you to tears. Richard E. Grant is as magnificent as he always is as Hugo. What is more surprising is that this is his first time in drag, and he is fabulous.
Everybody's Talking About Jamie is infectious from start to finish. It is a film that sits comfortably in the world of the feel-good dramas that British cinema does so well while keeping its own identity of a modern musical. It will have you laughing just as much as crying, and you will have a spring in your step (or in your high heels) by the end. It makes me want to rush to see the theatre version now, which is high praise.
4 out of 5
Available in selected cinemas and on Amazon Prime.