Bond is finally here and smashing box office records! We can now say that Daniel Craig has saved cinema. However, if you are not going to watch the latest adventure for 007, then how about a movie or two on TV? Here are this week's selections.
Stay safe, look after yourself and have a great week.
STREAMERS
AMAZON PRIME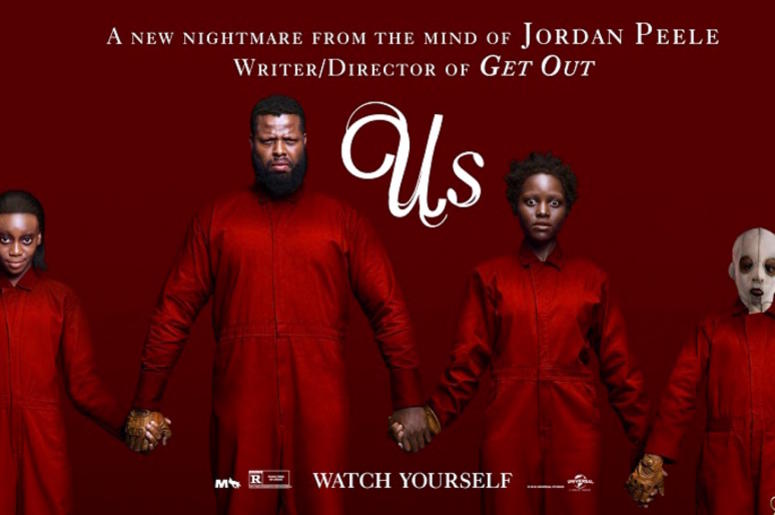 US (15)
Starring: Lupita Nyong'o, Winston Duke, Elisabeth Moss, Evan Alex, Anna Diop, Shahadi Wright Joseph
Horror, Thriller
A family's serene beach vacation turns to chaos when their doppelgängers appear and begin to terrorize them. Incredibly creepy horror from Jordan Peele. Strong language, violence, threat.
THE HELP (12)
Starring: Viola Davis, Bryce Dallas Howard, Emma Stone, Octavia Spencer Sissy Spacek, Jessica Chastain, Mary Steenburgen
Drama
An aspiring author during the civil rights movement of the 1960s decides to write a book detailing the African American maids' point of view on the white families for which they work, and the hardships they go through on a daily basis. Wonderful drama with an excellent ensemble cast. Racist language and behaviour.
NETFLIX
HALLOWEEN (15)
Starring: Jamie Lee Curtis, Donald Pleasence, P. J. Soles, Nancy Loomis, Kyle Richards, Charles Cyphers
Horror, Thriller
Fifteen years after murdering his sister on Halloween night 1963, Michael Myers escapes from a mental hospital and returns to the small town of Haddonfield, Illinois to kill again. The original slasher horror. Strong threat, violence, nudity.
FIGHT CLUB (18)
Starring: Brad Pitt, Edward Norton, Helena Bonham Carter, Meat Loaf, Jared Leto
Drama
An insomniac office worker and a devil-may-care soap maker form an underground fight club that evolves into much more. David Fincher's controversial cult favourite. Strong, graphic violence, sexual references and strong language.
NOW TV
JUDAS AND THE BLACK MESSIAH (15)
Starring: Daniel Kaluuya, LaKeith Stanfield, Jesse Plemons, Dominique Fishback, Ashton Sanders
Biopic, Drama
Offered a plea deal by the FBI, William O'Neal infiltrates the Illinois chapter of the Black Panther Party to gather intelligence on Chairman Fred Hampton. Superb biopic with an Oscar winning performance from Daniel Kaluuya. Strong language and violence.
VERTIGO (PG)
Starring: James Stewart, Kim Novak, Barbara Bel Geddes, Tom Helmore, Henry Jones, Raymond Bailey
Romance, Thriller
A former San Francisco police detective juggles wrestling with his personal demons and becoming obsessed with the hauntingly beautiful woman he has been hired to trail, who may be deeply disturbed. One of Alfred Hitchcock's finest. Mild threat and references to suicide.
DISNEY +
FREE GUY (12)
Starring: Ryan Reynolds, Jodie Comer, Lil Rel Howery, Taika Waititi, Joe Keery
Action, Adventure, Comedy
A bank teller discovers that he's actually an NPC inside a brutal, open world video game. Hugely entertaining comedy adventure. Fantasy violence, language and crude humour.
THE ROCKY HORROR PICTURE SHOW (12)
Starring: Tim Curry, Susan Sarandon, Barry Bostwick, Richard O'Brien, Patricia Quinn, Little Nell, Jonathan Adams, Meatloaf, Charles Gray
Comedy, Horror, Musical
A newly-engaged couple have a breakdown in an isolated area and must seek shelter at the bizarre residence of Dr. Frank-n-Furter. The ultimate cult musical. Moderate sex and one use of strong language.
MOVIES ON TERRESTRIAL TV
SUNDAY 3RD OCTOBER
MRS DOUBTFIRE (12)
4.15pm Channel 4
Starring: Robin Williams, Sally Field, Pierce Brosnan, Harvey Fierstein, Mara Wilson, Robert Prosky, Anne Haney, Scott Capurro
Comedy, Drama
After a bitter divorce, an actor disguises himself as a female housekeeper to spend time with his children held in custody by his former wife. Robin Williams shines in the title role. Moderate sex references, rude gestures.
BUMBLEBEE (PG)
6.45pm Film4
Starring: John Cena, Hailee Steinfeld, Jorge Lendeborg Jr, Justin Theroux, Angela Bassett
Action, Adventure, Comedy, Sci-Fi
On the run in the year 1987, Bumblebee finds refuge in a junkyard in a small California beach town. On the cusp of turning 18 and trying to find her place in the world, Charlie Watson discovers Bumblebee, battle-scarred and broken. The best of the Transformers movies. Moderate fantasy violence, mild sex references, injury detail, language.
MONDAY 4TH OCTOBER
THE MATRIX (15)
10pm ITV4
Starring: Keanu Reeves, Laurence Fishburne, Carrie Ann Moss, Hugo Weaving, Joe Pantoliano
Action, Sci-Fi
When a beautiful stranger leads computer hacker Neo to a forbidding underworld, he discovers the shocking truth–the life he knows is the elaborate deception of an evil cyber-intelligence. Impressive sci-fi adventure with amazing effects. Strong fantasy violence and language.
FUNNY COW (15)
11.50pm Film4
Starring: Maxine Peake, Paddy Considine, Tony Pitts, Stephen Graham, Kevin Eldon, Vic Reeves
Comedy, Drama
A comedian uses her troubled past as material for her stand-up routine, trying to rise up through the comedy circuit by playing Northern England's working men's clubs. Darkly comic drama with a terrific lead in Maxine Peake. Very strong language, domestic violence, strong sex references, suicide.
TUESDAY 5TH OCTOBER
INDIANA JONES AND THE LAST CRUSADE (12)
9pm Film4
Starring: Harrison Ford, Sean Connery, Alison Doody, Denholm Elliott, River Phoenix, John Rhys Davies, Julian Glover
Action, Adventure
In 1938, after his father Professor Henry Jones, Sr. goes missing while pursuing the Holy Grail, Professor Henry "Indiana" Jones, Jr. finds himself up against Adolf Hitler's Nazis again to stop them from obtaining its powers. The best of the Indiana Jones sequels. Moderate violence, horror, threat.
THE HOT ROCK (PG)
11.35pm Talking Pictures TV
Starring: Robert Redford, George Segal, Zero Mostel, Ron Liebman, Paul Sand, Moses Gunn
Action, Comedy
Dortmunder and his pals plan to steal a huge diamond from a museum. But this turns out to be only the first time they have to steal it… Fun crime caper from the writer of Butch Cassidy and the Sundance Kid. Mild violence, threat and mild language.
WEDNESDAY 6TH OCTOBER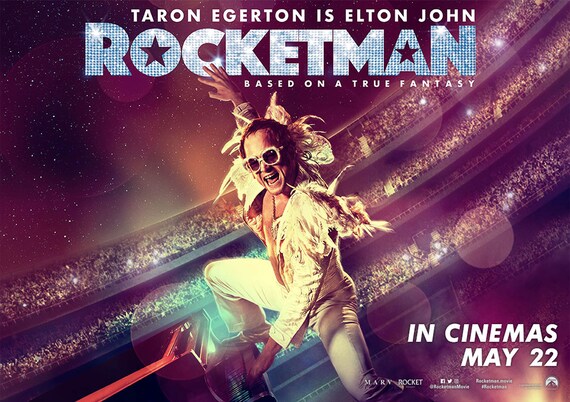 ROCKETMAN (15)
9pm 4Seven
Starring: Taron Edgerton, Jamie Bell, Richard Madden, Bryce Dallas Howard, Stephen Graham
Biopic, Drama, Fantasy, Musical
A musical fantasy about the fantastical human story of Elton John's breakthrough years. Terrific musical. Drug misuse, sex, very strong language.
JOHN WICK: CHAPTER 3 – PARABELLUM (15)
9pm Film4
Starring: Keanu Reeves, Halle Berry, Ian McShane, Jason Mantzoukas, Robin Lord Taylor, Jerome Flynn
Action, Thriller
John Wick is on the run after killing a member of the international assassins' guild, and with a $14 million price tag on his head, he is the target of hit men and women everywhere. Full-on action with the third outing of John Wick. Strong bloody violence, language.
THURSDAY 7TH OCTOBER
THE BABADOOK (15)
9pm BBC Four
Starring: Essie Davis, Noah Wiseman, Benjamin Winspear, Tiffany Lyndall-Knight, Daniel Henshall, Carmel Johnson
Drama, Horror
A single mother and her child fall into a deep well of paranoia when an eerie children's book titled "Mister Babadook" manifests in their home. One of the best horrors of the 21st Century. Strong supernatural threat, bloody images, language.
CASINO ROYALE (15)
9pm ITV4
Starring: Daniel Craig, Judi Dench, Mads Mikkelsen, Eva Green, Giancarlo Giannini, Jeffrey Wright, Caterina Murino
After earning 00 status and a licence to kill, secret agent James Bond sets out on his first mission as 007. Bond must defeat a private banker funding terrorists in a high-stakes game of poker at Casino Royale, Montenegro. Daniel Craig's first outing as James Bond. Violence, scene of torture, language, sexual content and brief nudity.
FRIDAY 8TH OCTOBER
CAPTAIN KRONOS: VAMPIRE HUNTER (15)
9.05pm Talking Pictures TV
Starring: Horst Janson, John Carson, Shane Briant, Caroline Munro, Ian Hendry
Adventure, Horror
A master swordsman and former soldier and his hunchbacked assistant hunt vampires. Underrated later entry to the Hammer Horror stable. Moderate bloody violence.
10 CLOVERFIELD LANE (12)
1.35am Film4
Starring: Mary Elizabeth Winstead, John Goodman, John Gallagher Jr.
Action, Drama, Sci-Fi
A young woman is held in an underground bunker by a man who insists that a hostile event has left the surface of the Earth uninhabitable. Impressive sequel to the sleeper hit, Cloverfield. Moderate threat, violence, infrequent strong language.
SATURDAY 9TH OCTOBER
CLOSE ENCOUNTERS OF THE THIRD KIND (PG)
3.15pm Channel 5
Starring: Richard Dreyfuss, Francois Truffaut, Melinda Dillon, Teri Garr, Bob Balaban
Drama, Sci-Fi
Roy Neary, an Indiana electric lineman, finds his quiet and ordinary daily life turned upside down after a close encounter with a UFO, spurring him to an obsessed cross-country quest for answers as a momentous event approaches. Spectacular sci-fi from Steven Spielberg. Mild bad language, scary scenes.
TRAIN TO BUSAN (15)
1.40am Film4
Starring: Yoo Gong, Soo-an Kim, Yu-mi Jeong, Dong-seok Ma, Woo-sik Choi, Ahn So-hee
Action, Horror, Thriller
While a zombie virus breaks out in South Korea, passengers struggle to survive on the train from Seoul to Busan. One of the best zombie movies ever. Strong bloody violence. Subtitled.