Director: Andy Serkis
Starring: Tom Hardy, Woody Harrelson, Michelle Williams, Naomie Harris, Reid Scott, Stephen Graham, Peggy Lu
Written by: (also story) Kelly Marcel, (story) Tom Hardy, (Marvel's Venom character created) Todd McFarlane and David Micheline
Running Time: 97 mins
CertL 15
Release date: 15th October 2021
The 2018 movie Venom was not great. Origins stories are never easy to produce, but people are always excited to see a Marvel character come to the screen and having them wait for nearly an hour didn't do the film any favours. It also took itself far too seriously, and thus, it became, sadly, forgettable. Thankfully, Venom: Let There Be Carnage doesn't repeat the errors made by the first film and is a fast-moving, funny, massively over-the-top treat.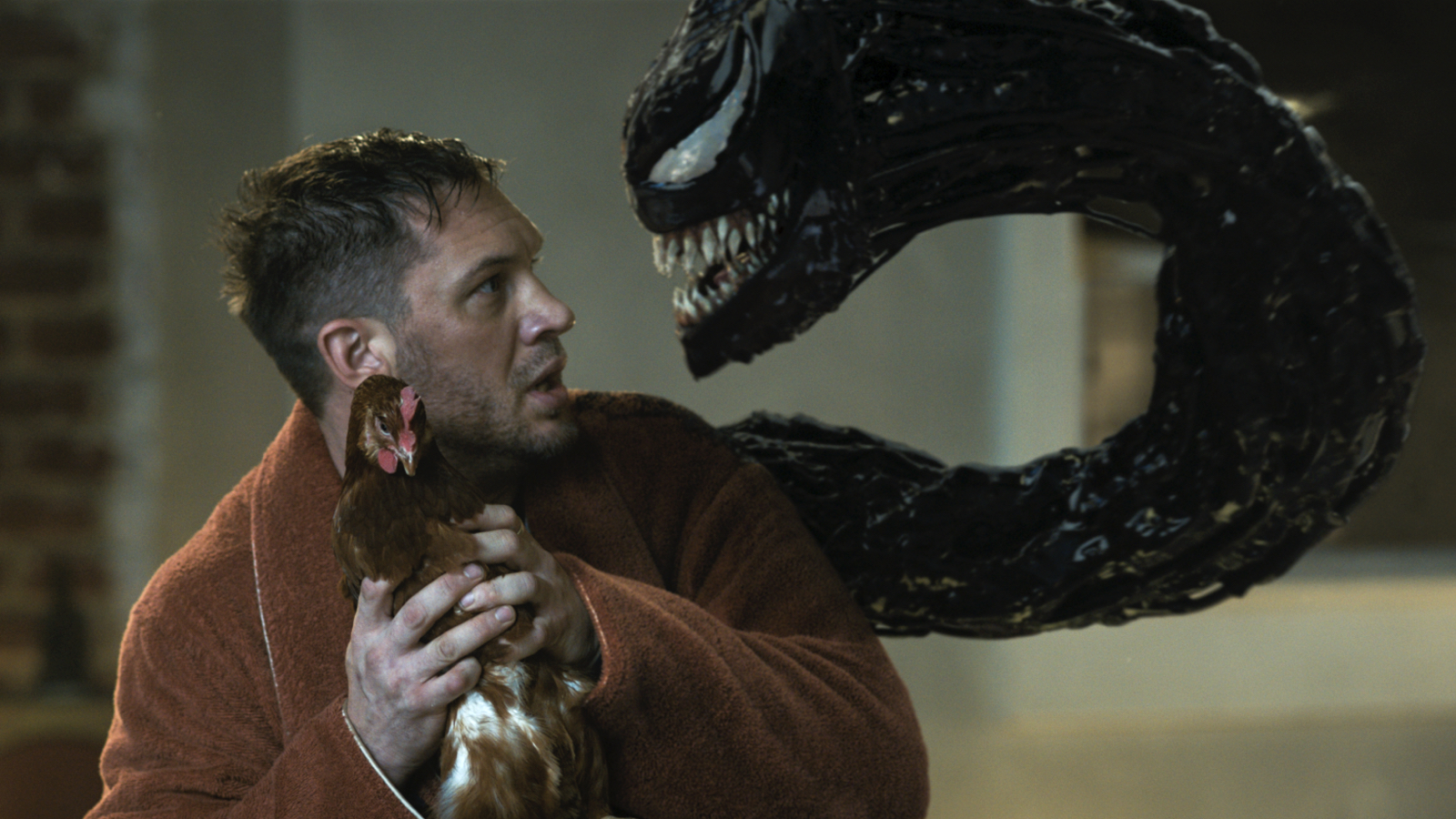 Eddie Brock, the reporter who has Venom living inside him, sees a chance to reignite his career when he gets the opportunity to interview serial killer Cletus Kasady. In a moment of madness, Kasady manages to bite Eddie, giving the killer a drop of the reporter's infected blood, which releases a new symbiote called Carnage. The new creature is a far more powerful alien, and even Venom is frightened.
Directed by Andy Serkis, this film doesn't have to explain who or what Venom is and so can go straight into the action. Yet Kelly Marcel's script, based on a story co-created by star Tom Hardy, realises humour was lacking in the first film. Having an alien inside you could prove problematic, especially when the creature loves nothing more than biting off the heads of humans. The banter between Venom and Eddie is like watching an old married couple. They constantly bicker over food and the fact that Eddie lost his love, Annie.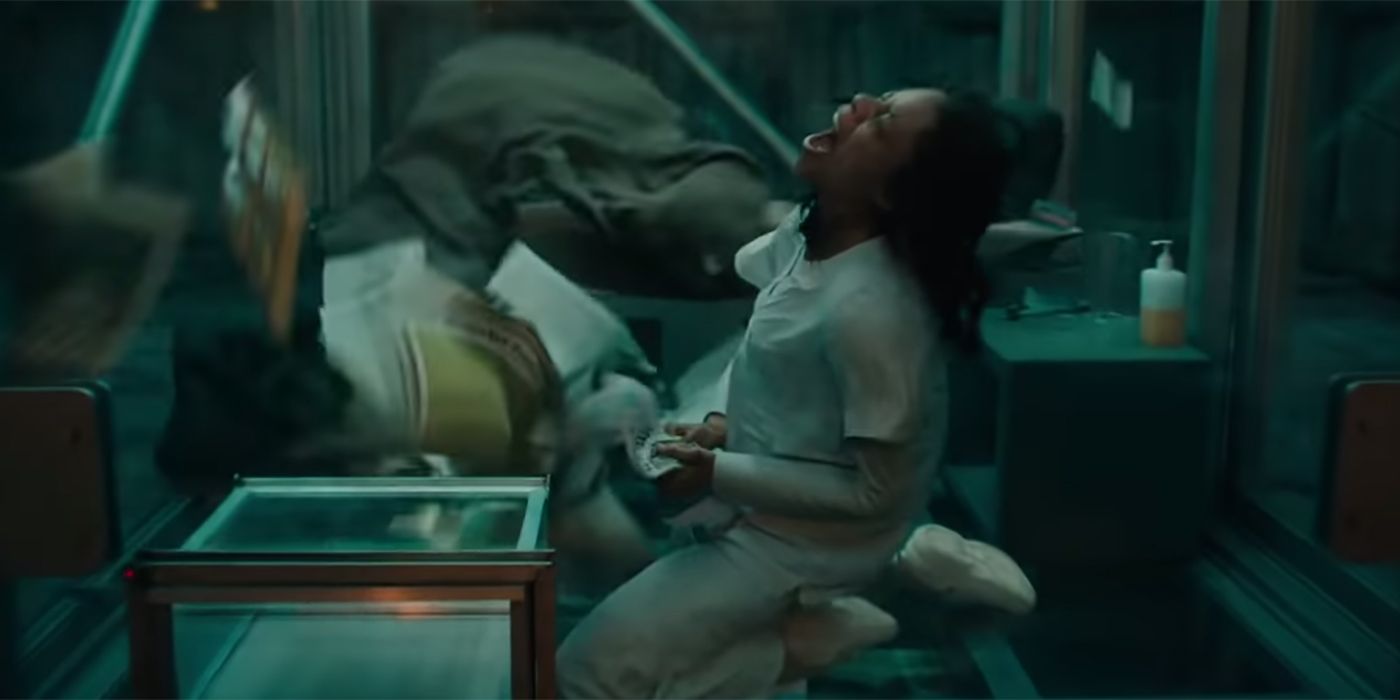 The first film had Riz Ahmed as the villain, and while he is an excellent actor, his bad guy wasn't memorable enough. Serkis and his team have upped the ante with not one but two villains this time: Francis Barrison, a woman whose scream is powerful to kill, and Cletus Kasady, a serial killer on the verge of death for his crimes. While there is a very dysfunctional love story between Francis and Cletus, it also becomes a problem when you have a creature inside you who reacts badly to loud noises.
Fun is had with Venom allowed to go alone after an argument sets the alien free searching for heads. This leads to a hilarious scene in an underground nightclub, where the attendees witness Venom, dressed in glow tubes, delivering what can only be described as a coming-out speech. Yet, with everything thrown into the plot, which leads to the effects-filled finale, this zips along at a tremendous pace. At a crisp 97 minutes, it filled each moment with something interesting, whether it be the antics of Eddie and Venom, Eddie's relationship with his ex, Annie. The cop who uses Eddie to get information from Kasady about where his victims' bodies lie. It never feels too much, and before you know it, the final act is upon you, and you're waiting for the end credit scene.
Obviously, with Serkis at the helm, the effects are much more impressive than usual. The final battle, set in a church, is breathtaking, chaotic and spectacular, bringing all the main characters in a struggle that has both Eddie and Kasady coming in and out of their respected creatures. At the same time, they bash each other with various objects from a scaffolded chapel.
Realising that the whole thing is over-the-top, then have performances that are just that. Tom Hardy, repeating the role of Eddie, does a great job of the Jekyll and Hyde relationship. He has competition, however, from Woody Harrelson, who goes complete psycho as Kasady. No one else could get away with the wild-eyed serial killer than Harrelson. Even his wiggy heir-style has a life of its own. Michelle Williams brings a level of calm as she returns as Annie. At the same time, Naomie Harris, fresh from Bond, is utterly unrecognisable as Francis, proving once again how versatile she is as an actress.
Venom: Let There Be Carnage is the perfect blockbuster movie. A film that is short and straight to the point, without ever being baggy. It's far funnier than most comedies and fans of the carnage usually found in Marvel movies will not be disappointed. Don't forget to stay for the end credits sequence (only one) which should get you even more excited to another movie coming out this year.
4 out of 5