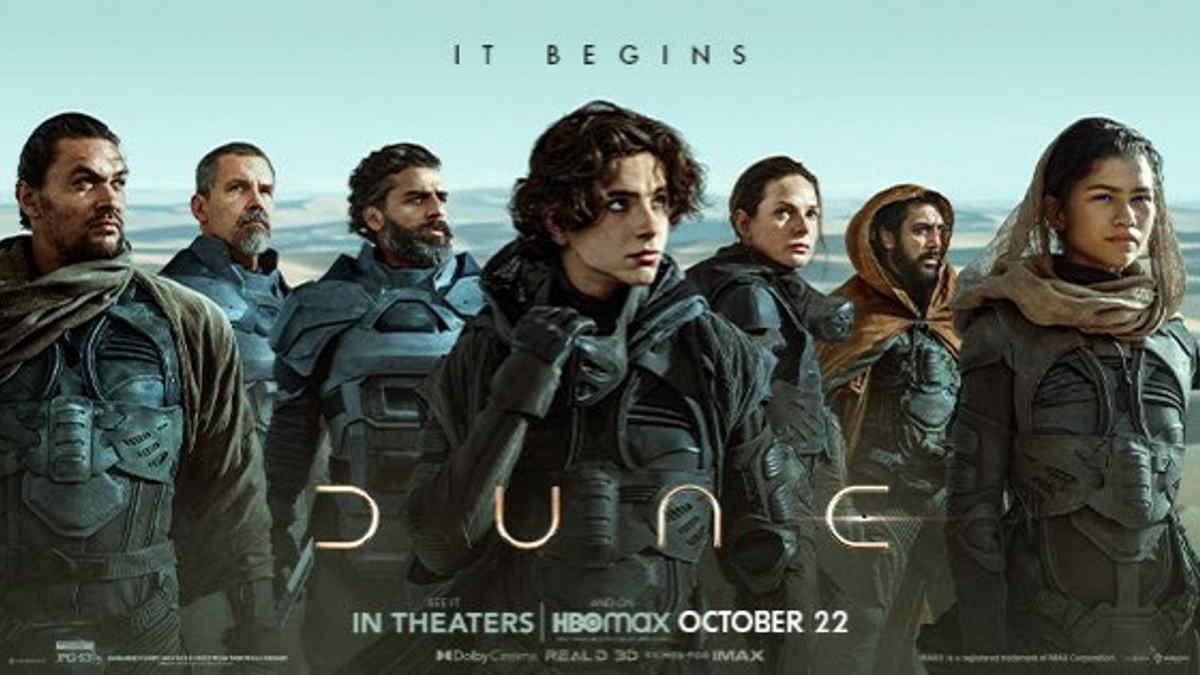 Director: Denis Villeneuve
Starring: Timothée Chalamet, Zendaya, Oscar Isaac, Rebecca Ferguson, Jason Momoa, Stellan Skargard, Josh Brolin, Javier Bardem, Dave Bautista
Written by: Jon Spaihts, Denis Villeneuve, Eric Roth and (based on the novel Dune) Frank Herbert
Running Time: 156 mins
Cert: 12A
Release date: 21st October 2021
Frank Herbert's 1965 science fiction novel, Dune, has become almost a trophy for filmmakers to attempt to turn into a movie. David Lynch tired in 1984, with a messy and confusing version. Jodorowsky's Dune was meant to be an epic adaptation, but instead, we got a fascinating documentary about a doomed production. There was even a four-hour TV mini-series in 2000. Now, Denis Villeneuve, the director of Arrival and Blade Runner 2049, has taken up the challenge and has produced one of the most astonishing movies of the year.
Paul Atreides is in line to rule a nation. Along with his family, he is sent to the planet of Arrakis to save his people and his family. A desert planet coated with spice, a valuable mineral, it soon becomes apparent that forces have set up the regal Atrides family. It is up to Paul and his mother to escape the evil Harkonnen, who plot to take the planet and its mineral for themselves, although Paul has powers that no one can explain.
Having never read Herbert's enormous novel but having witnessed the disastrous Lynch version, I went in with a bit of trepidation. I need not worry. This is an epic adventure on such a scale that you have to see it to believe. A spectacle that I haven't seen the kind of since Close Encounters of the Third Kind was first released. It's a film that demands to be seen on the biggest screen possible with the best sound, as you become completely immersed in this spectacular space opera.
Villeneuve has understood how to treat the source material and take us on a journey. You are given a glimpse of what is to come from the first scenes, as Paul dreams of a mysterious girl on a planet filled with sand. While it does take a few moments to get your head around the politics of the piece and how Arrakis is both a dangerous place but one brimming with worth, we are soon arriving on the orange world in scenes that will leave you breathless. What works exceptionally well is that Villeneuve has gone for scale. Everything is enormous while managing to give us a sense of just how big. None more so than the legendary sandworms residing underneath the planet and are brought to the surface by noise.
Noise is an essential part of this film. The soundscape is incredible, as the base shakes the cinema, while Hans Zimmer's powerful score plays an integral role as the actors and the story. It surrounds every event, every set piece. It pulls you into the story, capturing the moods exceptionally well. Sound has always been important in movies, but never has it been used so effectively.
The film, which does seem long at 156 minutes, never outstays its welcome. It zips along at a terrific pace, keeping the action moving and managing to balance the story's complexities without ever losing the audience's interest. The problem with filming the book is how it weaves from one strand of the story to the other, but Villeneuve keeps it straightforward enough to follow. Never once did it lose me, which is impressive considering the vastness of the universe it is setting out.
The visuals are a treat for the eyes. Flying across the dunes in dragonfly ships or being chased by sandworms, the effects are breathtaking. Some moments reminded me of Apocalypse Now, as the crafts dart across the sky like the helicopters witnessing the napalm explosions. The attack scene is as impressive as any war film, and the design work on the worms is incredible.
Add to the equation a mouth-watering list of actors in roles that suit them perfectly, from Oscar Isaac as the leader of the family to Stellan Skarsgard, almost unrecognisable, as the evil Baron. Yet, it is on the shoulders of Timothée Chalamet to carry the film. As Paul, he excels, giving us a young man who is both naive and yet has to cope with the pressures and power bestowed upon him. He handles it all with aplomb. Ably supported by Rebecca Ferguson as his mother, the pair is the movie's central focus and do a brilliant job.
Dune is, without a doubt, a masterpiece. A colossal story painted on an enormous canvas for us to enjoy. When people say that blockbusters are dumb, point them to this as intelligent as any arthouse movie but on a scale that will take your breath away. Dune was worth waiting for, and I cannot wait to see Dune Part Two.
5 out of 5