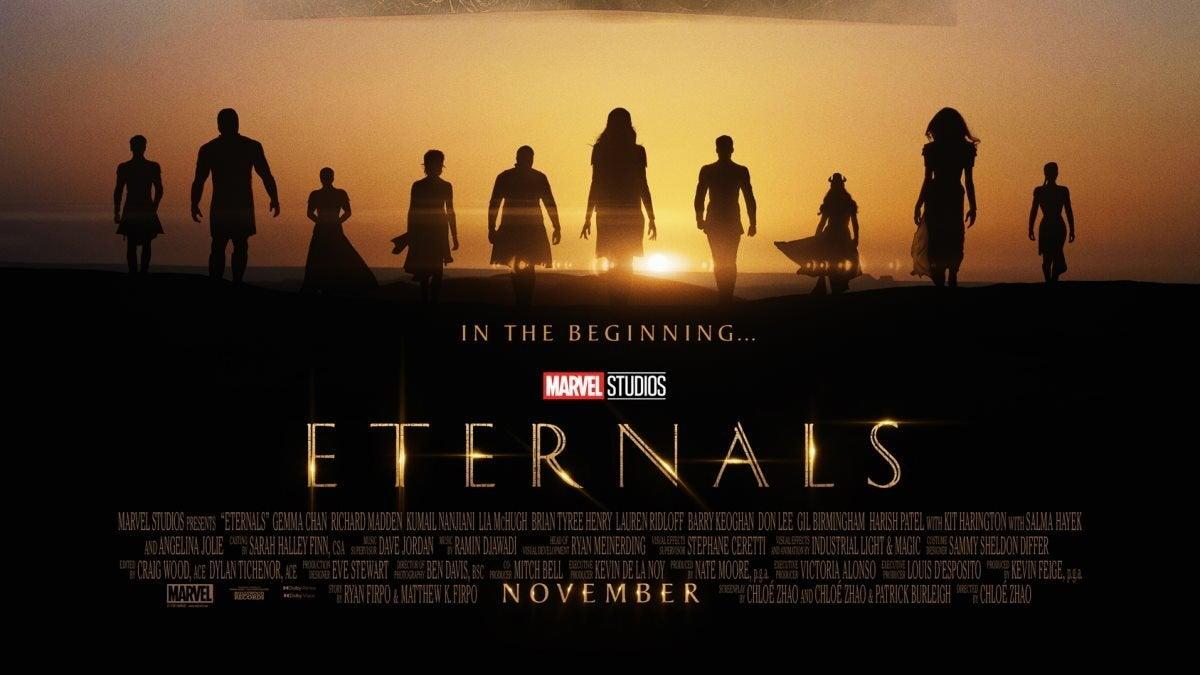 Director: Chloe Zhao
Starring: Gemma Chan, Richard Madden, Angelina Jolie, Salma Hayek, Kit Harrington, Kumail Nanjiani, Lia McHugh, Brian Tyree Henry, Lauren Ridloff, Barry Keoghan, Ma Dong-seok, Harish Patel
Written by: Chloe Zhao, Patrick Burleigh, (also screen story) Ryan Firpo, Kaz Firpo and (based on the Marvel comics) Jack Kirby
Running Time: 157 mins
Cert: 12A
Release date: 5th November 2021
The Marvel Cinematic Universe has always tried to give its audience something different, whether in style, looks, or director. The biggest coup they could have is persuading Oscar-winning independent director Chloe Zhao to come on board. Even though she made this before she walked away with the gold statue for Nomadland, her reputation as a filmmaker was already impeccable. While she is an extraordinary talent, this new entry into the MCU, Eternals, does struggle in its own battle of style over substance.
Sent to Earth by the Celestial, the Eternals are a group of superhumans given the orders to protect the planet from Deviants, alien creatures with a thirst for human blood. Living among the humans for thousands of years, they have to reform after a new threat from their enemy appears, but along with it, a better understanding of their valid reason for being on the planet.
The first thing you would expect from a Chloe Zhao movie is that it looks beautiful. Zhao has a love for panoramic shots, and we get plenty of these throughout the film. It is, without a doubt, one of the most eye-catching Marvel movies. Cinematographer Ben Davis captures the various locations with the same eye an artist would have, looking at a new landscape. There are plenty of exotic locations to take in, from the Canary Islands to the gardens of Babylon to Camden Town! All are rich with colour and wonderment for the eye to behold.
Where Zhao scores highly are in dealing with the emotional depth of characters. Nomadland was a film driven by character more than plot, and here, she tries to include this in the adventure, but this is one of the film's many hurdles. The Eternals are many, so trying to tell all their stories throughout 2 and a half hours (far too long) while including the usual smash, crash and bag of a Marvel superhero movie feels somewhat messy. These characters need to have enough time to give us backstories as we see them as part of the human race. Yet this is never really the case. For some of the characters, we get little sense of their story. Just as you are about to get a taste of their lives, we're interrupted by another fight for survival. By focusing on one of two, at least you would get some form of emotional connection.
The mythology of the Eternals is also confused. Sent to the Earth to protect the humans from the aliens, they are not allowed to interfere with human conflicts. This then leads to an explanation as to why they never became involved with the battle with Thanos. It becomes even more head-scratching when the plot turns halfway through as the Deviants reappear. With the timelines jumping throughout history and then the Eternals coming back together, it sometimes is hard to follow, especially when we get the minor character developments.
Where the film does score highly is how progressive it is compared to other Marvel movies. We get our first sex scene, which is never graphic but tries to show just how human these Inhumans are. We also get the first on-screen gay kiss as well as a deaf Eternal. These elements are enormous when it comes to including a sense of inclusivity, which can only be applauded.
The cast all do good work with the material laid before them. Angelina Jolie brings an air of class to her role of the warrior Thena, who suffers from memories that turn her into an uncontrollable fighting machine. Gemma Chan leads the cast in a quietly understated way, while Kumail Nanjiani steals the film and adds some well-needed humour to a movie that often takes itself far too seriously.
Eternals isn't a terrible film. It's ambitious and does try to move the Marvel Cinematic Universe forward. The real problem is that it also comes across as very ordinary with all the human drama and progressive ideas. We've been here before, and I'm sure it won't be the last time we are here again. Has the MCU run out of steam?
Don't forget if you see Eternals; there are two bonus scenes during the credits. One right at the end of the very long list of names has a voice to an upcoming new Marvel movie, while the first scene has a surprise piece of casting.
3 out of 5