Director: Edgar Wright
Starring: Thomasin McKenzie, Anya Taylor-Joy, Diana Rigg, Matt Smith, Terence Stamp, Rita Tushingham, Synnove Karlsen, Michael Ajao
Written by: Krysty Wilson-Cairns and (also story) Edgar Wright
Running Time: 116 mins
Cert: 18
Release date: 29th October 2021
Edgar Wright is a cinephile of the highest order. You have to watch his films to see the references to other great movies. Shaun of the Dead tips its hat to George A. Romeo; Hot Fuzz is a buddy cop thriller, while Baby Driver is a nod to 70s car chase films. Now come Last Night in Soho, a delicious mix of 60s celebration with Italian gialli. This fish-out-of-water visual treat will grip you and play with your mind while throwing you into a neon-lit world of the imagination. It's one of Wright's bravest movies to date and one of his best.
Eloise is a young girl from Cornwall who comes to London to take up a place at the London School of Fashion. Haunted by the memory of her dead mother and being bullied by the other girls at the school, Eloise moves into a bedsit in Soho. Once there, she dreams of a singer named Sandie, who wants to become a star. Ellie is drawn into her world of the 60s, through the glitz and glamour of the city until a darker, more dangerous side to London life rares its head and risks taking both Sandie and Ellie into places they don't want to go.
I am trying not to give too much away about this terrific film, for the joy is the journey. Wright and co-screenwriter Krysty Wilson-Cairns, who wrote the script for 1917, have playfully mixed genres, allowing Wright to enjoy himself as a director. Like his previous films, music plays an integral part of the storytelling, and here he uses the sounds of the 60s to convey tone, mood and, in several moments, menace. This young girl's journey takes some very unexpected turns, starting with innocent Ellie dancing to A World Without Love.
Starting with her wide-eyed arrival in London and immediately finding a far sleazier version of the city from a leering taxi driver, she faces the torment of her overly confident roommate. This forces Ellie to find refuse in a bedsit on the outskirts of Soho, run by Ms Collins. Here, she is transported back to the bright lights of the Swinging 60s, where Soho was the place to be seen. Where the film becomes too baffling is the mix of reality and fantasy. Is Ellie dreaming, or is she time travelling to help this beautiful blonde singer whose ambitions are going to be crushed by a ruthless man she thought she could trust.
The visuals are stunning. Whether it be the scene where Ellie comes face-to-face with a giant poster for Thunderball and the bright lights of the West End or the inventive use of mirrors as Ellie looks on, often helplessly, to Sandie's plight. A sinister audition, in which Sandie sings an acapella version of Downtown, sets the tone for when her dreams of singing turn into a nightmare, with Ellie in the audience unable to do anything but watch.
Wright's cinephile references are right across this film, from 60s dramas like Darling to Michael Powell's Peeping Tom, to Repulsion and finally Dario Argento's masterpiece, Suspiria. The use of colour, bright reds and blues give a feel for the latter's style. As well as using great music throughout, he manages to bring legends from the 60s also to appear. Rita Tushingham, as Ellie's grandmother and guardian, warns her of the perils of London, as if she was ignoring her advice when she starred in films like Smashing Time. Terence Stamp, dressed in a long brown coat and unkempt white hair, is terrific as the sinister stranger who seems to appear in Ellie's natural world. His rendition of the song Eloise is as unsettling as they come. As Ms Collins, the landlady to Ellie's new home, Wright has got the queen of 60s pop culture, Dame Diana Rigg, delivering another outstanding performance in her final screen appearance.
Yet, it is the young cast who set this film on fire. Thomasin McKenzie, as Ellie, is exceptional. Her wide-eyed look as she is transported back in time and finding herself caught up in a world that leads to horror is pitch-perfect. Her Cornish accent gives her more of a sense of innocence, making her seem so much more vulnerable. Anya Taylor-Joy is perfectly cast as Sandie, the girl from the past with ambitions of stardom. She glides in every scene, oozing class. Matt Smith, the former Doctor Who, brings plenty of menace as the man who takes control of Sandie life.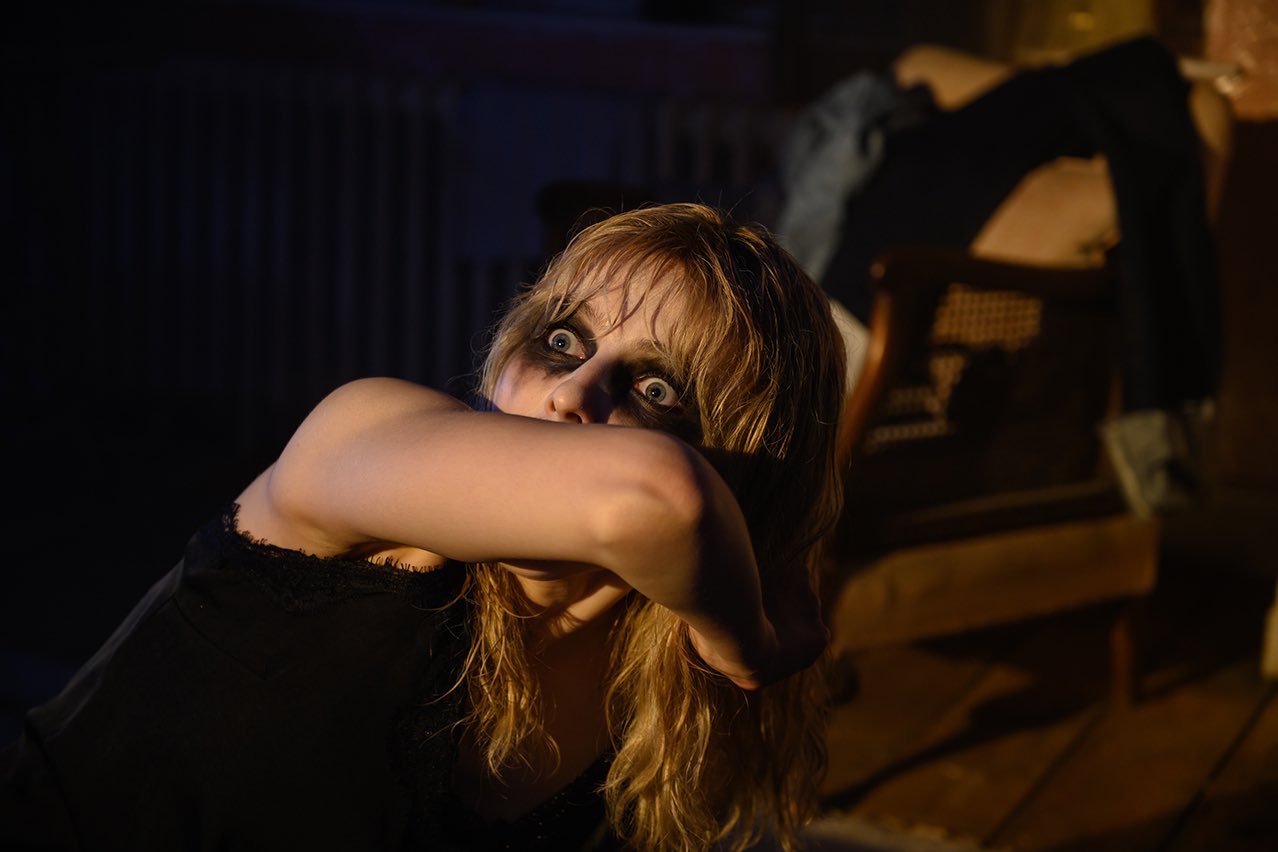 Last Night in Soho is stylish, shocking, imaginative and brutal. As a psychological horror, it ticks all the boxes. It does have its flaws where you do question characters motives, but as a well-made slice of terror, it sits well with the best of British horror. Edgar Wright has made a very brave stab at crossing genres, and for me, it worked.
4 out of 5.