Director: Clint Eastwood
Starring: Clint Eastwood, Dwight Yoakam, Eduardo Minett, Natalia Traven, Fernanda Urrejola
Written by: Nick Schenk and (also based on the novel) N. Richard Nash
Running Time: 104 mins
Cert: 12A
Release date: 12th November 2021
50 years ago, Clint Eastwood first stepped behind the camera for his feature directorial debut, the excellent psychological thriller, Play "Misty" For Me. Since then, he has built a reputation for being one of the great American film directors, with a line of impressive movies from High Plains Drifter, The Outlaw Josey Wales, Bronco Billy, and two Oscar wins for the superb Unforgiven and Million Dollar Baby. Cry Macho, his latest film, should have been the triumph to celebrate all those years. Sadly, this isn't and what we get is a film that, quite frankly, is very mediocre.
Mick Milo is a former rodeo star now working on a ranch. His boss asks him for a favour: to go to Mexico and retrieve his son, Rafo, from his wildfire wife, Leta. Milo agrees, finds the boy, and so starts their journey back to the US. With the police and one of Leta's henchmen on their back, the pair find refuge in a small Mexican village, where Mike gets a job taming wild horses and finds love in the form of a cafe owner.
Eastwood has also been an efficient, no-nonsense director who doesn't like tricks and is completely unfussy. This follows the same route with decent cinematography and a straightforward storytelling style. However, you wish Eastwood would add something special to this particular tale as this story trundles along with an old-fashioned feeling of a very hackneyed tale of the generation gap and bonding between two lost souls.
What is particularly noticeable is how convenient everything seems to fall into Milo and Rafo's lap. When Milo arrives in Mexico, he wanders into Leta's home twice, without too much trouble. Stumbles onto Rafo at an illegal cockfight, which the young boy has taken up to escape the violence of his mother's lovers and having a rooster called Macho (hence the title). All the cars in Mexico seem to be unlocked and with keys, which is handy as the old man and child escape from the police (well, avoid is more like it). Finally arriving in a Mexican village where they just so happen to find an empty church to sleep in, a cafe owner willing to give them food, and a rancher willing to give them jobs. It's all very convenient.
What really doesn't help is that there are moments when it seems Eastwood has forgotten his lines. Eastwood is known for his one-take approach to filmmaking, and here it seems more than obvious. Pauses where pauses seem out of place that makes the dialogues often seem strangely out-of-beat. Even some of the scenes that in the past Eastwood directed pieces would flow nicely seem jarring.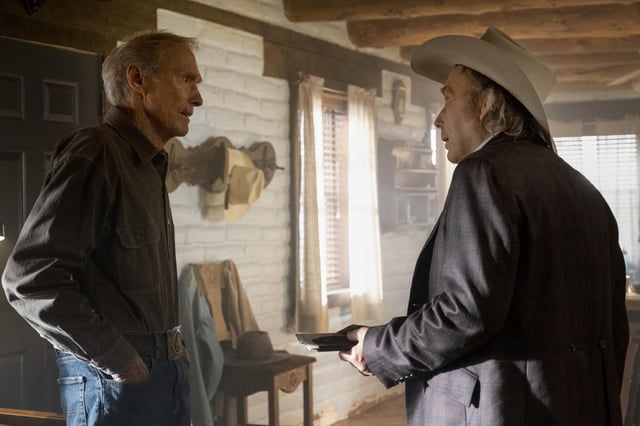 The performances don't help either. Eduardo Minett, who is supposed to be 13 but in real life is 15, looks much older, and his acting skills are somewhat limited. As Mick's love interest, the cafe owner, Natalia Traven, is fine but doesn't have to do much except smile at Mike. Eastwood still has the stature of a Hollywood leading man, but age is starting to affect his performance, and so it's sadly lacking in any of his past sparkles. It tells you something about the performances when the best thing in the movie is the cockerel!
Cry Macho isn't a terrible film; it's just very unremarkable. It lacks flair, excitement and you wonder who exactly this is aimed at. It tends to tell you that maybe Eastwood needs to stop making movies and enjoy the twilight years of his life. At 91, how much longer can he keep going?
2 out of 5