Director: Marielle Heller
Starring: Tom Hanks, Matthew Rhys, Chris Cooper, Susan Kelechi Watson, Maryann Plunkett. Enrico Colantoni, Christine Lahti, Wendy Makkena
Written by: Micah Fitzerman-Blue, Noah Harpster and (inspired by: the article "Can You Say… Hero?" by [the November 1998 Esquire Magazine article]) Tom Junod
Running Time: 109 mins
Cert: PG
Release date: 31st January 2020
Unless you are a total cinephile, the name Mr Rogers may be completely meaningless. He was beloved by millions of Americans — a children's television presenter, whose gentle manner allowed him to deal with difficult subjects. Mr Rogers tackled the questions most parents would struggle. After last year's documentary, Won't You Be My Neighbour? comes a new film from Marielle Heller, the director of Can You Ever Forgive Me? This one deals with Mr Fred Rogers, or so you think. This is more about us as humans and how we deal with everyday problems than a kindly man on TV.
Lloyd Vogel is a controversial investigative reporter for Esquire magazine. His boss tells him to write a 400-word piece on Mr Rogers, the children's presenter, for an article about heroes. Lloyd, angry with the decision, considering it as a fluff piece, takes the job and heads to the TV studio where he discovers that Mr Rogers isn't just a character, but Fred Rogers is playing himself. With his difficulties, including a new child and a father he disowned years ago, Lloyd so finds himself no longer interviewing the star but being taken on a lesson in life from the least cynical man in the world.
The first thing that strikes you about Heller's film is the way it has been filmed. Capturing the innocence and playfulness of Mr Rogers film, it starts with his famous opening song about wanting you to be his neighbour. Then moving to a photo of a battered and bruised Lloyd Vogel with Mr Rogers telling the audience that this is his new friend and he needs help.
Cut to the model town merging into the big city and Lloyd's world. Lloyd is having a rough time, with his boss wanting him to interview Mr Rogers, he feels insulted. His sister is marrying for the third time, and she has invited their father, a man who left years ago while Lloyd's mother was dying in hospital. Along with that, he has a new baby and a wife caught in the middle of this family feud. So a trip to see Mr Rogers is the last thing Lloyd wants. Yet as he meets him, he discovers that the character on the TV is the same in real life, a patient, caring man who thanks everyone, even for the smallest thing. Is he for real? Lloyd's investigative instincts are to find the truth.
Heller's movie is as gentle and as understated as the character she is focusing. It's a film made up of silences. She never allows the characters to become hysterical or, indeed, loud, and when Lloyd meets Mr Rogers, there's a calmness and quiet stillness that is perfect for this tale. In fact, in one scene, Lloyd and Fred sitting in a restaurant are played out in complete silence for well over a minute as the two characters stare at each other. A risky thing to do in a time when cinema is usually about noise and quick cuts.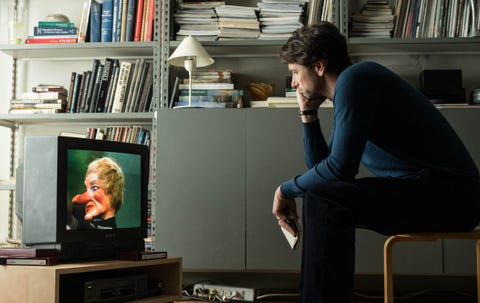 The two leads are terrific. As Lloyd, Matthew Rhys has found a role that could make him a star. Coping with a world where he is slowly losing it, he masterfully conveys a man looking for a way out and finding redemption in the form of a child's hero. It's a perfect companion piece to Tom Hanks's Mr Rogers. No one else could have played; this made it believable. He has the calm, lyrical voice, the smile that makes you feel everything is going to be alright — a perfect piece of casting indeed.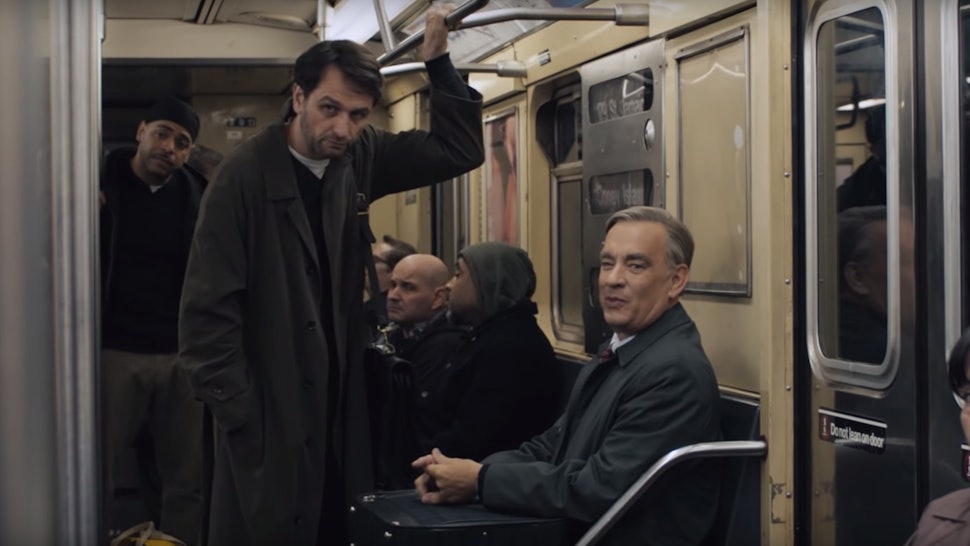 A Beautiful Day in the Neighborhood is a simple, delightful movie that allows seeing the world through the eyes of a man who genuinely cares. Imaginatively filmed, incredibly touching, you feel there is hope in this crazy world — a real charmer.
4/5