Morning!
I think we were all shocked last night when the news came through that Boris Johnson was taken into intensive care. No matter of your political leanings, I think we should all wish him a speedy recovery. Also, we said goodbye to Honor Blackman. The actress who had the cheekiest name for a Bond Girl, Pussy Galore, in the best Bond film, Goldfinger.
Back to today and a nice collection of movies for you to view. A lot of the TV companies are repeating their films throughout the week. If there is an outstanding film that you may have missed on the first screening, I will give it a second nod.
Stay safe, stay inside and Happy Tuesday!
AMAZON PRIME
TO CATCH A THIEF (PG)
Starring: Cary Grant, Grace Kelly
Thriller, Romance, Drama
A retired jewel thief sets out to prove his innocence after being suspected of returning to his former occupation. Alfred Hitchcock at his lightest with this classy crime caper. Mild violence, threat and sex references.
THE GUEST (15)
Starring: Candice Patton, Ethan Embry, Dan Stevens
Thriller
A soldier introduces himself to the Peterson family, claiming to be a friend of their son who died in action. After the young man is welcomed into their home, a series of accidental deaths seem to be connected to his presence. Underrated thriller with Downton Abbey's Dan Stevens in his first movie lead. Strong bloody violence, strong language, drug use, sexualised nudity.
NETFLIX
BOYHOOD (15)
Starring: Patricia Arquette, Ellar Coltrane, Ethan Hawke
Drama
Impressive drama from Richard Linklater, following the life of Mason, from early childhood to his arrival at college. Filmed over 12 years and winner of an Oscar for Patricia Arquette. Strong language, sex references, drug use.
THE SILENCE OF THE LAMBS (18)
Starring: Jodie Foster, Anthony Hopkins
Thriller, Horror, Drama
A young F.B.I. cadet must receive the help of an incarcerated and manipulative cannibal killer to help catch another serial killer, a madman who skins his victims. Oscar-winning horror thriller that has stood the test of time. Strong violence, gore, sex references, very strong language.
NOW TV/SKY CINEMA
THE KARATE KID (12)
Starring: Ralph Macchio, Noriyuki 'Pat' Morita, Elisabeth Shue
Drama, action
A boy and his mother move to California for a new job. He struggles to fit in, as a group of karate students starts to bully him for dating a rich girl from their clique. It's up to the Japanese landlord, Miyagi, to teach him karate. Classic 80s drama. Violence and language.
THE PARALLAX VIEW (15)
Starring: Warren Beatty, Paula Prentiss, William Daniels
Thriller
An ambitious reporter gets in way-over-his-head trouble while investigating a senator's assassination which leads to a vast conspiracy involving a multinational corporation behind every event in the world's headlines. First-rate 70s paranoia thriller. Infrequent strong language and moderate sex and violence.
DISNEY+
COCO  (PG)
Starring: Anthony Gonzalez, Gael García Bernal
Animation, Adventure
Aspiring musician Miguel, confronted with his family's ancestral ban on music, enters the Land of the Dead to find his great-great-grandfather, a legendary singer. Touching and colourful animation from Pixar. Mild threat, violence.
TURNER AND HOOCH (PG)
Starring: Tom Hanks, Mare Winningham, Craig T. Nelson
Comedy, action, thriller
A detective must adopt a rambunctious dog in order to help him find a killer. Fun action comedy with Tom Hanks and a scene-stealing dog. Mild violence, language and sex references.
MOVIES ON TERRESTRIAL TV
THE SPONGEBOB MOVIE: SPONGE OUT OF WATER (U)
11am Film4
Starring: Tom Kenny, Bill Fagerbakke, Antonio Banderas
Animation, Comedy
After SpongeBob's beloved pet snail Gary is snail-napped, he and Patrick embark on an epic adventure to The Lost City of Atlantic City to bring Gary home. Crazy mix of CGI animation and live-action. A bonkers hoot. Mild slapstick violence, toilet humour.
ICE AGE (U)
12.40pm Film4
Starring: John Leguizamo, Ray Romano
Animation, comedy adventure
Set during the Ice Age, a sabertooth tiger, a sloth, and a woolly mammoth find a lost human infant, and they try to return him to his tribe. The first and the best of the now far-too-long series. Mild peril.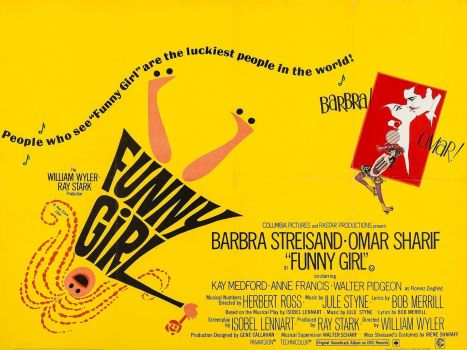 FUNNY GIRL (U)
1pm Sony Movies Classic
Starring: Barbra Streisand, Omar Sharif
Biopic, drama, comedy, musical
The life of Fanny Brice, famed comedienne and entertainer of the early 1900s. We see her rise to fame as a Ziegfeld girl, subsequent career, and her personal life, particularly her relationship with Nick Arnstein. Oscar-winning musical drama. Very mild language and innuendo.
THE MAN IN THE WHITE SUIT (U)
3.25pm BBC2
Starring: Alec Guinness, Joan Greenwood
Comedy, drama
An altruistic chemist invents a fabric which resists wear and stain as a boon to humanity, but big business and labour realize it must be suppressed for economic reasons. Cracking Ealing comedy. Black and White.
THE GAMBLER (15)
9pm Film4
Starring: Mark Wahlberg, Brie Larson, Jessica Lange, John Goodman
Drama
Literature professor and gambler Jim Bennett's debt causes him to borrow money from his mother and a loan shark. Further complicating his situation, is his relationship with one of his students. Will Bennett risk his life for a second chance? Reasonable remake of the 1976 James Caan movie. Strong language, sexualised nudity.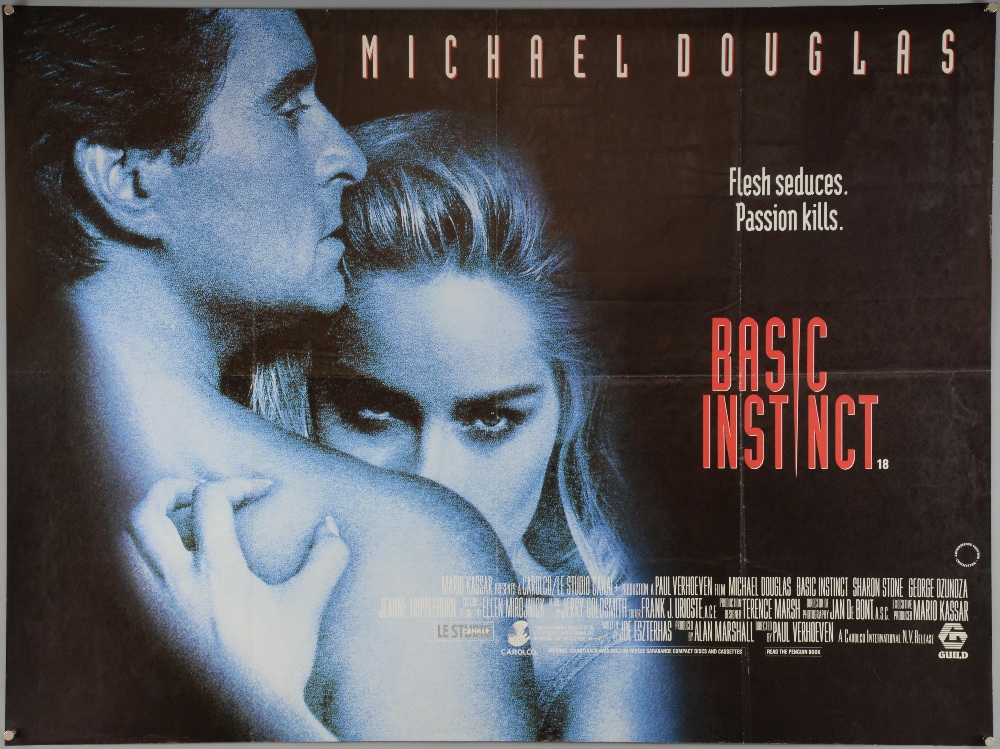 BASIC INSTINCT (18)
11pm 5*
Starring: Michael Douglas, Sharon Stone
Thriller
A violent police detective investigates a brutal murder that might involve a manipulative and seductive novelist. Infamous 90s thriller that made Sharon Stone a star. Strong language, sex and violence. Some scenes may be distressing.
MY LIFE AS A COURGETTE (PG)
1.05am Film4
Starring: Gaspard Schlatter, Sixtine Murat
Drama, Animation, Comedy
After losing his mother, a young boy is sent to a foster home with other orphans his age where he begins to learn the meaning of trust and true love. Wonderful  animation. Mild sex references, references to traumatic childhood experiences. Subtitled.