Morning!
Well, the sun has gone (in the South, it has) so that can only mean one thing…stay inside and watch a movie or two. Once again, a pretty solid list, and something for everyone.
Don't forget at 11 this morning, the nation will fall silent for a minute for those frontline workers who have lost their lives.
Stay safe, stay inside and Happy Tuesday!
HOME PREMIERES
ASTRONAUT (PG)
Starring: Richard Dreyfuss, Lyriq Bent
Drama
A lonely widower battles his family, ill health and time to win a competition for a golden ticket to space. Mild bad language, upsetting scenes.
SEA FEVER (15)
Starring: Connie Nielsen, Dougray Scott, Hermione Corfield
Drama, horror
The crew of a West of Ireland trawler, marooned at sea, struggle for their lives against a growing parasite in their water supply. Strong language, horror, injury detail.
AMAZON PRIME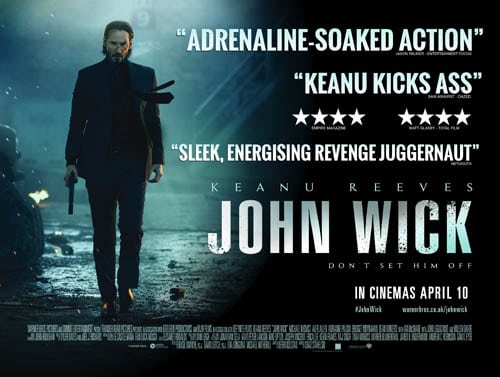 JOHN WICK (15)
Starring: Keanu Reeves, Michael Nyqvist, Alfie Allen, Willem Dafoe
Thriller, Action, Crime
An ex-hit-man comes out of retirement to track down the gangsters that killed his dog and took everything from him. High-octane action movie which reinvented Keanu Reeves as a star. Strong language, bloody violence.
THE KINGS OF SUMMER (15)
Starring: Nick Robinson, Gabriel Basso, Moises Arias
Comedy, drama
Three teenage friends, in the ultimate act of independence, decide to spend their summer building a house in the woods and living off the land. Charming and underrated coming-of-age comedy. Strong language.
NETFLIX
YOU WERE NEVER REALLY HERE (15)
Starring: Joaquin Phoenix, Ekaterina Samsonov, Alessandro Nivola
Thriller, Drama, Crime
A traumatized veteran, unafraid of violence, tracks down missing girls for a living. When a job spins out of control, Joe's nightmares overtake him as a conspiracy is uncovered leading to what may be his death trip or his awakening. Powerful and shocking drama with a superb performance from Joaquin Phoenix. Strong violence, injury detail, child sex abuse theme, language.
ERIN BROCKOVICH (15)
Starring:  Julia Roberts, Aaron Eckhart, Albert Finney
Drama, biopic
An unemployed single mother becomes a legal assistant and almost single-handedly brings down a California power company accused of polluting a city's water supply. Oscar-winning performance from Julia Roberts. Strong language.
NOW TV/SKY CINEMA
SLEEPLESS IN SEATTLE (PG)
Starring: Tom Hanks, Meg Ryan
Comedy, drama, romance
A recently widowed man's son calls a radio talk-show in an attempt to find his father a partner. Lovely rom-com with two charming leads. Mild sex references, language.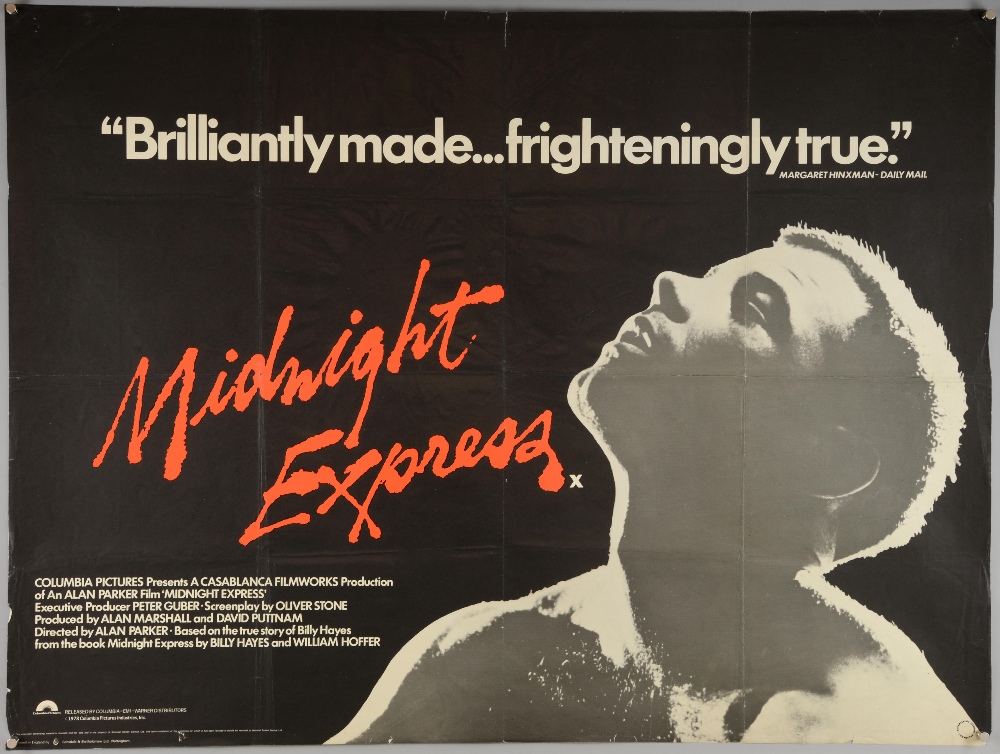 MIDNIGHT EXPRESS (18)
Starring: Brad Davis, John Hurt
Biopic, drama, crime
Billy Hayes,  an American college student, is caught smuggling drugs out of Turkey and thrown into prison. Incredibly harrowing prison drama based on a true story. Strong language, nudity, sex, sexual references, drug misuse, very strong scenes of violence, torture, intense scenes.
DISNEY+
THE ABSENT MINDED PROFESSOR (U)
Starring: Fred Macmurray, Nancy Olsen
Comedy, Fantasy
A college professor invents an anti-gravity substance which a corrupt businessman wants for himself. Charming Disney comedy from the 60s. Black and White.
RATATOUILLE (PG)
Starring: Patton Oswalt, Ian Holm
Animation, comedy, adventure
A rat who can cook makes an unusual alliance with a young kitchen worker at a famous restaurant. Enjoyable Pixar animation. Comic violence, mild bad language.
MOVIES ON TERRESTRIAL TV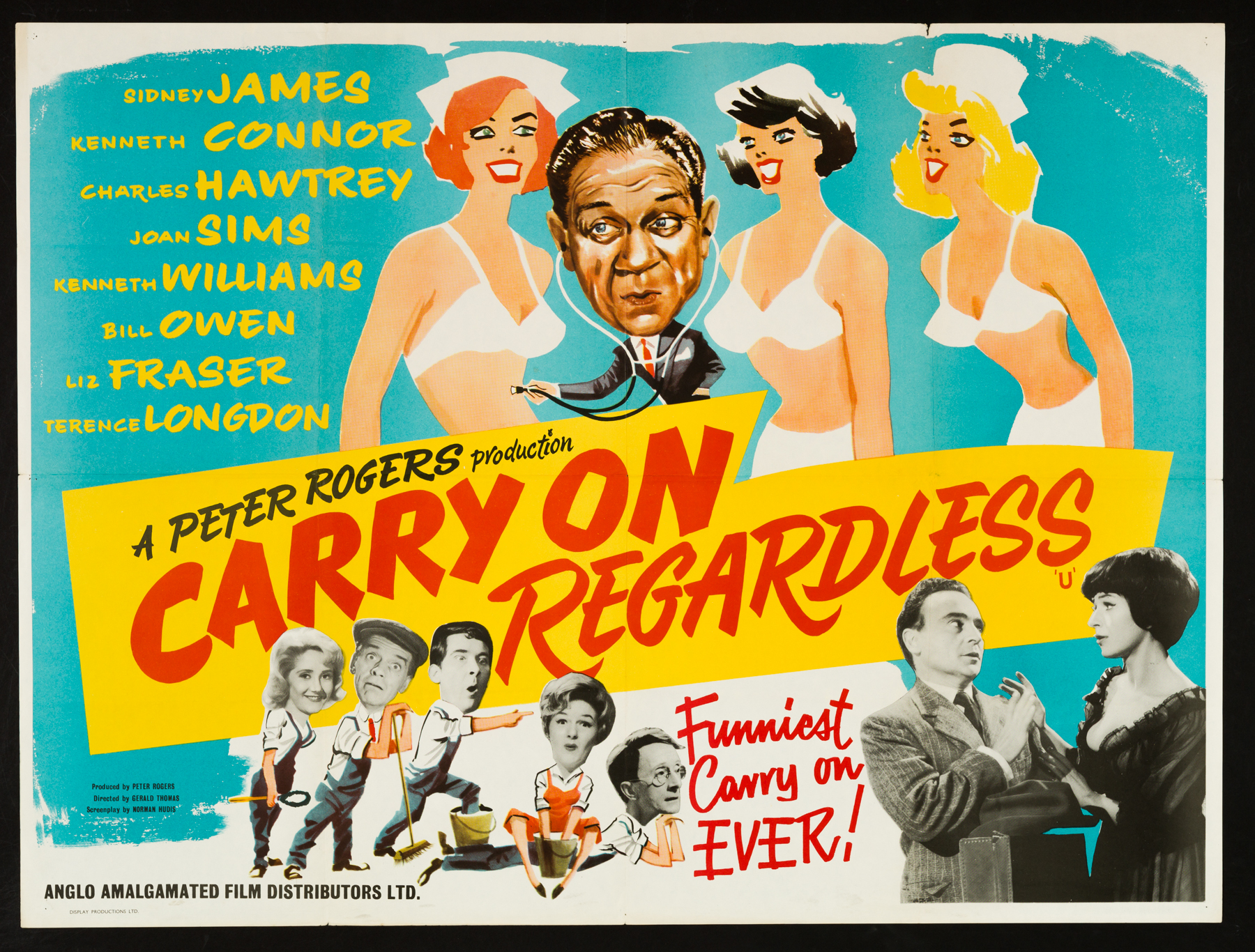 CARRY ON REGARDLESS (PG)
11am Film4
Starring: Sidney James, Kenneth Connor, Charles Hawtrey, Joan Sims, Kenneth Williams
Comedy
The Helping Hands agency employs some very strange people to perform some very strange jobs. Even the simplest of tasks get bungled by the incompetent but lovable staff. One of the better early Carry On films. Innuendo. Black and White.
THE LADYKILLERS (U)
12.50pm Film4
Starring: Alec Guinness, Cecil Parker, Herbert Lom, Peter Sellers, Danny Green, Jack Warner, Katie Johnson
Comedy, crime
Five oddball criminals planning a bank robbery rent rooms on a cul-de-sac from an octogenarian widow under the pretext that they are classical musicians. Classic Ealing comedy. Mild violence.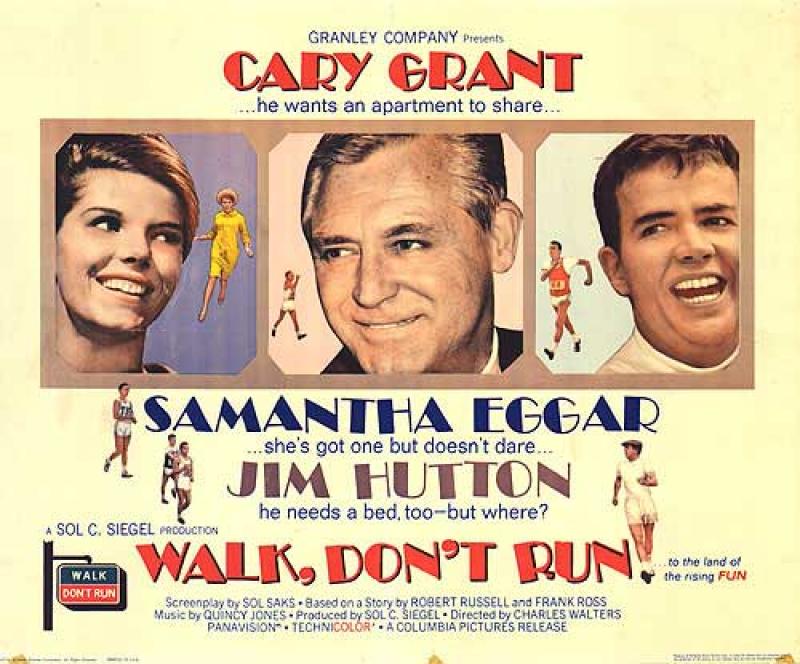 WALK, DON'T RUN (U)
1pm Sony Movies Classic
Starring: Cary Grant, Samantha Eggar, Jim Hutton
Comedy, romance
During the housing shortage of the Summer Olympic Games in 1964, two men and a woman share a small apartment in Tokyo, and the older man soon starts playing Cupid to the younger pair. 60s romantic comedy. One very mild sex reference.
ALL THAT HEAVENS ALLOWS (U)
2.40pm Film4
Starring: Jayne Wyman, Rock Hudson
Drama, romance
An upper-class widow falls in love with a much younger, down-to-earth nurseryman, much to the disapproval of her children and criticism of her country club peers. Another classic romance from Douglas Sirk.
THE WIND AND THE LION (PG)
6.35pm Sony Movies Classic
Starring: Sean Connery, Candice Bergen
Action, adventure, drama
In early twentieth-century Morocco, a Sharif kidnaps an American woman and her children, forcing President Theodore Roosevelt to send in forces to conduct a rescue mission. Moderate violence and mild language.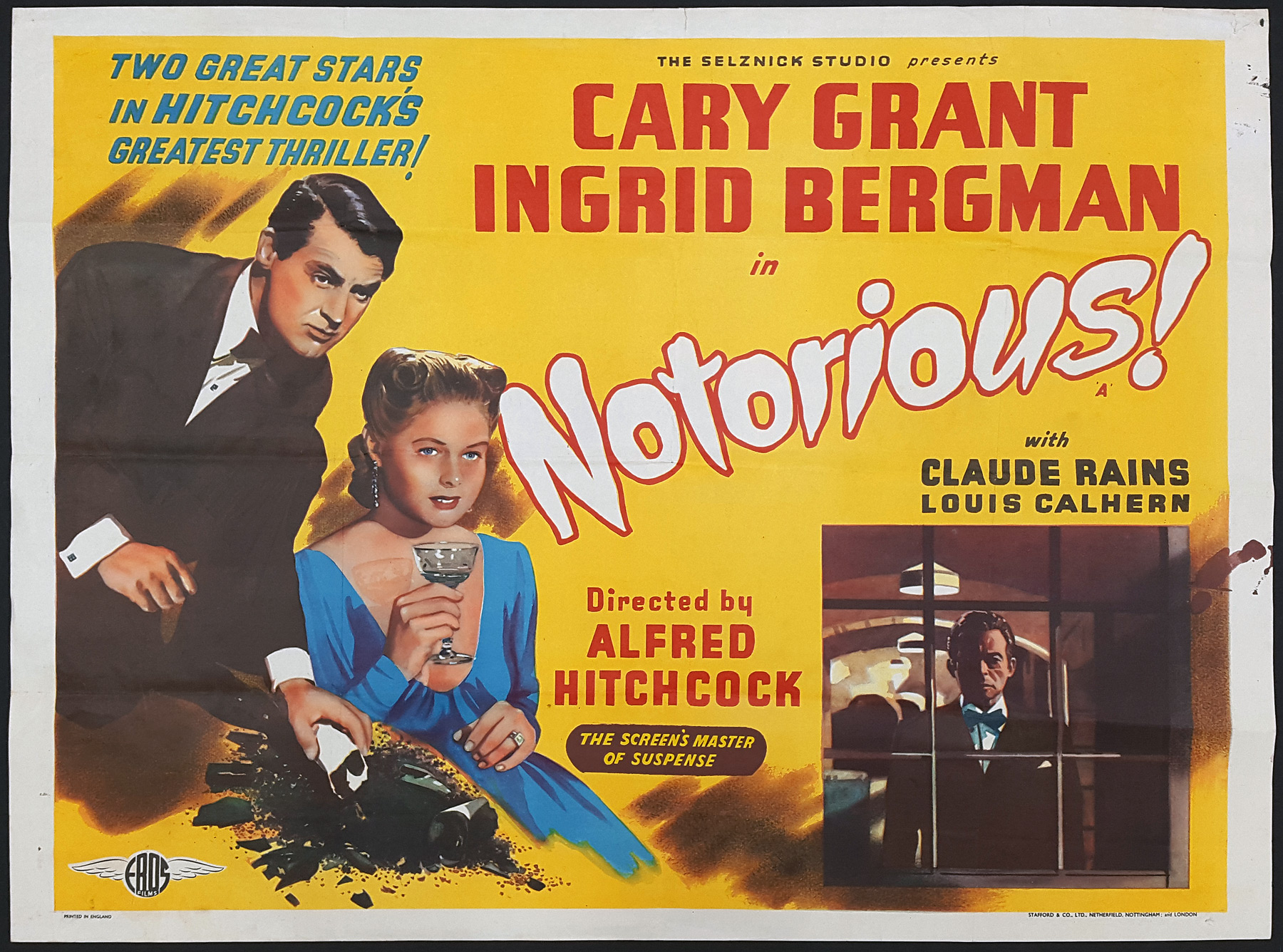 NOTORIOUS (U)
7pm Talking Pictures TV
Starring: Cary Grant, Ingrid Bergman
Thriller, romance, drama
A woman is asked to spy on a group of Nazi friends in South America. How far will she have to go to ingratiate herself with them? Classic Alfred Hitchcock thriller. Mild sex references and threat.
EVOLUTION (PG)
7.05pm Film4
Starring: David Duchovny, Julianne Moore, Orlando Jones, Seann William Scott, Dan Aykroyd
Comedy, sci-fi
A fire-fighting cadet, two college professors, and a geeky but sexy government scientist work against an alien organism that has been rapidly evolving since its arrival on Earth inside a meteor. Silly comedy from the director of Ghostbusters. Mild language, horror, and sexual references.
THE UNTOUCHABLES (15)
9pm ITV4
Starring: Kevin Costner, Sean Connery, Charles Martin Smith, Andy Garcia, Robert De Niro
Drama, Crime, Thriller
During the era of Prohibition in the United States, Federal Agent Eliot Ness sets out to stop ruthless Chicago gangster Al Capone and, because of rampant corruption, assembles a small, hand-picked team to help him. Excellent gangster thriller from Brian DePalma and an Oscar win for Sean Connery. Strong violence and strong language.
THE FACULTY (15)
10pm 5*
Starring: Salma Hayek, Famke Janssen, Piper Laurie, Christopher McDonald, Bebe Neuwirth, Robert Patrick
Horror, sci-fi
Students suspect that their teachers are aliens after bizarre occurrences. Tongue-in-cheek sci-fi horror from the director of Spy Kids. Strong language and horror.
THE GYPSY MOTHS (15)
10.55pm Sony Movies Classic
Starring: Burt Lancaster, Deborah Kerr, Gene Hackman
Action, drama, romance
Three skydivers and their travelling thrill show barnstorm through a small midwestern town one Fourth of July weekend. Exciting drama with a strong cast. Mild violence, sexual content.
ROCKY IV (PG)
11.35pm ITV4
Starring: Sylvester Stallone, Talia Shire, Burt Young, Carl Weathers, Dolph Lundgren
Drama, sport
Rocky Balboa proudly holds the world heavyweight boxing championship, but a new challenger has stepped forward: Drago, a six-foot-four, 261-pound fighter who has the backing of the Soviet Union. Rocky gets all flashy in this mid-80s edition. Infrequent moderate boxing violence, language and steroid abuse.
ONLY GOD FORGIVES (18)
12.50am Sony Movies
Starring: Ryan Gosling, Kristin Scott Thomas
Action, crime, drama
Julian, a drug-smuggler thriving in Bangkok's criminal underworld, sees his life get even more complicated when his mother compels him to find and kill whoever is responsible for his brother's recent death. Visually stunning, yet brutal thriller. Strong bloody violence including grisly images, sexual content and language.
BREAKER MORANT (PG)
2.50am Sony Movies Classic
Starring: Edward Woodward, Jack Thompson, John Waters, Bryan Brown
Drama, war
Three Australian lieutenants are court-martialed for executing prisoners as a way of deflecting attention from war crimes committed by their superior officers. Impressively acted Australian drama. Mild violence and sexual references.