Morning!
Thursday has come round again and so it's Clap the Carers/Key Workers night. This has seemed to become the norm now. Wonder if this will continue once this is all over?
Also, Happy Birthday, Captain Tom. The inspiration that we all need at this time.
Stay safe, stay inside and Happy Thursday!
AMAZON PRIME
ANALYZE THIS (15)
Starring:  Robert De Niro, Billy Crystal
Comedy
A comedy about a psychiatrist whose number one patient is an insecure mob boss. Very funny comedy with two great performances from the leads. Language, a scene of sexuality and some violence.
CONTACT (PG)
Starring: Jodie Foster, Matthew McConaughey, James Woods
Drama, mystery, sci-fi
Dr. Ellie Arroway, after years of searching, finds conclusive radio proof of extraterrestrial intelligence, sending plans for a mysterious machine. Intelligent sci-fi drama from Robert Zemeckis. Mild language, sex and horror.
NETFLIX
THE SQUARE (15)
Starring: Khalid Abdalla, Dina Abdullah
Documentary
A group of Egyptian revolutionaries battle leaders and regimes, risking their lives to build a new society of conscience. Shocking and powerful documentary. Strong language, real violence, injury detail.
MARRIED TO THE MOB (15)
Starring: Michelle Pfeiffer, Matthew Modine, Dean Stockwell
Comedy, crime, romance
An undercover FBI agent falls in love with a recently widowed mafia wife, who is trying to restart her life following her husband's murder while being pursued by a libidinous mafia kingpin seeking to claim her for himself. Forgotten comedy from the director of Silence of the Lambs. Strong language, violence and nudity.
NOW TV/SKY CINEMA
DISNEY+
DARBY O'GILL AND THE LITTLE PEOPLE (U)
Starring: Albert Sharpe, Janet Munro, Sean Connery
Adventure, fantasy
A wily old codger matches wits with the King of the Leprechauns and helps play matchmaker for his daughter and the strapping lad who has replaced him as caretaker. Charming adventure with a young Sean Connery.
SKY HIGH (PG)
Starring: Michael Angarano, Kurt Russell, Kelly Preston, Danielle Panabaker
Adventure, comedy, fantasy
Set in an era where superheroes are commonly known and accepted, young William Stronghold, the son of the Commander and Jetstream, tries to find a balance between being a normal teenager and an extraordinary being. Entertaining twist on the high school comedy. Action violence and some mild language.
MOVIES ON TERRESTRIAL TV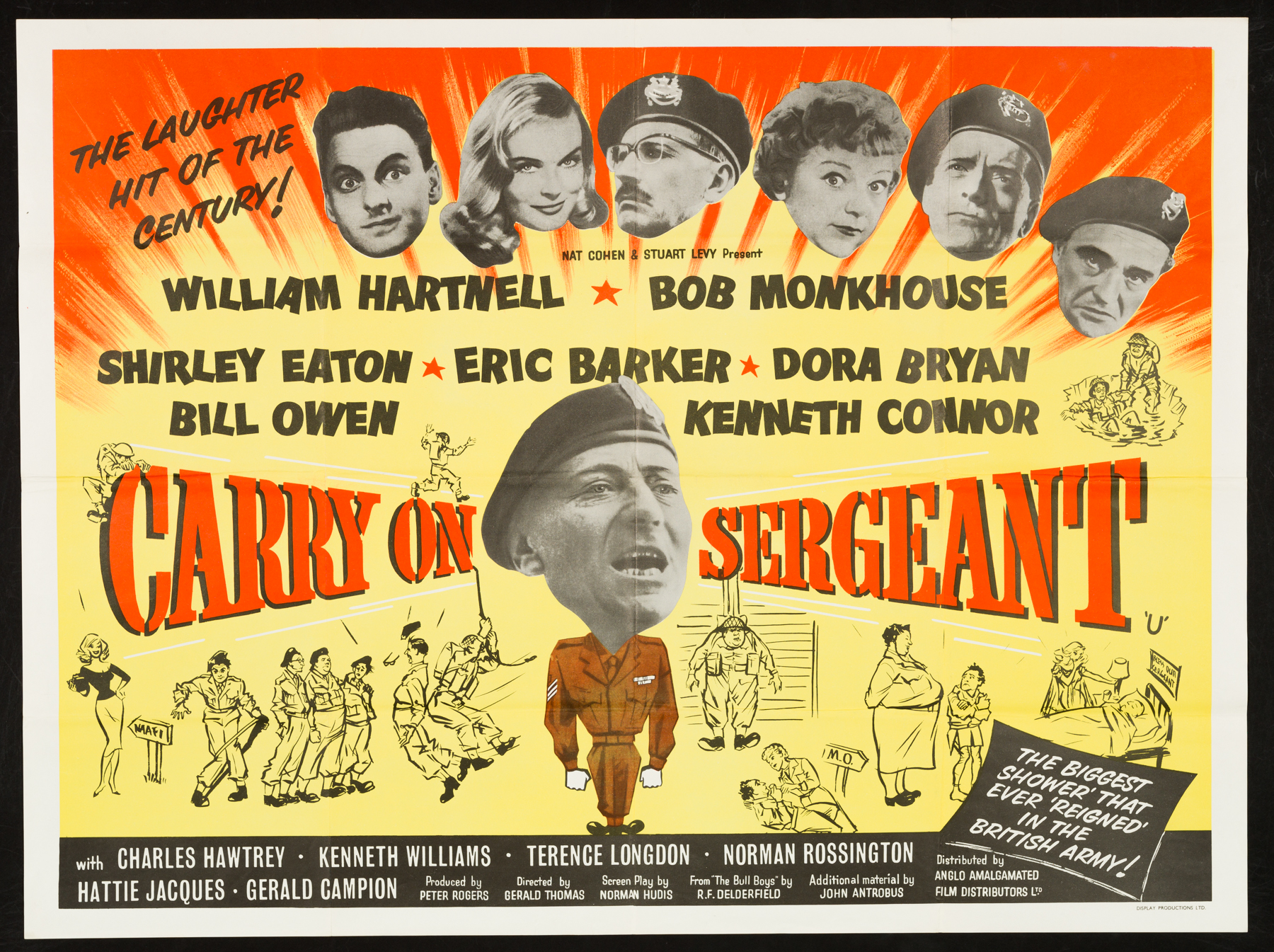 CARRY ON SERGEANT
11am Film4
Starring: William Hartnell, Bob Monkhouse
Comedy
The very first Carry On movie is a different creature to what they became. An award-winning sergeant has one last platoon to train before retirement but they turn out to be a motley crew. Black and white.
THE LAS VEGAS STORY (PG)
1.20pm Sony Movies Classic
Starring: Jane Russell, Victor Mature
Crime, drama, film-noir
The arrival in Las Vegas of a businessman and his glamorous wife creates a complex web of murder and deceit. Dark thriller from the 50s. Violence and sexual references.
FAINTHEART (12)
2.50pm Film4
Starring: Eddie Marsan, Ewen Bremner, Jessica Hynes
Comedy, drama, romance
A romantic comedy set in the world of battle re-enactments, about an irresponsible guy who has to shape up in order to win back his wife. Enjoyable British romp. Infrequent strong language and moderate sex references. May be edited for content.
BACK TO THE FUTURE PART II
4.35pm Film4
Starring: Michael J. Fox, Crispin Glover, Christopher Lloyd, Lea Thompson
Science Fiction, Adventure, Comedy
After visiting 2015, Marty McFly must repeat his visit to 1955 to prevent disastrous changes to 1985…without interfering with his first trip. Second feature is better than most regard. Mild language, violence.
COVER GIRL
4.50pm Sony Movies Classic
Starring: Rita Hayworth, Gene Kelly, Phil Silvers
Musical, comedy, romance
Rusty Parker wins a contest and becomes a celebrated cover girl; this endangers her romance with dancing mentor Danny. Bright and breezy musical comedy from the 40s.
HOTEL TRANSYLVANIA (U)
6.10pm ITV2
Starring: Adam Sandler, Selena Gomez, Steve Buscemi
Comedy, Animation
Dracula, who operates a high-end resort away from the human world, goes into overprotective mode when a boy discovers the resort and falls for the count's teenaged daughter. Crazy animated comedy perfect for the kids. Mild scary scenes and rude humour.
GREAT EXPECTATIONS (12)
8pm BBC Four
Starring: Ralph Fiennes, Helena Bonham Carter, Jason Flemyng, Ewen Bremner
Drama
A series of events change the orphaned Pip's life forever as he eagerly abandons his humble origins to begin a new life as a gentleman. Terrific adaptation of Charles Dikens' classic novel. Moderate violence and occasional gory moments.
OCEAN'S ELEVEN (12)
9pm 5*
Starring: George Clooney, Matt Damon, Andy Garcia, Brad Pitt, Julia Roberts
Crime, thriller
Danny Ocean and his ten accomplices plan to rob three Las Vegas casinos simultaneously. Enormously enjoyable crime caper with an all-star cast. Infrequent strong language, moderate sex references.
WOMEN IN LOVE (15)
9pm Sony Movies Classic
Starring: Alan Bates, Oliver Reed, Glenda Jackson, Jennie Linden
Drama, romance
Two best friends fall in love with a pair of women, but the relationships soon go in very different directions. Classic adaptation of D.H. Lawrence's novel. Strong sex and nudity.
UNBREAKABLE (15)
9pm Sony Movies
tarring: Bruce Willis, Samuel L.Jackson
Sci-fi, drama, mystery
A man learns something extraordinary about himself after a devastating accident. Terrific mystery from the director of The Sixth Sense. Mature thematic elements including some disturbing violent content, and for a crude sexual reference.
LINCOLN (12)
9pm Film4
Starring: Daniel Day-Lewis; Sally Field; David Strathairn; Joseph Gordon-Levitt; James Spader; Hal Holbrook; Tommy Lee Jones
Biopic, drama
As the American Civil War continues to rage, America's president struggles with continuing carnage on the battlefield as he fights with many inside his own cabinet on the decision to emancipate the slaves. Spielberg's impressive biopic with an Oscar-winning performance from Daniel Day-Lewis. Infrequent moderate war violence, gore and strong language.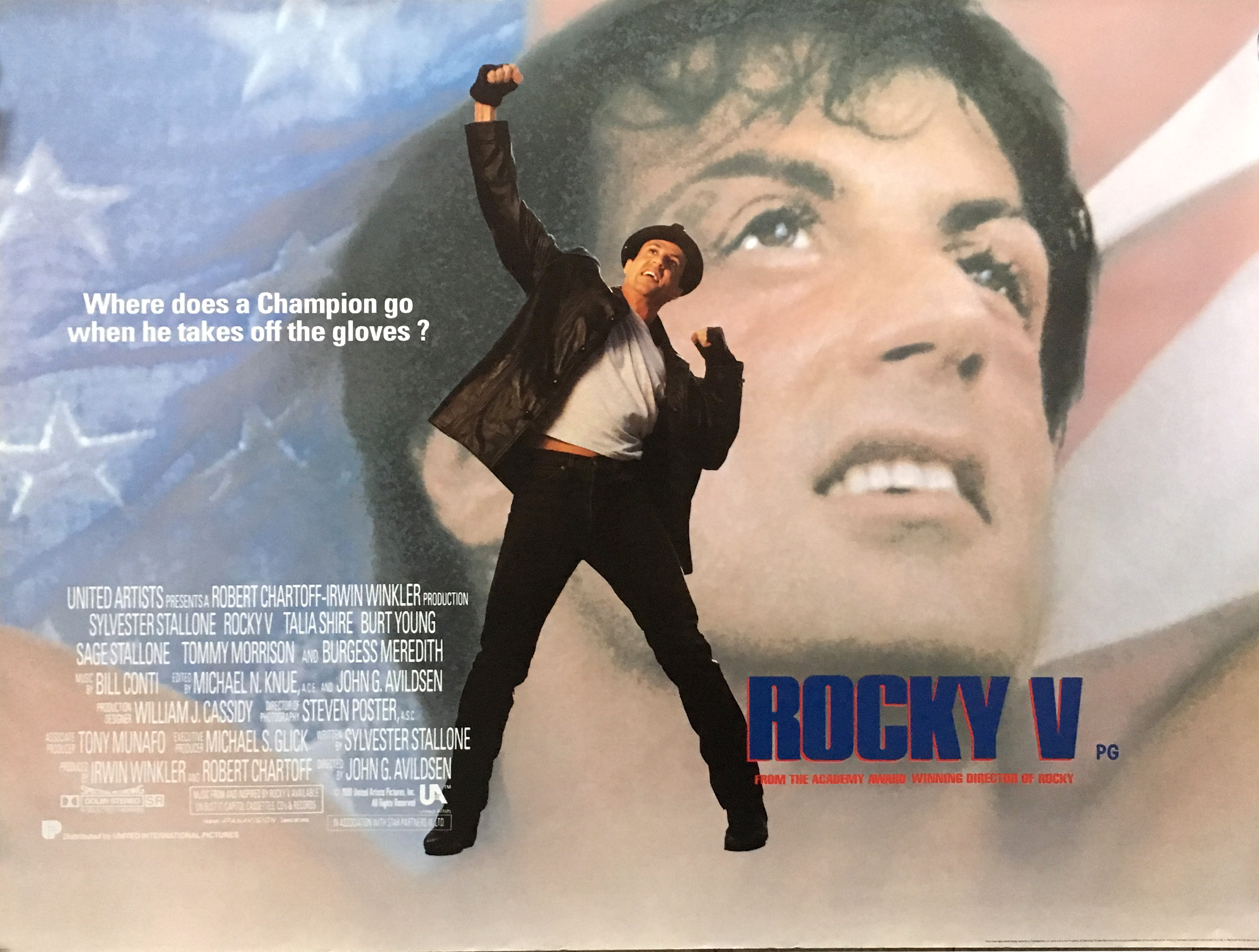 ROCKY V (PG)
9pm ITV4
Starring: Sylvester Stallone, Talia Shire, Burt Young, Sage Stallone, Burgess Meredith
Drama, sport
Reluctantly retired from boxing, and back from riches to rags, Rocky takes on a new protege who betrays him, as the champ's son must adjust to his family's new life after bankruptcy. Continuing the saga of the screen's most famous boxer. Moderate violence and mild language.
PHANTASM (15)
10.55pm Horror Channel
Starring: Michael Baldwin, Reggie Bannister
Horror
A teenage boy and his friends face off against a mysterious grave robber known only as the Tall Man, who keeps a lethal arsenal of terrible weapons with him. Cult favourite horror. Infrequent bloody horror, language and nudity.
BAD BOYS (18)
11.20pm Sony Movies
Starring: Martin Lawrence, Will Smith, Tea Leoni
Action, comedy, crime
Two hip detectives protect a witness to a murder while investigating a case of stolen heroin from the evidence storage room from their police precinct. Flashy but fun cop thriller. Violence, strong language and sex references.
DOWN AND OUT IN BEVERLY HILLS (15)
11.50pm Sony Movies Classic
Starring: Nick Nolte, Bette Midler, Richard Dreyfuss
Comedy
A rich but troubled family find their lives altered by the arrival of a vagrant who tries to drown himself in their swimming pool. Enjoyable slice of satire. Language and sexual content.
THE PASSENGER (15)
12.15am Talking Pictures TV
Starring: Jack Nicholson, Maria Schneider
Drama, thriller
A frustrated war correspondent, unable to find the war he's been asked to cover, takes the risky path of coopting the identity of a dead arms dealer acquaintance. Beautiful looking thriller. Violence, nudity, language and scene of real execution.
TRIPLE CROSS (PG)
1.45am Sony Movies Classic
Starring: Christopher Plummer, Trevor Howard
Action, adventure, drama, war
During WW2, convicted bank robber Eddie Chapman becomes a triple agent working for both the British and the Germans. Boys-own wartime drama. Language, violence and sensuality.