Morning!
Today has started off nice and warm and sunny but don't let that fool you. The cold wind is a-blowing and it is becoming very chilly. The best thing to do is stay inside and watch a movie. Plenty to choose this Sunday, so enjoy!
Stay safe, stay inside and Happy Sunday!
AMAZON PRIME
BABY MAMA (12)
Starring: Tina Fey, Amy Poehler, Sigourney Weaver, Steve Martin
Comedy
A successful, single businesswoman who dreams of having a baby discovers she is infertile and hires a working-class woman to be her unlikely surrogate. An underrated comedy with two top comic talents in the leads. Infrequent moderate sex references and language
A BIGGER SPLASH (15)
Starring: Tilda Swinton, Matthias Schoenaerts, Ralph Fiennes, Dakota Johnson
Drama, thriller
The vacation of a famous rock star and her boyfriend in Italy is disrupted by the unexpected visit of an old friend and his daughter. Impressive drama from the director of Call Me By Your Name. Strong language, sex, sex references, nudity, drug use.
NETFLIX
A SHOT IN THE DARK (PG)
Starring: Peter Sellers, Elke Sommer, George Sanders, Herbert Lom
Comedy
Inspector Jacques Clouseau investigates the murder of Mr. Benjamin Ballon's driver at a country estate. Peter Sellers returns in this first sequel to The Pink Panther. Hilarious. Mild sex references.
COLETTE (15)
Starring: Keira Knightley, Eleanor Tomlinson, Dominic West
Biopic, drama
Colette is pushed by her husband to write novels under his name. Upon their success, she fights to make her talents known, challenging gender norms. Glorious drama with a superb performance from Keira Knightley. Sexual scenes, nudity.
NOW TV/SKY CINEMA
SPEED (15)
Starring: Keanu Reeves, Dennis Hopper, Sandra Bullock
Action, adventure, thriller
A young police officer must prevent a bomb exploding aboard a city bus by keeping its speed above 50 mph. Gripping and exciting action movie and one of the 90s best. Strong violence, language and intense scenes.
SNATCH (18)
Starring:  Brad Pitt, Jason Statham, Vinnie Jones
Crime, thriller, comedy
Unscrupulous boxing promoters, violent bookmakers, a Russian gangster, incompetent amateur robbers and supposedly Jewish jewellers fight to track down a priceless stolen diamond. Terrific Guy Ritchie gangster movie. Frequent strong bloody violence & very strong language.
DISNEY+
SISTER ACT (PG)
Starring: Whoopi Goldberg, Maggie Smith, Harvey Keitel
Comedy, crime
When a worldly singer witnesses a mob crime, the police hide her as a nun in a traditional convent where she has trouble fitting in. Hugely popular comedy. Mild sex references, language, violence, threat.
THAT DARN CAT! (U)
Starring: Hayley Mills, Dean Jones
Comedy
After a kidnapped bank teller uses a neighbour's wandering cat to send an S.O.S., the F.B.I. assigns a cat-allergic Agent to the case. Entertaining family Disney comedy.
MOVIES ON TERRESTRIAL TV
HOW THE WEST WAS WON (PG)
10.50am ITV4
Starring: Carroll Baker, Lee J. Cobb, Henry Fonda
Western, drama
A family saga covering several decades of Westward expansion in the nineteenth century – including the Gold Rush, the Civil War, and the building of the railroads. Epic western with an all-star cast. Violence.
SINBAD AND THE EYE OF THE TIGER (U)
10.50am Sony Movies Classic
Starring: Patrick Wayne, Taryn Power, Jane Seymour
Action, adventure, fantasy
Sinbad The Sailor sails to deliver a cursed prince to a dangerous island in the face of deadly opposition from a powerful witch. Fun family fantasy with great effects from Ray Harryhausen. Mild violence, language and peril.
ANIMAL FARM (U)
11am Film4
Starring: Gordon Heath, Maurice Denham
Animation, drama
A successful farmyard revolution by the resident animals vs. the farmer goes horribly wrong as the victors create a new tyranny among themselves. Animated version of George Orwell classic novel. Very mild violence and intense moments.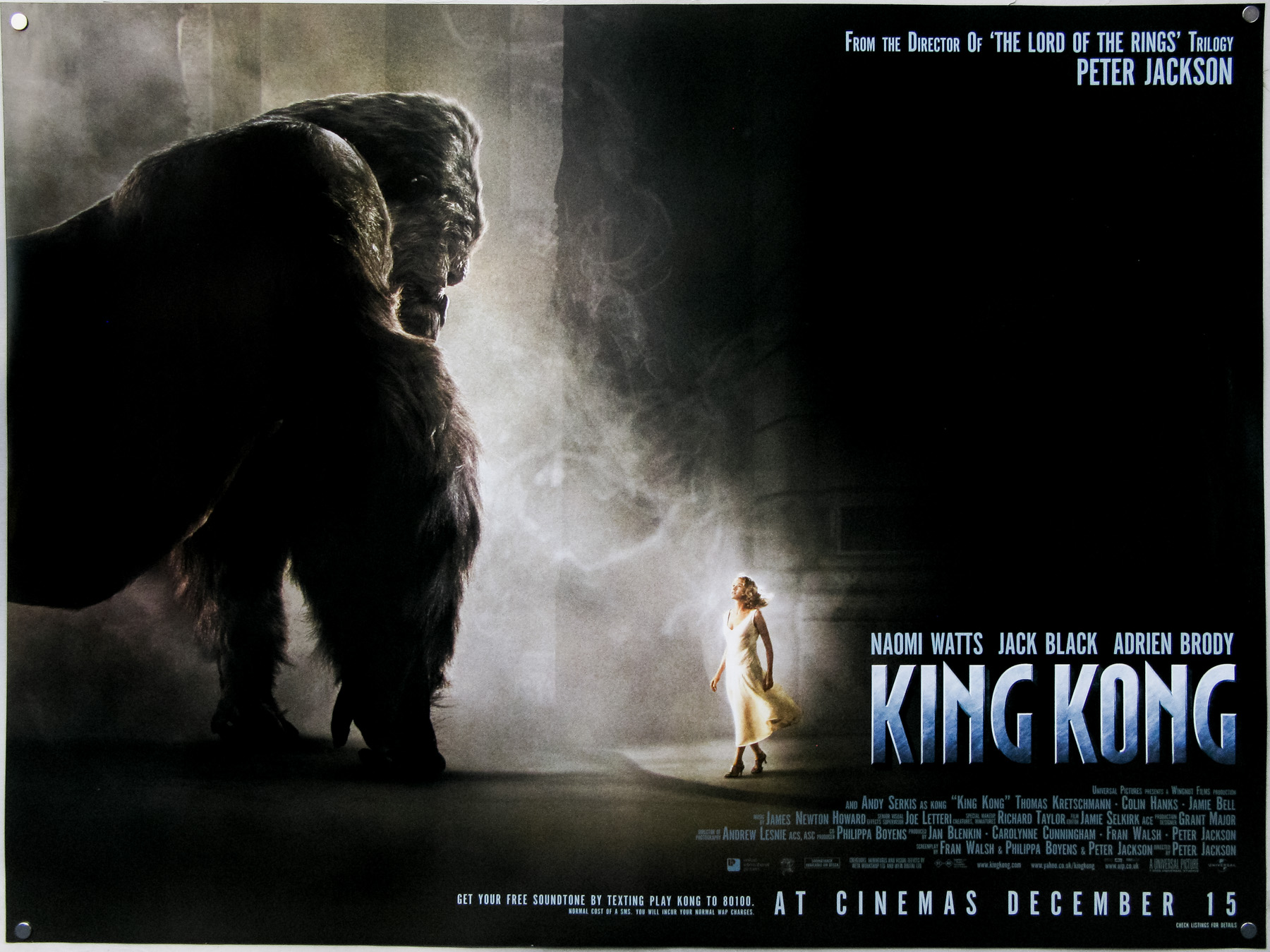 KING KONG (12)
12.25pm Channel 5
Starring: Naomi Watts, Jack Black, Adrien Brody, Andy Serkis
Action, adventure, drama
A greedy film producer assembles a team of moviemakers and sets out for the infamous Skull Island, where they find more than just cannibalistic natives. Peter Jackson's epic retelling of the classic 1933 movie. Violence, language, sex references and intense scenes. May be edited for content.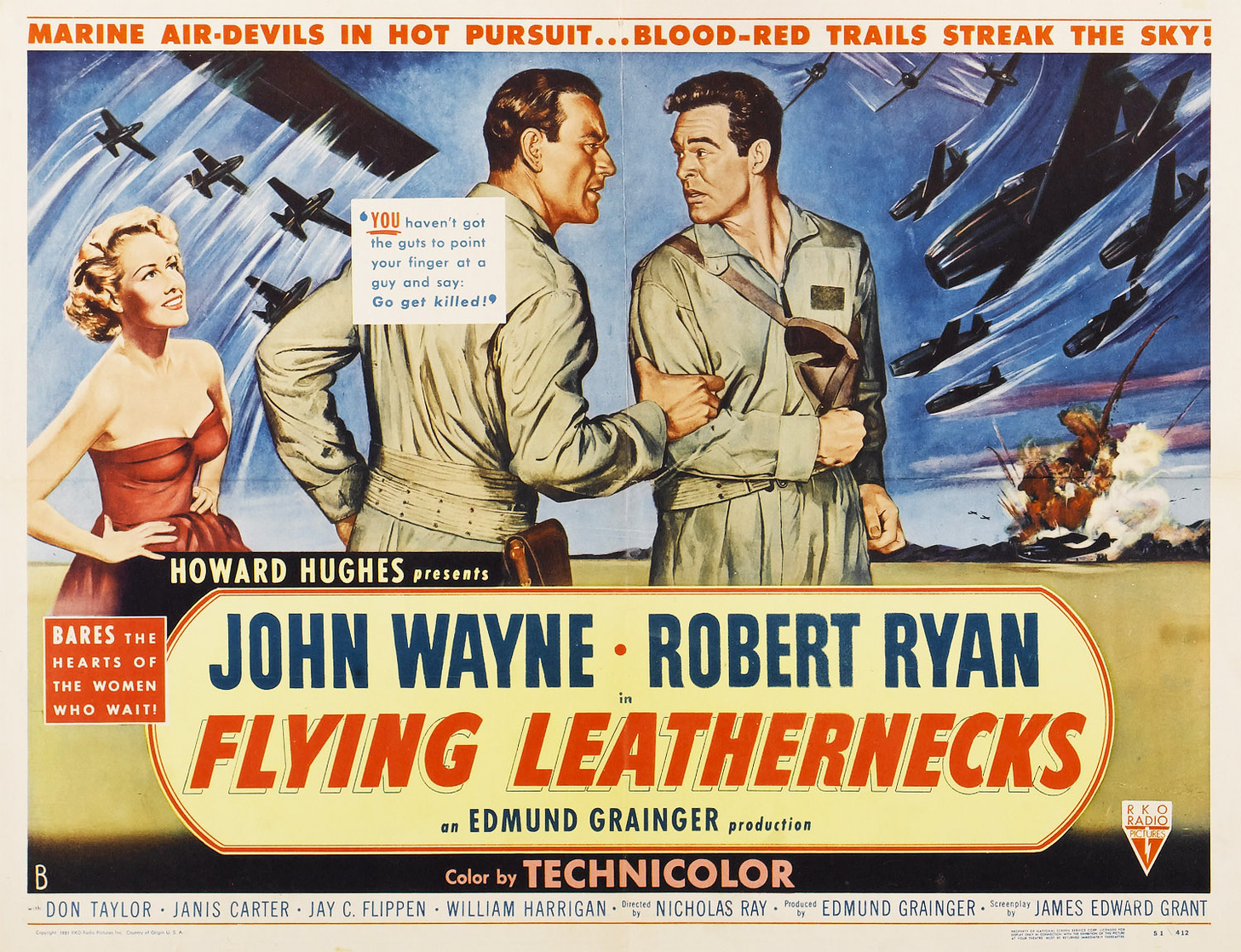 FLYING LEATHERNECKS (PG)
12.30pm Sony Movies Action
Starring: John Wayne, Robert Ryan
War, action, drama
Major Kirby leads The Wildcats squadron into the historic WWII battle of Guadalcanal. Tough John Wayne war movie. Violence.
THE RETURN OF THE PINK PANTHER (PG)
12.35pm Film4
Starring: Peter Sellers, Christopher Plummer, Catherine Schell, Herbert Lom
Comedy, crime
Inspector Jacque Clouseau (Peter Sellers) is put on the case when the Pink Panther diamond is stolen, with the Phantom's trademark glove the only clue. The best (in my opinion) of the series. Mild slapstick violence.
THE PALEFACE (U)
1.10pm Sony Movies Classic
Starring: Bob Hope, Jane Russell
Comedy, western
Calamity Jane is despatched to find out who's smuggling rifles to the Indians, and winds up married to a hapless correspondence school dentist as part of her cover. Fun western comedy. Mild violence and peril.
THE LAST SUNSET (12)
1.55pm ITV4
Starring: Rock Hudson, Kirk Douglas
Western, drama
At a Mexican ranch, fugitive O'Malley and pursuing Sheriff Stribling agree to help rancher Breckenridge drive his herd into Texas where Stribling could legally arrest O'Malley, but Breckenridge's wife complicates things. Strong western from the director of The Dirty Dozen. Violence.
THE CARD (U)
2.10pm Talking Pictures TV
Starring: Alec Guinness, Glynis Johns, Petula Clark
Comedy
A charming and ambitious young man finds many ways to raise himself through the ranks in business and social standing, some honest, some not quite so. Delightful British comedy. Black and white.
THE PINK PANTHER STRIKES AGAIN (PG)
2.50pm Film4
Starring: Peter Sellers, Herbert Lom, Lesley-Anne Down
Comedy
Charles Dreyfus (Herbert Lom), who has finally cracked over Inspector Jacques Clouseau's (Peter Sellers') antics, escapes from a mental institution and launches an elaborate plan to get rid of Clouseau once and for all. Crazy fourth entry of the popular comedy series. Mild comic violence and sexual references.
CARRY ON MATRON (PG)
3.10pm ITV3
Starring: Sidney James, Kenneth Williams, Charles Hawtrey, Hattie Jacques
Comedy
A gang of thieves plan to make their fortune by stealing a shipment of contraceptive pills from Finisham maternity hospital. They assume disguises and infiltrate the hospital, but everything doesn't go according to plan. Saucy Carry On comedy. Innuendo and sex references.
HELLBOY (12)
4pm Channel 5
Starring: Ron Perlman, Doug Jones, Selma Blair, John Hurt
Action, fantasy, horror
A demon, raised from infancy after being conjured by and rescued from the Nazis, grows up to become a defender against the forces of darkness. Fantastic fantasy from Guillermo del Toro. Violence and frightening images. May be edited for content.
THE HEROES OF TELEMARK (U)
4.05pm BBC2
Starring: Kirk Douglas, Richard Harris
Action, drama, war
Norwegian resistance tries to stop German efforts to produce an atomic bomb component during World War II. Boy's own war adventure. Violence.
SEABISCUIT (PG)
4.15pm Sony Movies
Starring: Tobey Maguire, Jeff Bridges, Chris Cooper
Drama, sport, biopic
True story of the undersized Depression-era racehorse whose victories lifted not only the spirits of the team behind it but also those of their nation. Enjoyable horse racing drama. Mild language and violence.
ROXANNE (PG)
4.55pm Sony Movies Classic
Starring: Steve Martin, Daryl Hannah
Comedy, romance
The large-nosed C.D. Bales is in love with the beautiful Roxanne; she falls for his personality but another man's looks. Delightfully funny Steve Martin penned comedy romance. Mild language and sexual references.
THE TWO FACES OF JANUARY (12)
4.55pm Film4
Starring: Oscar Isaac, Viggo Mortensen, Kirsten Dunst
Drama, thriller
A thriller centred on a con artist, his wife, and a stranger who flees Athens after one of them is caught up in the death of a private detective. Terrific performances in this smart thriller. Infrequent strong language, moderate violence. May be edited for content.
MADAGASCAR (U)
5.05pm Channel 5
Starring: Ben Stiller, Chris Rock, David Schwimmer, Jada Pinkett Smith
Animation, comedy, adventure
A group of animals who have spent all their life in a New York zoo end up in the jungles of Madagascar, and must adjust to living in the wild. Entertaining animation comedy. Very mild language and violence.
MINIONS (U)
6.10pm ITV2
Starring: Sandra Bullock, Jon Hamm
Animated, comedy, adventure
Minions Stuart, Kevin, and Bob are recruited by Scarlet Overkill, a supervillain who, alongside her inventor husband Herb, hatches a plot to take over the world. Madcap animation comedy. Mild comic violence and rude toilet humour.
THE HORSE SOLDIERS (U)
6.25pm ITV4
Starring: John Wayne, William Holden
Western, adventure, war
In 1863, a Union outfit is sent behind Confederate lines in Mississippi to destroy enemy railroads but a captive southern belle and the unit's doctor cause frictions within ranks. Classic John Wayne/John Ford western. Mild violence and injury detail.
NOW YOU SEE ME (12)
6.45pm Film4
Starring: Jesse Eisenberg, Isla Fisher, Morgan Freeman, Mark Ruffalo, Woody Harrelson, Michael Caine
Thriller, Drama, Action, crime
An F.B.I. Agent and an Interpol Detective track a team of illusionists who pull off bank heists during their performances, and reward their audiences with the money. Entertaining crime caper. Moderate sex references, violence, threat and strong language.
LEMONY SNICKET'S A SERIES OF UNFORTUNATE EVENTS (PG)
7pm E4
Starring: Jim Carrey, Meryl Streep, Jude Law
Adventure, comedy, family
When a massive fire kills their parents, three children are delivered to the custody of cousin and stage actor Count Olaf, who is secretly plotting to steal their parents' vast fortune. Fun family adventure. Mild threat and scary scenes.
DAD'S ARMY (U)
5.15pm Sony Movies Classic
Starring: Arthur Lowe, Clive Dunn, John Le Mesurier
Comedy, war
The misadventures of a ragtag group of elderly Home Guard local defence volunteers at the onset of WW2. Big-screening outing for the hugely popular TV comedy. Mild threat.
SHERLOCK HOLMES (12)
8pm ITV2
Starring: Robert Downey Jr., Jude Law, Rachel McAdams, Mark Strong
Mystery, Crime, Adventure
Detective Sherlock Holmes and his stalwart partner Watson engage in a battle of wits and brawn with a nemesis whose plot is a threat to all of England. Guy Ritchie's reinvention of the great detective.  Moderate violence.
HIDDEN FIGURES (PG)
9pm Film4
Starring: Taraji P. Henson, Octavia Spencer, Janelle Monáe, Kevin Costner, Kirsten Dunst, Jim Parsons
Drama, Biopic
The story of a team of female African-American mathematicians who served a vital role in NASA during the early years of the U.S. space program. Fascinating tale of the forgotten women behind the space race. Discrimination theme, mild bad language.
HIGH PLAINS DRIFTER (18)
9pm ITV4
Starring: Clint Eastwood, Verna Bloom, Mariana Hill
Western, mystery, drama
A gunfighting stranger comes to the small settlement of Lago and is hired to bring the townsfolk together in an attempt to hold off three outlaws who are on their way. Clint Eastwood directs and stars in this unusual western. Strong violence and sexual violence.
AMERICAN GRAFFITI (12)
9pm Sony Movies Classic
Starring: Richard Dreyfuss, Ronny Howard, Paul Le Mat
Comedy, drama
A couple of high school grads spend one final night cruising the strip with their buddies before they go off to college. Classic slice of Americana from George (Star Wars) Lucas. Moderate sex references, language.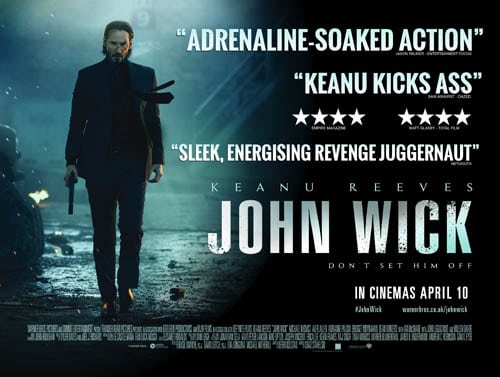 JOHN WICK (15)
10pm 5*
Starring: Keanu Reeves, Michael Nyqvist, Alfie Allen, Willem Dafoe
Thriller, Action, Crime
An ex-hit-man comes out of retirement to track down the gangsters that killed his dog and took everything from him. High-octane action movie which reinvented Keanu Reeves as a star. Strong language, bloody violence.
PERSONAL SERVICES (18)
10pm Talking Pictures TV
Starring: Julie Walters, Alec McCowen
Comedy, biopic
The story of the rise of a madame of a suburban brothel catering to older men, inspired by the real experiences of Cynthia Payne. Julie Walters shines in this Terry Jones directed comedy. Strong language, sex, sexual references and BDSM acts.
DIRTY DANCING (12)
10.10pm Channel 5
Starring: Patrick Swayze, Jennifer Grey
Drama, romance, music
Spending the summer at a Catskills resort with her family, Frances "Baby" Houseman falls in love with the camp's dance instructor, Johnny Castle. Hugely popular romance. Moderate sex references.
THE THOMAS CROWN AFFAIR (15)
10.35pm BBC1
Starring: Pierce Brosnan, Rene Russo
Crime, romance, thriller
A very rich and successful playboy amuses himself by stealing artwork, but may have met his match in a seductive detective. Stylish remake of the 60s classic. Language, sex, nudity and sexual references.
THE MONUMENTS MEN (12)
10.55pm Channel 4
Starring: Matt Damon, George Clooney, Cate Blanchett, Bill Murray, John Goodman, Jean Dujardin, Hugh Bonneville
Comedy, drama, war, crime
An unlikely World War II platoon is tasked to rescue art masterpieces from Nazi thieves and return them to their owners. George Clooney directs this wartime caper with a starry cast. Moderate violence, bloody injury detail.
ROCK AROUND THE CLOCK (U)
11.20pm Sony Movies Classic
Starring: Lisa Gaye, Bill Haley, Alan Freed
Comedy, romance, music
Orchestra manager Steve Hollis realizes that big-band music is dead. People want something new, but what? Classic rock musical. Black and white.
NOTHING BUT THE NIGHT (12)
12.10am Talking Pictures TV
Starring: Christopher Lee, Peter Cushing, Diana Dors
Crime, horror
Three trustees of the Van Traylen fund have died during the last few months in deaths looking like suicides. However, after a mysterious bus accident involving the last three trustees and thirty orphan kids, Police Colonel Bingham (Sir Christopher Lee) starts investigating.  British horror. Moderate horror and violence.