Morning!
So the big news is chief advisors breaking lockdown rules to travel 250 miles to visit family. What he should have done was stayed at home, looked at my recommendations and watched some movies. Won't people ever learn?
As it's the Bank Holiday weekend, sack loads of movies on TV, so eyes down and here we go!
Stay safe, look after yourself and Happy Saturday!
AMAZON PRIME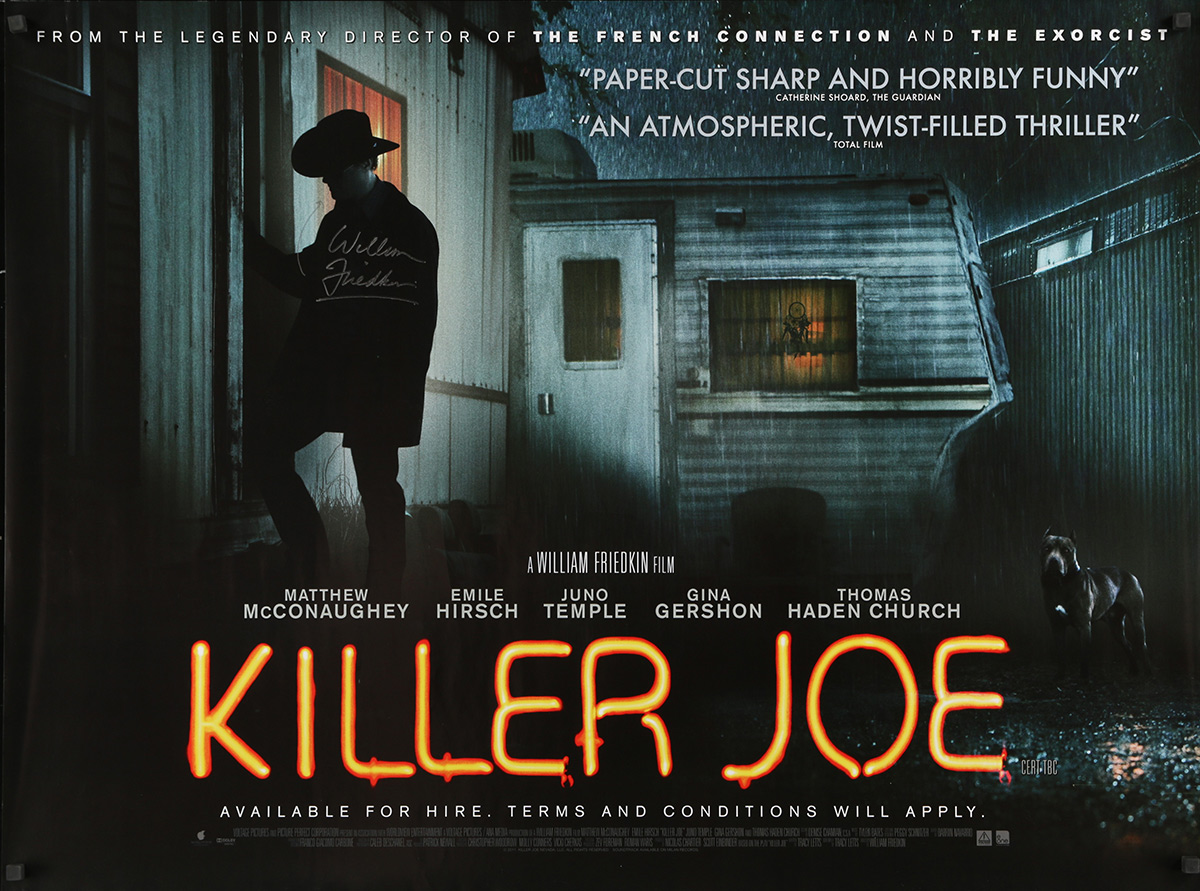 KILLER JOE (18)
Starring: Matthew McConaughey, Emile Hirsch, Juno Temple
Crime, drama, thriller
When a debt puts a young man's life in danger, he turns to put a hit out on his evil mother in order to collect the insurance. Tough drama from the director of The Exorcist. Strong bloody and sadistic violence, language and sexual threat.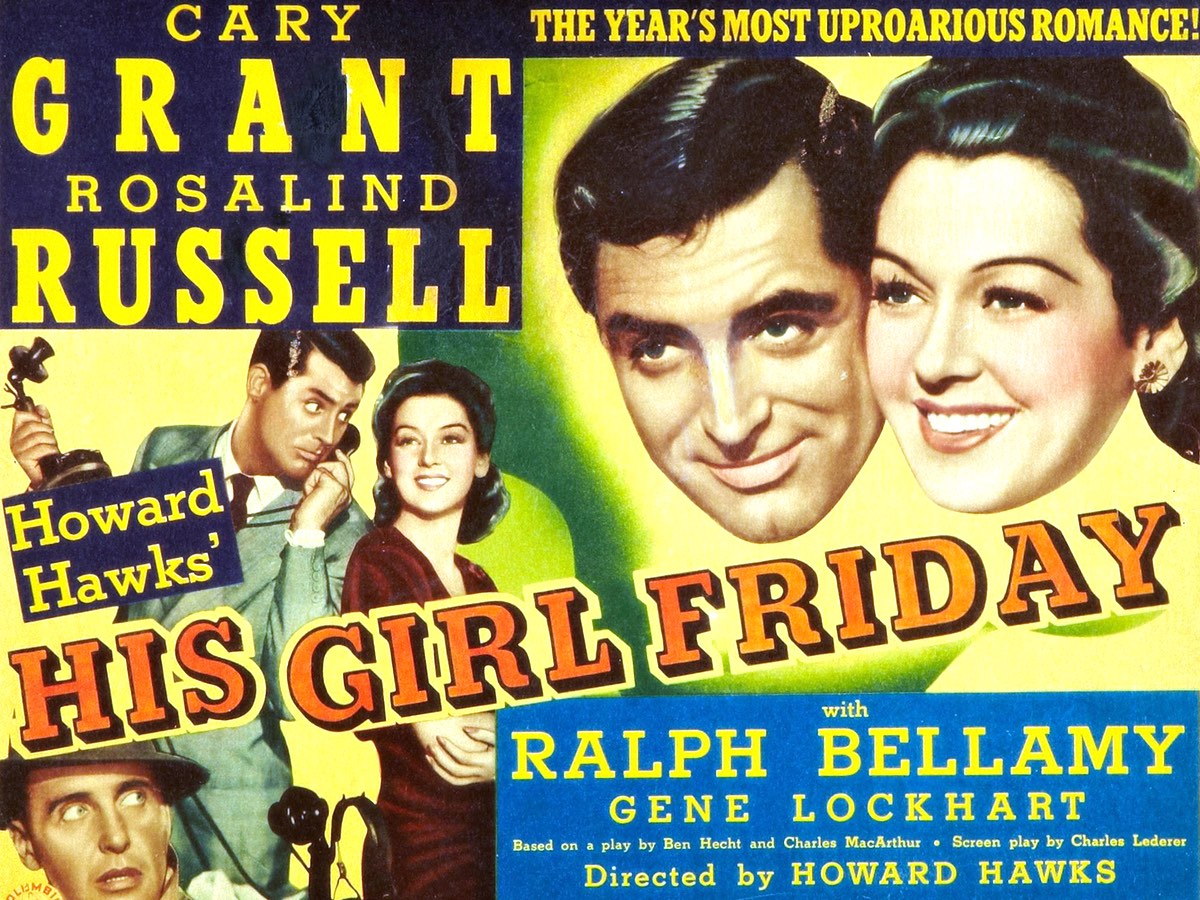 HIS GIRL FRIDAY (U)
Starring: Cary Grant, Rosalind Russell
Comedy
A newspaper editor uses every trick in the book to keep his ace reporter ex-wife from remarrying. One of the all-time comedy greats. Mild innuendo and very mild threat. Black and white.
NETFLIX
CHILDREN OF MEN (15)
Starring: Clive Owen, Julianne Moore, Michael Caine, Chiwetel Ejiofor
Drama, sci-fi, thriller
In 2027, in a chaotic world in which women have become somehow infertile, a former activist agrees to help transport a miraculously pregnant woman to a sanctuary at sea. Superb yet very bleak dystopian thriller. Strong bloody violence and strong language.
TED (15)
Starring: Mark Wahlberg, Mila Kunis, Seth MacFarlane
Comedy
John Bennett, a man whose childhood wish of bringing his teddy bear to life came true, now must decide between keeping the relationship with the bear or his girlfriend, Lori. Very rude but funny comedy. Not for kids! Strong sex references, language, drug use and brief nudity.
NOW TV/SKY CINEMA
MISSION: IMPOSSIBLE (PG)
Starring: Tom Cruise, Jon Voight, Emmanuelle Beart
Action, adventure, thriller
An American agent, under false suspicion of disloyalty, must discover and expose the real spy without the help of his organization. The first in the popular franchise directed by Brian DePalma. Moderate action violence, mild language.
BEATS (18)
Starring: Martin Donaghy, Brian Ferguson
Comedy, drama
Two teenage boys in Scotland in 1994, best friends with no control over their lives, risk everything to attend an illegal rave, hoping for the best night of their boring lives. Underrated Scottish examination of 90s pop culture. Very strong language, violence and drug use. Colour and Black and white.
DISNEY+
THE UGLY DACHSHUND (U)
Starring: Dean Jones, Suzanne Pleshette
Comedy
The Garrisons live with a Great Dane who thinks he's a dainty dachshund. His identity crisis results in an uproarious series of household crises that reduce the Garrisons' house to shambles. If you love dogs behaving badly, you'll love this.
AVENGERS: AGE OF ULTRON (12)
Starring: Robert Downey Jr., Chris Evans, Mark Ruffalo, Scarlett Johansson, Aaron Taylor-Johnson, Chris Hemsworth
Science Fiction, Adventure, Action
When Tony Stark and Bruce Banner try to jump-start a dormant peacekeeping program called Ultron, things go horribly wrong and it's up to Earth's mightiest heroes to stop the villainous Ultron from enacting his terrible plan. The return of the superhero team filled with exciting set pieces. Moderate fantasy violence, threat, occasional bloody moments.
MOVIES ON TERRESTRIAL TV
GOOSEBUMPS (PG)
11.45am Channel 5
Starring: Jack Black, Amy Ryan, Dylan Minnette
Horror, comedy
A teenager teams up with the daughter of young adult horror author R. L. Stine after the writer's imaginary demons are set free on the town of Madison, Delaware. Inventive family horror based on the popular books. Frequent scary scenes.
WHAT WOMEN WANT (12)
11.55am 5*
Starring: Mel Gibson, Helen Hunt, Marisa Tomei, Bette Midler
Comedy, fantasy, romance
After an accident, a chauvinistic executive gains the ability to hear what women are really thinking. Entertaining comedy romance. Moderate comic sex references. May be edited for content.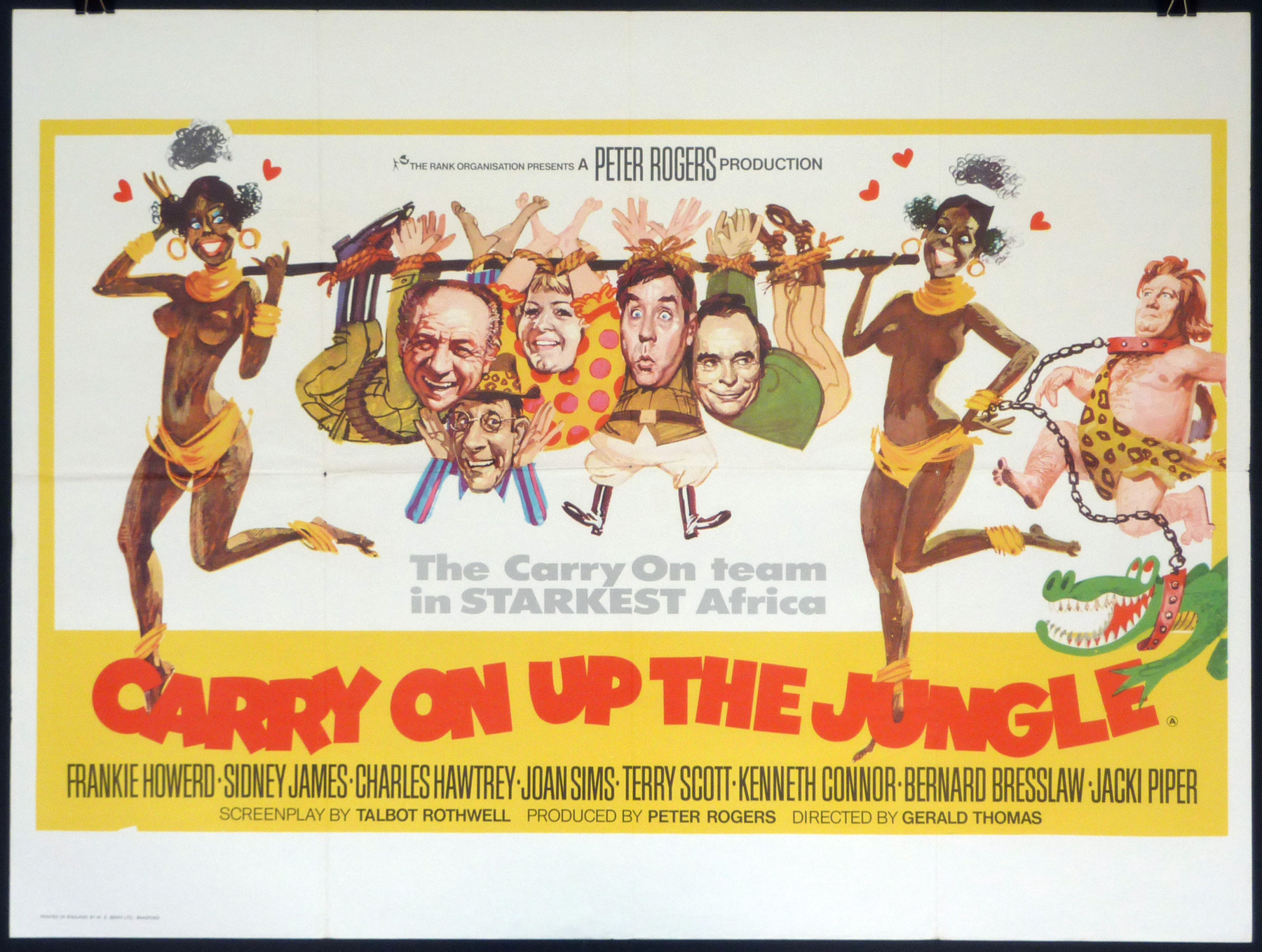 CARRY ON UP THE JUNGLE (PG)
1.15pm ITV3
Starring: Frankie Howerd, Sidney James, Joan Sims, Charles Hawtrey, Terry Scott
Comedy
Lady Evelyn Bagley mounts an expedition to find her long-lost baby. Bill Boosey is the fearless hunter and guide. Prof. Tinkle is searching for the rare Oozalum bird. Everything is going swimmingly until a gorilla enters the camp. The Carry On team spoof the Tarzan movies. Mild comic violence and innuendo.
THE ADDAMS FAMILY (PG)
1.50pm Channel 5
Starring: Anjelica Huston, Raul Julia, Christopher Lloyd, Christina Ricci
Horror, Fantasy, Comedy
Con artists plan to fleece an eccentric family using an accomplice who claims to be their long-lost uncle. Perfectly cast family comedy horror. Mild comic violence and horror.
DEATH BECOMES HER (12)
2.20pm 5*
Starring: Meryl Streep, Goldie Hawn, Bruce Willis, Isabella Rossellini
Fantasy, Crime, Comedy
When a woman learns of an immortality treatment, she sees it as a way to outdo her long-time rival. Crazy camp comedy from Robert Zemeckis. Moderate fantasy violence, language, nudity.
VOLCANO (12)
2.30pm Sony Movies
Starring: Tommy Lee Jones, Anne Heche
Action, drama
A volcano erupts in downtown Los Angeles, threatening to destroy the city. Bonkers disaster movie saved by the presence of Tommy Lee Jones. Moderate threat, injury detail, infrequent strong language.
ANTZ (PG)
3.10pm ITV2
Starring: Woody Allen, Sharon Stone, Gene Hackman, Sylvester Stallone
Animation, adventure, comedy
A somewhat neurotic ant tries to break from his totalitarian society while trying to win the affection of the princess he loves. CGI animated fun from Dreamworks. Mild violence, language and peril.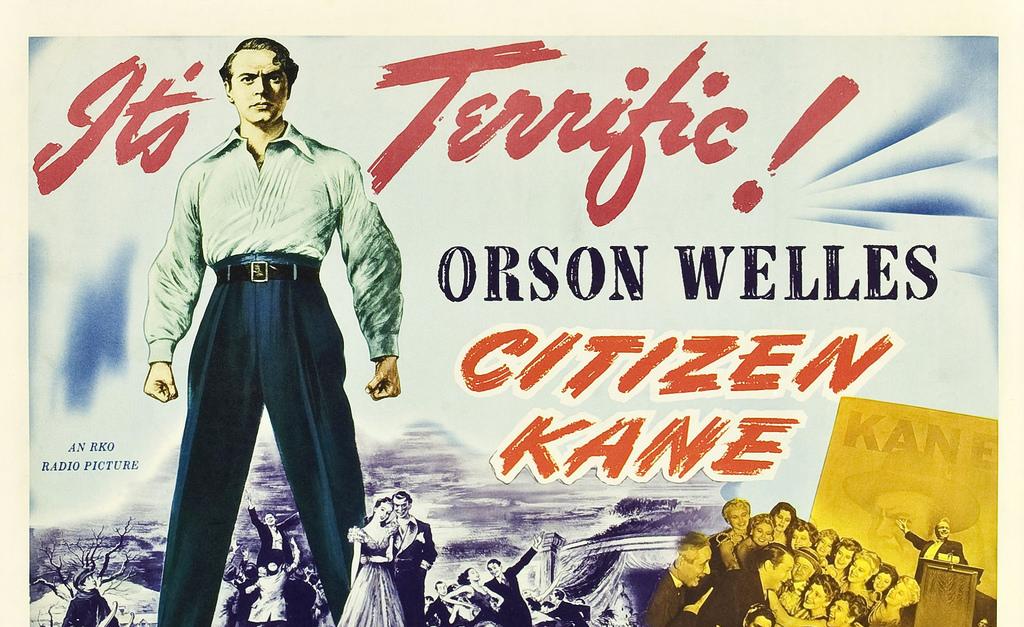 CITIZEN KANE(U)
3.15pm BBC2
Starring: Orson Welles, Joseph Cotten, Dorothy Comingore
Drama
Following the death of publishing tycoon Charles Foster Kane, reporters scramble to uncover the meaning of his final utterance; 'Rosebud'. Regarded as one of the greatest films ever made. Very mild violence and sexual references. Black and white.
ROOSTER COGBURN (U)
2.05pm ITV4
Starring: John Wayne, Katharine Hepburn
Western, Adventure, Drama
Marshal Rooster Cogburn unwillingly teams up with Eula Goodnight to track down her father's murderers. Enjoyable follow-up to True Grit, helped by two strong stars. Mild violence.
ADDAMS FAMILY VALUES (PG)
3.55pm Channel 5
Starring: Anjelica Huston, Raul Julia, Christopher Lloyd, Joan Cusack, Christina Ricci, Carol Kane
Comedy, fantasy
The Addams Family try to rescue their beloved Uncle Fester from his gold-digging new love, a black widow named Debbie. Entertaining sequel to the 1991 comedy. Mild fantasy violence and scary scenes.
BEACHES (12)
1.25pm 5*
Starring: Bette Midler, Barbara Hershey
Comedy, drama
A privileged rich debutante and a cynical struggling entertainer share a turbulent, but strong childhood friendship over the years. Heartbreaking tale of friendship. One use of strong language. May be edited for content.
HAPPY FEET (U)
4.50pm ITV2
Starring: Robin Williams, Hugh Jackman, Elijah Wood
Animated, Comedy, Adventure
Into the world of the Emperor Penguins, who find their soul mates through song, a penguin is born who cannot sing. But he can tap dance something fierce! Lively animated fun from the creator of Mad Max! Scary moments.
TWO WAY STRETCH (U)
5.15pm Talking Pictures TV
Starring: Peter Sellers, Lionel Jeffries, Wilfrid Hyde-White, Bernard Cribbins, David Lodge, Irene Handl
Comedy, crime
Dodger Lane has planned the perfect robbery while in prison. He intends to break out of prison, steal a fortune in diamonds, and break back into prison before anyone notices. With only a few days' sentence left, and the perfect alibi, what could possibly go wrong? Wonderful British crime comedy. Very mild sexual innuendo and language. Black and white.
FINDING DORY (U)
6.20pm BBC1
Starring: Ellen DeGeneres, Albert Brooks, Idris Elba
Animation, Adventure, Comedy
Friendly but forgetful blue tang Dory begins a search for her long-lost parents, and everyone learns a few things about the real meaning of family along the way. Winning sequel to Pixar's Finding Nemo. Infrequent mild threat.
NON-STOP (12)
6.55pm Film4
Starring: Liam Neeson, Julianne Moore, , Michelle Dockery
Thriller, Drama, Action
An air marshal springs into action during a transatlantic flight after receiving a series of text messages demanding $150 million into an off-shore account, or someone will die every 20 minutes. Popcorn fodder action thriller. Moderate action violence, strong language.
THE FIRST WIVES CLUB (PG)
6.55pm 5*
Starring: Goldie Hawn, Bette Midler, Diane Keaton, Maggie Smith
Comedy
Reunited by the death of a college friend, three divorced women seek revenge on the husbands who left them for younger women. Three screen legends save this otherwise routine comedy. Mild sex references, violence and language.
KUNG FU PANDA 2 (PG)
7.10pm E4
Starring: Jack Black, Gary Oldman, Seth Rogen, Angelina Jolie, Jackie Chan, Jean-Claude Van Damme, Dustin Hoffman
Animation, Comedy, Adventure
Po and his friends fight to stop a peacock villain from conquering China with a deadly new weapon, but first the Dragon Warrior must come to terms with his past. Bright sequel to the popular animation. Mild martial arts action.
PULP FICTION (18)
9pm Sony Pictures
Starring: John Travolta, Samuel L. Jackson, Uma Thurman, Harvey Keitel, Tim Roth, Amanda Plummer, Ving Rhames, Maria De Medeiros, Eric Stoltz, Rosanna Arquette, Christopher Walken, Bruce Willis
Thriller, Drama, Crime
The lives of two mob hitmen, a boxer, a gangster and his wife, and a pair of diner bandits intertwine in four tales of violence and redemption. Quentin Tarantino's legendary crime thriller is still a marvel to behold. Strong graphic violence and drug use, strong language and some sexuality.
THE GREEN MILE (18)
9pm Film4
Starring: Tom Hanks, David Morse, Bonnie Hunt, Michael Clarke Duncan
Crime, drama, fantasy
The lives of guards on Death Row are affected by one of their charges: a black man accused of child murder and rape, yet who has a mysterious gift. Life-affirming drama from the director of The Shawshank Redemption. Violence, language and some sex-related material.
THE TAMING OF THE SHREW (U)
9pm Sony Movies Classic
Starring: Elizabeth Taylor, Richard Burton
Comedy, drama, romance
Brutish, fortune-hunting scoundrel Petruchio (Richard Burton) tames his wealthy, shrewish wife, Katharina (Dame Elizabeth Taylor). Bright version of Shakespeare's play.
PRETTY WOMAN (15)
9pm 5*
Starring: Richard Gere, Julia Roberts
Comedy, drama, romance
A man in a legal but hurtful business needs an escort for some social events, and hires a beautiful prostitute he meets… only to fall in love. The film that made a star out of Julia Roberts. Strong language and sexual content.
A FISTFUL OF DOLLARS (15)
9.30pm ITV4
Starring: Clint Eastwood, Marianne Koch
Western, Action, Drama
A wandering gunfighter plays two rival families against each other in a town torn apart by greed, pride, and revenge. Superb western that made Clint Eastwood a star. Strong violence and sexual references.
TOMBSTONE (15)
9.45pm Sony Movies Action
Starring: Kurt Russell, Val Kilmer
Western, biopic, action
A successful lawman's plans to retire anonymously in Tombstone, Arizona are disrupted by the kind of outlaws he was famous for eliminating. Underrated western adventure. Strong violence.
THE WORLD IS NOT ENOUGH (12)
10.30pm ITV1
Starring: Pierce Brosnan, Sophie Marceau, Robert Carlyle, Denise Richards
Action, adventure, thriller
James Bond uncovers a nuclear plot while protecting an oil heiress from her former kidnapper, an international terrorist who can't feel pain. Third time around for Pierce Brosnan as Bond. Fun. Violence, sexual reference and innuendo.
EDUCATING RITA (15)
10.35pm BBC Four
Starring: Michael Caine, Julie Walters
Comedy, drama
An alcoholic professor has been hired by a working-class girl for higher education. Terrific adaptation of Willy Russell's play with a star-making debut from Julie Walters. Strong language, sexual reference and suicide attempt.
THE BOYS FROM BRAZIL (18)
10.40pm Talking Pictures TV
Starring: Gregory Peck, Laurence Olivier, James Mason
Drama, mystery, thriller
A Nazi hunter in Paraguay discovers a sinister and bizarre plot to rekindle the Third Reich. Fascinating thriller with a great cast. Very strong violence, language and sexual content.
SLUMDOG MILLIONAIRE (15)
11.15pm Channel 4
Starring: Dev Patel, Freida Pinto, Madhur Mittal, Irrfan Khan, Anil Kapoor
Drama, romance
A Mumbai teenager reflects on his life after being accused of cheating on the Indian version of "Who Wants to be a Millionaire?". Brilliant Oscar-winning Danny Boyle film. Violence, disturbing images and language.
THE EQUALIZER (18)
11.40pm ITV4
Starring: Denzel Washington, Marton Csokas, Chloë Grace Moretz
Thriller, Action, Crime
A man believes he has put his mysterious past behind him and has dedicated himself to beginning a new, quiet life, before he meets a young girl under the control of ultra-violent Russian gangsters and can't stand idly by. Tough thriller based on the hit TV series. Strong bloody violence, language, sexual references.
THE PROGRAM (15)
11.50pm BBC1
Starring: Ben Foster, Chris O'Dowd, Lee Pace
Drama, biopic, sport
An Irish sports journalist becomes convinced that Lance Armstrong's performances during the Tour de France victories are fueled by banned substances. With this conviction, he starts hunting for evidence that will expose Armstrong. Fascinating biopic of a fallen hero. Strong language, use of performance-enhancing drugs.
21 GRAMS (15)
12.05am Sony Movies
Starring: Sean Penn, Benicio Del Toro, Naomi Watts
Crime, drama, thriller
A freak accident brings together a critically ill mathematician, a grieving mother, and a born-again ex-con. Gripping and intelligent thriller. Strong language, moderate sex, violence and drug use.
SLOW WEST (15)
12.40am Film4
Starring: Kodi Smit-McPhee, Michael Fassbender, Ben Mendelsohn
Western, adventure, drama
A young Scottish man travels across America in pursuit of the woman he loves, attracting the attention of an outlaw who is willing to serve as a guide. Slow-moving yet impressive western.