Morning!
Wear a mask? Not wear a mask? Well, I can tell you you don't need to wear a mask for today's recommendations…unless you go and watch them in Curry's.
Stay safe, look after yourself and Happy Saturdya!
AMAZON PRIME
INDOCHINE (15)
Starring: Catherine Deneuve, Vincent Perez, Jean Yanne
War, Drama, Romance
Eliane adopts Camille, whose Vietnamese parents were friends. In 1930, a French navy officer is interested in Eliane (owns 60km2 plantation) and later in Camille. There's an uprising in Vietnam against French colonial power. Stunningly beautiful Oscar-winning drama. Violence, sensuality and drug related scenes. Subtitled.
THE GREY (15)
Starring: Liam Neeson, Dermot Mulroney, Frank Grillo
Thriller, Drama, Action
After their plane crashes in Alaska, six oil workers are led by a skilled huntsman to survival, but a pack of merciless wolves haunts their every step. Gruelling action thriller. Strong language, threat and gore.
NETFLIX
OCTOBER SKY (PG)
Starring: Jake Gyllenhall, Chris Cooper, Laura Dern
Biopic, Drama
The true story of Homer Hickam, a coal miner's son who was inspired by the first Sputnik launch to take up rocketry against his father's wishes. Touching drama from the director of Jumanji. Language, brief teen sensuality.
DR SEUSS' THE LORAX (U)
Starring: Danny DeVito, Zac Efron, Taylor Swift, Betty White
Animation, Comedy
A 12-year-old boy searches for the one thing that will enable him to win the affection of the girl of his dreams. To find it he must discover the story of the Lorax, the grumpy yet charming creature who fights to protect his world. Animated fun from the team behind Despicable Me.
NOW TV/SKY CINEMA
CLEAR AND PRESENT DANGER (12)
Starring: Harrison Ford, Willem Dafoe, Anne Archer, Joaquim De Almeida
Action, Crime, Drama
CIA Analyst Jack Ryan is drawn into an illegal war fought by the US government against a Colombian drug cartel. Harrison Ford returns in his second outing as Jack Ryan. Moderate violence and language.
SHAFT (18)
Starring: Samuel L. Jackson, Vanessa Williams, Jeffrey Wright, Christian Bale
Action, Thriller
New York City police detective John Shaft (nephew of the original 1970s detective) goes on a personal mission to make sure the son of a real estate tycoon is brought to justice after a racially-motivated murder. Samuel L. Jackson brings the classic 70s character to the 2000s. Strong violence and language.
MOVIES ON TERRESTRIAL TV
YOUNG SHERLOCK HOLMES (PG)
11am Film4
Starring: Nicholas Rowe, Alan Cox, Sophie Ward, Anthony Higgins
Adventure, fantasy, mystery
When assorted people start having inexplicable delusions that lead to their deaths, a teenage Sherlock Holmes (Nicholas Rowe) decides to investigate. Inventive twist to the Sherlock Holmes stories. Frequent mild violence and some mild horror.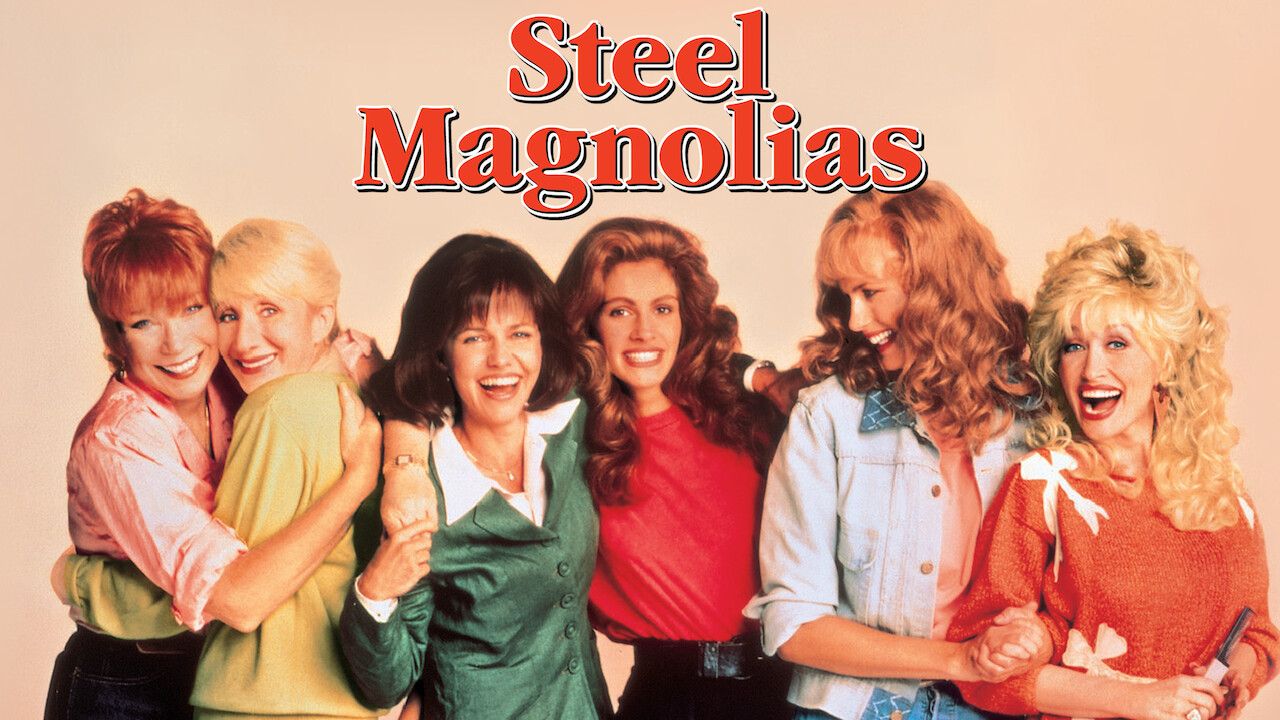 STEEL MAGNOLIAS (PG)
11.25pm 5*
Starring: Sally Field, Julia Roberts, Shirley MacLaine
Drama, comedy
A young beautician, newly arrived in a small Louisiana town, finds work at the local salon, where a small group of women share a close bond of friendship, and welcome her into the fold. Terrific ensemble cast tear-jerker. Mild language, sexual references.
YOU MUST BE JOKING (U)
1.05pm Sony Movies Classic
Michael Callan, Lionel Jeffries
Comedy
A motley group of soldiers are set loose in swinging London in an initiative test to collect a selection of esoteric items. Silly 60s comedy. Mild innuendo.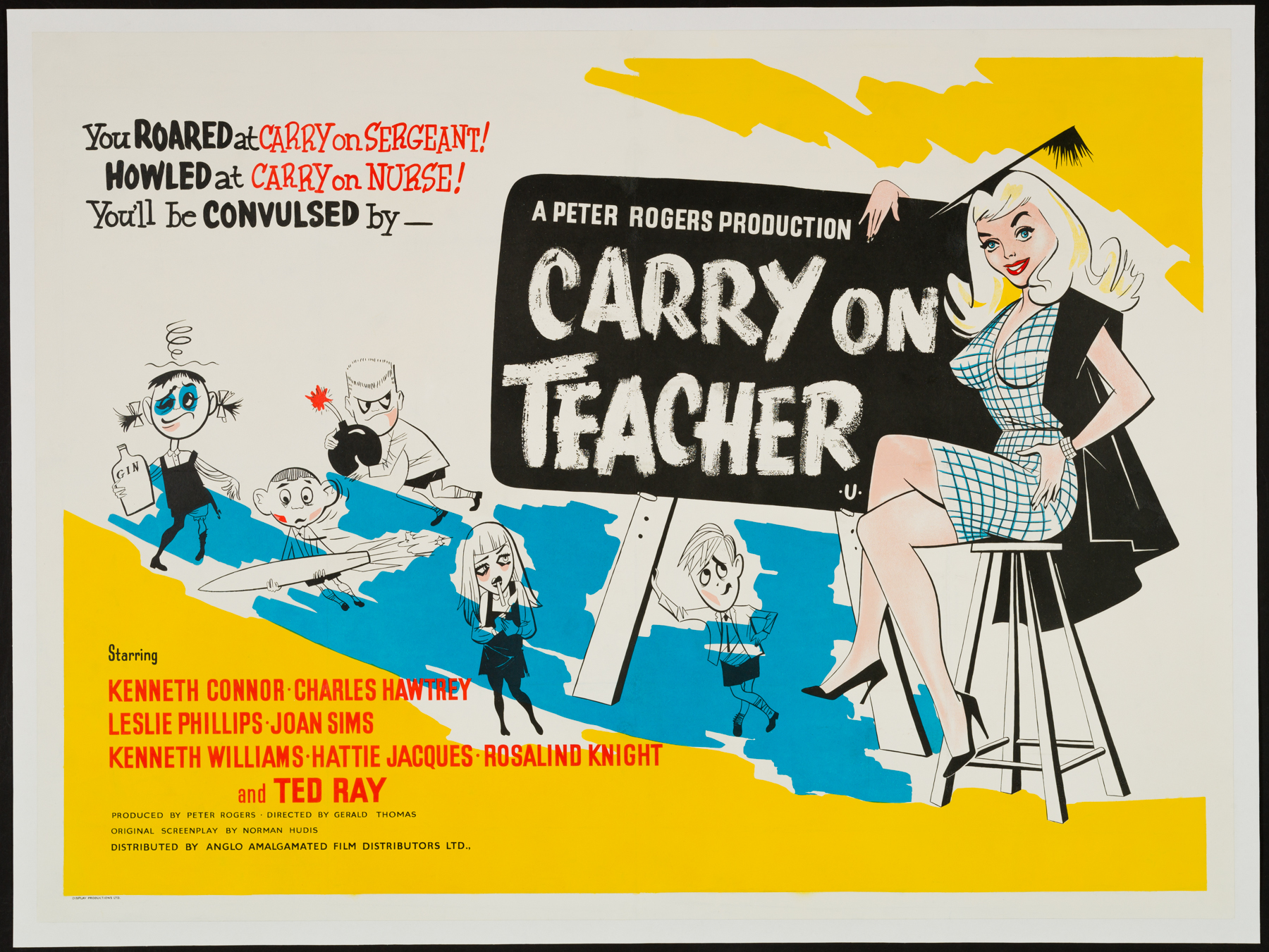 CARRY ON TEACHER (U)
1.10pm Film4
Starring: Ted Ray, Kenneth Connor, Leslie Phillips, Charles Hawtrey
Comedy
Pupils run amok at Maudlin Street School in an attempt to hang on to their headmaster. He has applied for a new job, but the students like him and don't want to lose him. Fun early entry to the Carry On series. Mild sex references and comic violence. Black and White.
THE 39 STEPS (U)
1.15pm BBC2
Starring: Robert Donat, Madeleine Carroll
Thriller, Mystery
A man in London tries to help a counter-espionage Agent. But when the Agent is killed, and the man stands accused, he must go on the run to save himself and stop a spy ring which is trying to steal top secret information. Classic British thriller from Alfred Hitchcock. Mild violence and threat. Black and white.
LEGALLY BLONDE(12)
1.30pm Channel 5
Starring: Reece Witherspoon, Luke Wilson
Comedy
Elle Woods (Reese Witherspoon), a fashionable sorority queen is dumped by her boyfriend. She decides to follow him to law school, while she is there, she figures out that there is more to her than just looks. Likeable comedy helped by a charismatic lead. Mild language and sexual references.
SHALAKO (PG)
1.30pm ITV4
Starring: Sean Connery, Brigitte Bardot, Jack Hawkins, Stephen Boyd
Western
In 1880 New Mexico, a group of European hunters runs afoul of the Apache but is aided by an ex-cavalryman turned guide. Sean Connery makes a rare outing in a western. Mild violence, language and nudity.
A GOOD YEAR (12)
2.30pm Sony Movies
Starring: Russell Crowe, Mitchell Mullen, Marion Cotillard
Comedy, Drama, Romance
A British investment broker inherits his uncle's chateau and vineyard in Provence, where he spent much of his childhood. He discovers a new laid-back lifestyle as he tries to renovate the estate to be sold. An unusual change of pace for director Ridley Scott. Language and some sexual content.
RIO 2 (U)
2.55pm Film4
Starring:  Anne Hathaway, Jesse Eisenberg, Bruno Mars
Animation, Adventure, Comedy
It's a jungle out there for Blu, Jewel and their three kids after they're hurtled from Rio de Janeiro to the wilds of the Amazon. As Blu tries to fit in, he goes beak-to-beak with the vengeful Nigel, and meets his father-in-law. Bright and breezy sequel. Mild comic threat, slapstick.
BIRDMAN OF ALCATRAZ (PG)
3.10pm Sony Movies Classic
Starring: Burt Lancaster, Karl Malden, Thelma Ritter
Biopic, Drama
A surly convicted murderer held in permanent isolation redeems himself when he becomes a renowned bird expert. Superb prison drama with a subtle lead in Burt Lancaster. Mild violence. Black and white.
MRS CALDICOT'S CABBAGE WAR (12)
3.30pm Channel 5
Starring: Pauline Collins, Peter Capaldi, Sheila Reid, John Alderton
Comedy
After her husband's death and being forced into a nursing home, a woman starts looking for independence. Sweet-natured British comedy. One use of strong language and moderate sex references.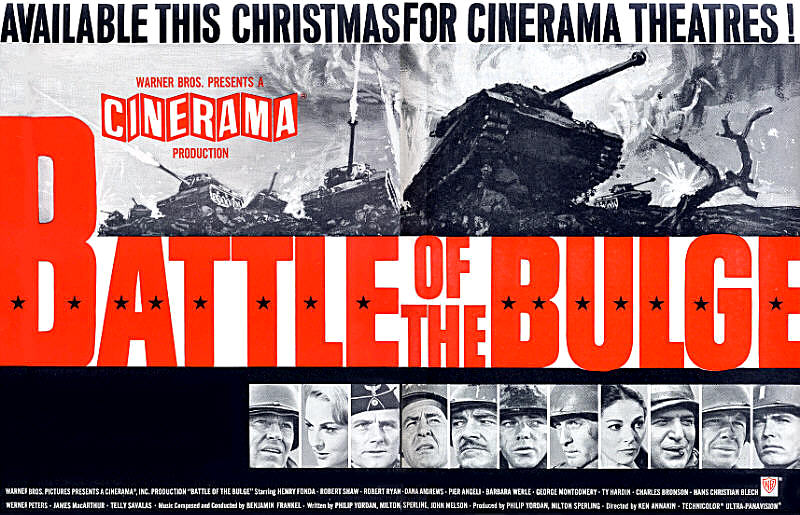 BATTLE OF THE BULGE (PG)
3.45pm ITV4
Starring: Henry Fonda, Robert Shaw, Robert Ryan
Drama, war
A dramatisation of Nazi Germany's final Western Front counterattack of World War II with an all-star cast. Terrific action sequences. Frequent mild violence.
CASPER (PG)
4.35pm ITV2
Starring: Christina Ricci, Bill Pullman, Cathy Moriarty, Eric Idle
Comedy, drama, fantasy family
An afterlife therapist and his daughter meet a friendly young ghost when they move into a crumbling mansion in order to rid the premises of wicked spirits. A delightful family fare that will touch as much as it makes you smile. Mild language, violence and ghost horror.
HOME ALONE (PG)
4.55pm Film4
Starring: Macaulay Culkin, Joe Pesci, Daniel Stern
Comedy, adventure
An eight-year-old troublemaker must protect his house from a pair of burglars when he is accidentally left home alone by his family during Christmas vacation. Christmas favourite from John Hughes. moderate slapstick violence and infrequent moderate language.
BROKEN ARROW (PG)
5pm Sony Movies Action
Starring: James Stewart, Jeff Chandler
Western, Drama
Tom Jeffords tries to make peace between settlers and Apaches in Arizona territory. Terrific western adventure with James Stewart. Mild violence.
MONSTERS UNIVERSITY (U)
5.15 BBC1
Starring: Billy Crystal, John Goodman
Comedy, Animation
A look at the relationship between Mike Wazowski (Billy Crystal) and James P. "Sully" Sullivan (John Goodman) during their days at Monsters University, when they weren't necessarily the best of friends. Not as good as the original but still plenty of fun. Mild slapstick and comic threat .
2012 (12)
5.55pm 5*
Starring: John Cusack, Woody Harrelson, Thandie Newton
Drama, Action
A frustrated writer struggles to keep his family alive when a series of global catastrophes threatens to annihilate mankind. Big-scale disaster movie from the director of Independence Day. Sustained moderate threat and one use of strong language.
THE HUNGER GAMES: CATCHING FIRE (12)
6.10pm E4
Starring: Jennifer Lawrence, Josh Hutcherson, Liam Hemsworth, Elizabeth Banks
Drama, Adventure
Katniss Everdeen and Peeta Mellark become targets of the Capitol after their victory in the 74th Hunger Games sparks a rebellion in the Districts of Panem. Solid continuation of the Hunger Games story. Moderate violence and threat, and infrequent strong language.
THE DAY OF THE JACKAL (15)
6.15pm Sony Movies Classic
Starring: Edward Fox, Michel Lonsdale
Thriller, Drama
A professional assassin codenamed "Jackal" plots to kill Charles de Gaulle, the President of France. Gripping thriller based on the best-selling novel. Strong violence, injury detail.
THE TRUMAN SHOW (PG)
6.55pm Sony Movies
Starring: Jim Carrey, Laura Linney, Ed Harris
Comedy, drama
An insurance salesman discovers his whole life is actually a reality TV show. Wonderful satire on the world of TV. Mild threat and language.
CITY SLICKERS II: THE LEGEND OF CURLY'S GOLD (12)
8pm ITV4
Starring: Billy Crystal, Daniel Stern, Jon Lovitz, Jack Palance
Comedy
One year after their first western adventure, Mitch Robbins and his friends discover a treasure map that belonged to their late trail guide Curly and they set out to discover its secrets. Amusing sequel to the huge sleeper hit. Mild language, sexual references.
THE MAN WHO COULD CHEAT DEATH (12)
8.05pm Talking Pictures TV
Starring: Anton Diffring, Hazel Court, Christopher Lee
Horror, Drama
A centenarian artist and scientist in 1890 Paris maintains his youth and health by periodically replacing a gland with that of a living person. Hammer's twist on the Jekyll and Hyde story. Moderate injury detail.
GOOD WILL HUNTING (15)
9pm 5*
Starring: Robin Williams, Matt Damon, Ben Affleck, Stellan Skarsgård, Minnie Driver
Drama
Will Hunting, a janitor at M.I.T., has a gift for mathematics, but needs help from a psychologist to find direction in his life. Emotional drama with an Oscar-winning performance from Robin Williams. Strong language and violence.
STAR TREK (12)
9pm Film4
Starring: Chris Pine, Jennifer Morrison, Simon Pegg, Eric Bana, Winona Ryder, Zachary Quinto, Zoe Saldana, Karl Urban
Science Fiction, Adventure, Action
The brash James T. Kirk tries to live up to his father's legacy with Mr. Spock keeping him in check as a vengeful Romulan from the future creates black holes to destroy the Federation one planet at a time. Well made reboot of the popular TV show. Moderate violence and threat.
FROM RUSSIA WITH LOVE (PG)
9pm ITV1
Starring: Sean Connery, Daniela Bianchi, Pedro Armendariz, Lotte Lenya, Robert Shaw
Action, Adventure, Thriller
James Bond willingly falls into an assassination plot involving a naive Russian beauty in order to retrieve a Soviet encryption device that was stolen by S.P.E.C.T.R.E. Second adventure for 007. Moderate violence and mild sex references.
INDECENT PROPOSAL (15)
9pm Sony Movies
Starring: Robert Redford, Demi Moore, Woody Harrelson
Drama, Romance
A billionaire offers one million dollars to a young married couple for one night with the wife. Popular 90s moral drama. Sexuality and language.
THE BLUE LAGOON (15)
9pm Sony Movies Classic
Starring: Brooke Shields, Christopher Atkins
Adventure, drama, romance
In the Victorian period, two children are shipwrecked on a tropical island in the South Pacific. With no adults to guide them, the two make a simple life together, unaware that sexual maturity will eventually intervene. Controversial (at the time) romance. Violence, sex, sexual references, nudity.
THE AMOROUS ADVENTURES OF MOLL FLANDERS (15)
9.50pm Talking Pictures TV
Starring: Kim Novak, Richard Johnson, Angela Lansbury
Comedy, Romance
A bawdy story of how a poor damsel surrenders her virtue again and again to get to the top of society. Saucy all-star costume comedy. Innuendo and implicit visual references.
NATIONAL LAMPOON'S EUROPEAN VACATION (15)
10.10pm ITV4
Starring: Chevy Chase, Beverly D'Angelo, Jason Lively, Dana Hill, Eric Idle, Robbie Coltrane
Comedy, Adventure
The Griswolds win a vacation tour across Europe where the usual havoc ensues. Very silly sequel to National Lampoon's Vacation. Moderate sex references and strong language.
COMMANDO (18)
10.50pm Channel 4
Starring: Arnold Schwarzenegger, Rae Dawn Chong
Action, Adventure, Thriller
A retired Special Forces colonel tries to save his daughter, who was abducted by his former subordinate. 80s action from Arnie. Strong violence and language.
GIRL, INTERRUPTED (15)
11.20pm Sony Movies
Starring: Winona Ryder, Angelina Jolie
Biopic, Drama
Based on writer Susanna Kaysen's account of her 18-month stay at a mental hospital in the late 1960s. Powerful drama with an Oscar-winning role for Angelina Jolie. Strong language, occasional horror and sexual references.
KISS THE GIRLS (18)
11.25pm Film4
Starring: Morgan Freeman, Ashley Judd
Thriller
Police hunting for a serial kidnapper are helped when a victim manages to escape for the first time. First outing of Morgan Freeman as Alex Cross. Strong language, violence, sex references and horror.
ERIN BROCKOVICH (15)
11.35pm 5*
Starring:  Julia Roberts, Aaron Eckhart, Albert Finney
Drama, biopic
An unemployed single mother becomes a legal assistant and almost single-handedly brings down a California power company accused of polluting a city's water supply. Oscar-winning performance from Julia Roberts. Strong language.
LITTLE FAUSS AND BIG HALSY (15)
12.25am Talking Pictures TV
Starring: Robert Redford, Michael J. Pollard
Drama
A story of two motorcycle racers, the inept, unsuspecting Little Fauss (Michael J. Pollard) and the opportunistic, womanising Halsey Knox (Redford). Rarely screened drama from the 70s. Language, sexual content, nudity and violence.
X+Y (12)
12.30am BBC1
Starring: Asa Butterfield, Rafe Spall, Shally Hawkins, Eddie Marsen
Drama
A socially awkward teenage math prodigy finds new confidence and new friendships when he lands a spot on the British squad at the International Mathematics Olympiad. Hugely underrated touching drama. Some strong language, a sexual reference, drug material and disturbing images.
SPLICE (15)
12.45am Horror Channel
Starring: Adrian Brody, Sarah Polley
Sci-fi, horror
Genetic engineers Clive Nicoli and Elsa Kast hope to achieve fame by successfully splicing together the DNA of different animals to create new hybrid animals for medical use. Original and unusual horror. Strong violence, sex and sexual violence.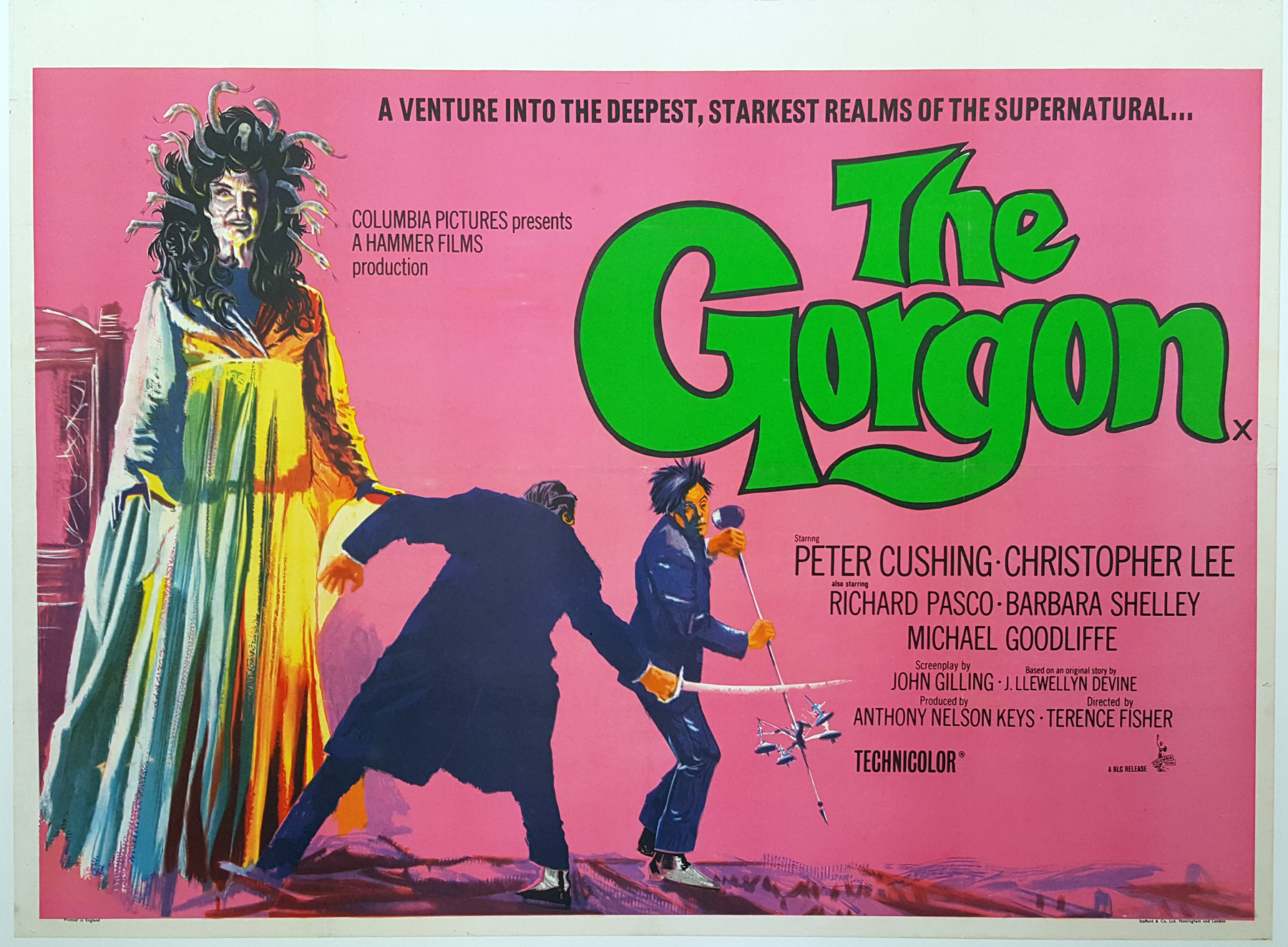 THE GORGON (12)
1.30am Sony Movies Classic
Starring: Peter Cushing, Christopher Lee
Horror
In the early twentieth century, a Gorgon takes human form and terrorizes a small European village by turning its citizens to stone. Gloriously camp Hammer horror. Moderate violence, horror and gory moments.